he high cost of energy and shortage of critical fuel supplies prompted America's electric utilities last year to become more resourceful than ever.
After all, they had no choice.
Faced with the prospect of either watching factories go dark or, worse, leave the U.S. for greener pastures overseas, American utility companies rallied to find new solutions to keep the lights on at U.S. manufacturing plants.
Whether it was opening new power plants, investing in alternative energy programs or simply helping their existing industries lower their operating costs, the best utilities separated themselves from the pack and, in so doing, earned a spot in
Site Selection
's coveted Top 10 Utilities of the Year.
Key pieces of the $12.3-billion, 10-year federal energy bill signed into law in early August by President George W. Bush include tax credits and subsidies for ethanol production plants and tax credits for consumers who purchase hybrid vehicles and employ other energy conservation measures. The bill also encourages development of LNG terminals to help ameliorate the country's high natural gas prices, and provides loan guarantees and tax credits to encourage construction of new nuclear power plants, the first since 1979.
Ultra-reliable
America's major utility companies, however, haven't been waiting for a national energy bill to meet the power needs of manufacturers. Instead, they have been pursuing innovative programs aimed at increasing energy supply, reliability and efficiency, while at the same time limiting costs.
At Portland General Electric in Oregon, for example, the utility has increased the reliability of its network so that it can meet chip-maker
Intel
's new standard for electric reliability: 99.999999 percent. That amounts to less than one second of down time per year, according to Charlie Allcock, head of economic development for PGE.
"A voltage sag of 50 percent for just one-tenth of a second can cause an entire high-tech manufacturing plant to shut down," said Allcock. "This need for reliability is becoming pervasive. We are now getting this request — to meet the new SEMIF47 standard for electric reliability — from data centers and distribution warehouses that use RFID [radio frequency identification] technology."
In Michigan, DTE and the state created the Next Energy program to help manufacturers find new solutions for their power needs. Jim Croce, CEO of Next Energy, tells
Site Selection
that the new initiative is a "statewide program focused on business retention and expansion, with an emphasis on alternative-energy companies."
"Basically, we are looking for fuels and power sources that reduce our dependence on foreign oil," says Croce. "We are supporting companies that are doing research and development on stationary electricity generation and enhanced battery technology. In the automotive sector, which is a huge industry in Michigan, we are supporting research in bio-fuels including bio-diesel and ethanol. In addition, we are backing efforts to build clean, renewable power plants like wind, solar and biomass."
Among the companies and institutions supporting Michigan's bio-diesel program are
DaimlerChrysler, Delphi, Robert Bosch Corp.
, Wayne State University, the U.S. Army and
Biodiesel Industries
of California. Over the next decade, the state will invest some $2 billion into alternative energy programs.
The Next Energy program has already produced some tangible results for Michigan.
Compact Power
from Korea, which does work in the advanced battery technology sector, is siting a new manufacturing plant in Michigan, and
Unisolar
recently announced the addition of several hundred jobs in Rochester Hills. Together, these two firms will create about 1,000 new jobs for Michigan workers.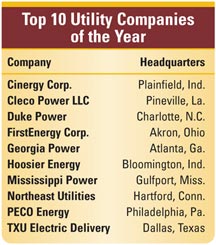 Powering to the Top
Achieving a Top 10 Utility Company of the Year ranking is no small feat. It takes innovation, hard work, attention to detail and — above all — unparalleled customer service.
All of these qualities are the hallmarks of the power companies that made
Site Selection
's Top 10 Utility Companies of the Year. Based upon their statistical performance in four key measurements of economic development for their respective service areas — total capital investment; investment per capita; total jobs created; and jobs created per capita — these companies achieved this prestigious honor.
In alphabetical order, here they are:
Cinergy Corp.
www.indiana.cinergy.com
This midwestern power company, which provides electricity and natural gas to 69 counties in Indiana, 10 counties in Ohio and six counties in Kentucky, amassed some impressive numbers in 2004: $954 million in new capital investment in corporate facility projects and 5,231 new jobs.
Because of numbers like these, Cinergy has claimed a Top 10 award for the seventh year in a row.
"By staying focused on growth, our economic development program remained a leader both locally and nationally," says Mike Heaton, economic development marketing program manager for Cinergy. "Teamwork continues to fuel our success."
That teamwork included Cinergy's contribution to the Indiana Properties Sites and Buildings Database, a virtual building site program known as Permits to Projects, and ongoing efforts to recruit and win foreign investment and life science companies.
Among Cinergy's largest corporate projects were a $100-million pharmaceutical plant for
Cook Pharmica
in Bloomington, Ind.; a $42-million paperboard packaging plant expansion for
Zumbiel Packaging
in Hebron, Ky.; and a $186-million auto parts plant expansion for
Ford Motor Co.
in Sharonville, Ohio.
Cleco Power LLC
www.cleco.com
Stretching from south of Shreveport to just north of Morgan City and including territory north of New Orleans, the service area of Cleco Power faces many challenges. But Cleco is overcoming them by partnering with the University of New Orleans, local governments and major site selection consultants to bring industry to many parishes throughout Louisiana.
In 2004, Cleco landed $300 million in new capital investment and 1,000 new jobs for the 265,000 residents in its service territory. That performance was good enough to make Cleco the runaway leader in investment per capita and No. 3 in jobs per capita.
Cleco teams with site consultants to produce two annual economic development summits. The utility also worked with the university and local governments to develop a major research and technology park in Slidell, La.
Significant capital investment projects were secured last year from
Procter & Gamble, Plastipak, Integrated Packaging Co., Calvary Industries
and
Union Tank Car Manufacturing
.
Duke Power
www.dukepower.com
Duke Power's service territory stretches from the foothills of the Appalachian Mountains through the rolling country of the Piedmont Carolinas. More than 2.2 million people get their electricity from Duke's 94,000 miles (151,246 km.) of transmission lines and 13,000 miles (20,917 km.) of distribution lines.
In 2004, Duke helped bring $999 million in new capital investment and 5,552 jobs to the Carolinas. With 10,000 employees spread out over 22,000 square miles (56,980 sq. km.), Duke is the largest electric utility in the Carolinas and one of the largest in the nation.
Major aspects of Duke's economic development strategy include a strong work-force training program, a state-of-the-art Web site, the CAPEX Predictive Model that identifies expanding companies in the region, and a long history of state and community leadership.
Companies supported by Duke in bringing new jobs to the region last year included
Citigroup, Merck Pharmaceuticals, Pepsi Cola Bottling, WinCup, Ceramtec North America
and
TYCO Healthcare
, just to name a few.
FirstEnergy Corp.
www.firstenergycorp.com/ed
Serving 4.4 million customers over a 36,100-sq.-mile (93,500-sq.-km.) area of Ohio, Pennsylvania and New Jersey, FirstEnergy is the nation's fifth-largest investor-owned electric system.
In 2004, FirstEnergy used that strength to land a U.S.-leading $3.2 billion in new capital investment (more than double No. 2 TXU's $1.577 billion) and create 5,917 jobs for residents of the three states served by the utility.
FirstEnergy's Export Now Program provides export assistance to customers by opening up new trading opportunities for manufacturers and their suppliers. In 2004, FirstEnergy organized three trade missions that took utility customers to Mexico City, Monterrey and Toronto.
The company also played a leading role in a $55-million project for
Cadbury Adams
in New Jersey, a $1.8-billion investment by
DaimlerChrysler
in Ohio and a $73-million investment by Whirlpool in Ohio. Altogether, FirstEnergy facilitated 304 separate corporate projects during the year.
Georgia Power
www.georgiapower.com/grc
Serving more than 9 million people throughout the state of Georgia, Atlanta-based Georgia Power has long been a leader in economic development. Last year was no exception, as the state's dominant utility brought in 8,623 new jobs and more than $1.5 billion in new capital investment.
A perennial winner of a Top 10 Utility award, Georgia Power does it with an all-out assault on corporate projects — from lead development to project management to after-completion assistance. Talk to any major corporate site selector or site consultant in the U.S. and they will tell you that Georgia Power is a national leader and pacesetter in economic development.
Georgia Power maintains one of the most comprehensive databases of office and industrial sites found anywhere in the United States. The database covers a 50-mile (81 km.) radius around Atlanta and includes data on 30 counties, showing every piece of office, industrial and mixed-use property in the region. Each business park is color-coded on a map to indicate the type of development and the availability of land within the overall complex.
The 65 corporate projects worked by Georgia Power last year included a $273-million plant for
Toyo Tire
in Bartow County and an $80-million food processing plant for
Anderson Farms
in Moultrie.
Hoosier Energy
www.hepn.com
Hoosier Energy serves 268,000 power customers in Indiana and provides utility economic development assistance to companies in the state's southern half.
In 2004, the firm landed 1,606 new jobs for the region and $290 million in new capital investment. In investment per capita, Hoosier ranked second only to Cleco.
Hoosier relies heavily on outstanding customer service and its data assets to serve its customers. Its Web site — hoosiersites.com — is one of the best in the business.
Major capital investments last year came from
Shelby Food Processing, Futaba Indiana America, Webb Wheel Products, North Vernon Industries, Taconic, TG Missouri
and
United Natural Foods
.
Hoosier owns nearly 1,400 miles (2,253 km.) of transmission lines, 15 primary substations and 240 distribution substations and delivery points. To further maximize reliability and transmission design efficiency, Hoosier has interconnection agreements with two investor-owned electric utilities serving central and southern Indiana.
Mississippi Power
www.mspower.com/ecodev
Mississippi Power serves more than 972,000 power customers in the 23 counties that comprise southeastern Mississippi. In 2004, the utility helped bring in $323 million in new capital investment and 3,605 new jobs to the region. The company ranked fourth in jobs generated per capita.
Economic development has been one of Mississippi Power's primary areas of focus since 1925. Largely because of the utility's efforts, some 128 Fortune 500 companies now call Mississippi home.
Mississippi Power helps industrial prospects access worker training programs and tax incentives, find suitable sites for development, find wage and salary data for their industry, determine transportation availability and access assistance for family relocation needs.
Companies helped by Mississippi Power last year included
Gulf Coast Produce Distributors, BAE Systems
and
ANI Pharmaceuticals
, which announced a 160-worker factory expansion in Gulfport.
Northeast Utilities
www.nu.com
From its home base in Hartford, Northeast Utilities serves a population area of 4.5 million people spread out over most of Connecticut, Western Massachusetts and New Hampshire.
In 2004, the utility recruited 6,936 new jobs (fourth in the U.S.) and more than $600 million in new capital investment. Innovations in 2004 included the utility's new Economic Development Data Information Web page, which provides site selectors with quick and easy access to downloadable location data.
The utility also hosted a regional familiarization tour for site selectors and worked with industrial power customers to teach lean manufacturing principles.
Significant corporate facility investments in 2004 came from
Advanced Turbine Services, Atlas Concrete Products, ESPN, Genomas
and
Watts Regulator
, just to name a few.
Throughout the tri-state region, Northeast Utilities assisted some 234 expanding companies with their growth and relocation needs.
PECO Energy
www.peco.com/economic
Another perennial winner of the Site Selection Top 10 Utility award is Philadelphia-based PECO Energy, which provides electricity and natural gas to a service area of 3.8 million people in Southeastern Pennsylvania.
In 2004, the company assisted corporate project expansions that accounted for 3,406 new jobs and some $1.3 billion in new capital investment throughout the five-county region.
PECO teamed last year with Select Greater Philadelphia to support the marketing of the 11-county, three-state region that includes portions of New Jersey and Delaware. Greg Byrnes, head of economic development for PECO, has long been regarded as one of the top economic developers in the country.
Success stories in 2004 for PECO included
Barrett Asphalt
in Morrisville,
Gemini Plastics
in Fallsington,
National Towlette Co.
in Bensalem and
Asahi Glass Fluoro Polymers USA
in Downington.
TXU Electric Delivery
www.locationtexas.com
Based in Dallas, TXU supplies electricity to more than 3 million points of delivery in a region including east, west and north central Texas, or about one-third of the state's population.
The utility's service area includes 370 municipalities and 92 counties including all of the Dallas-Fort Worth Metroplex. About 7 million people reside in TXU's service area.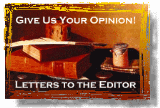 TXU provides itinerary coordination of site visits and community tours for corporate site selectors and their consultants. The utility's Web site also provides online community profiles with direct links to community Web sites.
In 2004, TXU generated $1.577 billion in new capital investment (second in the nation) and 7,197 new jobs (third). Accompanying new corporate projects were 19 separate corporate expansion projects.
Last year, the company assisted
LS Power
in a $750-million capital investment in the town of Riesel,
Vought Aircraft Industries Inc.
in a $598-million project in Dallas and
Koyo Steering Systems of Texas
in a $30-million project in Ennis.