hen
Coast Independent Review Board
(IRB) finally pulled the trigger on a western U.S. location for its operations center, Colorado Springs was the target, besting locations in Fort Collins, Colo.; Mesa, Ariz.; and North Carolina.
"I spent several months scouting locations in the western United States before selecting Colorado Springs," says Darren McDaniel, CEO and founder of Coast IRB, an ethics board that monitors patient safety in new drug and medical device studies for the pharmaceutical industry. "Ultimately, I chose Colorado Springs, because the culture focuses on balance. It is a city with a solid work ethic, a passion for the outdoors, a relaxed lifestyle and interpersonal relationships based on community."
Coast IRB employs 60 people at its Lake Forest, Calif., headquarters; it is filling 180 positions in Colorado Springs.
"Colorado Springs' biotech and pharmaceutical industries are very strong, which bodes well for us," adds McDaniel. "When a pharmaceutical or medical device company needs to test a new drug or device in order to receive approval from the FDA, they can outsource this function to Coast IRB. Colorado Springs offers the resources our business needs to expand."
Coast IRB joins about 380 other companies in the biotech and related fields in Colorado. The companies primarily are clustered in Fort Collins, Boulder, Colorado Springs and the Denver metro area. About 80 percent of the state's bioscience employment and more than 70 percent of the companies are based along this corridor. Statewide, the bioscience industry employs 16,000 with an average salary of US$63,000.
Provident Pharmaceuticals
is a contract manufacturer focusing on orally administered prescription products. The start- up recently began operations in Colorado Springs, thanks in part to company President Brian Crook's being a Coloradan.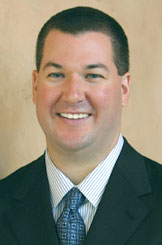 Darren McDaniel
"We could have gone anywhere in the country, including back east, where many of the customers are," says Crook. "But we chose Colorado Springs for a number of reasons." Among them was a desire on Crook's part to return to Colorado after working nine years outside the state. "There are four distinct seasons in Colorado, so if you're into the outdoors, you can be out all year long. There is always something to do outdoors here."

Local Life- Science Resources
Just as appealing to Crook where Colorado is concerned is the presence of the University of Colorado and Colorado State University, as well as some private colleges, which keeps the work force well stocked for companies looking at western locations.
"We just hired a chief financial officer with quite a bit of experience dealing with start- up organizations and a director of operations with 35 years of pharmaceutical- industry experience," notes Crook. "Both these people were in the area. We have also been able to tap into the retired military work force, and about 40 percent of them have advanced degrees. They might have joined the service in their mid- 20s and retired in their mid- 40s, and they are very well trained, very disciplined and have a very good work ethic. That makes for an incredible work force that other businesses I know have also tapped into."
A biotech incubator is in place at the University of Colorado at Colorado Springs (UCCS), and Crook sees a steady influx of biotech companies coming to town, "which I think is fantastic," he says, offering Coast IRB as an example.
Large or small, new arrivals will not have difficulty expanding, adds Crook, given the real estate made available during the high- tech slump of a few years ago and plenty of land east of town. Provident Pharmaceuticals currently occupies 14,400 sq. ft. (1,340 sq. m.) and plans to expand to 24,000 sq. ft. (2,230 sq. m.) before long. It also will need to build a new facility to accommodate a new manufacturing operation within the next two years.
On the small- but- growing end of the Colorado Springs life science company scene is six- year- old
Aspire Biotech
, a biomaterials and medical- device company specializing in contract R&D work. Revenues from the R&D work will drop this year from 80 percent to about 60 percent as the company ramps up its manufacturing side. Whereas Aspire Biotech helped design various products, its clients now want the company to supply the materials for production. Medical "superglue" or liquid suture products are among the company's specialties.
"I have lived all over America," says the company's founder and president, Ian Askill, naming the Denver area, Chicago, New Jersey, South Carolina and Pennsylvania as past locations of residence. "When the opportunity came to move back to Colorado Springs, I leapt at it. You can't beat the climate, the cost of living or the attitude of the people," he explains. "The combination of those three attributes is superb."
But how does Colorado stack up against other states as a location for biotech start- ups? "For me, as a biotech start- up company, it would have been easier for me in a bunch of other states," says Askill. "With my desire to be in Colorado, it would probably have been easier for me to do this in the Denver area, but a couple of things kept me here, including my research association with what is now the Bioenergetics Institute at UCCS and my involvement in other commercialization initiatives. And I love Colorado Springs. I can live in a great house here that is seven minutes from work. There are not many cities in which you can do that."