A
recent Brookings Institution report points out that if the Great Lakes region stood alone as a country, it would be the world's second largest economy. The report touts energy production and technology development as one of the major drivers of the region's future economic growth. The Brookings report asserts that reliance on the U.S.-Canadian "Middle West" rather than the Middle East for energy can bring long-term economic benefits.
Some of that potential is already being realized with an array of projects and planned investments encompassing various technologies.
The oil sands boom in Alberta has at least two oil companies planning or talking about refinery expansions in the Great Lakes states.
BP
is pushing projects at its Whiting, Ind., and Toledo, Ohio, refineries through the permitting phase. The Whiting project, a $3.8-billion investment to modernize the 118-year-old facility, is further along, and construction could begin later this year. The Whiting refinery, on Lake Michigan, is the largest inland U.S. refinery.
"It's still in the permitting and design and engineering phase and is not sanctioned for construction yet," says BP spokesman Scott Dean. "It will be the largest private investment in Indiana history. Although the 405,000-barrel-per-day output will be the same, efficiencies will increase motor fuel output by 15 percent."
The Toledo modernization is a joint venture with Calgary-based
Husky Energy
. BP and Husky reached an agreement last December giving BP a half-share in the Sunrise field in Alberta operated by Husky. The deal also gave Husky a half share in BP's Toledo refinery. The $2.5-billion project to equip the facility to handle heavy Canadian crude is at an early stage of permitting and design, Dean says.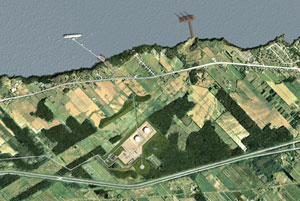 Plans call for construction to begin in 2011.
Arkansas-based
Murphy Oil
has been talking about expanding its Superior, Wis., refinery with a project that could reach $6 billion in investment and create up to 400 jobs. The company has been purchasing property around the refinery, but has not made an official announcement regarding its plans.

Renewable Projects
Reach Across Region
Ethanol and biodiesel production facilities continue to sprout up across the Great Lakes region like dandelions. One of the most prolific ethanol plant builders in the region is
POET Biorefining
, which is the largest ethanol producer in the world, according to the Renewable Fuels Association. So far in 2008, the company has opened a $105-million facility in Leipsic, Ohio, and a $115-million plant in Alexandria, Ind.
Lake Erie Biofuels
opened a $60-million plant on a section of the former International Paper Company site in Erie. The plant, which will produce 45 million gallons of biodiesel annually, is Pennsylvania's first large-scale biodiesel production facility. Lake Erie Biofuels sells most of its current production to Europe and ships its products through the Great Lakes in non-winter months.
Most states and provinces in the Great Lakes region are participating in the wind energy movement in some fashion, but Minnesota is the decided regional leader in installed wind power capacity, according to the latest annual rankings report from the American Wind Energy Association. Minnesota had 1,288 MW of installed capacity at the end of 2007.
One of the latest Minnesota wind farms to come online is the Prairie State Wind Farm, located about 15 miles (24 km.) southeast of Austin in southern Minnesota. The 100.65-MW project came online in December and will produce enough power for 33,000 Minnesota homes. Prairie Star, owned by Horizon Wind Energy, is home to 61 wind turbines.
Xcel Energy, the leading wind power provider in the U.S. according to the AWEA, also has a project in the works near Austin.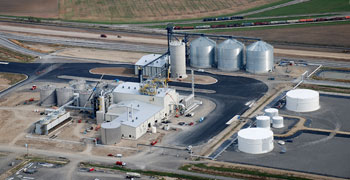 The 100-MW Grand Meadow Wind farm will have 67 wind turbines when it comes on line near the end of 2008.
While there are currently no off-shore wind farms in the U.S., that could change soon. Energy regulators in Wisconsin agreed in early April to consider a recommendation by Gov. Jim Doyle's Task Force on Global Warming to explore the wind power generation potential of Lake Michigan and Lake Superior. Offshore wind projects have been discussed in the region in the past, but have often met with public opposition and have been deemed too costly. Issues related to wind power development in the Great Lakes region, including offshore power prospects, will be on the agenda of the Great Lakes Wind Collaborative when it holds its first annual meeting this month in Buffalo.

Site Selection Online – The magazine of Corporate Real Estate Strategy and Area Economic Development.
©2008 Conway Data, Inc. All rights reserved. SiteNet data is from many sources and not warranted to be accurate or current.