A SITE SELECTION INVESTMENT PROFILE
PELEPAS FREE ZONE,
PORT OF TANJUNG PELEPAS, MALAYSIA
From Site Selection magazine, November 2009
The Pelepas Free Zone:
More Than Just Cost Advantages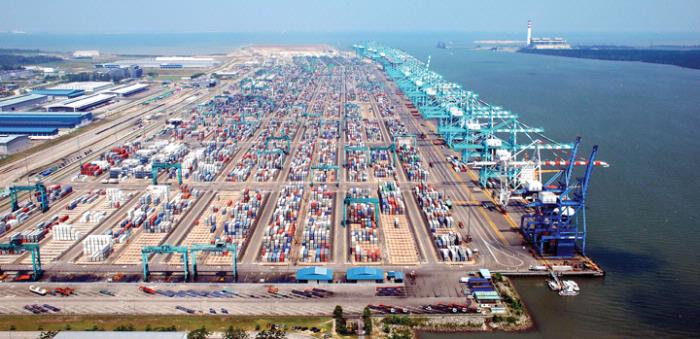 C
urrent global economic circumstances might prompt some multinationals to scale back operations for the time being. For others — those with clear logistics and cost-of-manufacturing advantages — now might be the time to grow. Among the companies to have found both advantages in the Pelepas Free Zone at the Port of Tanjung Pelepas (PTP) are Flextronics, JST Connectors, Schenker Logistics, CIBA Vision and many others. MNCs with locations at PTP, in the Iskandar Development Region in Malaysia's southernmost point, seek a southeast Asian base from which to serve the region cost-effectively and efficiently.
The 1,000-acre Pelepas Free Zone includes 400 acres dedicated to logistics and distribution activity, international procurement centers and warehousing; 600 acres is a Free Industrial Zone for manufacturing. The adjacent Port features 44 quay-side cranes, 12 berths and 4.3 km. of linear wharf; it handles 10 million TEUs annually.
Six factors make the Pelepas Free Zone the preferred logistics and manufacturing hub for so many MNCs in the region. They are:
Land costs and utilities. Pelepas Free Zone offers short-, medium- and long-term leases at very competitive rates. Payment can be customized to suit the needs of lessees. Such utilities as telecommunications, water and electricity are readily available at a minimal cost for start-ups.
Transportation access and costs. Pelepas Free Zone is the only free zone in the Southeast Asia region that provides easy access to three international ports — PTP, Singapore and Johor Port — and three international airports by road. With the extensive highway network that reaches from Singapore to the south to Thailand in the north, bonded (tax-free) movement is possible to and from the Pelepas Free Zone. Close proximity to the PTP terminal ensures minimal transport costs associated with upstream and downstream logistics activities. This is a key value driver, especially when coupled with the location's tax-free environment. Alternatively, bonded goods can be delivered by rail or air.
Proximity to market. With more than 500 calls per week, Pelepas Free Zone provides shipping to more than 165 ports globally with much of this activity conducted by the world's No. 1 and No. 3 carriers. Coupled with the alternative modes of transport and its geographical location, Pelepas Free Zone is in close proximity to much of the Asia-Pacific region.
Taxes and industrial development incentives. The Malaysian Industrial Development Authority (MIDA) sets forth tax and investment incentives for manufacturers and logistics companies who would invest in Malaysia. As an added advantage, Pelepas Free Zone offers a tax-free environment to these companies, making it an ideal location for regional distribution centers, international procurement centers and manufacturing industries.
Labor costs. Notwithstanding the importance of lower labor costs, local skills and expertise are also in abundance throughout Johor, the federal state where Pelepas Free Zone is located. Universiti Teknologi Malaysia (UTM), a local higher-education institution, produces more than 3,000 graduates per annum in various technological disciplines. Universiti Tun Hussein Onn produces more than 1,000 graduates annually in numerous fields, including management.
Quality of life. Pelepas Free Zone is situated in the Iskandar Malaysia development, where high-end commercial and residential properties are being planned and constructed. The Nusajaya development, for example, features residential and leisure components, including Puteri Harbour for yacht enthusiasts and the future development of a Legoland theme park. Close proximity to Singapore, a key Southeast Asia metropolis, provides the urban amenities important to expatriates.
— Mark Arend
This investment profile is published under the auspices of the Port of Tanjung Pelepas. For more information, visit www.ptp.com.my.