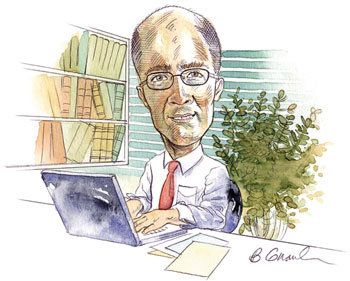 What is your role in your organization's sustainability strategy? Could your role as property portfolio manager evolve into a broader role that incorporates sustainability goals and objectives? Should it? It's worth thinking about, because the extent to which the real estate manager demonstrates leadership in this arena could be the extent to which he or she increases in corporate stature by contributing meaningfully to the balance sheet in 2010.
The Green Imperative, as explained in the article on that topic in this issue, is well within the purview of the real estate function. It is in real estate, after all, that sustainability goals are met, however an organization defines those goals. If you feel sometimes like you're competing with the IT and HR managers for the attention of senior management in shaping or implementing the company's objectives, then championing real-estate-specific sustainability efforts may be just what you need to set yourself apart.
Here are some thoughts to help get you going:
Educate yourself. Sustainability is a new enough concept that there are few experts in the corporate real estate ranks. That will change in the coming months and years, so plan on being one of those experts in due course. Besides, we'll need speakers conversant in this topic at future IAMC Professional Forums.
Be skeptical. Don't fall for every green fad that comes down the pike. Some might end up costing more than the savings they promise and deliver little in the way of actual benefit. On a related note, get the real dirt on LEED certification before you move dirt to start construction on a new facility. As the Green Imperative article sidebar makes clear, LEED construction is no walk in the park. It might even be more trouble than it's worth, depending on the facility.
Befriend other managers. Spend more time with your counterparts in other departments and with heads of divisions whose space you manage. You'll gain valuable ideas — about energy conservation, for example — that you could implement in the broader organization.
Know the green incentives. Even if you don't personally negotiate with transaction counterparties, be the resident expert on all incentives that might come into play, including those awarded on the basis of environmental sensitivity. In their absence, recommend some that weren't previously on the table — the state or local government you're dealing with might just bite.
Set achievable goals. Discuss with your team, and with your industry peers at the next IAMC Professional Forum in Colorado Springs in April, some ways the real estate department can set and meet some sustainability goals that will demonstrate your commitment to leading in this area.
Propose new sustainability language. Chances are, those corporations that have Chief Sustainability Officers are still nailing down specifically what that role means. Broad goals are one thing; details are another. So some time in late 2010, after you've tried some of these exercises, draft a simple document based on your experience that hones your organization's sustainability mission with concrete steps and expected results. Both you and your organization will benefit.
Meanwhile, this issue features our new State of the States report — a detailed look at the 50 states that we know will be a valuable resource for you throughout the year as you consider locations for new or expanded facilities. The research and production teams here at Site Selection worked tirelessly on this section and have my admiration and gratitude.
On behalf of the entire Site Selection staff, thank you for your loyal readership in 2009, and best wishes in the year ahead.