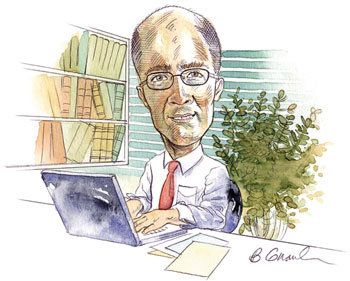 The Freedom-Prosperity Connection Is Real
ewer qualifying projects as tracked by our New Plant Database made up the Top 10 states' tallies this year (just under 2,700) than last year (just over 2,700). The tough economy took a toll on many locations' numbers, to be sure. But Ohio's 381-project finish was enough for it to claim its fourth consecutive Governor's Cup. The efforts of Gov. Ted Strickland and his economic development team and the local and regional business-attraction professionals around Ohio are to be commended. The same goes for the other governors illustrated on our cover by Bob Gravlee, our talented production coordinator and graphic artist.
Ohio's fourth Cup in a row, and its fifth in the past seven years, is somewhat surprising — the decrease in numbers of projects there and in most other states, not so much. Gov. Strickland made it clear to me what companies in Ohio need in order to expand and create jobs: access to capital, especially on the part of smaller manufacturers. "I am convinced that if capital were readily available, investments would be made and jobs would be created. I hear that every day," he notes in the Cover Story.
But something did surprise me in the course of our working on this issue that I think helps explains the drain on capital investment and yearly project numbers. It can be summed up in a January 19, 2010, Wall Street Journal opinion piece headlined "The U.S. Isn't as Free as It Used to Be." The author, Terry Miller, is director of the Center for International Trade and Economics at the Heritage Foundation and co-editor with Kim R. Holmes of the "2010 Index of Economic Freedom," which Heritage and the WSJ have been producing for the past 16 years.
In short, the Index ranks 179 economies using 10 components of economic freedom. It quantifies the extent to which they are economically "free" (Hong Kong and Singapore have always finished first and second), "mostly free," "mostly unfree" or "unfree" (think North Korea and Cuba for the latter). The overall U.S. rating of 78.0 (on a 100-point scale) was good enough for eighth place, globally — and bad enough to knock it out of the "free" category requiring 80 or higher — but allowed Canada, with its 80.4 rating, to boast the freest economy in the Americas. The 2.7-point score decline for the now-mostly-free U.S. was the steepest among the world's 20 largest economies. U.S. scores declined in seven of the 10 categories. The Index summarizes the state of the U.S. economy as follows:
″ "Uncertainties caused by ongoing regulatory changes and politically influenced stimulus spending have discouraged entrepreneurship and job creation, slowing recovery."
″ "Leadership in free trade is likely to be further undermined by 'Buy American' provisions in stimulus legislation and failure to pursue previously agreed free trade agreements with Panama, Colombia, and South Korea."
″ "Tax rates are increasingly uncompetitive, and massive stimulus spending is creating unprecedented deficits."
″ "Bailouts of financial and automotive firms have generated concerns about rights."
I'll bet Ohio companies and those looking to invest there, and elsewhere in the U.S., share some of these concerns. The average score for the Index is 59.4, so for now, the U.S. with 78.0 is comfortably more free than Madagascar, Mexico and Mauritius — but not by much in the case of the latter.
My colleagues and I congratulate Gov. Strickland, again, and all those in public office who genuinely seek economic prosperity.