NORTH AMERICAN LIFE SCIENCES
From Site Selection magazine, May 2010
Gone to (GM) Seed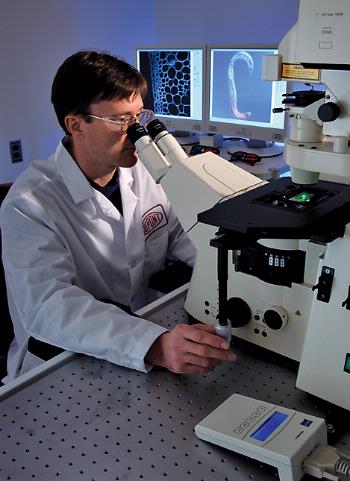 I
n the agricultural world, GM has nothing to do with automobiles. But research into and production of genetically modified food and other crops has revved up into a major business in North America in recent years.
U.S. farmers have adopted genetically engineered crops widely since they were introduced in 1996. Many multinational chemical companies have plant science divisions working on new and improved seeds.
"Genetically modified seeds have become widely accepted and have led to ease of production," says Dan Basse, president of AgResource Company, a Chicago consultancy.
Several of the sector's major companies, including industrial icons DuPont, Monsanto, Dow and Bayer, have announced R&D expansions in recent months. DuPont announced in March that it would invest US$40 million in a new genetics research facility at its Pioneer Hi-Bred business in Johnston, Iowa. Plans call for the hiring of 400 researchers. Increasing food production is a priority initiative for DuPont, which invests about half of its annual $1.4-billion research and development budget into this area.
DuPont selected Johnston, a Des Moines suburb, for the expansion after looking at other company locations around the globe, including Wilmington, Del., the San Francisco area, China and India, says spokeswoman Julie Kenney. The Pioneer division includes about 100 research centers, with Johnston being the hub for biotech research. Pioneer's infrastructure and scientific base in Johnston were key factors in the decision. Pioneer was founded in Johnston in 1926. Pioneer has already added more than 130,000 sq. ft. (12,000 sq. m.) in central Iowa during the past two years, adding 500 employees to a work force that currently numbers about 2,400. Pioneer employs more than 9,500 globally.
"We have a great relationship with the city and state," Kenney says. "We also looked at where we can attract employees and what other research we are doing in the area."
Construction is set to begin on the three-building, 200,000-sq.-ft. (18,580-sq.-m.) facility in September with occupancy in 2012.
"Certainly the demand for products is there," Kenney says. "We need to be developing advanced solutions to provide food for a growing population."
Pioneer has several other active expansions in North America. These include a new research center in Hermiston, Ore., where Pioneer established a parent seed production facility in 2009. It will focus on trial seed production to advance corn product development and testing efforts for the commercialization of new corn hybrids. A groundbreaking was held in April for a 76,000-sq.-ft. (7,060-sq.-m.) facility adjacent to the current production plant. Five employees will be added in 2010.
A $55-million commercial and parent soybean seed production plant will be built on a 129-acre (52-hectare) site in New Madrid County, Mo., in the bootheel in the southeastern corner of the state. Initial operation will begin in fall 2011 and the plant will employ 50 when fully operational.
Monsanto Expands Dole Ties at NCRC
Missouri-based Monsanto announced early in 2010 that it would become a tenant in the North Carolina Research Campus in Kannapolis, N.C., which was founded by David Murdock, owner of Dole Foods Co. Last year Monsanto announced a five-year collaboration with Dole to develop vegetable varieties with consumer-focused attributes such as flavor, texture, aroma and nutrition. Monsanto, perhaps the highest profile company so far to commit to the NCRC, has not released investment figures for the project.
"The North Carolina Research Campus offers the opportunity for new relationships between companies like Monsanto and the academic institutions locating here that could ultimately lead to new healthy choices for consumers," says Susan MacIsaac, site lead for Monsanto at NCRC. "The synergy that exists at a campus like this could lead to truly innovative research and products with long-term benefits for all of us. Having access to the cutting-edge technologies that the campus provides its tenants also will help new scientific breakthroughs in the areas of human health and nutrition."
MacIsaac says Monsanto expects to be operational this summer with about 12 employees.
"Teamwork and third-party collaborations are at the core of Monsanto's R&D leadership." MacIsaac says. "The NCRC offers a unique opportunity for new partnerships between academic institutions and companies like Monsanto to foster collaborative research in human health, nutrition and biotechnology and to accelerate development of foods with enhanced flavor and greater nutritive value."
In April, Monsanto completed the purchase of the Chesterfield Village Research Center located in Chesterfield, Mo., a St. Louis suburb. Monsanto had previously announced an agreement to acquire the property from Pfizer Inc. The 1.5-million-sq.-ft. (139,350-sq.-m.) research center includes 250 laboratories, 108 plant growth chambers and two acres (0.8 hectares) of greenhouses. Monsanto says the site will play a key role in supporting its robust R&D pipeline and its goal of doubling yields in its core crops by 2030.
Monsanto has also opened a new corn breeding station in Flora, Miss. The $2.4 million, 26,000-sq.-ft. (2,415-sq.-m.) facility in the Flora Industrial Park will employ 10 full-time and 50 seasonal workers. The park was a finalist site in late 2008 for the U.S. Dept. of Homeland Security's National Bio and Agro-Defense Facility, which eventually chose Manhattan, Kan.
Corn production in the South has been growing in the last several years, and the new site's research focus will be on using the latest breeding techniques to develop higher-yielding corn hybrids with greater resistance to disease and other environmental stresses, specifically adapted to the region. The site will complement Monsanto's global breeding program and become part of a network of more than 50 corn breeding locations around the world.
"Our focus on research and development is what makes Monsanto a leader in agricultural productivity," said Ted Crosbie, global breeding lead for Monsanto. "Our new facility in Flora will help further strengthen our R&D capabilities, and also is a great opportunity for us to strengthen relationships and collaborations in the southern states."
Also in April, Monsanto broke ground on a soybean seed production facility in West Fargo, N.D. The site had previously been a sunflower seed production facility. With the sale of Monsanto's sunflower business to Syngenta in August 2009, the site is now being converted and expanded to support the company's growing soybean business.  
U.S. farmers plan to plant a record-high 78.1 million acres (31.6 million hectares) of soybeans in 2010, according to a report by the U.S. Dept. of Agriculture.
University Projects
Michigan State University broke ground on April 16 on a new $43-million plant sciences expansion. The project will provide state-of-the-art interdisciplinary research lab space for plant biology, plant research, plant pathology, biochemistry and horticulture programs and scientists associated with the Great Lakes Biofuels Research Center (GLBRC).
The new 90,000-sq.-ft. (8,361-sq.-m.) facility will feature flexible, open laboratory spaces, offices, growth rooms, growth chambers, a 220-seat auditorium and a central collaborative space for meetings and informal interaction. The project will also include physical connections between the existing plant biology, plant and soil sciences and greenhouse facilities on campus to facilitate improved connectivity and collaboration between researchers. SmithGroup is providing architecture, engineering, interiors, lab design, lab planning and site design services for the new facility, which is scheduled for completion in 2012.
The first of four planned buildings at the UT Southwestern BioCenter in Dallas, Texas, opened in early April. BioCenter is a 13-acre (5.3-hectare) biotech park.
"We anticipate that BioCenter will become an engine for development of innovative treatments and medical device technologies that will fill unmet patient needs," said Dr. Daniel K. Podolsky, president of UT Southwestern.
BioCenter was one of nine Dallas-area companies and organizations to receive Momentum Awards in 2009 from the Dallas Regional Chamber. BioCenter received the Technology Catalyst Award, which is presented to a company or organization working to develop and encourage new technology that yields economic growth.
"We're in an active recruitment mode for bringing in companies," said Dr. Dennis Stone, vice president of technology development. "We are seeking companies that are complementary to research and clinical activities at UT Southwestern. That is the main driver for why a company would want to locate in this facility. The ability to collaborate with UT Southwestern's top-tier scientists, as well as access to the world-class research facilities on our campus, sets BioCenter apart from other incubator-type facilities."
The technology development group is in discussions with a number of companies, including local businesses with interests in medical device technologies, West Coast groups interested in establishing a drug development consortium, and companies based in Hong Kong and Israel.
"The fact that most of these companies are from elsewhere is the norm for units such as ours," Stone said. "If you look nationwide, and in Canada and Asia, about 85 percent of the occupants of a university-associated commercialization center come from elsewhere to draw on university intellectual and technical resources."
St. Louis County, Mo., has sold $7.1 million in bonds to develop a new incubator adjacent to the Bio-Research & Development Growth Park and the Donald Danforth Plant Science Center. The facility will house 15 to 20 plant life science startups.
Looking for VC
A recent PricewaterhouseCoopers LLP (PwC) report indicates that companies in the life sciences sector captured the largest share of overall venture capital during 2009, reflecting the sector's relative strength during the economic downturn. Funding for 2009 totaled $6 billion in 715 deals, accounting for 34 percent of all venture dollars invested, compared to 28 percent in 2008.
"Venture capitalists see real opportunity for growth within the sector. As the worldwide population ages and more people enter their years of greatest healthcare need, demand for new pharmaceuticals, diagnostics and medical devices has the potential to go higher than we've ever seen," said Tracy T. Lefteroff, global managing partner of the venture capital practice at PricewaterhouseCoopers. Compared with 2008, dollar investments into life sciences plunged 22 percent in 2009, while the number of deals dropped 19 percent during the same time period, marking its lowest point in the past six years. Despite the decline, life sciences investment has outpaced overall venture capital funding since the third quarter of 2008, according to PwC.
The top five metropolitan regions receiving life sciences venture capital funding during 2009 were San Jose (more than $1.2 billion), Boston ($990 million), San Diego ($606 million), San Francisco/Berkeley ($477 million), and New York ($427 million).
Funding in the San Jose area declined more steeply than the national level in 2009, while funding in the Boston metro area outperformed the national average. Both biotech and medical devices demonstrated stronger performance in the Boston area.
Lab Culture Healthy in Memphis and Lexington
Innova was founded in 2007 by the Memphis Bioworks Foundation as a venture capital firm for early-stage life science companies. Ken Woody, president of Innova, says when the firm started, there was an opinion in Memphis that the city had a lot of great ideas, but not enough available venture capital.
"It's hard unless you are on the West Coast or the East Coast," Woody says. "It's hard to find, good, available venture capital money, particularly for early-stage companies. We created a fund for the sole purpose of early-stage companies, primarily in healthcare, biotechnology and medical devices."
During its first two years, Innova looked at 250 business plans and has looked at 250 more in just the last several months, Woody says. So far Innova has invested in eight early-stage companies.
"We are located right on the campus of the University of Tennessee Medical School and we see these deals very early on," Woody says. "It gives us an opportunity to get into some great deals. Most companies aren't looking for money, but for a place to locate and some guidance."
"We tell the folks that we counsel that it's pretty tough," Woody says. "We tell them you have to be almost perfect to get funds today. You've got to find a venture capital fund in your specific sector. They have to like your stage and then have to be willing to invest. A lot of funds are sitting on portfolio companies and taking any money they have to keep companies afloat."
Woody says while funding conditions have improved over the past six months, competition remains fierce. Companies seeking funds should come armed with a good management team, good intellectual property and a clear plan to achieve profitability, he says.
Entrepreneurial companies in central Kentucky attracted $47.5 million in venture funding, including angel and venture capital investments, in 2009, according to the annual survey by the Lexington Venture Club. The 88 Central Kentucky early-stage companies that participated in the survey reported 386 people hired and 804 people employed with an average full-time salary of $69,900. The majority of the companies participating in the survey are in the biotechnology and healthcare, IT and software, and advanced manufacturing sector.
"We are very pleased with our venture funding numbers this year," said Dean Harvey, executive director of the University of Kentucky's Von Allmen Center for Entrepreneurship. "Investments in our companies actually increased 28 percent if we factor out a $27-million acquisition last year."  Harvey, whose center screened more than 100 proposals for the Bluegrass Angels last year, says nationwide VC investments were down 37 percent from 2008.
Over the past two years more than $116 million in venture funds was raised by Lexington-area companies. Venture funding not only comes from angel investors and venture capital firms, but also from founders, friends and family; federal funds including SBIR and STTRs; Kentucky state funds; and from strategic partners.
Dow Keeps Growing
Indianapolis-based Dow AgroSciences announced in March that it would invest $340 million and create more than 550 jobs over the next five years in an expansion of its global headquarters. The first phase of the expansion includes the construction of a 175,000-sq.-ft. (16,250-sq.-ft.) research and development building, as well as a 14,000-sq.-ft. (1,300-sq.-m.) greenhouse on the company's corporate campus. These facilities are part of a global growth plan for Dow AgroSciences' research efforts.
"Indiana's excitement and dedication for the life sciences is impressive and matches our own enthusiasm to deliver innovation for our customers as we make a difference in agriculture," said Antonio Galindez, president and CEO of Dow AgroSciences. "When you combine our infrastructure and capabilities with this positive business environment, it was a winning proposition to expand and grow our global headquarters here in order to accelerate our growth strategy. We especially thank the leaders of the city and state for their support."
In 2009, as previously reported in these pages, the company announced numerous plans for expanding its research capacity, including the signing of a 15-year lease on an 80,000-sq.-ft. (7,432-sq.-m.) research facility adjacent to its corporate headquarters in Indianapolis and the establishment of a significant research program at the Purdue Research Park in West Lafayette, Ind.
The Indiana Economic Development Corporation (IEDC) offered Dow AgroSciences up to $12.5 million in performance-based tax credits and $205,000 in training grants based on the company's job creation plans attached to the new project. In addition, pending IEDC board approvals, IEDC will provide the City of Indianapolis with up to $500,000 from its Industrial Development Grant Fund to assist in road, sewer and water improvements needed for the project.
The City of Indianapolis has committed, pending final approvals, to provide Dow AgroSciences with $20 million of property tax increment financing assistance to help defer project costs. The TIF dollars to be provided by the City of Indianapolis will come directly from the new property taxes to be paid by Dow AgroSciences as it invests in facilities and equipment on its Indianapolis campus. The company's capital investment and job creation plans are contingent upon the approval of the local and state incentives.
Southern Initiatives
PMC Biogenix has established a new technical center devoted to the development of new products from renewable resources. The Center for Renewable Chemistry is located on PMC's 42-acre (17-hectare) integrated oleochemicals [chemicals derived from animal fats] and derivatives manufacturing site in Memphis, Tenn. The technical campus spans 3.5 acres (1.4 hectares) and includes approximately 16,000 sq. ft. (1,486 sq. m.) of research and applications labs and office space, as well as a 7,000-sq.-ft. (650-sq.-m.) pilot plant. The pilot plant is equipped with multiple reactors from 10 to 500 gallon capacity and the necessary ancillary processing equipment to produce renewable products with a broad range of properties. 
The facility provides a technical platform to enhance commercial service to a variety of market segments, including plastics, lubricants, personal care, and consumer products, said William Hayes, PMC business manager.
Bayer CropScience officially opened its new Cotton Research and Development Laboratory in Lubbock, Texas, in October 2009. The new 12,000-sq.-ft. (1,114-sq.-m.) laboratory is the latest in a series of new R&D facilities being opened by Bayer CropScience in North America, and the only one focused solely on cotton innovations. The new facility will house approximately 25 people at full capacity, from plant breeders to molecular scientists and laboratory technicians.
"Bayer CropScience is driven by innovation, and cotton is a key crop focus for us. The Cotton Research and Development Center in Lubbock is another example of our strong commitment to investing in this crop and the search for new products and solutions to tomorrow's agricultural challenges," said Bill Buckner, president and CEO of Bayer CropScience.
The company has a goal of tripling its global sales in the bioscience segment to around $1.9 billion by 2018. Dr. Friedrich Berschauer, chairman of Bayer CropScience AG's Board of Management, has said that the company's goal is to further strengthen its role as a leading supplier of innovative technologies in all business segments, to grow its portfolio strategically, and to expand its business sustainably in rapidly growing emerging markets. The growth strategy revolves around chemical crop protection, plant traits, and high-quality seed.
The Texas Department of Agriculture (TDA), in cooperation with the Comptroller's State Energy Conservation Office, plans a comprehensive bioenergy study for the state, aimed at diversifying its energy mix. "Creating a renewable fuels strategy that does not abandon market principles puts us on a path to energy independence while offering job growth and opportunities for rural economic development," said Todd Staples, agriculture commissioner.
The report will identify the state's bioenergy needs and investigate opportunities for Texas within the renewable energy industry. The goal of the study is to provide TDA, the Texas Bioenergy Policy Council, the Texas Bioenergy Research Committee and the Texas Legislature with an in-depth review of the capabilities and challenges of the Texas bioenergy industry.
"With more than 15 different energy sources, Texas is the national leader in energy production," Comptroller Susan Combs said. "The state's vast energy resources extend to bioenergy opportunities."
In 2009, the Texas Bioenergy Policy Council and the Texas Bioenergy Research Committee were created by the legislature to make the state a leader in biofuel and biomass-based electricity production. Staples chairs the 18-member board of the Texas Bioenergy Policy Council, which is composed of policy makers and industry experts.
The bioenergy industry study will examine various bioenergy feedstocks; the logistical challenges related to the production and transport of biomass; and the integration of bioenergy to meet the state's energy demands.
Click the Bookmark button and share with your friends!