A SITE SELECTION INVESTMENT PROFILE
KULIM HI-TECH PARK, MALAYSIA
From Site Selection magazine, November 2010
Science Park
Powers a Solar System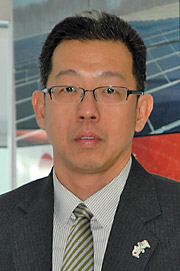 K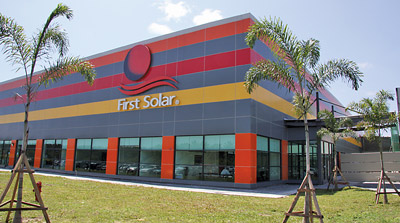 ulim Hi-Tech Park (KHTP), Malaysia's first high-tech industrial park, opened in 1996 as a key component in the nation's plan to be fully industrialized by 2020. Envisioned to be the "Science City of the Future," KHTP is home to the high-tech facilities of such global companies as Infineon Technologies, Intel, Applied Materials, Fuji Electronics, First Solar and dozens of others.
Among the largest tenants at KHTP is Tempe, Ariz.-based First Solar Inc., which broke ground on its Kulim campus in 2007 and has since expanded significantly in the park. First Solar makes solar modules and photovoltaic systems for renewable energy production. Such companies have many location options in Southeast Asia — and in Malaysia. P'ng Soo Hong, Managing Director of First Solar Malaysia Sdn Bhd, recently shared his thoughts on the significance of his company's Kulim location with Site Selection:
Your company must have looked at multiple countries and locations when establishing its facilities in Southeast Asia. What were the main criteria driving this decision?
The key objective is, of course, lowering the cost of doing business in order to ensure that we remain focused at lowering the total cost per watt of our modules. However, to obtain this, there are several attributing factors to be taken into consideration. These include the availability and readiness of human resources, a well-developed and reliable transportation system, proximity to key transportation facilities (e.g. airports, seaports, rail, etc.), a stable political environment, effectiveness and efficiency of the government delivery systems, business-friendly policies as well as favorable tax incentives.
What is the strategic advantage to First Solar of having a high-tech location in Malaysia? Similarly, what is the advantage of a location at KHTP?
Being located at the high-tech park provides the company with proximity to a good pool of readily available skilled and semi-skilled human resources for our operations. This really means that the work force around this location is accustomed to working in, as well as having sufficient knowledge and skills in, the technology industry. In addition, since KHTP is located at the border of Penang, which is one of Malaysia's most industrialized states, it provides us the advantage of obtaining services and supplies from well-established companies in this area. Another point to add is that KHTP is well-connected, in terms of its road network. For example, the Kulim-Butterworth Expressway (BKE) provides easy access between KHTP to the North Butterworth Container Terminal (NBCT) seaport, North-South Expressway and to the Penang International Airport on the Penang Island, via the Penang Bridge.
How does the Kulim area meet your work force needs? Are you finding the employees you need locally or are you bringing people in?
Nearly 80 percent of our work force is local from the vicinity of Kedah and Penang, and the rest come from other states within the country.
I know the site has been expanded substantially in the past couple of years. Why so rapid an expansion?
We have a team that focuses on locating the most appropriate site for setup of our facilities, and we regularly evaluate different locations. Whilst there had been a number of sites in the region that are competitive, the Kulim site provides a significant advantage in terms of the quality and efficiency of the available work force, reliability of the transportation system and great support from the Malaysian government, through MIDA (Malaysian Industrial Development Authority) and the KTPC (Kulim Technology Park Corporation) management team. Additionally, by focusing on volume generation at the site, it helps us achieve greater economies of scale and thus, reducing overall cost of production.
What are your near- or long-term plans for the Kulim site?
In the near-term, we are focusing a lot of effort into the completion, and production ramp-up at our two new plants by the first half of 2011. As we have mentioned in our press releases before, these two new facilities will make up the fifth and sixth plant at our Kulim site, bringing our total production at the site from about 891MW of solar modules to 1,337MW (calculated based on run rates of 55.7MW per line). In addition, we remain heavily focused on improving product and process efficiencies, apart from driving costs down.
In the longer-term, we shall embark on further enhancing our processes by placing greater emphasis on process methodologies and product improvements. Additionally, we have set our sights at making the Malaysian facility a benchmark factory for First Solar worldwide, focusing on five critical areas, namely; technical, quality, work force, environment, health & safety (EHS), and operations.
---
This Investment Profile was prepared under the auspices of Kulim Hi-Tech Park. For more information, visit www.khtp.com.my