NORTH AMERICAN REPORTS
From Site Selection magazine, January 2011
Two Leaders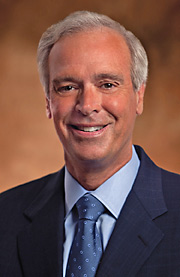 G
overnment, business, academic and NGO officials from the 34 nations of the Western Hemisphere and beyond came to Atlanta in November for the fourth Americas Competitiveness Forum. Free trade, supply chain, green technologies, work force education and innovation were among the themes. Among the keynote speakers were Tony Clement, Canada's Minister of Industry, and UPS Chairman and CEO Scott Davis — whom many in the audience sincerely wished would vie for office.
Clement was in the midst of a tough decision involving his government's rejection of a foreign takeover of Potash Corp. of Saskatchewan by BHP Billiton, owing to conditions set forth by the Canada Investment Act, which is also at the heart of a Canadian legal dispute with U.S. Steel. Davis, meanwhile, spoke of free trade advocates such as himself being able to "come out of hiding" after the November elections in the U.S.
In an interview with Site Selection, Clement addressed the unfolding situation: "Canada is open for business. We value foreign direct investment," he said. "We're a trading nation. But we do have rules. Large foreign takeovers have to be of net benefit to Canada. That presupposes many will be, but some on occasion won't be … All countries have investment laws. All have ways to approach investments, and as long as you have a rule-of-law process, foreign investors are comfortable with that."
Fewer Barriers, More Talent
Most investors seem plenty comfortable with Canada. Clement spoke of his nation's value proposition as an oasis of stability and innovation, owing in part to aggressive actions when it comes to business climate.
"By 2012, we will have the lowest business taxes in the G-7," he said. "We were the first in the G-20 group to unilaterally eliminate the tariff on manufacturing equipment — we weren't waiting on the rest of the world. And in terms of fiscal probity, the debt-to-GDP ratio is the lowest in the G-7. When we invested in our stimulus at the depths of the recession, a lot of it went into research and innovation. Although we've been hit as others have been hit, we've been relatively better off, gaining about 430,000 jobs since July 2009. That's pretty good."
Asked how his team's making it better in terms of administrative burden for business, he said he has a cabinet minister whose job it is to find red tape and eliminate it, particularly for small and medium enterprises. But sometimes the barriers are among governments, not between government and business. In some areas, said Clement, it's historically been easier for Ontario to trade with Michigan than with Quebec. Through an agreement on internal trade, he said, "we've been busy sector by sector tacking some of the administrative burden that has crept up between provinces."
His team is also focusing on how to create a digital economy strategy for Canada by looking at the business take-up of ICT innovation. The focus is on five discrete areas: the broadband hardware; helping business adopt ICT; training young people in online literacy; generating Canadian digital content; and finally, growing Canadian companies.
"We have some great ones," he said, citing Blackberry maker Research in Motion (RIM) and OpenText. "Five percent of our GDP is ICT right now. How do we double that?" Clement cited RIM as the perfect example of industry-university collaboration as well, saying the whole debate over how to conduct such collaborations is "mostly over now."
"Our academic community has found a way to collalborate that is not antithetical to their mission," he said. "The University of Waterloo is the prime example because of the work that goes on with RIM. Visit that campus, and you'd find it hard to distinguish a RIM building from a university building. The two kind of intermingle."
Access to talent is an area in which Canada continues to grow more aggressive. Its Canadian Excellence in Research chairs feature a $10-million award over seven years for each lead researcher and team members lured from elsewhere. Nineteen such awards have been distributed. "The icing on the cake was when The Guardian editorialized that Canada was stealing the best talent from the U.K.," he said.
Making It, Then Moving It
Asked how important manufacturing continues to be in the digital age, Clement said, "I really do believe we have to continue to make things. When I first came to our department as minister, I found in speeches this false dichotomy between the knowledge economy and the old manufacturing economy. I really altered that message, because to me the two are very much connected. Yes, in ICT, you can move forward on the knowledge economy in and of itself. But the knowledge economy primarily is a means to an end — it's how you do agriculture, oil and gas, greentech or manufacturing better."
A chief example is the aerospace sector, featuring such companies as the Bristol Aerospace expansion in Winnipeg to support component manufacture for the F-35 joint strike fighter jet program. The 300 workers making those will all be members of the Canadian auto workers union.
"That's a good job for the next 30 years," he says such high-tech production. "That's the kind of stuff we can do, and a good indicator of how integrated the Canadian and American economies are. With $1.6 billion a day in trade, it's unique in the world."
Freeing Up the Flow
In his own comments to the Forum audience, Davis of UPS opened by quoting English poet John Dryden, who said over 300 years ago, "Trade, like blood, should circulate and flow freely."
Davis freely admitted the vested interest of his company, which at any given moment handles 2 percent of global GDP in its trucks and planes. Then he directly addressed the concept promulgated during the 2010 elections that global trade was somehow responsible for poisoning the economy. As a member of the President's Export Council, he said progress is real, including exports that were 18 percent higher in the first half of 2010 than in 2009. But there's plenty of ground to make up. The Council's goal is to double U.S. exports to more than $3 trillion by 2015.
"I'm convinced that many U.S. businesses that don't export could compete successfully if they tried," said Davis. "Exports account for only about 11 percent of U.S. GDP. That compares with about 28 percent for Mexico and a whopping 50 percent for Germany. "One reason is the presence of export controls, he said. (In the weeks after his speech, the Obama administration announced significant revisions to these controls, following the basic premise of "higher fences around fewer products.")
Davis said it would not be easy to reach the Council's goal so quickly. But he noted that 95 percent of the world's consumer are outside the U.S., many of them in so-called emerging economies.
"Frankly, given the massive scale of this opportunity, I'm astonished that U.S. businesses are not more vocal in demanding better access to this huge wave of global consumers," he said.
Among the challenges ahead, he said, was to overcome "misguided" policies such as the "Buy America" provision in the 2009 federal stimulus package. "I discovered the heated emotions around 'Buy America' last year at a conference in Detroit. Canadian business leaders buttonholed me and described these new rules as an unwarranted slap in the face … Canada accounts for about 19 percent of U.S. exports, and these leaders warned that 'Buy America' provisions risked a very important economic partnership."
While some rules were later eased, such issues raise the specter of reciprocity: U.S. businesses could face higher barriers when they bid for big projects in other countries, or attempt to conduct normal business there. Such is the case with the current Mexican truck imbroglio, with the limits on their allowed entry in the U.S. resulting in a retaliatory 20-percent Mexican tariff on 90 U.S. products.
"The result is the loss of $2.4 billion in U.S. exports to Mexico," Davis explained, noting that the assertion that Mexican trucks are unsafe has little or no merit. "The Mexico trucking dispute started as a pothole and it's grown into a giant sinkhole. We need to patch it quickly. We don't want this dispute to keep spreading and swallow up NAFTA."
Davis hopes trade agreements pending in Congress aren't similarly swallowed up by a combination of lassitude and rhetoric.
"In the halls of Congress, compelling arguments for trade get overwhelmed by noisy and heated attacks on globalization," he said. "In the months ahead, however, I'm hopeful that cooler heads will prevail, and we'll have more trade deals." The problems aren't all in the U.S. — Davis cited the "thicket of regulations and taxes" in Brazil as a major obstacle. But he observed that such barriers are especially regrettable given improved electronic systems for logistics and customs.
"But trade-friendly rules have to be in place," he said. "The bottom line is this: When global commerce suffers, we all suffer and we all end up paying a price."
Click the Bookmark button and share with your friends!