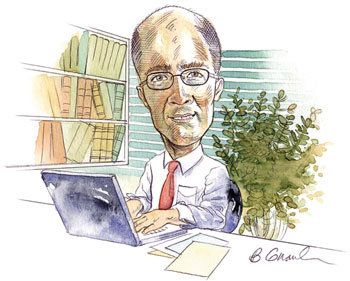 t was hard to believe Mac Conway hadn't been to the Taj Mahal, but he was irritated a dozen or so years ago that he hadn't been there yet. So he and his wife, Becky, went. He'd been just about everywhere else on the planet — many places most of us will never see — and he was determined to check that Subcontinent landmark off his bucket list.
Long before that, in the late 1950s, the same determination prompted Mac to form an association of industrial corporate real estate executives that was the Industrial (later International) Development Research Council (IDRC). With IDRC's merger-fueled dissolution in 2002, Mac quite quickly formed the Industrial Asset Management Council, arguably the corporate real estate industry's rising star in the association world today. When Mac saw something that needed to be done, he made sure it got done.
We lost Mac on Memorial Day weekend. His many contributions to the aerospace, corporate real estate, economic development, publishing and other industries are chronicled just a few pages from here. So if you didn't know Mac personally, you will learn about a remarkable figure who is the driving force behind the fields many of us call our own today.
I am particularly grateful for Mac's pioneering endeavors in the airport economic development arena, a topic of great personal interest to me. Back when airports were gas stations for a fledgling aviation industry, Mac saw the potential for enormous airport-centered economic vitality involving residential, commercial and industrial development. Early Conway Data offices were at Peachtree DeKalb Airport in Atlanta so Mac could walk the walk, not just talk the talk, just a few steps to his plane, a single-engine Mooney. Today, areas from Detroit to Dubai are building new economies around their aviation assets, linking their broader economies to those on continents once deemed out of reach.
My colleagues and I at Site Selection credit Mac's leadership as publisher for making this magazine the most successful, most cited by industry experts and most well-read publication in its field. Mac's insistence on making corporate executives charged with investing capital in new projects our primary sources has distinguished Site Selection from other magazines that have come and gone over the past several decades. We will remain true to that mission. Mac knew, as we know, that the most valuable intelligence available to those investing millions of dollars in company capital is knowing why others in their sector invested where they did.
If you knew Mac, please visit SiteNet.com, where you can leave a note of remembrance and share with others his influence on your personal or professional experience. If you didn't, then get to know him in these pages and on the many domains associated with conway.com. And you'll find a goldmine of economic-prosperity insights in Mac's books, available at amazon.com. They chart the course forward for areas hoping to be beacons of wealth creation and are roadmaps for companies seeking to prosper in them.
This issue of Site Selection features topics of particular interest to Mac, including research and technology centers and sustainable development. We hope this content will stimulate your thinking about these topics — and the role you can play in taking them to the next level. That's what Mac would have done.