A SITE SELECTION INVESTMENT PROFILE
GREATER FORT LAUDERDALE
From Site Selection magazine, March 2011
Headquarters
For the World
In Greater Fort Lauderdale, multinational firms find a safe
haven and desirable tax climate for corporate operations.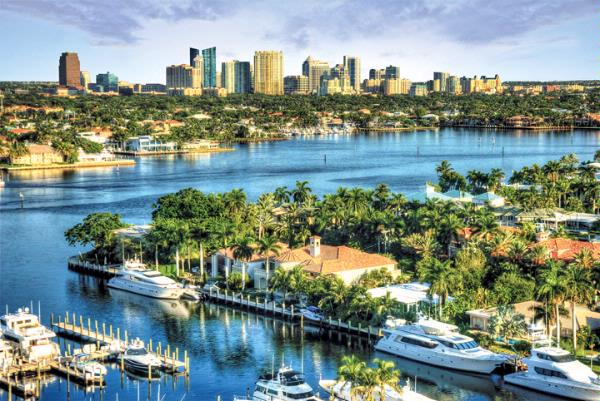 T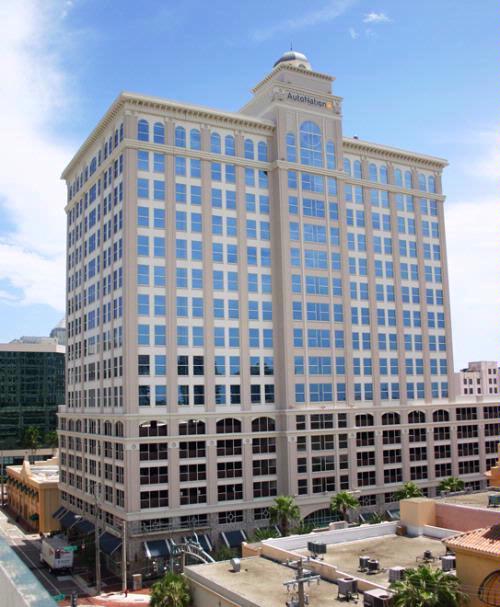 he founder of AutoNation, Extended Stay America and Waste Management Inc. enjoys his daily commute. He likes the view from his South Florida office even better.
"We have the weather on our side. The climate here is wonderful," says Wayne Huizenga, chairman of Huizenga Holdings and one of the most influential business leaders in Greater Fort Lauderdale. "The city is beautiful. The work force of Broward County is excellent, and the educational resources are second to none. All of the major pro sports franchises are here. Anything a major market would want to have is here."
Huizenga should know. The only entrepreneur in U.S. history to launch three Fortune 1000 companies from scratch, he could live anywhere in the world he wants.
He chooses to live and work in Broward County in the heart of 5.5-million-resident South Florida. Located at the epicenter of the Southeast's largest metropolitan region, Fort Lauderdale is minutes from Miami to the south or West Palm Beach to the north.
"A lot of people's image of Broward is that it is a beach place. But once they see how vibrant the business community is, they want to be here," he says. "I love Broward County. Our family would never think of leaving it."
A growing array of companies concurs. More than 150 companies have chosen to base their U.S. or regional corporate headquarters in Greater Fort Lauderdale. They are firms like DHL, AutoNation, Alcatel-Lucent, Citrix Systems, Kaplan Higher Education, Embraer and Microsoft. They are stretched across the county, from downtown Fort Lauderdale to suburban business parks in Plantation, Davie, Sunrise, Coral Springs and other submarkets.
Some 1,200 multinational companies maintain operations in South Florida, managing more than $200 billion in revenue from South Florida. There are numerous international and regional headquarters from Europe based in Greater Fort Lauderdale, including companies from the U.K., Spain, France, Germany and Italy. Canadian firms also call Broward home, along with others from Asia, Israel and South America, especially Brazil.
According to a series of interviews with top executives from a sampling of these firms, the primary reasons these firms choose to base their operations in Greater Fort Lauderdale are as follows:
The area offers an extremely low tax rate for businesses.
The work force is highly educated, mobile and multilingual.
The area's transportation and logistics network — including access to three international airports and one of the busiest cargo seaports in the U.S. — is the best in Florida.
The quality of life, including access to health care, is one of the best in the country.
"The first and foremost business location advantage is the outstanding talent that lives right here in Greater Fort Lauderdale," says Mike Jackson, chairman and CEO of Fort Lauderdale-based AutoNation. "That was not something I expected to find when I came here 10 years ago. The community is very diverse, dynamic and entrepreneurial."
AutoNation employs about 1,000 people in Broward County, most of them at the 105,000-sq.-ft. corporate headquarters at 200 Las Olas Circle in Fort Lauderdale. The firm occupied the space in mid-2009.
"We could locate our headquarters wherever we want," says Jackson. "We decided to do our lease right here so that we could stay in South Florida and keep the talent we had."
Jackson says Fort Lauderdale provides everything his company needs to thrive. "We have a strong recovery under way. Our business was up 15 percent last year and we expect that to continue," he says.
Jackson notes that Fort Lauderdale has "a world-class airport with flights to everywhere. It is very professionally run and it has room to expand in the future. We also have one of the largest ports in the U.S. The two largest cruise ships in the world are both based out of Fort Lauderdale. And we have advanced universities like Nova Southeastern, which has 20,000 people in their master's degree programs."
Fort Lauderdale shows up high on the list of many business rankings:
The Miami-Fort Lauderdale MSA ranks fourth in the nation for small business, according to a January 2010 ranking in Bizjournals.
BusinessWeek named Miami-Fort Lauderdale one of America's Top 25 High-Tech Cities in December 2010.
KPMG named Miami-Fort Lauderdale the third least-costly place to do business among the 22 U.S. cities with populations exceeding 2 million (April 2010).
Bizjournals named Miami-Fort Lauderdale the seventh-best place to launch a new business in January 2010.
Fort Lauderdale competes so well on business costs and business-friendliness because of its location — in Florida. The Tax Foundation ranked Florida as the fifth-best business tax climate in the nation in October 2010.
Employers like the region because of its access to higher-education resources and highly educated talent. Some 42 institutions offer associate's degrees or higher within 30 miles of downtown Fort Lauderdale. Five of these schools offer MBA degrees.
A crucial resource for Broward County firms is Nova Southeastern University. Ray Ferrero, Jr., chancellor of NSU, says that a "core mission" of his school is to be "involved in economic development, whether it is in terms of research or attracting new business or continuous education."
NSU also supplies a steady stream of graduates to fill high-skill positions at Broward firms. With more than 29,000 students and roughly 4,000 employees, NSU is the third largest private employer in the county.
"We have a $560-million budget, but we have a $1.5-billion economic impact throughout the state," Ferrero says. "We are the largest university in the county by far. We are the largest private university in Florida and in the Southeast, and we are the seventh-largest private, not-for-profit university in the U.S."
With schools of pharmacy, dentistry, and computers and information science, NSU is filling the rosters of area employers with top talent. In addition, the H. Wayne Huizenga School of Business and Entrepreneurship is the only school of business with entrepreneurship in its name.
Ferrero, as chairman of the Greater Fort Lauderdale Alliance CEO Council, makes sure that his institution is integrated with the needs of businesses throughout the region.
"Here in Broward County, we can support the needs of any employer from roughly three months of age to post-retirement," he says. "Employers always ask about education and culture, and in Fort Lauderdale they can find the best of both."
---
This investment profile was prepared under the auspices of the CEO Council of the Greater Fort Lauderdale Alliance. For more information, contact Robin Ronne, managing director of the CEO Council, at 954-627-0126 or by email at rronne@gflalliance.org.