TOP METROS OF 2010
From Site Selection magazine, March 2011
A City
With an Edge
An in-your-face approach propels a social commerce company
to new heights, signaling a new era for Second City.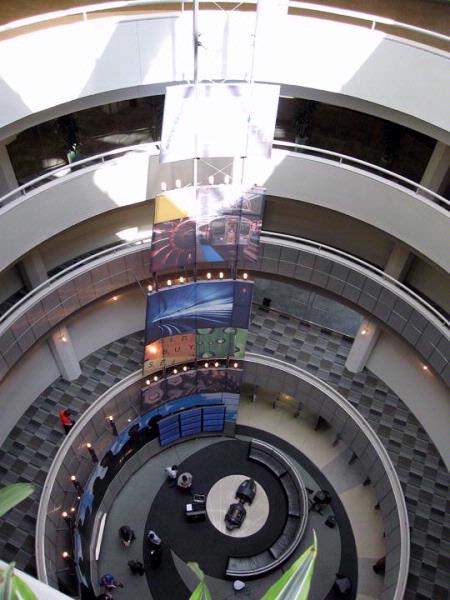 A
company that was the talk of the Super Bowl has become a gold-plated example of the new Chicago economy: brash, sassy and hip.
Groupon, which ignited a firestorm of controversy with its irreverent ads during Super Bowl XLV, is one of several Windy City companies changing the future of Internet commerce.
Collectively, these firms contributed to Chicago ranking as the No. 1 metropolitan area in the U.S. in corporate facility expansion projects in 2010.
With 184 corporate real estate deals that meet the criteria for inclusion in the Conway New Plant Database last year, the Chicago-Naperville-Joliet metropolitan statistical area clobbered the competition.
Runner-up Houston posted 152 projects in 2010, followed by Dallas-Fort Worth with 127, Cincinnati with 123 and New York City with 120. (Baton Rouge, La., led Tier Two metro areas, comprising those with populations between 200,000 and 1 million, while Lake Charles, La., led the Tier Three category. Read more.)

Groupon was doing a lot of clobbering during the Super Bowl, first with its satirical commercials that raised the ire of more than a few critics, and secondly when it cleaned up on hits on its Web site thanks to the controversy.
When the dust settled, Groupon had accomplished its goal: It had created more buzz than any other ad that aired during the world's most-watched TV program. And Chicago had what it wanted too: the most talked-about company on the planet.
"Chicago is a technology hub, and Groupon is leading the charge," says Rita Athas, president of World Business Chicago. "We have the technology work force, which is the primary location consideration for companies like this. Groupon, which Fortune magazine called the fastest growing company in history, has its headquarters in Chicago. At one point, they were hiring 100 people a month."
Groupon is a social commerce company that offers discounts on goods and services, but only if a minimum number of people agree to purchase the deals that are offered to them through e-mail each day. The company has 50 million subscribers and is growing its customer base by 3 million per month.
What Others Are Saying:
---
Jeff Moseley, president and CEO of the Greater Houston Partnership:
"The Houston region is pleased that our efforts to attract jobs and capital investment to our area have been recognized by Site Selection. Despite challenging economic times, our region continues to experience robust growth and set the pace for future economic prosperity."
---
Mike Rosa, vice president of economic development for the Dallas Regional Chamber:
"Dallas-Fort Worth's fundamental location assets continue to drive our success and ability to attract and expand companies. Coupled with a business-friendly mindset at the state and community levels, the DFW story is compelling for companies that want a high-quality yet affordable place to do business. And what company doesn't like that? Credit for DFW's consistently high ranking among metro areas over the years goes fully to the many outstanding economic development professionals that represent DFW area cities and chambers, and the state of Texas."
Google offered US$6 billion to buy the company in December, and the owners of Groupon turned the offer down.
Groupon set off a feeding frenzy of criticism when one of its ads during the Super Bowl appeared to make light of oppressed people in Tibet. "The people of Tibet are in trouble … but they still whip up an amazing fish curry," actor Timothy Hutton said during the ad. "And since 200 of us bought at Groupon.com, we're each getting $30 of Tibetan food for just $15."
Groupon shrugged off the charges of insensitivity by pointing to a link on its website to the Tibet Fund, which raises money to help Tibetan exiles.
Groupon is one of several rapidly growing technology firms that has found a home at 600 West in Chicago. "600 West is a tech center that is bursting at the seams," says Athas. "The growth of financial technology here has been very encouraging. The mayor recently sat down and met with 40 of these companies."
But the new world of Internet commerce isn't totally pushing old-world industry out the door — at least not yet. In nearby Gary, Ind., part of the greater Chicago metropolitan area, U.S. Steel is investing $220 million to modernize its steel-making plant.
Courtney Boone, spokesperson for U.S. Steel's Gary Works plant, says the investment represents the first domestic application of a new technology in the steel-making industry. "It allows us to replace existing coke batteries with new technology and improve the environmental performance of the facility," she says. "The first phase will involve two modules. We are permitted up to four modules. It will take 24 to 30 months to complete this project, so we expect to be operational by 2013."
The plant expansion will allow production of an additional 500,000 tons per year of output, she notes, adding that 500 construction jobs will be created during the work.
Currently, Gary Works has an annual raw steel-making capability of 7.5 million net tons. The plant has four blast furnaces, four continuous slab casters and three ladle metallurgy facilities.
Other large investments last year in metro Chicago came from Blue Cross Blue Shield of Illinois ($270 million), Fair Oaks Farms ($164 million), Astellas Pharma ($150 million) and Navistar International Corp. ($90 million).
"The upside of our economic diversification is that any kind of industry finds itself at home in Chicago," says Athas. "Our quality of life attracts a lot of young people. And the Chicago region has a lot of sites to offer. Some companies need a city and some need a greenfield location. The Global Cities Index recently rated Chicago the sixth best business destination in the world. Companies small and large and medium are all starting to realize they need access to international markets. Our goal is to move up to number three in this ranking."
While Athas admits that the International Olympic Committee's decision last year to award the 2016 Olympic Games to Brazil over Chicago was a "disappointment," she notes that "we have recovered from that decision. We hosted the president of China last week. Chicago was the only city outside of Washington, D.C., that he visited. Our mayor's outreach helped bring that about. Mayor Richard Daley has really laid a strong foundation. After 21 years as our mayor, he will be sorely missed. He is such a national and international figure."
Athas says Chicago has seen evidence of a national economic turnaround. "The economic recovery is under way. We have seen a real uptick in inquiries from prospects," she says. "My staff cannot believe the number of calls we are getting."
Athas offers words of advice to anyone worried about the new Illinois governor's plan to raise taxes. "We did research on local tax packages," she says. "Everyone is zeroing in on the corporate tax rates. Illinois has challenging financial issues and they are being addressed. But when you look at the total tax package, we are still in the middle in terms of business tax rates around the country."
The point she wants executives to understand is that "all of the things that make metro Chicago strong are still there. The quality of life that a city offers is extremely important. Young people are attracted to urban environments, and Chicago will always have a work force that attracts jobs."