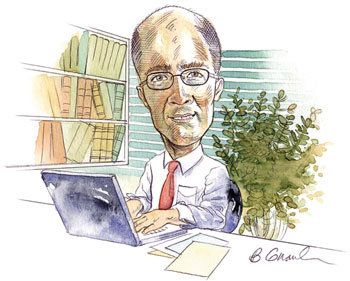 Roadmaps for the
'New Normal'
irst, plan on being busier, smarter, more collaborative and more creative as companies emerge from the global financial crisis. Second, corporate real estate executives will need to be even more relevant and responsive in the years ahead, because the challenges of managing corporate real estate will intensify. That's the gist of "Opportunity Emerges from Crisis: Global Corporate Real Estate Survey 2011," from Jones Lang LaSalle and Thomson Reuters, released in March. The survey is based on input from more than 500 real estate executives from around the world in a wide range of industries.
Cost control drove real estate strategy during the past three years. Going forward, four drivers will shape corporate real estate teams, according to the survey: (1) real estate teams are required to be even more relevant and resourceful, enabling corporate real estate leaders to further enhance productivity and efficiency; (2) real estate organizations are exposed to complex targets, such as dealing with the contrary pressures of growth and right-sizing; (3) corporate real estate teams are moving towards more sophisticated partnership models; and (4) a new talent requirement is emerging, resulting from a tougher operational environment, forcing corporate real estate leaders to rethink team structures and skills.
"Corporations have clearly shifted from short-term, survival motivated tactics towards medium-term, strategic initiatives aimed at driving productivity enhancements," said Stuart Hicks, CEO of corporate solutions at Jones Lang LaSalle, when the report was issued. "Driving improved productivity by implementing more strategic real estate initiatives can release tremendous value given that real estate typically accounts for 7 to 12 percent of a corporation's total operating costs."
"These survey results should also be of interest to the investor community, as they point at important cyclical and structural shifts in demand for space, as well as operational priorities for the tenants," added Robert Ciemniak, global head of real estate markets at Thomson Reuters.
Here's the good news: First, you already know much of this, because you manage a portfolio of real estate or a team that does. Second, you will find the tools with which to make the transition to the post-global-financial-crisis world successfully at Industrial Asset Management Council (IAMC) Professional Forums and in the pages of Site Selection, which features interviews with corporate real estate executives and other corporate decision-makers far more than any other publication.
As for IAMC, by the time you receive this issue of Site Selection, the Spring 2011 Professional Forum will be under way at the Hyatt Regency Tamaya Resort in Albuquerque, where a record number of corporate real estate executives are networking and gaining practical insights into the very issues raised in the Jones Lang LaSalle and Thomson Reuters survey. They'll meet again this fall in Philadelphia (September 10-14); the theme of the Fall 2011 Professional Forum is "Adapting to Constant Change — Will There Ever Be a New Normal?"
The survey I am drawing your attention to here offers some valuable clues about what the "new normal" will look like, and I encourage you to study the survey results in more detail. More so, I encourage you to attend IAMC Forums. That's where you'll find not just clues, but strategies for succeeding in your organization and in your profession.