ONTARIO
From Site Selection magazine, November 2011
'Where the World Is Going'
A watershed renewable energy deal with Samsung survives an election,
and moves forward on the power of unswerving commitments.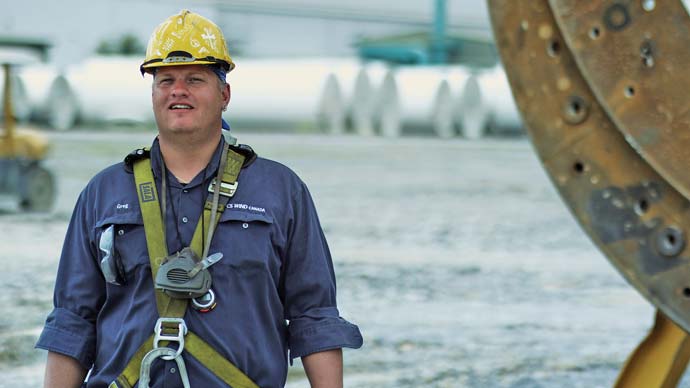 I
n January 2010, based on Ontario's feed-in tariff scheme for renewable power put into place in 2009, Samsung C&T and Korea Electric Power Corp. (KEPCO) signed a C$7-billion renewable energy agreement with the provincial government that would include multiple solar and wind farm projects as well as a commitment of four in-province manufacturing complexes from Samsung. This year the agreement became the hottest of political hot buttons, as candidates with the Progressive Conservative party threatened to scuttle the entire agreement if they were voted into power on Oct. 6.
In August, the Ontario government negotiated a drastic 75-percent cut in the original $437-million subsidy to be paid to Samsung over 20 years in conjunction with the four manufacturing plants, in exchange for giving Samsung another year, until 2014, to complete the projects. The company retained a crucial aspect of the agreement: priority access to the Ontario power grid.
On Sept. 8, Samsung made the final pledge of its four-plant commitment, choosing London, Ont., for a 200-job solar module manufacturing site for both domestic and global customers. The next day, Premier Dalton McGuinty dared his political opponent to come tell Londoners that their economic development success and jobs would be short-lived.
As it turned out, the brinksmanship was short-lived. The election has come and gone, and McGuinty's Liberal Party government has retained power, albeit without a majority for the first time in his three terms as premier.
As government relations and business development manager at Samsung Renewable Energy, Hagen Lee negotiated the original green energy investment agreement: "In 2008 I came to Ontario and presented our customized proposal," he said in an interview just prior to the election. "I lived out of hotel rooms for 18 months, working 90-hour weeks, and we negotiated the large agreement."
Lee also has led the site selections and related negotiations for Samsung's four manufacturing investments. All in all, he's met with 15 mayors and looked at 30 municipalities across the province. He now manages 12 sites in total, counting the eight solar and wind farm projects currently in development. The agreement calls for 2,500 megawatts of renewable wind and solar energy to be created, and 16,000 direct and indirect jobs.
Logistics Leads the Way
To date, 1,800 jobs have been announced, with more than 600 people filling them as of September. Samsung and its partners have invested in excess of $150 million to date.
Lee said logistics costs played a huge role in determining the four manufacturing sites, starting with a 700-job wind turbine tower plant in Windsor, a location decision he says came at the end of a 10-month process involving him and delegations from Korea.
"What they had going for them was the transportation and logistical advantage," said Lee of Windsor. "It's close to the border, accessible by air and highways, with a port where you can ship the steel in and ship the towers out to provinces and U.S. states. The city really worked on helping us find the right spot, pulling everyone to the table," including partner CS Wind. Lee also gives credit to the strong commitment of Windsor Mayor Eddie Francis.
"If it weren't for him, Windsor probably wouldn't have gotten the factory," said Lee, describing a 30-day period of hard negotiations involving property price and rail spur costs that extended over the winter holidays. "There was a $16-million gap we had to close in three days. It was intense. The mayor cancelled his family trips and worked alongside us, and we were able to close the deal." The company is now hiring and training a projected 300 initial workers for the plant.
"The tower plant was the toughest to find," he said of the first site selection domino. "You can't just go into a big building. The pillars and ceiling have to support a 50-ton crane and the carrying of heavy-duty steel structures. That was a challenge — a lot of these plants were assembly plants in a previous life, so they didn't have the strength and structure, or sheer size"
Many applicants for jobs at these four plants come from the automotive industry. Meanwhile, domestic content clauses, having survived a challenge from the World Trade Organization, mean indirect jobs at such places as shippers and steel mills — Lee said the towers will likely consume at least 200,000 metric tons of steel.
The Tillsonburg location of the 900-job wind turbine blade plant, with partner Siemens, is near Samsung's first wind power plants in Chatham-Kent and Haldemand in southern Ontario, which together call for the erection of 1,000 turbines. With three long blades per turbine, Lee says the logistical advantages of Tillsonburg were obvious.
"And we were able to find a very large building for a good price, which required some renovation and reinforcement of the beams," he said of the facility, which like the one in Windsor formerly served as an automotive plant. It would have cost three times as much to go the greenfield route with a new facility, and taken twice as long, said Lee.
The timelines were as tough as the buildings had to be.
"We're only giving these guys 12 months to set up and be operational," he said. The third plant, a 200-job solar inverter operation with German partner SMA Solar Technology, will be located at the Toronto facilities of Celestica.
Don't Sway When the Winds Blow
The London decision was made for solar module manufacturing, again based on logistics and strong economic development leadership, said Lee.
"They are working through a plan right now to work towards production in 2013," said Peter White, president and CEO of London Economic Development Corp., in a pre-election interview. Lee later confirmed that five sites were in play as of Oct. 12.
White says London has worked with Samsung over the past couple years in relation to a separate interest in R&D work occurring at the University of Western Ontario and Fanshawe College. The area has a strong ethnic Korean community of more than 8,000, and has seen past major investments from such Korean firms as Hanwha and Changshin Steel, a producer of specialty steel in the exhaust industry that is nearly doubling the size of its facility. White's team visits Korea two to three times a year.
As for the province-wide political dust-up, Samsung's Lee was cool even before the election result was known, citing the binding commercial agreement with the government, the jobs already created, and the 1,100 agreements "with families across Ontario who want us to build wind turbines and solar projects on their land.
"We are acquiring more land and hiring and training more people every day," he said. "We are very serious. These large infrastructure projects take time and take commitment, and if we swayed every time people said this and that, nothing would get done."
Lee said research centers of excellence might be in the offing in the future. Asked what guidance he'd offer economic developers, he said, "Stay open-minded. Inviting investment is getting more competitive. And we have to keep in mind that for the first time in history this year, there is more investment in renewable energy than in traditional energy.
"We know where the world is going," he said. "You have to be ready for those investments for your jurisdiction."