CALIFORNIA
From Site Selection magazine, September 2011
Next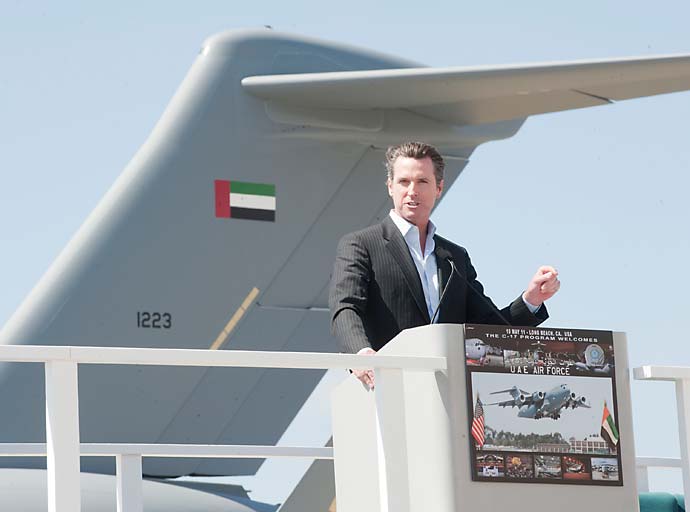 For the first time in more than a decade, someone in Sacramento has unveiled a comprehensive economic development strategy.
U
nemployment is at 12 percent in California. In the eyes of many, Texas is eating its lunch, and other states are hungry for the leftovers. In the words of one interested businessman, "We are becoming a state where all we do is flip hamburgers and do each other's taxes."
And yet, despite a litany of such stories, according to former San Francisco Mayor and current Lt. Governor Gavin Newsom, the state hasn't been able to put together a cohesive economic development menu. So on July 29, Newsom stepped into the vacuum and delivered "An Economic Growth and Competitiveness Agenda for California" at a press conference held at the San Jose headquarters of thin-client cloud computing firm Wyse Technology, which has steadily added 100 people to its payroll of 400 in recent months.
The report does not pull punches, saying the state has "reaped the bitter consequences" of not having an economic strategy or jobs plan for over a decade, with a sense of mission lost in the bureaucratic miasma of 30 different state agencies and departments.
The report, put together with assistance from the Brookings Institution and McKinsey & Co., was the product of several months of travel across the U.S. studying business strategies and best practices and meeting with CEOs. Though it was just a plan and not a fait accompli, the appearance of at least something drew support from labor, local and national elected officials and the business community. Silicon Valley Leadership Group CEO Carl Guardino called the plan "bold and comprehensive."
Gov. Jerry Brown, who served as mayor of Oakland at nearly the same time Newsom served in the same capacity across the Bay, wants to redirect funding from municipal redevelopment agencies to county and state economic development agencies. Newsom has disagreed somewhat, citing successful work in San Francisco by that city's agency. Brown's own attempt at revising the state's onerous business tax formula in the new budget has been criticized by the state's leading manufacturers association as not going nearly far enough.
Asked for comment on Newsom's "Next Economy" agenda, governor's office spokesperson Evan Westrup said, "Governor Brown appreciates the Lieutenant Governor's support and will continue to work closely with him to expand California's job creation agenda." Not long afterward, on August 17, Brown named Michael Rossi, a retired Bank of America executive from Pebble Beach, as his new "senior jobs adviser," asserting that Rossi would tackle some of the same issues prominent in Newsom's report. Newsom's office, after finding out about the appointment from journalists, issued an equally tepid "work together" statement.
Newsom, 43, has already raised significant cash for the 2014 election, ostensibly to be re-elected to his Lt. Governor post. But if the aging Brown chooses not to run again, Newsom is widely considered a leading candidate.
'I Was Clueless'
Two days before unveiling his plan, Newsom spoke to Site Selection about his wake-up call to the rest of the state, and the radical transformation of his own economic development vision. As a small business proprietor who has employed hundreds of people in his native state, he said it was "disgraceful" that a state of such size and heritage has no intentionality around economic development.
"There's been a dismissive attitude over the years from all sides of the aisle — it's not an ideological thing," he said. "There's been a lack of leadership. Governors and legislators are all rhetoric, saying 'jobs jobs jobs' with no follow-through at all. We have to turn that around, and if we don't, not only is the state in trouble, but because of the magnitude of the state economy, the impact to the rest of the country is not insignificant."
Newsom said he himself harbored a "not atypical" bias that is part of the problem, focusing during his mayoral years on the "knowledge economy."
"I didn't think much about our manufacturing economy, except in the rear-view mirror, as part of our past," he said. His six months of exploration gave him a completely new bias toward prioritizing advanced manufacturing.
"I was clueless about this," he admitted. "I never understood, and I thought I understood. Six months from now I'll say the same thing about the R&D side of manufacturing. The mythology that we can still compete from an R&D perspective without manufacturing is a complete fallacy. I never fully understood that. Two-thirds to 70 percent of R&D in this country is linked to manufacturing. When you start to lose manufacturing, you lose R&D, and if we lose the R&D race, we're in serious peril.
"It just reinforces the imperative to fix this," he said. "There's a misunderstanding that we'll somehow have the brains and you'll have the brawn. I had that point of view, and it's extraordinarily naïve. I'm trying to convince people like the old me that we're wrong and they're right, and we can get back into this game. With the right signals, initiatives, and energy, we can begin to reconcile this."
The strategy appears to align well with national sentiment. In late July, a national poll conducted by The Mellman Group and Ayres, McHenry & Associates and distributed by the Alliance for American Manufacturing found that "creating manufacturing jobs in the U.S." and "strengthening manufacturing in this country" are the top voter priorities for the Obama Administration, higher even than deficit reduction, healthcare reform or immigration reform. Ninety percent of respondents favored "Buy American" policies, and 90 percent also have a favorable view of American manufacturing companies — up 22 points from 2010.
Helping Newsom's cause will be the state's manufacturing legacy, "the remarkable scope and diversity of our remaining manufacturing in this state, and the capacity to quickly scale up," said Newsom, noting that the California Manufacturers and Technology Association and people such as The Milken Institute's Ross DeVol have been calling attention to these assets for years. "The supply chain is still tugging along to an extraordinary degree when you consider what happened in this state."
He pointed to everyone's favorite panacea — greentech — as a prime source of new-generation manufacturing jobs.
"People still see it as big factories just churning things out." It involves a lot more small and medium-sized businesses than people think, he said, not just big business. "The average person and average politician don't fully understand what manufacturing actually is."
Taking Lessons to Heart
Newsom said his passion for this issue grows straight out of his own business experience, which has taken him from opening a small wine store right after college to now exporting wines to Asia.
"I've evolved from a business perspective to a production and manufacturing perspective, with no support from the state, zero," he said. "The trade office shut down in 2003, and there's not a person you can find who cares, or who knows who cares."
Reading more about the subject cemented the connection between his personal background and his professional responsibilities. "I was mayor when I opened an office in Shanghai because I was so frustrated the state was closing all of its foreign offices," he said. "I did that because the state didn't care."
Newsom's tutorial in economic development included learning more about other territories that obviously did care. Subject matter included export strategies in places as diverse as the state of Washington and the state of Bavaria in Germany; the Edison Centers and Third Frontier programs in Ohio; the Advanced Manufacturing Initiative in Massachusetts; the Fraunhofer Institutes in Germany and around the world; Pennsylvania's highly regarded Ben Franklin Technology Partnership program; South Korea's Industrial Technology Foundation; the SolarTech/CleanTech programs in Silicon Valley; Georgia's Work Ready program; the many successful programs from Singapore EDB; and Chicago's Austin Polytechnical Academy, as an example of an advanced manufacturing skills model in secondary education.
"There's no one thing that's perfect, but these things are happening around the world and around the country," said Newsom. "There's not a problem we have that hasn't been solved somewhere. No one could imagine Germany a few years ago leading in manufacturing, in a highly regulated labor-intensive country. This can be done. And with the assets of California … you just dream of these assets. But some people don't know about it. San Diego CONNECT is a great example. It's a national model, and no one up here in Northern California knew about it. They thought it was a foreign country."
Newsom's plan features specific 60- to 90-day drill-downs covering more than two dozen topic or issue areas, with focused outcomes around regulatory alignment from cities and areas. "We're going after a new patent office for California, since we don't have one," said Newsom, who was about to meet with labor leaders on the subject of zoning, and with the state treasurer to discuss financing strategies. Other goals include establishing manufacturing centers of excellence; tackling cost and regulatory issues; making accommodations for growth of manufacturing through land use planning, zoning and permitting; and, last but not least, adapting state incentives.
The biggest issues may be connecting the dots between rural and urban California and simultaneously educating legislators, many of whom have expressed surprise at the plan's emphasis.
"Intellectuals tend to see it in academic terms," said Newsom. "And frankly a lot of us on the coast have not grown up with a manufacturing appreciation." At the same time, "there is an interesting alignment between labor and some of the manufacturing organizations in our state, who are beginning to understand they're locked at the hip on this and need to start working together."
Newsom realizes that it's an even tougher sell at this particular time.
"We can talk about our higher income and corporate taxes, and we can argue the perversity of being one of three states with the sales tax on equipment for manufacturers," he said, "but against the backdrop of the fiscal crisis the state has, we're just trying to get through tomorrow. I'm trying to deal with that reality in terms of our recommendations to the governor and legislature. But we have to get back in the future business. Our budget debate is about yesterday, not tomorrow. So we're going to strategically make some recommendations about how we can balance those competing pressures."
By doing so, Newsom knows he's walking the political plank. But he's convinced it's worth the risk.
"Cost is a huge factor in California. I was one of the few Democrats who supported the workers' comp reform, and I got a lot of negative feedback because my party was on the other side of that. I'm not arguing to get rid of CEQUA [the California Environmental Quality Act], but I don't think anything should take 18 months. There have got to be ways to streamline, to have some certainty and predictability. I'm working with Darrell Steinberg [president pro tempore of the California State Senate] to get support in the Senate."
Newsom said he was roundly criticized for going with a dozen or so Republicans to meet with Texas Gov. Rick Perry, "which is suggestive of some of the problems we have." But even as Texas tries to find ways to replicate Silicon Valley, California can look to the Lone Star State for lessons in getting back its mojo.
"We're not going to compete with Rick Perry on zero income tax, though it would be nice for him to compete with us on property tax," said Newsom. "We don't need to be like Texas, we just need to be like we used to be in California, with organic growth. And that's where I'm most fearful — not of losing headquarters as much as losing expansions. Every company that hits 200 employees is our biggest target of risk, and it's not just Governor Perry, but [Mississippi Gov.] Haley Barbour."
One of the first concrete steps will be to form a functional state economic development agency. Newsom has consulted with groups such as Team California, and knows there are "a lot of bright people" at GOED, the current agency. But the comprehensive sense of mission is lacking. He's working to put a bill on Gov. Brown's desk by September.
"About damn time," he said. "Then you'll be reading about a Texas company that relocates to California. And we'll be sending iPhones with our cellphone numbers in them just like Governor Perry does."
This Just In: Projects Still Happen
Put the chorus of naysayers in a (very large) soundproof booth and you'll hear the sound of actual corporate facility projects taking place in California:
Japanese machine tool maker Mori Seiki in July announced it would invest $60 million in a new facility in Davis. It will be the company's first manufacturing operation in North America, and could employ up to 150 people. Company leaders cited strong connectivity between the West Coast and Japan, where Mori Seiki will still make and ship some components for the horizontal machining center products that will be assembled in Davis.
In July, mobile device accessories firm Incipio moved from 75,000 sq. ft. (6,968 sq. m.) in two locations to 110,400 sq. ft. (10,256 sq. m.) as Grubb & Ellis represented the firm in signing a seven-year lease for new global headquarters space in Irvine. Leased from the Irvine Co. at the Oak Canyon Business Center, the new space will be home to R&D and manufacturing as well.
Hewlett-Packard in March signed its own seven-year lease with Westcore Properties for the two-building 1.4-million-sq.-ft. (130,000-sq.-m.) Cajon Distribution Center in San Bernardino. In July, the San Bernardino Valley Enterprise Zone (SBVEZ) announced that 145 businesses utilizing the zone have filed more than 2,000 hiring tax credit vouchers since Jan. 2011. The number of vouchers was expected to exceed the total number of vouchers filed in 2010 in nearly half the time.
A white paper issued in July by Cassidy Turley found that venture capital investment is correlating well with demand for office space. After New York and Washington, D.C., San Jose and Silicon Valley placed third with over 3.5 million sq. ft. (325,150 sq. m.) of occupancy growth. "San Francisco is currently tracking over 5.2 million sq. ft. [483,000 sq. m.] of active office requirements," said the report, with a quarter of that demand coming from tech companies looking to expand their office space. "Cassidy Turley is currently tracking as much as 10.6 million sq. ft. [984,740 sq. m.] in potential office and R&D space requirements in Silicon Valley and in the neighboring San Mateo County marketplace."
In January, spurred in part by "Buy American" trends, McCain, Inc., a leading manufacturer and supplier of transportation management software, traffic equipment, and parking guidance solutions, announced the expansion of its manufacturing capabilities by adding a new 100,000-sq.-ft. (9,290-sq.-m.) LEED-certified building in Vista, in the San Diego area. McCain currently operates manufacturing plants in Preston, Wash.; Vista; and Tijuana, Mexico. The company acquired the green building in November 2010. The move represents the initial steps in bringing a substantial portion of McCain's product manufacturing back to Southern California.
Represented by CresaPartners in San Jose, network security firm Palo Alto Networks has expanded and relocated its corporate headquarters from 35,000 sq. ft. (3,250 sq. m.) in Sunnyvale to 110,000 sq. ft. (10,219 sq. m.) it now leases in Santa Clara. CresaPartners says the vision for the company's new HQ was to support accelerated growth, customer service, R&D, and recruiting efforts. Project objectives included optimal space efficiency, flexible space planning, more natural lighting and lower workstation heights for improved work force collaboration. Additional benefits achieved include "more effective use of meeting space to promote employee communication and interaction, building-top and monument signage with excellent Highway 101 visibility, ample on-site parking, an enhanced environment for recruitment and all operations located under one roof."