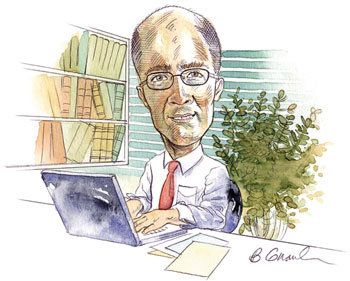 o you roll your eyes when a talking head talks up the "economic recovery" as if it were really recovering? I do, because we'll know real economic recovery when we see it. I think that day is approaching, but it's not here yet. Frankly, things could easily get worse before they get better.
In the meantime, I do share the optimism of several people quoted in this issue, most notably the panelists (economists, no less) quoted in the Upper Midwest regional spotlight and the business owners profiled in the Mid-Atlantic regional article. The Chicago-based economic experts predict a substantial and imminent return to the Midwest of manufacturing operations that went to China — the labor-cost benefit is rapidly eroding, they argue. The business owners in Virginia and Maryland have already done just that. They now produce fitness equipment and candles on U.S. soil rather than in China.
Developments like these point to actual economic recovery on the horizon — the kind of recovery where companies in the Midwest, Mid-Atlantic and throughout the country are clearly in expansion mode rather than "wait-and-see, hunker down" mode. I predict a lot of expansion and new U.S. plant announcements beginning in January 2013, perhaps even as early as November 7, 2012. The U.S. business community at that time will be more inclined to grow, hire and export than is the case today. By far.
So which states will see the most new capital investment? Even Texas' oft-cited business climate has its wrinkles — its margin tax on businesses is now in litigation before the Texas Supreme Court, for example. Still, Gov. Rick Perry has crafted a pro-business environment that gives companies some certainty with respect to the regulatory climate and protection from frivolous lawsuits, among other measures. His record in this regard is already working to his advantage on the Republican nomination campaign trail. Long before the governor decided to run for president, he was a champion for states' rights, as his comments to Site Selection in the March 2011 Governor's Cup feature illustrate. I expect much of the 2012 general election will hinge on whether one believes government should be centralized and expanded in Washington or decentralized to the states and shrunk in D.C.
Which brings me to the recent release of the American Legislative Exchange Council's (ALEC) fourth edition of the "Rich States, Poor States: ALEC-Laffer State Economic Competitiveness Index." It explains how states can most effectively drive economic growth, create jobs and improve the standard of living for their citizens. I've referenced this study in the past, and it's worth doing so again here, particularly in today's economic circumstances.
The index outlines for state legislators — and the rest of us — which states are implementing responsible (i.e. sustainable, in the true sense of the word) state policymaking in such areas as government spending and tax policies, as unemployment remains high and the economy is slow to recover. The top five in this year's edition are Utah, South Dakota, Virginia, Wyoming and Idaho. Take some time to learn about what these states are doing today to make themselves and their private and corporate citizens prosperous tomorrow. The entire index and analysis is at www.alec.org. It's a great read, and you may find yourself adding a state or two to your short list of locations for when it's next time to expand your real estate portfolio.
"It is true that the policies of the federal government have a direct effect on the economic environment of the entire country, but governors and legislatures are not rudderless," noted Kansas Gov. Sam Brownback at the June 22nd release of the ALEC study. "We can and must start to change our country's economic course by providing an environment that rewards our citizens for their efforts and their risks. The founders of our country understood that a republic with its multiple states was the perfect incubator for vetting competing approaches to public policies." (On a side note, Adam Bruns' California Spotlight should give Golden State investors a welcome, new perspective on economic development in that state.)
Reward the locations taking the right policy steps now with your capital investment when you're ready to expand. Be part of the migration back to U.S. shores once the national business climate is pro-business again. And enjoy this issue of Site Selection and its coverage of top Canadian locations, top utilities and top energy innovations. It's top notch.