CENTRAL PLAINS
From Site Selection magazine, January 2012
'Attractive Jurisdictions'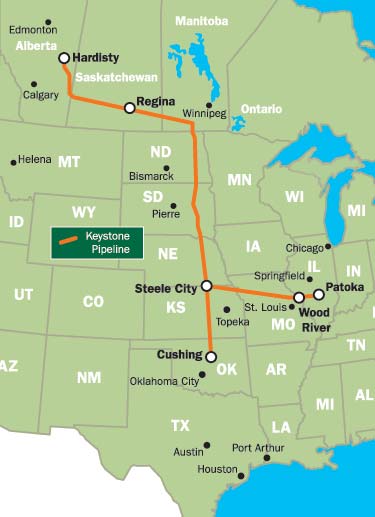 I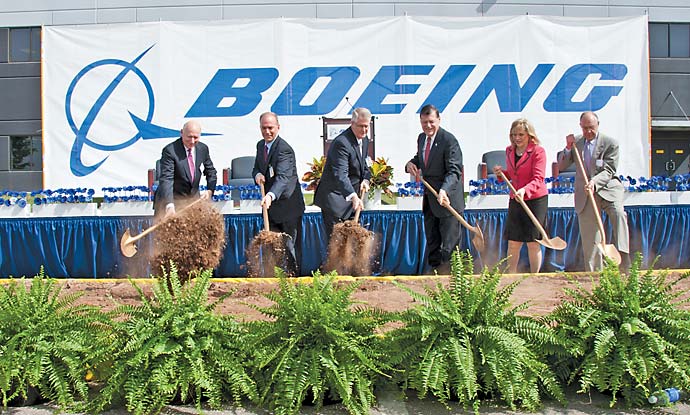 f North Dakota's booming economy and 3.5-percent unemployment rate is any indication, there is prosperity to be mined in domestic energy production, and the rest of the Central Plains states are on the brink of realizing some of that prosperity. Much will depend on where the political football that is the Keystone XL pipeline project lands in the coming weeks as federal approval of the project rides the fortunes of pending legislation.
Virtually all of the Central Plains states would benefit enormously from job creation linked to construction of the pipeline and the energy-related concerns it would promote. Here's investor TransCanada's definition of the project and characterization of the significance of the project to the U.S.:
"The US$13-billion Keystone pipeline system will play an important role in linking a secure and growing supply of Canadian crude oil with the largest refining markets in the United States, significantly improving North American security supply. In June 2010 TransCanada commenced commercial operation of the first phase of the Keystone Pipeline System. Keystone's first phase was highlighted by the conversion of natural gas pipeline to crude oil pipeline and construction of an innovative bullet line that brings the crude oil non-stop from Canada to market hubs in the U.S. Midwest.
"Keystone Cushing (Phase II), an extension of the Keystone Pipeline from Steele City, Nebraska to Cushing, Oklahoma went into service in February 2011. The 36-inch pipeline connects to storage and distribution facilities at Cushing, a major crude oil marketing/refining and pipeline hub.
"The proposed Keystone Gulf Coast Expansion Project is an approximate 2,673-kilometre (1,661-mile), 36-inch crude oil pipeline that would begin at Hardisty, Alberta and extend southeast through Saskatchewan, Montana, South Dakota and Nebraska. It would incorporate a portion of the Keystone Pipeline (Phase II) through Nebraska and Kansas to serve markets at Cushing, Oklahoma before continuing through Oklahoma to a delivery point near existing terminals in Nederland, Texas, to serve the Port Arthur, Texas marketplace."
Ready and Waiting
Three states in this region — Kansas, Oklahoma and North Dakota — are among the top 10 most attractive jurisdictions in the world for oil and gas investment, according to the Fraser Institute's Global Petroleum Survey 2011, which was released in June 2011. Texas and Alabama also made the top 10. The survey of petroleum industry executives and managers, according to the Canada-based research institute, is designed to help measure and rank the investment climate of oil- and gas-producing regions around the world; 502 respondents weighed in on this exercise with input sufficient to evaluate 135 jurisdictions.
The survey is based on a set of 17 factors including fiscal terms (government requirements pertaining to royalty payments, production shares, and licensing fees), the taxation regime, cost of regulatory compliance (filing permit applications, etc.), uncertainty over what areas can be protected as wilderness or parks), labor regulations (employment agreements, work disruptions, and local hiring requirements), quality of infrastructure, quality of and access to geological information, political stability, regulatory duplication and inconsistencies (federal/provincial, federal/state, inter-departmental overlap, etc.) and the legal system, among several others. Respondents were asked to rate the extent to which these factors encouraged or were a deterrent to investment.
Comments cited in the report specific to states in the Central Plains include these:
North Dakota: "Good returns at reasonable risk. Development potential with attractive geology and fiscal terms and skilled workforce" and "Oil shale is very prolific as of now. With time, more exploration, and improvements in technology, it will be one of the best oil plays." Oklahoma: "Energy-friendly state with rich resource base and predictable political and regulatory environment."
Project News From the Region
Kansas: Colorado-based New Millennium Wind Energy has chosen the Kansas Logistics Park in Newton as the site of its first manufacturing facility for the production of wind turbines. The new facility is projected to employ about 70 people in the first year of operations, and more than 350 in the next three to four years. The company expects to commit $20 million to $30 million in resources over a five-year plan. The plant is expected to be operational by July 2012. (For more on this and other wind power projects in Kansas, see the Kansas Spotlight in the Nov. 2011 issue.)
The Kansas Logistics Park is located between interstates 35 and 135 and provides access to two Class 1 rail carriers as well as the Watco short-line railroads. The central location enables original equipment manufacturers and suppliers to minimize the burden of transporting large components into the heart of the nation's wind resources. A cooperative agreement between the logistics park and the Port of Catoosa in Tulsa allows for inland access to barge transportation as well.
Nebraska: A reverse trade mission to Nebraska has resulted in business expansions announced by companies located in Korea, China and South Africa. Business leaders from 15 countries participated in the reverse trade mission to the Cornhusker State. Located in South Korea, EM Gear, LLC will locate their U.S. headquarters in Omaha for the future manufacturing of gears and gear box reducers. At the announcement, EM Gear CEO, Mr. Daesung Jung, named Nebraska's centralized location, low cost of living and doing business, and the hard-working nature of the people as specific reasons for selection. Mr. Jung is a graduate of the University of Nebraska-Lincoln.
Headquartered in China, Global Choice International, LLC will expand current operations. Global Choice exports energy products, including solar panels, wind turbine parts, transformers and LED products. The expansion will add warehousing and distribution efforts to their sales operations currently based in Omaha.
Also based in China, SFT America Limited, LLC will locate their U.S. headquarters in Nebraska. SFT America Limited is one of the largest lighting manufacturing enterprises in China, including the production of LED road and outdoor lighting, office and industrial lighting. SFT America Limited President Mr. Jie Shi said he originally planned to locate the U.S. headquarters in Los Angeles. Mr. Shi decided to locate in Nebraska instead of California during the Reverse Trade Mission, explaining that "Los Angeles could not do in three days what Nebraska did in one day." Once the decision had been made to locate in Nebraska, state employees worked around the clock with the company to successfully incorporate in Nebraska in less than 24 hours.
The MOU signed with South African company Benchmark Timetable formalizes Benchmark's intent to establish a U.S. base in Nebraska to support its growing clientele of schools and colleges. The company specializes in master scheduling for the educational sector.
Missouri: Ford Motor Corp. announced in October a $1.1-billion investment at its Kansas City Assembly Plant, adding 1,600 new jobs over the next four years, bringing its total work force to approximately 5,400. The project includes adding a second shift for production of the F-150 pick-up truck; building an integrated stamping facility to support production at the plant; and building Ford's full-size Transit van in the United States and selling it on the American market -— it previously was built and sold only in Europe. Ford is taking advantage of the Missouri Manufacturing Jobs Act, which Gov. Nixon signed into law in 2010. The act provides incentives to manufacturers and industrial suppliers who meet strict requirements for job-creation and investment.
Click the Bookmark button and share with your friends!