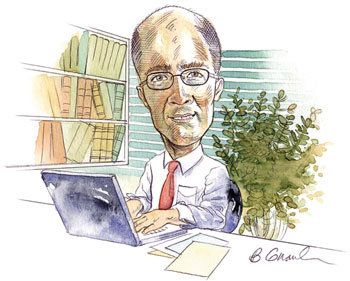 y colleagues on the magazine staff and at publisher Conway Data, Inc., are still reeling from the loss of former Site Selection editor Jack Lyne, who died December 3rd. Jack remained a vital contributor to our award-winning content well into his semi-retirement in Shiloh, Fla., where he finished a terrific online article on a booming fallout-shelter construction industry shortly before entering the hospital for routine hip replacement surgery. A heart attack claimed Jack while he was recovering from that procedure at age 67. Please read Conway Data General Manager Ron Starner's tribute to Jack and his huge contribution to the success of this publication, his brilliant journalism career, his role behind the scenes in making the Industrial Asset Management Council so successful and the respect he garnered from so many in the corporate real estate, economic development and journalism industries over the years. You'll find that just a few pages from this one.
Jack brought me to Norcross, Ga., in 1997 from New York — seems like ages ago. He was hardly a micro-manager when it came to his supervisory role back then, but I quickly appreciated the unique opportunity Jack gave me to explore new editorial frontiers and his encouragement to cultivate the service provider community and the innovations and solutions they brought to the world of facility location discernment. Just don't lose sight of the importance of solid interviews with the corporate practitioners themselves, he advised. That's what continues to distinguish Site Selection from other content providers. We deliver the perspective most in demand by our readers — the interviews with chief location decision makers that tell the rest of the story — the story behind the story of capital investment projects that redefine the areas in which they are sited.
Years after he and his wife, Laura, president of Conway Data, relocated to north-central Florida, Jack remained a key component of the editorial team and a confidant to me. As I related in the "Memories of Jack Lyne" section of the SiteNet Dispatch, I could run material by Jack that, it turns out, was purely cathartic in order to get to a better place psychically, if not professionally. Jack made time to talk in the evening from his back porch in Florida on occasion when I had matters that only his perspective required. In that sense, I lost a colleague, but also a deeply respected sounding board. So — to state the obvious — treasure your sounding board colleagues while they are available to you, and return the favor wherever possible.
Earlier in 2011, we lost Jack's father-in-law, and Laura's Dad, Mac Conway — the founder of Site Selection, IAMC and a predecessor association, the International Development Research Council, and a pioneer in many fields, including aerospace, airport cities, economic development, online content distribution and publishing.
It has been a trying year for us and a challenging one, because my colleagues and I have two giant legacies to honor and emulate as we make our way into 2012. We are stronger for Jack's editorial example and friendship. We are mindful always of Mac's intention that we be the go-to source worldwide for content pertaining to capital investment intelligence and insights. We will seek new and even better ways in the year ahead to deliver the content you require and that Jack and Mac expect us to deliver.
You will find in this issue a goldmine of information on the U.S. states, available super sites (1,000+ acres of shovel-ready property), emerging logistics hubs, corporate green initiatives and oil & gas developments that are redefining energy centers as locations for new investment that could easily recalibrate location strategies for several sectors.
But don't miss the special feature on Jack (page 16). He wouldn't draw attention to it, but I will.