LOGISTICS HUBS
From Site Selection magazine, January 2012
Fuel Costs Now Drive
D.C. Site Decisions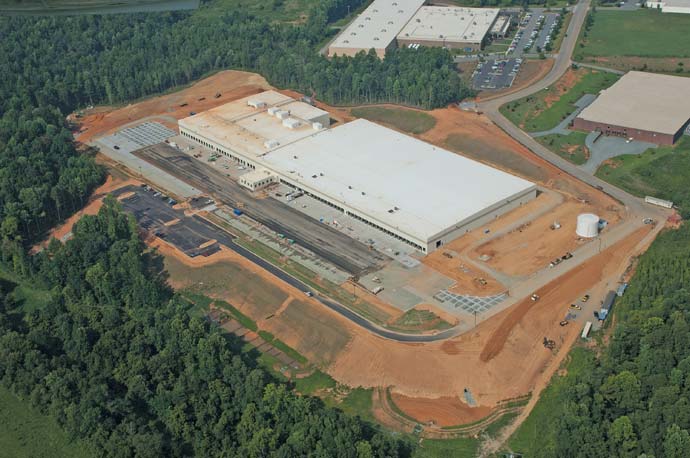 C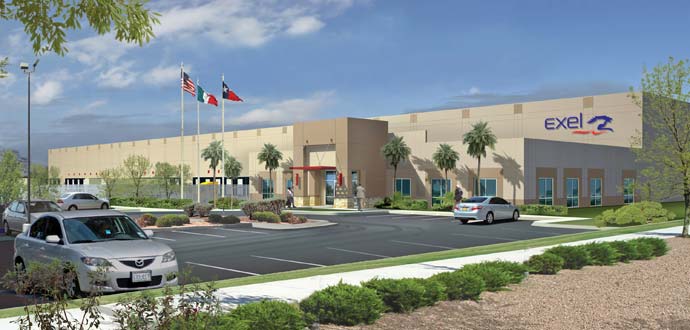 ompanies are increasingly citing fuel savings among the prime reasons for recent distribution center location decisions. One example is AWG (Associated Wholesale Grocers), a retailer-owned cooperative based in Kansas City, Kan. AWG is building its seventh grocery distribution center on a 68-acre (28-hectare) site in Pearl River, La.
AWG says its new facility will save its current retailers more than $6 million annually in freight costs, lower its transportation expenses and improve the availability of fresh food along the Gulf Coast.
The 720,000-sq.-ft. (66,888-sq.-m.) facility is being built along the I-10 corridor at the intersection of I-59 and I-12, just to the north of New Orleans. AWG says the location offers great accessibility to independent grocers in Louisiana, Texas, Mississippi, Alabama, Georgia and Florida. The operation will employ 288 when it opens in January 2013.
"We have a responsibility to the members of our cooperative to provide them with the best available food and related products at the lowest possible cost," said Jerry Garland, AWG's president and CEO, in late June 2011. "This new division will significantly lower the cost of groceries to our members' stores and expand our abilities to further achieve that goal for our members and future members in this region."
Officials for the company said the new division is expected to provide approximately 588 construction jobs. The company expects to open the facility in January 2013.
Also in the grocery sector, St. Louis-based Save-A-Lot, a subsidiary of Supervalu, opened a new $24-million, 330,000-sq.-ft. (30,657-sq.-m.) distribution center in Lexington, N.C., just to the southwest of the Greensboro-High Point MSA along the I-85 corridor.
The facility employs 35. The new center will help support the company's growth plans in North Carolina and surrounding states, which the company has identified as a key region for its growth. Initially, it will service more than 70 stores within a 150-mile (241-km.) radius. The facility features the latest in green, energy-saving technologies, including lights that only operate when a person is present and an HVAC system with smart thermostats.
Chuck Taylor has been in the supply chain business for more than 40 years and currently is a consultant to the industry. He has sounded the alarm for several years regarding the waning years of cheap oil. Companies making logistics location decisions must factor in these equations going forward, he says.
"I've seen a lot of decisions on site selection based on cheap real estate and tax abatements," he says. "Those things are nice, but those things eventually run out, whereas transportation is forever. A lot of supply chain facilities are located in the wrong places, and that will come back to haunt companies. Going forward, what I would tell people in this country would be to look at historically transportation-friendly places, and these places would be unlikely to stand out. They would be places like St. Louis, Detroit and Chicago. Maybe you would call them Rust Belt cities, but they have developed before World War II. I would be much less likely to look at places that have developed after World War II. Any place that is totally dependent on oil will have a tough time going forward."
Taylor says regions that have developed based on cheap energy will have problems.
Rob Wheeler, a vice president with CresaPartners who specializes in logistics projects, says the volatility and rising cost of fuel is a hot topic in logistics. He says companies have plans to be more regional in their approach.
"Supply chain folks are considering that on an everyday basis — what's happening with energy and how it will affect their business," Wheeler says. "More and more companies are looking at intermodal transportation to mitigate some of these risks. Intermodal parks are popping up across the country. A shift to rail is an overarching trend. There is an obvious shifting to rail, and real estate around rail will get a premium. The key from a site selection perspective is understanding that transportation is eight to 10 times more expensive than rent. People are becoming more and more focused on that."
Cross-Border Logistics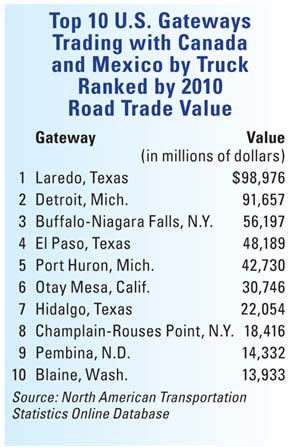 North American logistics specialist Exel and DHL Supply Chain are building a 250,000-sq.-ft. (23,225-sq.-m.) build-to-suit distribution center in Laredo, Texas. Slated for completion in July 2012, the facility will serve as a hub for the company's Logistics Without Borders, an end-to-end supply chain service that provides both companies' customers services necessary to ship across the U.S./Mexico border.
The operation will create 100 jobs initially and will be a multi-client, multi-sector operation that supports Exel's and DHL's customers' supply chains on both sides of the border. The companies anticipate serving customers from sectors including technology, automotive, engineering and manufacturing. Facility features will include comprehensive logistics services and certifications such as Transported Asset Protection Association (TAPA-A) and Customs-Trade Partnership Against Terrorism (C-TPAT). Facility plans and construction will incorporate sustainability features including energy-efficient lighting, landscaping and building materials, as well as low-flow plumbing and a recycling program. The company plans to pursue LEED certification for the site. If received, it will be the first LEED-certified distribution center in Exel's North American real estate network and in the city of Laredo.
"Laredo is among the top U.S. ports in North American trade volume and is a cornerstone to facilitate U.S./Mexico trade," said Luis Eraña, Exel's president for the technology, aerospace and service logistics industries. "So this area is absolutely a strategic location for Exel and DHL Supply Chain. We want to give existing and future customers access to a location and logistics solution that supports cross-border business objectives and also simplifies their logistics processes."
New Florida Hub
Major Florida landowners Lykes Bros. and Duda & Sons are teaming up for a mammoth master-planned logistics center on 4,700 acres (1,902 hectares) in central southern Florida. Plans call for development of 30 million sq. ft. (278,700 sq. m.) of manufacturing and distribution facilities. The center will serve as an integrated logistics hub for growing trade within the Americas and with Asia and Western Europe. The two companies are working with Cushman & Wakefield to develop the project. The team also includes Institute St. Onge, a leading supply chain investment advisory, consulting and engineering company; Ware Malcomb, one of the world's largest industrial master planning and architectural firms; and Rockefeller Group Foreign Trade Zone Services.
The site is located near Moore Haven on Highway 27 and is situated to supply more than 8 million consumers within the southwest, Heartland and southeast regions of Florida — from Sarasota and Fort Pierce to the north, to Naples and Miami to the south. That number is expected to grow to 9.5 million by 2020. The center will include a combination of distribution centers, warehouses, manufacturing facilities, mixing centers, refrigeration facilities, transload and cross-docks, and related logistics uses.
The site, currently a sugarcane field, was vetted for a large power plant several years ago. It is served by rail and highway to several ports, including the Port of Miami, Miami International Airport, Port Everglades, Port Manatee, Southwest Florida International Airport and the Port of Palm Beach. Rail service is provided by CSX and Florida East Coast Railway via the South Central Florida Express, a short-line railroad purchased in 1994 by U.S. Sugar that moved 116,668 carloads in 2010.
Mark Morton, senior vice president with Lykes Land Investments and project manager for both companies for the project, says the two venerable firms began an analysis of the land about three years ago with an eye toward reaping benefits from the Panama Canal expansion, due to be complete in 2014.
"We started to see the synergy and connectivity to be located between all the ports that are looking to expand into the emerging Latin America marketplace, of course including the Miami port getting to 50 feet [in channel depth]. It's been a journey of data collection and vetting the project. We see this as a business solution for manufacturers and distributors to reach the Latin American market and revert back to the U.S., mostly in the east. We look at Florida as a pier that extends itself into shipping lanes that figure into the changes involving the Panama Canal."
Larry Richey, senior managing director for Cushman & Wakefield in central and southern Florida, says there are several key industry sector prospects for the center's occupants. They include existing distribution companies occupying warehouses in South Florida with significant barriers to growth; forward deployment operations in the U.S. and Western Europe; light, clean manufacturing companies; and transportation operators and service providers.
"The economic development professionals from Enterprise Florida all the way to Glades County are very supportive of what we are trying to do here," Richey says. "Both the labor availability and the cost of labor will be an advantage in addition to its size."
Richey describes the site, which is about an hour and 45-minute truck drive from the Port of Miami, as a "mini Inland Empire," a reference to the successful logistics region near Los Angeles.
"It will be a great gateway to Cuba in the future when it opens up, which we all believe will happen," Morton says.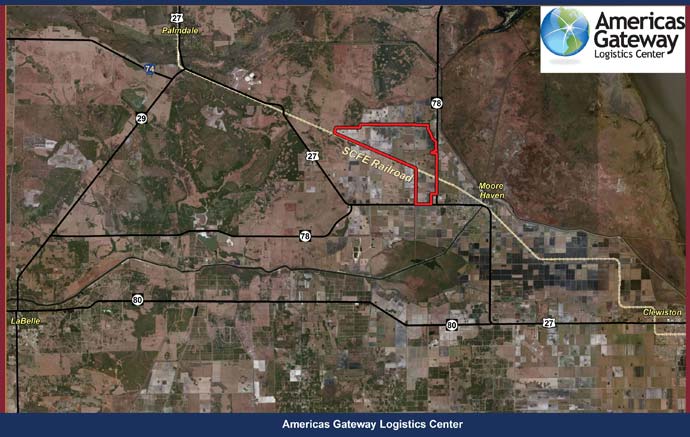 Click the Bookmark button and share with your friends!