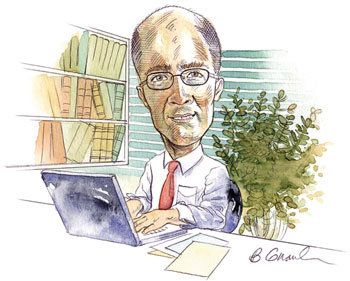 Let's Shed Some Weight This Fall
opefully, Gov. Scott Walker's defeat of the movement to recall him in Wisconsin will embolden other governors to curb fiscal irresponsibility so as to make their states more competitive and attractive to the companies hoping to return operations to the U.S.
This is an opinion column, so take this in that spirit: Unions served an important purpose on the private-sector side back when conditions were hazardous in many workplaces, and corporate greed blatantly superseded human resources concerns. Labor laws and others have made those complaints largely moot in present times on the private side and, well, silly on the public side. Does anyone really think federal, state or local government bureaucracies are out to short-change their personnel — to an extent requiring union protection? They exist to enlarge their membership rolls and influence. Conversely, successful businesses are lean with highly productive workers committed to helping the organization meet its goals. I hope more states will shed some excess weight where possible, balance their budgets and reward courageous politicians for doing the heavy lifting, as it were, to get fiscally fit.
Meanwhile, those seeking elective office this November will find a very useful blueprint for making their jurisdictions and perhaps your base of operations in the U.S. more competitive in a recent document from the National Association of Manufacturers, called "A Manufacturing Renaissance — Four Goals for Economic Growth." In short they are these: (1) the U.S. will be the best in the world for manufacturing and attracting DFI; (2) the U.S. will expand access to global markets to enable manufacturers to reach the 95 percent of consumers outside U.S. borders; (3) manufacturers in the U.S. will have the work force that the 21st century economy requires; and (4) manufacturers in the U.S. will be the world's leading innovators.
Space here prevents a more thorough treatment of these four goals, but each one comes complete with sub-goals and action steps that are highly achievable if the will existed in Washington to bring them about. Learn more about them at www.nam.org, and get your candidate to articulate them for the sake of your business and this economy. "We can bring about a manufacturing renaissance," writes NAM President and CEO Jay Timmons in an introductory letter in the report. "We have to. A thriving manufacturing sector benefits our country, putting people to work and driving the economic growth that is necessary if we are to bring down our debt."
Sound financial management comes with maturity and discipline, with setting boundaries and making them clear to stakeholders. This is not news to you or your companies, but it will ring hollow with many in Washington and in your state capital until advocates of economic growth are back in charge. Help get them there this fall.