OREGON
From Site Selection magazine, July 2012
The Data Center
Destination
How Oregon is winning the competition for
the next generation of secure data facilities.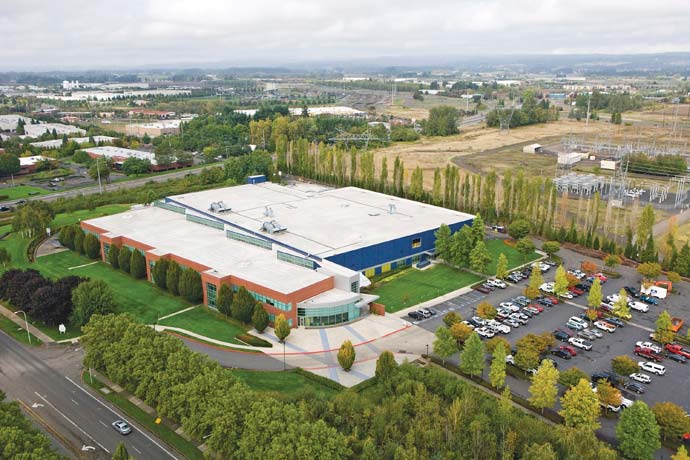 S
ilicon Valley has seen the future of data centers, and it resides in Oregon.
That's the conclusion of John Sheputis, CEO of Fortune Data Centers, a San Jose, Calif.-based company that's opening a 240,000-sq.-ft. (22,296-sq.-m.) data center on a 15-acre (6-hectare) site in Hillsboro near Portland.
"We think this is the optimal location on the West Coast," Sheputis says. "A data center is an enormous capital deployment. And the whopping factor that skews the economic analysis is the tax factor. Data centers are going to Oregon because Oregon has no sales tax. Delaware, New Hampshire, Montana, Alaska and Oregon are the five states with no sales tax. But the other four states don't have the other assets that you need in order to be a good data center location."
That's why Fortune joined Facebook as the newest large-scale investors into the Oregon data center market. Facebook will have close to 1 million sq. ft. (92,900 sq. m.) of data center space upon completion of the social media giant's secure complex in Prineville. Total capital costs associated with Facebook's new plant are projected to be $210.4 million. Facebook employs 55 workers at an average annual wage of $53,000 at the Central Oregon location.
Another 1,400 construction workers were employed during the building of the Facebook data center. Upon completion of a second building at the site, Facebook could employ as many as 70 full-time workers.
"Data centers are booming here now," says Jill Miles, director of business development for Business Oregon, the state's economic development marketing and recruiting arm. "Pockets of our state are quite busy with this trend. Apple just announced a major data center here, as did Amazon and Adobe. They are tending to go to Hillsboro and Prineville."
In Hillsboro, site of the Fortune project, the overall direct economic investment from data centers over the past three years has been $680 million, according to the City of Hillsboro Economic Development Office. Some 338 new full-time jobs are associated with these expansion projects.
Sheputis says his company selected Hillsboro for a number of reasons. "Number one, there is no sales tax on the purchase of equipment. We have reviewed the risks of Oregon's sales tax exemption going away, and we have concluded that there is zero risk because Oregon has no sales tax, period," he says.
Intel's Presence Paves Way
"Secondly, Oregon is between two large fiber markets — Seattle and the Bay Area of California. This region has some of the best cable in the country," Sheputis notes. "It has great access. The electric utility access here is also outstanding. That is a legacy of the semiconductor industry coming to Hillsboro. Intel now has the largest fab in North America here, and it is a neighbor to our facility. Intel operates a very high-tech manufacturing plan and employs tremendous amounts of power. There is a lot of mission-critical mechanical and electrical work done here. The vendor base is very robust and thorough and is characterized by high quality."
Sheputis adds that "access to air travel is excellent in Portland, and the government support of the data center industry in Oregon has been huge. A data center jobs bill — known as the Facebook bill — was signed into law recently by the governor."
Sheputis also likes the fact that "Hillsboro is a town of 7,000 people, while Portland has 2 million people. When we looked at all of the critical site selection criteria for our company, the Portland metro area was the clear winner. Oregon has an amazing power infrastructure, and the fees are lower here. It feels like a place where people should be going for business."
Miles concurs. "Facebook commissioned an economic impact analysis, and it has been a great marketing tool for us," she says. "Fortune Data Centers has created the 'Why Oregon' story, and we share that with our prospects as well."
In the Fortune presentation, the company cites the presence of "clean reliable power" from Portland General Electric as an advantage and notes that PGE provides the "highest reliability substation group in the Western U.S." At 6.7 cents per kilowatt hour, the electricity also ranks among the cheapest in the West.
Combined with other data analysis, Sheputis' firm has concluded that "Oregon is the lowest cost data center location in the U.S.," representing a 40-percent cost savings versus a comparable location in Santa Clara, Calif.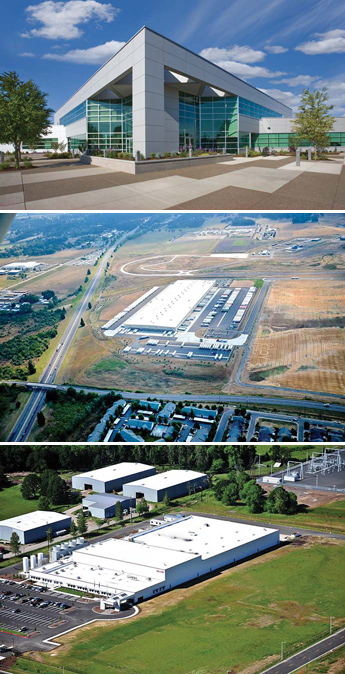 Fortune also likes the fact that Oregon has the lowest risk of seismic activity on the West Coast and the lowest risk of lightning strikes in the entire country.
Another plus for Fortune, says Sheputis, was Hillsboro's "friendly government. Since Intel's arrival in 1979, Hillsboro has granted every five-year Enterprise Zone application, and it has an extremely user-friendly permit process."
New State Programs Unveiled
A new state incentive tool, passed in 2011, helps, adds Miles. "A portion of the payroll taxes paid by employers of 150-plus job expansions is rebated back to the company," she says. "We modeled it after some other states. The goal is to attract high-wage earners to Oregon. As a result, we have two big prospects in our pipeline right now. Both are high-wage companies."
To help attract even more data centers, Oregon now assists communities with a site certification program. "We are doing this for communities that want a data center in their back yard," Miles says.
Portland and Central Oregon are not the only markets booming in the state, however. The Salem area is also bustling with job growth, notes Ray Burstedt, president of the Salem Economic Development Corp.
"Distribution and food processing are hot right now in Salem," Burstedt says. "Last year, we had a half-million-square-foot Home Depot rapid deployment distribution center come on line with 270 new jobs and about $60 million in capital investment."
Burstedt notes that Salem has "a very large 550-acre [223-hectare] industrial park located right on Interstate 5. It is shovel-ready. We have located FedEx and Home Depot there. It is an anomaly in Oregon to have land that is shovel-ready. We have land that is ready to go now, and that has helped us recruit several high-tech manufacturers to our area."
Sanyo Solar, recently acquired by Panasonic, has invested about $100 million into its Salem complex over the past three years. Master Craft, which makes furniture for IKEA, has just moved into its new 130,000-sq.-ft. (12,077-sq.-m.) plant in Staten in March and employs 150 workers. The firm will grow to 500 employees upon full production.
Garmin AT, a company that makes all of the avionic products for Garmin, added 50 new jobs in the last five months, adds Burstedt. "We are coming to terms with who we are as an economy," he says. "We have some foreign corporations looking at us right now for future expansions."