GEORGIA
From Site Selection magazine, March 2012
All In Good Time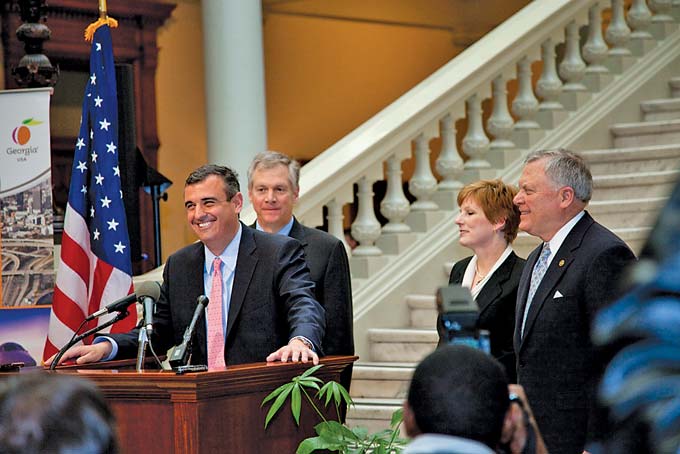 I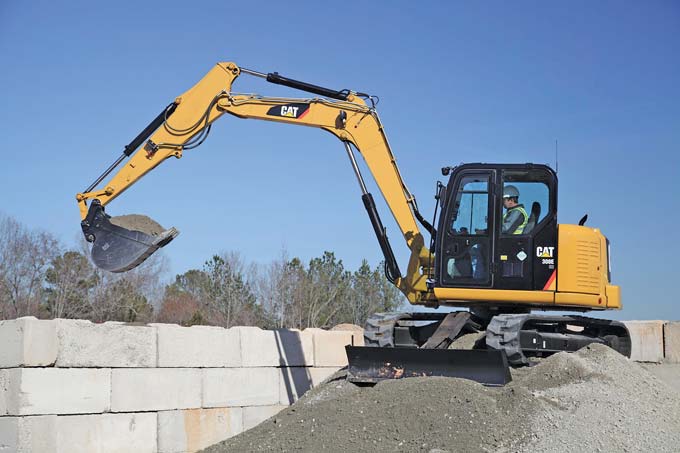 n 1995, Sanford Orkin, former president of Atlanta-based Orkin Pest Control and son of its founder, purchased 922 acres (373 hectares) of land near Athens, Ga., home to the flagship campus of his beloved University of Georgia, for $7 million. Since then the "Orkin tract" has experienced several close misses with major prospects, including an initial prospect in 2000, a never-built Daimler vehicle plant in 2002 and a Novartis vaccine plant that chose Holly Springs, N.C., over the site in 2006.
But perseverance is a Bulldog trait. The property, once owned but never built on by IBM, languished in part due to a lack of fully built-out water and sewer infrastructure, and a lack of clarity regarding taxation, since the parcel sits astride two counties, Oconee and Athens-Clarke, that did not have an intergovernmental agreement in place. Athens-Clarke, located less than 90 minutes east of Atlanta, became the nation's 28th unified city-county government in 1990 … after four referenda spanning 21 years.
But collaboration was the key to victory in securing a commitment from Caterpillar in February to build a $200-million manufacturing and distribution complex for small track-type tractors and mini hydraulic excavators on a portion of the Orkin tract that will eventually employ 1,400 people.
"When we started talking with officials in Georgia about this specific project, there was a tremendous effort put forth by a wide range of governmental bodies to pull things together," says Caterpillar's head of corporate affairs Jim Dugan of an aggressively timed site selection process that began in November 2011. "A lot of information gets gathered, and truly the team in Georgia showed a tremendous amount of intergovernmental coordination and cooperation. When you're in that phase and it becomes clear that one or more [of the candidates] is particularly responsive in working together, that doesn't go unnoticed."
Given the bi-county parcel, "normally you might think 'Oh boy, they'll be territorial,' " says Dugan. "None of that happened in this case."
Georgia Department of Economic Development (GDEcD) Senior Project Manager Chip Mitchell led the state's project team. The state said significant assistance was provided by Electric Cities of Georgia, whose team was headed by former state official Charlie Gatlin and project manager Annie Baxter.
Prominent in the teamwork were final approvals the week of the Feb. 17 announcement by the counties' respective commissions, pledging $1.5 million to extend water and sewer to the property, and also pledging, along with the state, some $6.7 million toward road improvement work at the site. According to the Athens Banner-Herald, the two counties are offering Caterpillar a $30-million incentive package. They are purchasing the acreage for the project for $10 million, and transferring ownership of the parcel to Cat over 20 years, a period marked by gradually diminishing tax breaks that will save the company a cumulative $12.4 million.
The 1-million-sq.-ft. (92,900-sq.-m.) complex will be built on a 267-acre (108-hectare) swath of the tract, and is expected to begin production in 2013. The project also is eligible for up to $45 million in incentives from the state. In addition to the 1,400 people working in the new facility, Caterpillar estimates another 2,800 full-time jobs will be created in the United States among suppliers and at other non-Caterpillar companies that will support the new facility.
Well Positioned
Caterpillar has announced a number of projects around the world in recent months, including new and expanding facilities in China, Indonesia, India and North Carolina, where its new facility in Winston-Salem just opened.
The new operation in Georgia will be part of Caterpillar's Building Construction Products (BCP) Division, based in Cary, N.C. The company in November had publicly announced its intent to build the plant somewhere in North America and transfer the work from its existing location in Sagami, Japan, where production will shift to high-tech components to support Cat's fast-growing business in the Asia-Pacific.
The November 11 announcement prompted a deluge of offers from well over 100 locations in dozens of states, as well as Canada and Mexico, says Dugan, who calls the speed of the process "very quick and aggressive, even by our own standards."
Proximity to that headquarters in the Research Triangle was important, he says. So was the ability to export: In addition to producing completed machines of both types for both North and South America, the company plans to send up to 40 percent of its production, in the form of mini excavator base units, to Europe for final assembly. Dugan said it still has not been determined whether that final assembly will take place at an existing Cat location in Europe or at a new greenfield site.
"The decision to shift production from Japan to the United States is driven by the proximity to a large base of customers in North America and Europe. Our objective is to better serve those customers from this new factory," said BCP Vice President Mary Bell at the project announcement at the Georgia Capitol in Atlanta. "The Athens site was selected from among dozens of locations considered due to its proximity to the major ports of Savannah and Charleston, a strong regional base of potential suppliers, a positive and pro-active business climate and a good pool of potential employees with manufacturing experience."
The Athens site is served by CSX, and is adjacent to two major highways. Cat has the option to expand onto some of the remaining Orkin tract acreage.
Cat already maintains an ample footprint in the state, where the combined operations of its own facilities and those of its private dealer employ approximately 3,000 people. Cat makes forestry equipment machinery in Lagrange, near the new Kia plant in west Georgia, where it last expanded five years ago. Just south of Atlanta in the Spalding County town of Griffin, Cat last June announced it would invest $120 million and hire 200 additional personnel for an expansion of its engine center, which assembles engines and generator sets for more than half a dozen different models. Cat also has a diesel engine plant in Thomasville.
The Cat project was the second major announcement in Georgia within a month to involve production transferred from Japan. In January, Toyota Industries said it would construct a new $350-million, 320-job compressor parts plant in Pendergrass, in Jackson County. The company supplies compressors to a number of OEMs, including the TD Automotive Compressor Georgia (TACG) plant situated right next door to its new site.
Target No. 1: Employability
Work at Caterpillar's new plant near Athens will include major fabrications, paint and final assembly for both product lines. Dugan says the company will perform analysis and then offer market-competitive salaries and benefits with the aim of recruiting and retaining people for the long term. According to local government documents, the new jobs will pay at or above the average wages for the counties. Median incomes are $37,596 in Athens-Clarke County and $33,746 in Oconee County.
Georgia Quick Start, the state's customized training program that works through its network of technical and community colleges, will offer training via Athens Technical College. Dugan says that doesn't preclude hiring from and collaboration with the University of Georgia, but this type of operation is looking for production manufacturing skills.
Such alignment with employability is a key component of Georgia Gov. Nathan Deal's recently unveiled Competitiveness Initiative, which doesn't so much focus on targeted industries as it does targeted areas for improvement, with education and work force development by far the strongest focus area, according to input from around the state over the past year.
"Education should have as its primary purpose the training and qualification of people for employment," Deal said in an interview with Site Selection a week before the Caterpillar news. "That has not always been the focus of colleges and universities. I am a graduate of a liberal arts college, but I think people who have paid for degrees for children who cannot find jobs want to know 'What direction is our system going in that will lead to the employment of my child?' "
Targeting employability is part of the technical college system's mission, of course, but "even they are taking a hard look at the areas they're spending their money, in terms of percentage of employed graduates," said Deal. He said he's also had good discussions on the topic with new University System of Georgia Chancellor Hank Huckaby, appointed last spring. Deal also is pushing for new incentives in the current state legislative session, including a tax break on energy used in manufacturing.
Another big push is on to garner full federal funding for the deepening of the Savannah Harbor channel, key to the continued success of the fast-growing Port of Savannah operated by the Georgia Ports Authority. It's yet another example of the long simmer, as it was first authorized by the federal government in 1999. But momentum is building, as new U.S. Army Corps of Engineers and federal funds were allocated in February. In addition to the $134 million already committed to the project by the state, Deal's new budget includes another $47 million to help the project get across the finish line with all federal approvals, which state and port officials hope to see happen by fall 2012.
The unity displayed by the team winning the Caterpillar project has also been demonstrated by what some see as unprecedented collaboration between the state and the City of Atlanta, helped by Atlanta Mayor Kasim Reed's strong pro-business policy objectives and his strong relationship with the current resident of the White House.
"Mayor Reed has been a great partner, and has been willing to look beyond his own geographic boundaries," said Deal, citing multiple tandem visits with federal officials by the mayor and himself.the two officials. "It helps that we have a high-level Democrat with connections with the White House, and he's been willing to use his connections for the benefit of this project. He understands and knows how the system works, and is willing to use his political clout in places where I as a Republican don't have any clout, and I appreciate that."
Projects such as the Cat plant may persuade federal officials to appreciate the value of the Savannah channel deepening all the more. In the meantime, the state's run of strong projects continues to persuade multinationals that the state is deepening its channels of industrial development and talent.
Click the Bookmark button and share with your friends!