MISSISSIPPI RIVER CORRIDOR
From Site Selection magazine, March 2012
Bookends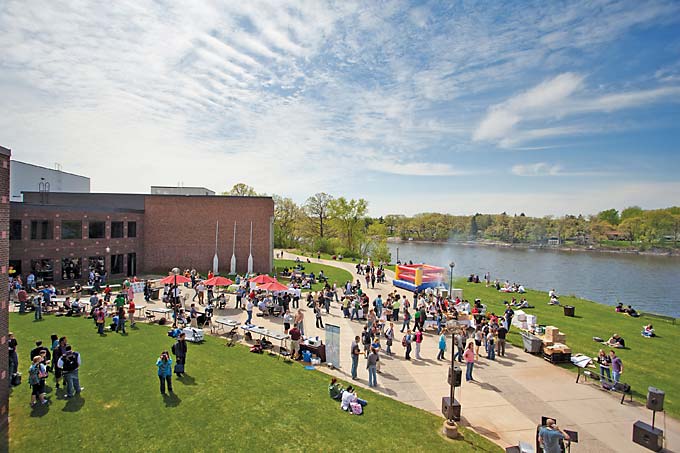 Minnesota and Louisiana counties tie for top billing. Louisiana dominates the river count.
B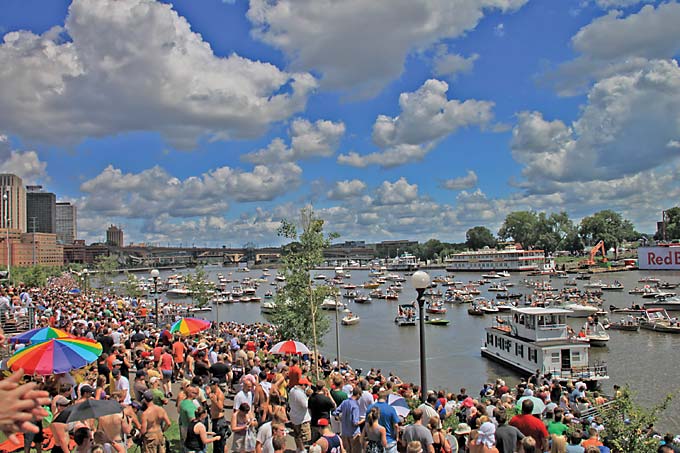 oosted by projects — often in multiple phases — from such companies as ExxonMobil, Shintech, Honeywell and Westlake Chemical, East Baton Rouge Parish in Louisiana tops the project tallies of all counties along the Mississippi River from July 2010 through December 2011.
But they're not alone at the top: At the far northern end of the river, Hennepin County, Minn., tallied the same number of projects — 43 — over that span of time, welcoming investments from such companies as Procter & Gamble, Medline, Emerson and Caterpillar.
The riverside parishes of Louisiana as a whole, however, attracted more projects (176) than the counties of the next two highest-ranked river states put together.
Nearly as high ranking as East Baton Rouge Parish is the neighboring Ascension Parish, where Vancouver, B.C.-based Methanex announced in January its intent to relocate an idle methanol plant from Cabo Negro, Chile, to a 200-acre (81-hectare) site in Geismar. According to a report in The Advocate, the project represents a $400-million investment and 125 new jobs.
Methanol is used as a feedstock in the manufacture of a wide range of consumer and industrial products such as building materials and plastics.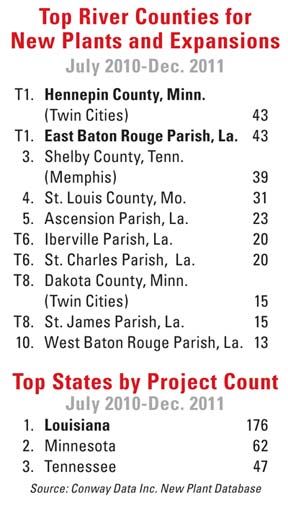 Methanex is also developing and growing new markets for methanol such as direct gasoline blending, dimethyl ether and biodiesel.
"The outlook for low North American natural gas prices makes Louisiana an attractive location in which to produce methanol," said Bruce Aitken, president and CEO of Methanex. "It is also a large methanol-consuming region, possesses world-class infrastructure, skilled workers and is a positive environment in which to do business.
"This project represents a unique opportunity in the industry to add capacity at a lower capital cost and in about half the time of a new greenfield methanol plant," he added, and at a time when there is strong demand and little other new production being added.
Louisiana Economic Development, assisted by the Baton Rouge Area Chamber and the Ascension Economic Development Corp., began working with Methanex to secure the project six months before the announcement, and the agencies continue to collaborate toward a final incentive package, estimated at $45 million by The Advocate, with nearly $42 million of that total from the state.
According to LED, after a multistate site selection analysis, Methanex selected Louisiana because of its strong work force, LED FastStart training program, competitive incentives and expedited permitting programs. "Methanex selected the Geismar site on La. Highway 73 for a variety of reasons," said the agency, "including its resource strengths, access to natural gas, hydrogen and oxygen supplies and proximity to barge, rail and interstate highway traffic."
"We have a number of parallel work paths ongoing," said Aitken, "and expect to make a final investment decision on this project in the third quarter of this year."
Those parallel plans include the $60-million restart of a second methanol plant at the company's Motunui site in New Zealand, where the plant has been idle since 2004. Other production facilities are located in Medicine Hat, Alberta; Damietta, Egypt; and Trinidad and Tobago, though unrest in Egypt forced the company to minimize operations in January 2011 and then shut down its plant there in November until order was restored. The company produced about 15 percent of global methanol demand in 2010, and employs approximately 1,000 people.
Ascension Parish separately announced that it had attracted more than $1 billion in corporate facility projects in 2011, balanced nicely with five attraction and five expansion projects that together will create an estimated 502 new jobs and generate more than $23 million in new annual payrolls in the Parish.  The attraction projects included Impala Warehousing's decision to build a new 100-job bulk materials handling terminal on the Mississippi River, primarily to handle export of coal.  Other projects include an ethylene expansion from Williams Co., BASF's construction of a new surfactants plant, Air Liquide's expansion of its air separation capacity for the production of nitrogen and argon and the re-opening of Ormet Corp.'s alumina manufacturing facility, which had been idled in December 2006.
Another high-ranking parish in Louisiana is St. James, home to the forthcoming $3.4-billion Nucor plant. In February the parish welcomed the announcement of a $365-million investment by NuStar Energy in its terminal there, creating 32 direct jobs (averaging $98,000 in pay) and an estimated 269 indirect jobs in the river parishes. Expected to be complete in 2016, the project will increase NuStar's crude oil tank storage capacity at the Mississippi River site from 8 million barrels to 11 million barrels.
To attract the NuStar Energy investment, LED offered the state's Modernization Tax Credit, which provides a 5 percent refundable tax credit, worth $3 million to NuStar over a five-year period. The company also is expected to utilize Louisiana's Quality Jobs and Industrial Tax Exemption incentives.
The project is part of overall investment in the parish of $505 million. Last August NuStar, EOG Resources Rail Yard (Louisiana) LLC and EOG Resources Marketing, Inc. agreed to jointly develop, build and own a 70,000-barrel-per-day unit train offloading facility at NuStar's St. James terminal. The project, expected to be in service by May 2012, will facilitate movement and storage of crude oil production from the Bakken, Eagle Ford and other developing shale plays in the United States.
NuStar, a limited partnership based in San Antonio, has 8,417 miles (13,543 km.) of pipeline; 90 terminal and storage facilities that store and distribute crude oil, refined products and specialty liquids; and two asphalt refineries and a fuels refinery. The company has operations in the U.S., Canada, Mexico, the Netherlands (including St. Eustatius in the Caribbean), the U.K. and Turkey.
Points of Interest
A few snapshots from a troll downriver:
The Mississippi River System stretches over 222 miles (357 km.) in Minnesota and supports five port areas whose combined 2010 waterway transported tonnage was 10.9 million net tons, with all five ports showing steady increases in tonnage since 2008. Infrastructure upkeep is aided by the state's Port Development Assistance Program, which had appropriated $21 million as of the end of 2010. Minnesota's largest river tonnage commodities are agricultural products such as corn, soybeans and wheat. The river accounts for over 60 percent of Minnesota's agricultural exports. River ports also handle other dry cargo commodities such as coal, fertilizer, minerals, salt, cement, steel products, scrap metals and liquid products including petroleum, caustic soda, vegetable oils and molasses.

On the non-industrial side, many riverside communities continue to rediscover the riverfront, which leads residents and prospects to rediscover the quality-of-life benefits conferred by the mighty Mississippi.

"The campus has changed to welcome the river, instead of turning its back to the river," says Mary Jacobson, director of marketing and public relations for Anoka-Ramsey Community College. The college's Coon Rapids campus is located just north of downtown Minneapolis. "We used to have the loading dock — sort of the back door — along the river. In the mid-'90s we renovated and now have a beautiful river plaza that faces the river. It's a place where students often congregate and study."

The college is facing unprecedented demand and enrollment, and now serves 16,000 students annually, including thousands enrolled in job skills and customized industry training in such fields as biofuels. The college has constructed several new buildings in recent years, including a renovation of a riverside building. Another major facility investment still awaiting state bond backing is a new biomedical building.

In September 2011 Alcoa announced it will expand its Davenport, Iowa, rolled products plant to meet rising demand from the automotive market. Known for its 220-inch wide mill, the largest in the world, the Davenport complex, heretofore primarily focused on the aerospace industry, will see an investment of $300 million and the creation of 150 new full-time jobs, bringing total employment at the site to more than 2,300. The expansion is expected to be completed by the end of 2013.

A study of automakers by Ducker Worldwide, released just before the Alcoa announcement, showed automakers will increase their use of aluminum from 327 pounds in 2009 to 550 pounds in 2025. For 2012 model cars, the use of aluminum has reached an all-time high of 343 pounds per vehicle, a five percent increase. According to OEMs surveyed in the study, aluminum use as a percent of the overall automotive materials mix is expected to double by 2025 to 16 percent.

An economic development incentive package from the Iowa Department of Economic Development (IDED) helped secure the selection of Davenport for the expansion. The incentive package includes tax, financing and R&D credits as well as training grants for the Davenport workforce and new employees.

Davenport Works opened in 1948 and is one of the largest aluminum fabricating facilities in the world. The plant has more than 130 acres (nearly 53 hectares) under roof and generates nearly $1 million a day into the local economy.

America's Central Port in Granite City, Ill., near St. Louis, has received an $8.5-million TIGER grant from the U.S. DOT to assist in constructing the South Harbor project, which had previously received a $6.5-million TIGER grant. The new South Harbor will handle imports and exports of products produced in the Midwest and will create the most northerly rail, river and roadway freight transfer location south of the Mississippi River lock system.

Dennis Wilmsmeyer, executive director of the Port District, said in October at the latest grant ceremony that the new harbor "will connect major rail lines and four Interstate highways with a lock-free, public inland waterway of national and regional significance. This new harbor will create a new global maritime gateway, utilizing the marine highway of the Mississippi River to transport cargo from Chicago, Illinois and points north to the ports of the Gulf of Mexico and beyond.

In January the port hosted a visit from U.S. Congressman Jerry Costello; U.S. Department of Transportation Deputy Secretary John Porcari; China Vice Minister of Maritime Affairs XU Zuyuan; Song Dexing, Director of Water Transportation in China; Asst. Secretary for Aviation and International Affairs Susan Kurland; U.S. MARAD Administrator David Matsuda and other U.S. and Chinese public and private sector officials.

The visit was part of the fourth annual Transportation Forum held in St. Louis and the surrounding area. The United States and China hold one of the forums each year, alternating between the two countries. Last year's forum was held in China. The forums emphasize the importance of transportation infrastructure as a foundation for economic development. St. Louis in particular has focused on business development with Chinese companies, including at a new air cargo hub at St. Louis Lambert International Airport.

Down toward Missouri's bootheel, John Harry King, a breeder of Missouri Foxtrotters, hopes to find a buyer for some 600 acres (243 hectares) he owns with 4,000 ft. (1,219 m.) of river frontage in New Madrid. The Union Pacific line runs through the farm, with BNSF less than a quarter mile away. The land is adjacent to St. Jude Industrial Park, home to an AEP coal-fired power plant, Riceland Rice, an ADM facility, fertilizer operations and  a Noranda aluminum plant, the area's largest employer. The region has also recently seen expansion by Pioneer Hi-Bred.

Asked what he's seeing going up and down the river right now, King says it's a lot of grain, coal and petroleum, as well as the coke going to Noranda, where about 1,000 people are employed. While rumor has it that Noranda might add another line, King looks to the river for opportunity, specifically in shipping of agricultural products via a new sealed containers on barges service now being designed by Pollinger & Co. with Argosy Boat Co. in Louisiana.

According to Waterways Journal, Pollinger & Co. President Paul Pollinger has said ports on the Illinois, Upper Mississippi and Ohio rivers are being considered for the introduction of the service, which he said will generate jobs and jump-start a new era of profitability in these regions. Argosy will build the hulls in a newly refurbished 44,000-sq.-ft. (4,088-sq.-m.) facility on the Belle River, just southwest of the Mississippi in Louisiana.

"It is time to put the hull to the test and prove the economics of this compelling approach to expanded container-on-barge service for our country's inland waterways," said Pollinger last spring.

"These container barges look to me like the key to the Mississippi River," says John Harry King. "We're right in the middle of some of the best farm ground in the world — cotton, rice, soy and wheat. Seems to me like these exporters would want to put these grains, and beef and pork, in sealed containers. I've heard horror stories of barges going down river and spoiling the whole load, whereas sealed containers on barges would be beneficial to importers — they could go right past New Orleans and out into the Gulf and load ships.

"I know these Eastern ports are getting a lot of publicity," says King of the Panama Canal buzz, "but for years we've been thinking the Mississippi River would be the key to the Midwest, where all the grain is."