POST THIS ARTICLE TO SOCIAL MEDIA
A SITE SELECTION INVESTMENT PROFILE
SOUTHWEST LOUISIANA & ACADIANA
From Site Selection magazine, March 2012
POST THIS ARTICLE TO SOCIAL MEDIA
The Game Changer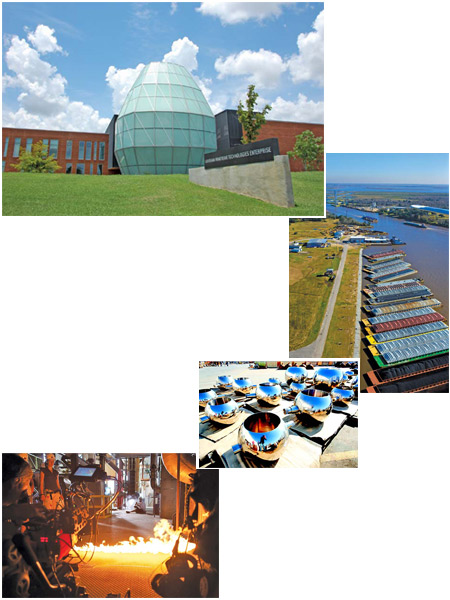 T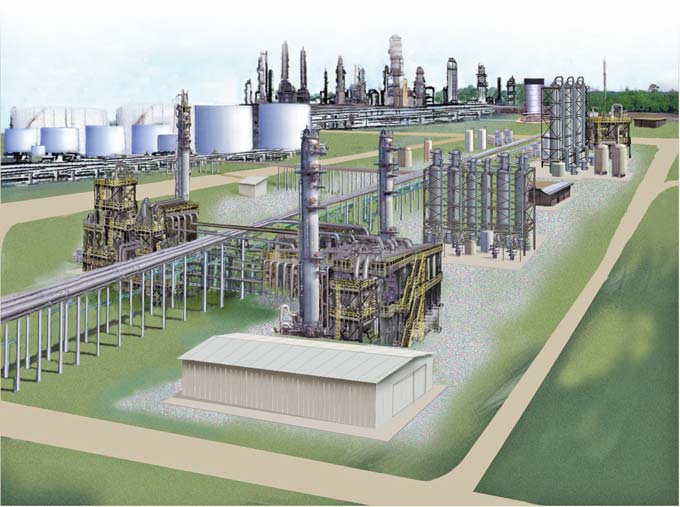 ake the elements that are critical to community prosperity — water, transportation, energy, industrial know-how, and willing and able workers — and combine them into a strategy for economic success … that is exactly what Southwest Louisiana and Acadiana did, and the results speak for themselves.
From Beauregard Parish to Iberia Parish and everywhere in between, the areas known as Southwest Louisiana and Acadiana are forging a reputation as national leaders in high-tech energy exploration and production, advanced manufacturing and software development.
In a section of the Gulf Coast known for making a living with one's hands, the labor pool is applying that work ethic in fields that are changing the way the rest of the world consumes energy, travels and plays games.
Today the Gulf Coast region of Acadiana and Southwest Louisiana has become a global leader in energy exploration and production.
Nowhere is this leadership more evident than at Sasol North America Inc. in Calcasieu Parish, where the subsidiary of global energy conglomerate Sasol of South Africa is planning an $8-billion to $10-billion gas-to-liquids (GTL) complex in Lake Charles.
The project would directly employ 850 workers at an average annual wage of about $89,000. The plant would produce some 305 billion standard cubic feet of natural gas per year, or roughly the equivalent of $1.3 billion to $1.5 billion annually in natural gas purchases at today's prices.
If all goes as planned with the firm's feasibility study and engineering scoping plan, Sasol could move forward with a recommendation for designing and building either a 2-metric-ton plant or a 4-metric-ton plant by the first quarter of 2013.
Sasol's proposed GTL complex would also provide a large new source of demand for the Haynesville Shale and other natural gas plays in Louisiana, further bolstering the state's position as the No. 1 exporter of energy in America.
An Energy Economy Transformer
"Without question, the Haynesville Shale and other unconventional natural gas plays are transforming the energy economy in the U.S., and we are positioning Louisiana to be one of the chief beneficiaries of that transformation," Louisiana Gov. Bobby Jindal said at the Sasol announcement last September.
At the center of that transformation is Southwest Louisiana. Michael Hayes, spokesman for Sasol, says the planned GTL project in Lake Charles is a game changer for the South African energy juggernaut.
"This is the next step in a growth ambition for the company," Hayes tells Site Selection. "It is one of our first major steps into the North American business environment. We have about 160,000 barrels a day of capacity in South Africa and another 30,000 barrels a day in Qatar. We are planning another 96,000 barrels a day in Louisiana. That would be a huge expansion for the company."
The expansion also represents an important step toward U.S. energy independence and reliance on cleaner fuels. "For the country, this project represents 96,000 barrels a day of production that don't have to be imported," says Hayes. "And it has no sulfur and no nitrogen. It burns cleaner. It can be blended into fuels that are used in vehicles on the road today."
Hayes says the project announcement was made possible by cooperation from multiple agencies, including Louisiana Economic Development, the Southwest Louisiana Economic Development Alliance and the Port of Lake Charles.
"All of them were critical in bringing this feasibility study forward," he adds. "You can't do a feasibility study if you don't have a site. The port and the economic development agency identified several suitable sites for us. They used the state's GIS capabilities. They looked at access to pipelines. And then the port stepped forward and helped us with property acquisition. We would probably still be looking for a site if those three entities did not help us. They probably helped us save a year off our schedule."
Hayes says that Southwest Louisiana offers "tremendous infrastructure from both a gas delivery aspect and a product delivery aspect. The buildup of the LNG [liquefied natural gas] industry in this area has created a pipeline delivery infrastructure that creates all of the transportation infrastructure that we would ever need in this area. We can move products from coast to coast. The ability to easily bring in major pieces of equipment is a plus and it gives Southwest Louisiana a cost advantage. The available industrial work force and an available contract work force also make this area an ideal location for Sasol."
A pro-business climate helps too, notes Hayes. "Louisiana is a state that is very business friendly with a leadership that wants this economy to grow. Having a governor like Bobby Jindal and an LED secretary like Stephen Moret are huge advantages for this state," says Hayes. "The governor has voiced his full support for this project, and his entire team has really stepped up."
Being located within 40 miles of three major LNG terminals makes it easy to ship and receive product, notes Hayes. "We will use rail, barge and ship transportation. We will use the breadth of the infrastructure that is here," he says.
Also at play in the region are plans to build one of the first natural gas liquefaction facilities in North America. Last July, Gov. Jindal joined Cheniere Energy Chairman and CEO Charif Souki to announce a $6.5-billion complex that creates 148 jobs at Cheniere's Sabine Pass terminal in Cameron Parish.
Once the project receives final authorization from the Federal Energy Regulatory Commission, Cheniere anticipates that construction could begin in 2014 and operations could commence in 2015. The jobs at the new plant could pay in excess of $100,000 a year in wages and benefits.
Region with Skilled Labor Force
Large investments like those of Sasol and Cheniere are nothing new to the Gulf Coast. For decades, Southwest Louisiana and Acadiana has been a global leader in oil and gas exploration and production.
What's different now is that the region is leveraging this industrial know-how to jump-start investments into other technology sectors. This new wave of high-tech investment is transforming the economy of two geographic areas — the five-parish Southwest Louisiana and the seven-parish Acadiana.
Southwest Louisiana, bordered by the state of Texas and the Gulf of Mexico, is comprised of Allen, Beauregard, Calcasieu, Cameron and Jefferson Davis parishes. Acadiana, bordered by the Gulf and the Atchafalaya River, is comprised of Acadia, Evangeline, Iberia, Lafayette, St. Landry, St. Martin and Vermilion parishes.
Together, the Region has a population of over 878,000 and a work force of nearly 400,000. About a third of these workers are skilled labor, a fact that points to the region's historic strength in manufacturing trades and craftsmanship.
From shipbuilding and shrimping to nuclear energy module manufacturing, the region offers a vast array of unique skill sets. Tying the Region together are the bonds of water, hard work, industrial technology and forward-looking community leaders.
One of those leaders is Gregg Gothreaux, president and CEO of the Lafayette Economic Development Authority and chairman of the Acadiana Economic Development Council.
"The energy business is always the dominant trend in our region. It is the driving force behind our economy," Gothreaux says. "It started out primarily as the exploration business. Now it is the exploration and services business for deepwater, shallow-water and on-land activity in oil and gas.
"But we are also an entrepreneurial-based community," he says. "We have been ranked as the most successful economy in the state in the past decade plus. We had the sixth fastest real GDP growth in the nation between 2005 and 2010."
A study by Sentier Research showed that Lafayette had the largest increase of all 297 metropolitan areas in the U.S. in median annual household income from 2005 to 2010, rising by 12.2 percent. During that same time, the average annual income in Lafayette jumped by 6.8 percent, from $60,690 to $64,794, good for fifth in the country.
"Those numbers reflect the kind of economy we have," Gothreaux says. "They indicate the strong entrepreneurial spirit that we have in Acadiana."
Acadiana is showing solid progress in a variety of industries, including digital media and software development, ultra-deepwater oil and gas extraction, medical services and energy services.
In 2011, Lafayette Parish secured 750 new jobs from two major projects: Halliburton and Schumacher Group.
Halliburton, which employs 70,000 people in 80 countries in the energy products and services industry, selected Lafayette for a $65-million completion tools factory. The plant will employ 150 workers with average annual salaries of $55,000.
Schumacher Group, the third largest emergency staffing and management company in the U.S., chose Lafayette for a $19-million capital investment that will go toward a major headquarters expansion, producing 600 new jobs at average annual wages of $62,500.
Interstates, Incentives Beckon Firms
Gothreaux says that Lafayette's primary corporate location advantages are its strategic location at the crossroads of Interstates 10 and 49; its technology infrastructure including one of the most advanced fiber-optic networks in the country; its highly skilled and diverse work force of 150,000 people; and its robust business incentives.
"Louisiana has one of the most competitive incentive packages in place to attract new business and encourage expansions of existing businesses," says Gothreaux. "A slate of proposed incentive legislation has the potential to put Louisiana and Acadiana on an even stronger playing field when passed."
Quality of life is a compelling draw too, he notes. "The region's legendary joie de vivre and Cajun and Creole culture are known around the globe. With more restaurants per capita than New Orleans or New York, it's no surprise that Lafayette will be featured as the 'Best Town for Food' in the 2013 Rand McNally atlas," adds Gothreaux.
Mike Tarantino, president and CEO of the Iberia Industrial Development Foundation and a board member of the Acadiana EDC, says, "We are America's energy corridor. As a coastal region, there are many oil and gas energy-related companies located here. Many of the companies that service these industries are based here too, and we also have a very good aviation network."
With two industrial airports and an international airport in Lafayette, Acadiana is well equipped to service the offshore oil and gas platforms in the Gulf. Bristow Group, one of the world's largest providers of helicopter services to the offshore oil and gas industry, operates out of the region.
"The highest amount of helicopter concentration in the U.S. exists right here in our area," notes Tarantino. "We are also known for our food. Tabasco, the most famous brand in the world, is based in Avery Island, and Bruce Foods Corp. has expanded its sweet potato processing lines over the last three years in St. Martin and Iberia parishes."
"Our region is connected by extensive infrastructure," says Tarantino. "We are centrally located between Houston and New Orleans. We have an extensive rail system, and we market ourselves as an intermodal region. We have a lot of distribution warehouses in our region, especially in the northern parishes."
Servicing the marine industry is a key industrial field in Acadiana, adds Tarantino. "Metal Shark Boats, which is based here, was recently awarded a $192-million contract to build port security boats for the U.S. Coast Guard. Maritime International makes mooring systems for protective harbors for the U.S. Navy," he says. "They are moving their production back from China to St. Martin Parish and will be adding 30,000 square feet to their facility. That speaks highly of our work force and the ability of an American business to make a good rate of return here."
Other major expansion projects in Acadiana are coming from Cameron Iron Works in Evangeline Parish and Carbo Ceramics in New Iberia.
"This is a strong region because of the connections that we have across the entire coast of Louisiana," notes Tarantino. "There are many opportunities for people to take advantage of here."
On Feb. 24, the connectivity of the entire 12-parish region was enhanced when leaders of the Southwest Louisiana Economic Development Alliance and the Acadiana Economic Development Council came together for a signing ceremony announcing a formal agreement.
Cargo Drives Port Expansions
Connections could well be the key word in Southwest Louisiana as well. From the Port of Lake Charles to Chennault International Airport, connectivity is the driving force behind many corporate expansions throughout the five-parish region.
The 11th-largest seaport in the U.S., the Lake Charles Harbor and Terminal District encompasses 203 square miles in Calcasieu Parish and handles 5 million tons of cargo each year at its public facilities. The main cargoes being transported through the port's terminals are bagged rice, flour and other food products, forest products, aluminum, petroleum coke and other petroleum products, woodchips, barites and rutile.
"The Port of Lake Charles had a very good year in 2011," says Dan Loughney, director of marketing and trade development for the port. "In fact, it was the best year in our history, dating back to 1926, in terms of tonnage and financial performance. We are really a microcosm of this region's economy."
Project activity at the port bears that out. Mojito Pointe is now developing a new casino on port property, and the Gulf Coast's first new grain elevator in 40 years is being developed in the port's City Docks area.
The Sasol expansion projects will add about $10 billion in new investments to port property, and the port itself is undergoing some redevelopment.
"We are looking at the possibility of rehabbing some old docks and warehouses where the port started in 1926," says Loughney. "We are expecting a new ship loader to be installed at our Bulk Terminal One. It is being constructed right now. The rail-car rollover installation was completed, and we are reclaiming about 525 acres of wetlands that were damaged when Hurricane Rita came ashore in 2005."
Loughney expects an even more productive year in 2012. "We have a lot of things in the pipeline that we are working on," he says. "These projects don't happen overnight. It took us four years to put the grain elevator deal together, but we are excited about the new projects that we are working on."
Lynn Hohensee, port director at the 190-acre West Calcasieu Port in Sulphur, says WCP is experiencing growth of its own. The port's board of commissioners voted in December to award a $2.1-million contact for the expansion dredging of the port's West Barge Basin to Apollo Environmental Strategies Inc. of Beaumont, Texas.
"The West Calcasieu Port and its tenants offer a variety of specialized services within the marine operations community, and high on that list is commercial shallow-water barge fleeting operations along the Gulf Intracoastal Waterway," says Hohensee. "Demand for barge fleeting facilities in Southwest Louisiana has grown over the last several years. All regional economic indicators point to a continuing growth in that demand."
Hohensee notes that when the expansion of the barge basin on the north shore of the Intracoastal is completed, it will have a capacity to accommodate 75 to 90 barges.
Hohensee adds that the port's largest and oldest tenant, Devall Towing, operates one of the largest barge fleeting operations along the Intracoastal. The company has seen a significant increase in demand for barge anchorage in Southwest Louisiana.
The West Calcasieu Port, one of six water ports in Southwest Louisiana, scored another coup when it welcomed River Barge Works as the port's newest tenant in February. The company provides barge-cleaning services for dry barges and brings at least six new jobs to the community.
"There is a tremendous amount of growth on the horizon in this region. A lot of our new businesses will require additional barge transportation support," Hohensee says. "My port is like a parking lot for barges as they go down the river, and right now demand is greater than ever."
Largest Jets Land at Chennault
Randy Robb, executive director at Chennault International Airport in Lake Charles, echoes those sentiments.
"We are forecasting growth for almost as far as the eye can see in our region. Chennault is part of that growth," says Robb, who runs an airfield that is capable of accepting the world's largest aircraft. With a 10,700-foot runway, some of the biggest wide-body jets on the planet frequently land at Chennault.
Named for Louisiana's own Gen. Claire Chennault, who made the cover of Time and Life magazines for his famed Flying Tigers squadron in World War II, Chennault International Airport is poised for expansion on several fronts.
"We are focusing on the two main companies that we have at Chennault – Northrop Grumman and Aeroframe Services. Both are in expansion mode right now," says Robb. "Aeroframe is expanding like crazy, including a $20-million, 112,000-sq.-ft. hangar with four bays that will lead to 500 new jobs."
Northrop Grumman is adding a $3.6-million, 25,000-sq.-ft. multi-purpose building that will result in additional employment as well.
"The biggest indicator of our growth is the fact that three years ago, we were selling a little over a million gallons of fuel per year," Robb says. "We are now selling in excess of 6 million gallons of fuel a year. We are building another 110,000-gallon fuel tank to keep up with demand."
Robb says that the area's highly skilled work force is the main driver of business growth at Northrop Grumman and Aeroframe. "Last year, both companies turned out aircraft with zero discrepancies. That is almost unheard of in this industry."
Aeroframe's chief executive cites this fact in his company's recent expansion. "It isn't just about job creation. It is about job retention," says Roger Porter, CEO of Aeroframe. "Chennault has helped keep jobs that would have gone to China."
This investment profile was prepared under the auspices of the
Southwest Louisiana Economic Development Alliance
and the
Acadiana Economic Development Council
.
For more information on
Southwest Louisiana Economic Development Alliance
, contact George Swift at 337-433-3632 or by email at
gswift@allianceswla.org
.
For information on
Acadiana
, contact Rebecca Shirley at 337-769-7646 or by email at
rebeccas@teamacadiana.org
.