COLORADO
From Site Selection magazine, May 2012
Choose Your
Own Adventure
For those who can connect a diverse and compelling array
of assets, Colorado offers a clear path forward.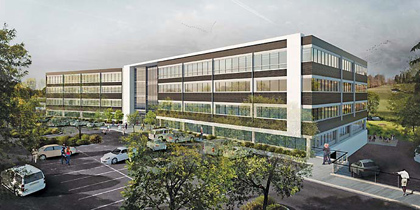 W
hen the views are mixed, sometimes the only way to put together a complete picture is to assemble a composite. What follows are snapshots of Colorado project activity. Knit them together and you just might reach your own happy and profitable conclusion.
On April 5, Denver-based healthcare IT solutions provider The TriZetto Group announced it would build a new worldwide headquarters in the Meridian International Business Center in Douglas County. The headquarters will immediately generate up to 500 construction jobs and later accommodate up to 750 new jobs at TriZetto over the next five years. With some 3,300 associates and offices across the globe, TriZetto has been headquartered in Denver since July 2010. In addition to creating hundreds of new jobs in Colorado, TriZetto's worldwide headquarters will bring up to $250 million of capital investment in the state over the next five years, as well as $70 million in worker pay annually, money that will be reinvested largely in Colorado's economy.
The build-to-suit, 166,000-sq.-ft. (15,421-sq.-m.) headquarters in the Meridian International Business Center will be built by the Opus Group and owned and managed by Lexington Realty Trust. TriZetto will lease the building as its sole tenant. Construction will be completed early next year, and employees will move into the new facility in spring 2013. A team led by Bill Benton, a senior vice president of Cornish & Carey Commercial Newmark Knight Frank (C&CCNKF) in San Francisco, and a Newmark Knight Frank Global Corporate Services (GCS) consulting team, assessed workplace needs and location factors for TriZetto, which also considered Missouri, New Jersey and Arizona. In a process that spanned four months, Newmark Knight Frank structured a deal in which TriZetto was awarded a $4.8-million package of state and local incentives to support the firm's expansion in Colorado.
Last fall, Arrow Electronics announced its own headquarters move, from Melville, N.Y., to its complex in Englewood, Colo. The company received an incentives offer from the state worth $11.4 million attached to the creation of 1,250 new jobs in Colorado over the next five years. The company already employs 1,000 in the state.
In March, global healthcare product provider Covidien opened its new 63,000-sq.-ft. (5,853-sq.-m.) R&D center in Boulder, at the same time it was opening three other centers in Irvine, Calif.; Trevoux, France; and Hyderabad, India. "In the last five years, the Company has more than doubled its R&D investments and introduced more than 100 new products," said Paul Hermes, Chief Technology Officer, Surgical Solutions, Covidien. Covidien has invested more than $40 million into the four R&D centers that will house scientists, clinicians, engineers and product development specialists. The new facilities, which add 50 research laboratories, will significantly increase the company's overall R&D footprint, which now consists of 24 R&D centers throughout the world, focusing on new growth platforms in its endomechanical and energy devices, soft tissue repair, vascular therapies, respiratory, monitoring, pharmaceuticals and medical supplies product lines.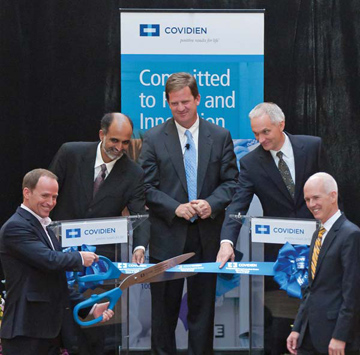 John Jordan, manager of R&D and technology communications for the company, says the four centers represented four unique site selection projects in different business units, and each had to make its own business case. Boulder, already home to a significant Covidien campus, will welcome 18 of those new labs, or 36 percent of the total among the four new facilities. The project, part of the company's surgical solutions business, will add approximately 125 R&D jobs to the R&D staff of 400 already employed at the campus.
"We had the space on the campus to build a new entity, and were able to adjoin it to another building," enabling staff to move from their office space to meeting rooms and labs in the new building via a connected atrium, says Jordan. As for competition for the project, Jordan says, "It was Boulder all the way. It's a well known, valued work force. It only made sense to finally get them underneath one roof, and give them the space to allow innovation to occur."
Cassidy Turley's Q1 2010 U.S. Office Sector Report says the West is the far-and-away leader in new net demand, at 4 million sq. ft. (371,600 sq. m.), followed by the South at 2.4 million sq. ft. (185,800 sq. m.). Denver ranks seventh nationally in net demand for office space. Other sources play up Denver as well: The spring 2012 edition of Mountain Monitor, a quarterly index of Mountain region economies published by Brookings Institution in conjunction with the University of Nevada, Las Vegas, said, "despite lackluster performance on individual metrics, Denver and Tucson were the only two metros [out of the Mountain region's 10 major metros] in which both job and output growth accelerated at the end of 2011."
Seals of Approval
Colorado is ranked No. 3 in the U.S. in the Beacon Hill Institute's latest State Competitiveness Report, based on 44 economic indicators in eight categories: government and fiscal policy, security, infrastructure, human resources, technology, business incubation, openness and environmental policy. Among those groupings, Colorado scored highest (No. 2) for infrastructure, which includes such indicators as mobile phones per 1,000, high-speed lines per 1,000 and air passengers per capita. Colorado scored No. 6 for technology and No. 8 for business incubation.
Many of those factors are played up by a team of legal, business and elected officials who have been pushing the U.S. Patent & Trade Office (USPTO) for more than two years to establish a satellite office in the state. The USPTO, based in Alexandria, Va., plans to open its first satellite office in Detroit in July. As provided for in the America Invents Act, signed into law in September 2011, the USPTO intends to establish at least two more satellite offices by September 2014. There has been no formal RFP, but a Federal Register notice soliciting comments drew 600 responses, which USPTO staff have whittled to a final list of 50 valid candidates. Among them is the Colorado's 266-pp. proposal.
A study performed by the University of Colorado's Leeds School of Business said the new office would generate more than $400 million worth of activity and hundreds of new high-paying jobs. Proponents also point to the likelihood that Colorado's high quality of life will aid in retention — one of the USPTO's strategic goals as it seeks to catch up to a backlog of 750,000 yet-to-be-touched patent applications. The agency is also charged with making patent applicant outreach central to its mission, which matches up well with facts the Colorado team has gathered:
More than 40 percent of the state's population aged 25 and older with bachelors degrees hold degrees in science and engineering, putting Colorado in the top 10 among all states and the District of Columbia.
The Gallup-Healthways Well-Being Index gave Colorado a score of 68 in 2010, ranking it number five among the states.
With 24 federal laboratories and four major research universities, Colorado boasts innovation clusters in Denver, Boulder, Fort Collins, and Colorado Springs.
Colorado ranks No. 5 in the U.S. in the Ewing Marion Kauffman Foundation's Entrepreneurial Activity Index.
With 83 completed deals in 2010, venture capital investment in Colorado was about $483 million, the third highest in the country. In 2011, venture capital investment in Colorado increased 28 percent to $619 million.
USPTO officials say they hope to pass along recommendations for the next patent office location by the time school lets out this spring.
School of Mines is Golden
Payscale's 2012 College Return on Investment (ROI) Report, released in April, analyzed 35 million career profiles and 853 colleges and universities. It found the average 30-year net ROI for engineering schools is more than double the ROI for liberal arts schools ($561,135 vs. $183,299). Private schools dominated the top of the list. But at No. 14 — and No. 1 among public universities — was the Colorado School of Mines, located in Golden.

The average starting salary of graduates with a bachelor's degree in 2011 was $63,400. Among its alumni's highest salary ranges were salaries for petroleum engineers, mechanical engineers, geophysicists, software engineers and project engineers. When the school led the same rankings last year, its graduates posted a mid-career salary of $106,000.
"Companies, nationally and worldwide, consider Mines students and graduates to be at the top of their field, explaining why Mines is on the top 10 university recruiting list for many companies," said Jean Manning-Clark, Colorado School of Mines Career Center director, employee relations.
Renewable Resources
The National Solar Jobs Census 2011, issued by the Dallas-based Solar Foundation in October reported that, as of August 2011, there were than 17,198 solar employment sites and 100,237 solar jobs in all 50 states. Colorado was in second place with 6,186 jobs at 1,020 establishments.
In October, one of those establishments, General Electric, said it would build a $300-million, 350-employee thin-film solar panel plant in an existing building in Aurora, with production scheduled to begin by the end of this year. "This location, which also is in proximity to GE's existing solar center of excellence, enables an accelerated start-up schedule with production equipment installation beginning in January 2012," said the company. "Working with our Colorado-based solar team, we were able to achieve record efficiencies in our solar panels in record time," said Victor Abate, vice president of GE's Renewable Energy business. "The Colorado location will allow us to deliver our technology roadmap faster and commercialize industry-leading panel efficiencies sooner. We also look forward to continuing to build our relationships with Colorado's local, state and federal officials who have been extremely helpful as we moved through the site selection process."
Much of the work at the root of GE's technology was done at the Colorado School of Mines and, subsequently, at the U.S. Department of Energy's National Renewable Energy Laboratory (NREL) in Golden. Analysis by the University of Colorado in early 2011 shows that the NREL is a $714 million annual boost to the state's economy.
Not all is sweetness and light in renewable energy circles. Abound Solar has shut down its plant in Colorado and let 180 workers go. Vestas, with multiple facilities in the state, is poised to possibly do the same if the federal wind energy production tax credit is allowed to expire at the end of 2012. One of their major facilities — the world's largest wind tower plant — is located in Pueblo, where Jack Rink serves as president of the Pueblo Economic Development Corp. He says the company remains optimistic the PTC is going to be renewed. It's just a matter of attaching it to the right piece of legislation.
"They're just an economic engine," says Rink of Vestas, which employs 500 people at the Pueblo operation. "They've already taken their place as one of the premier companies in our area. It's a world-class, beautiful manufacturing facility that shows off our community very well when we bring in other potential employers and prospects. I can't say enough good things about what they've brought to the community in terms of jobs and prestige."
The Colorado Office of Economic Development and International Trade has opened a new European office in Dublin, joining its other international offices in Mexico and Japan. In calculations performed by Site Selection, Colorado ranks No. 1 in International Baccaulaureate schools per capita, with 78 schools serving a 2011 state population of just over 5 million.
One asset Rink points out to the growing number of prospects looking at the area is Gorsuch Advanced Technology Center at Pueblo Community College, which not only customizes training to company needs but then is able to bring that training to the company, via three mobile training labs outfitted on large trailers. "I'd say they're a real gem for Pueblo that other communities can't replicate," says Rink. Another overlooked asset, he says, may be Colorado's very secure water supply.
"The West is generally considered an arid region," says Rink, who worked for 24 years at Trane Co. before leaping over to economic development, "but Pueblo has done a great job of securing water supplies that can last as far out as anybody can plan. We have the benefit of the Arkansas River right through Pueblo, and we have a far-thinking water board that has secured water rights going back to the 1800s and actually moves water through the network, transferring it from basins up in the mountains that allows us to have the capacity we need."