TOP 10 COMPETITIVE STATES OF 2011
From Site Selection magazine, May 2012
Best in Class
Proximity to the federal capital is purely coincidental ­— but beneficial,
says Gov. McDonnell, who has a new economic development
success story to tell investors domestic and international.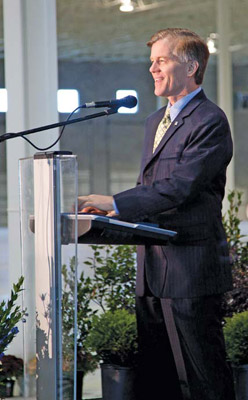 B
y claiming first place in Site Selection's annual ranking of state competitiveness, Virginia proved that second place merely means there's room for improvement. The Commonwealth lost no ground and gained what little there was to gain from its runner-up finish in 2010 with a best-in-class finish for economic development success in 2011. Based largely on the magazine's New Plant database of new and expanded facility announcements, this measure is as forward looking as it is a recognition of business-attraction activity last year (see the methodology box for a full description of index components). It points to a steady supply of new jobs on the horizon from the suburbs of Washington, D.C., to the military/maritime economy of the state's southeast to the western economy anchored by the Roanoke Valley to the south-central tobacco counties landing major data center projects.
The Virginia Economic Development Partnership and Governor Bob McDonnell have demonstrated that a pro-business, get-the-word-out strategy coupled with a predictable, low-tax business climate result in a competitive edge that is quantifiable. Through another prism, the American Legislative Exchange Council (ALEC)-Laffer State Economic Outlook Ranking 2012, released in April, ranks Virginia third behind Utah and South Dakota. This 15-criteria measure ranks states mainly on their tax policy as a measure of state competitiveness; workers' comp costs, right-to-work status and quality of the state legal system are among the criteria. The report was co-authored by noted economist Dr. Arthur B. Laffer, Wall Street Journal editorial board member and economist Stephen Moore and ALEC's Jonathan Williams, director of the public policy group's Center for Fiscal Reform and the Tax and Fiscal Policy Task Force.
Let's turn back to Site Selection measures. Virginia ranked fifth in this year's Governor's Cup — the measure of total qualified new and expanded facility announcements the previous calendar year — with 273. It placed 10th the previous year with 190 projects, defined as those meeting one or more of these criteria: a minimum capital investment of US$1 million, 50 or more new jobs or 20,000 sq. ft. (1,860 sq. m.) of new construction. And Virginia ranked fourth in Site Selection's annual Business Climate Ranking for 2011 (see the November 2011 issue), a tie with its 2010 business climate finish. Virginia is clearly competitive.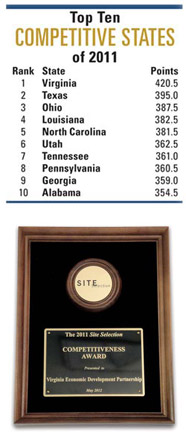 "We've worked very hard these past two years to bolster Virginia's reputation as a place to work and relocate businesses to, and we've earned some high spots on various measures of that," Gov. McDonnell told Site Selection upon arriving in New York to begin a three-day trade mission to that state and to Quebec. "But this Competitiveness Award recognition is terrific, as we have put a lot of money into economic development incentives and grants and are spending a lot of time on the road telling Virginia's story."
His state is competitive because it has the fundamentals businesses require, says the governor.
What Investors Want
"They want a reasonable and predictable climate with respect to taxes, regulation and lawsuits, and we're doing very well in those areas," says McDonnell. "And we're a right-to-work state, which I always put at the top of the list. We have world-class universities and a positive attitude in the executive and legislative branches — we're very bullish on business, particularly small business — I've declared 2012 the Year of the Entrepreneur so we can create more small-business opportunities. Perhaps most importantly, we're taking this story on the road with multiple trade missions around the country and recent missions to Japan, Korea, China, India, France and Israel. We're working to make the sale."
Politically, Virginia's proximity to Washington, D.C., is purely geographical, notes the one-term-limited governor, who in April was reportedly under consideration by the Romney campaign as a possible running mate on the Republican presidential ticket. But that proximity is a definite asset in terms of economic development.
"It doesn't hurt with respect to people interested in defense contracting, aerospace, biotech and technology, which have ties to the federal government," he says. "We're the East Coast hub for technology with more tech workers per capita than any place in America. I've established a goal of Virginia being the energy capital of the East Coast. So it's about branding, but it's also about a lot of hard work by our economic development people explaining Virginia's case for being a great place in which to do business."
The governor says that although "Virginia doesn't have as rich a series of incentives as other states, when people look at taxes, regulation, litigation and right to work, there is so much of an advantage here they are willing to look at less incentives upfront."
One tool at his disposal is the often-deal-closing, recently doubled Governor's Opportunity Fund that helps companies offset relocation and other costs. McDonnell says other recent measures include enhanced coordination between state and local government in economic development efforts; new tax credits in such sectors as film, wineries, technology (angel investor tax credits) and aerospace; and site-preparation credits for manufacturers, among others.
Amazon and Microsoft are among the companies with major new data centers in Virginia. Other corporate newcomers from outside the Commonwealth include Hilton, Northrop Grumman and Green Mountain Coffee Roasters, Inc.
"In the long run," says the governor, "capital investors want a stable, reliable partner and a great business climate."
Index Methodology
Total new and expanded facilities in 2011
Total new and expanded facilities in 2011 per 1 million population
Total capital investment in new and expanded facilities in 2011
Total capital investment in new and expanded facilities per 1 million population in 2011
Total new jobs created in 2011
Total new jobs created in 2011 per 1 million population
Rank in the corporate real estate executive portion of the 2011 Site Selection Business Climate Ranking
State tax climate as ranked by the Tax Foundation
State unemployment rate (US BEA)
Performance in the Beacon Hill Institute's State Competitiveness Index