SOUTH CAROLINA
From Site Selection magazine, July 2012
Economic Juggernaut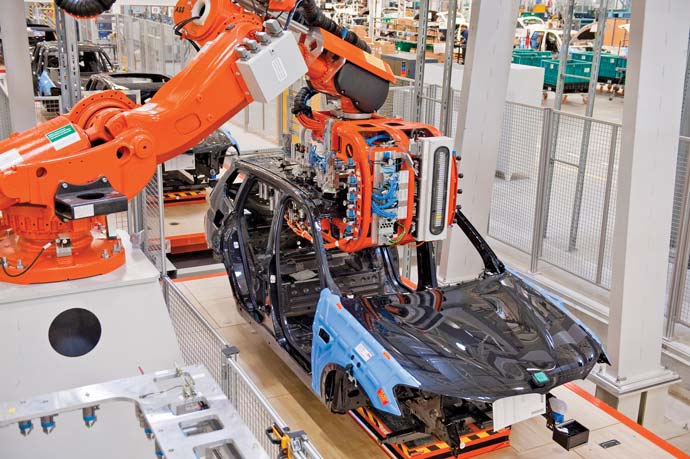 B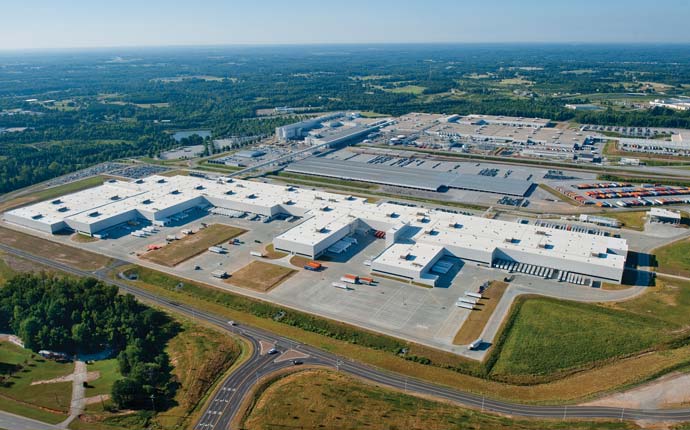 MW Manufacturing Company, South Carolina's greatest economic success over the past two decades, continues to add chapters to its story with no end in sight. Since production began at the plant near Spartanburg in September 1994, it has been expanded four times, has produced more than 2 million vehicles and has provided more than US$5.8 billion in compensation to its employees.
So far BMW has invested $5.1 billion in the manufacturing complex. A $900-million expansion announced in January to coincide with the 2 millionth vehicle rolling off the plant's assembly line will take that figure to $6 billion. The newest expansion, which the company has not fully detailed, will create 300 jobs. By the end of 2012, the 4-million-sq.-ft. (371,600-sq.-m.) plant, which began production with 500 workers, will employ nearly 7,500.
In 2011, the plant produced 276,065 vehicles for more than 130 markets around the world, a 73-percent increase from 2010. Seventy percent of the vehicles produced (192,813) were exported, making BMW the largest automotive exporter to the non-NAFTA countries.
Suppliers to BMW have also had a major impact. About 40 of BMW's suppliers, employing several thousand people, are located in South Carolina.
The BMW manufacturing complex sits on a 1,150-acre (465-hectare) site, about 60 percent of which is in use. As expansions consume space, the automaker is already looking long-range at the possibility of land acquisition to accommodate future expansions.
"It is not unlikely that we will acquire more space," says Sherry McCraw, who heads the plant's site development and structure expansions department.
Future land acquisition will go in directions other than southwest of the plant, where the Greenville-Spartanburg International Airport lies about a half mile away. McCraw, who has been involved in all of the plant's expansions since she joined the company in 1993, says BMW's long-range facility planning for the Spartanburg site stretches conceptually to 2024 and more specifically to 2018. A team comprising 20 U.S. and German planners and engineers works on developing the plant's long-range plan. Most of the expertise is located at the plant site, she says.
"We are looking at another 2 million square feet over the next two years," says McCraw, who oversaw the plant's latest expansion, a 1.2 million sq. ft. (111,480-sq.-m.) assembly facility for the BMW X3 vehicle. "We don't do things small."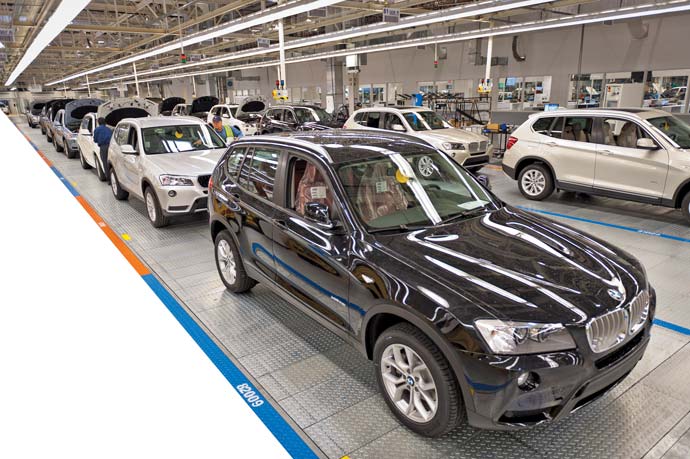 Demand is strong for BMW's X3, manufactured at its South Carolina plant.
The South Carolina plant's new X3 assembly hall is easily expandable due to its "finger approach" to plant layout. This design, borrowed from the company's Leipzig plant, uses corridors, referred to as fingers, to perform various assembly and installation processes. Each finger is lined with receiving docks so components can arrive where they are needed.
"We are ready to expand in every one of our finger areas," McCraw says.
"It's an impressive plant and nothing will have more impact," says Bobby Hitt, the state's commerce chief and former head of corporate affairs for the plant. "Boeing will do its doggonedest to rival it," he says of the aerospace giant's large new complex in North Charleston. "BMW started a trend, and it changed the way the state sees itself."
Hitt says the future looks bright for the industry, citing a dozen automotive-related projects that came the state's way in 2011. The state's automotive cluster, which includes all manufacturing associated with autos and ground transportation, employs about 90,000, he says. The state is also becoming a major force in tire manufacturing, fueled in part by its flexible work force and logistics advantages.
"Last year, we had a remarkable amount of tire industry investment," Hitt says. "South Carolina will be far and away the largest tire producing state within five years."
Tire Plants Roll In
South Carolina moved a step closer toward being a global tire capital in April when Michelin announced a $750-million plant for Anderson County expected to create 500 jobs. Tire manufacturing projects already announced by Bridgestone, Continental and Michelin during the second half of 2011 will create more than 2,800 jobs in the coming years.
Michelin in 2011 said it would invest $200 million to expand its passenger and light truck tire facility in Lexington, creating 270 new jobs over the next two years. The Lexington facility currently employs 1,360 people across its 1.2-million-sq.-ft. (111,480-sq.-m.) footprint. Michelin also operates an earthmover tire plant at the site, employing 475 people in 825,000 sq. ft. (76,642 sq. m.). Its North American headquarters has been located off I-85 in Greenville since 1988.
Continental Tire the Americas (CTA) will locate a new tire manufacturing plant in Sumter County. The $500-million investment, named as a Site Selection Top Deal of 2011, is expected to generate 1,700 new jobs over the next decade.
Bridgestone Americas, part of Bridgestone Corp., plans a 1.5 million-sq.-ft. (139,350-sq.-m.) off-road radial (ORR) tire manufacturing facility on a greenfield site in Aiken County. The company also plans an additional 474,000-sq.-ft. (44,034-sq.-m.) expansion of the existing passenger (PSR) and light truck (LTR) tire plant in Aiken County. When fully completed, the total $1.2-billion investment in these new projects will increase Bridgestone Americas' work force in Aiken County by more than 850 full-time and contractor positions.
The company previously announced a 266,000-sq,-ft. (24,711-sq.-m.) expansion of this plant in July. The new ORR manufacturing facility will be at a greenfield site in the Sage Mill Industrial Park. Previously, large and ultra-large ORR tires had been produced exclusively at Bridgestone's Shimonoseki and Kitakyushu plants in Japan.
Tire disposal is also a big jobs generator. Tire International, a tire recycler and maker of rubber products, is establishing a new $25-million recycling and manufacturing facility in Berkeley County that will employ 150.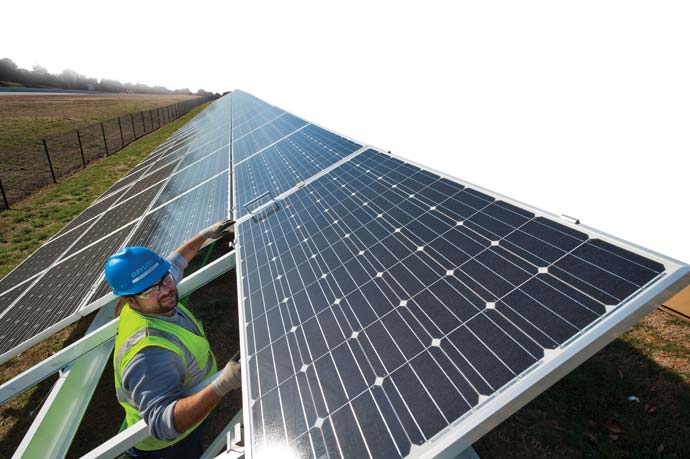 Click the Bookmark button and share with your friends!