AEROSPACE
From Site Selection magazine, November 2012
The Thrill of Victory
Airbus adds Mobile, Ala., to its global network of passenger aircraft assembly plants,
adding velocity to the northern Gulf Coast's aerospace sector.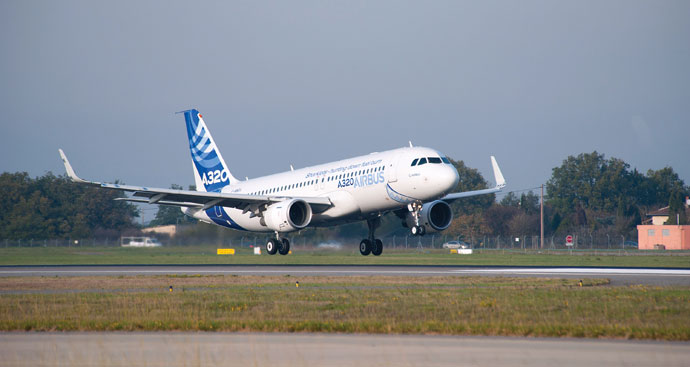 T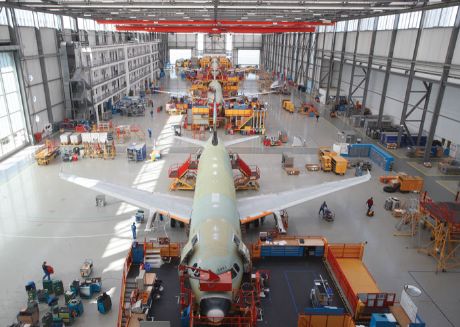 he agony of defeat was barely a memory when the thrill of victory came to Mobile, Ala., on July 2, 2012. That was the day Airbus announced that the Brookley Aeroplex on Mobile Bay would be the site of the European aerospace giant's newest final assembly plant — and its first in the United States — for production of the A320 family of passenger aircraft. In February 2011, Airbus lost its bid to secure the contract (which it had previously won) to build replacement aerial refueling tankers for the U.S. Air Force. Airbus planned to base the tanker on its A330 passenger and cargo aircraft. Boeing prevailed in that contest and will build tankers based on its 767 aircraft in Everett, Wash. During the competition, Airbus had indicated that should it win the US$35-billion contract, it would likely also produce passenger aircraft, giving the Mobile region a long-term economic boost well after the 179 refueling tankers were built and delivered.
It will do that now without the tanker production prelude.
"It was a long and arduous trip, but we finally got there," says Troy Wayman, vice president, economic development, at the Mobile Chamber of Commerce. "The project would never have had any life to it without the proper assets, those being the Brookley Aeroplex and access to the deepwater port. Those were major in Airbus' decision, and without that, this would not have been possible. Aside from that, the relationship we developed with Airbus and [parent company] EADS throughout the entire process was key, going back to when EADS and Northrop Grumman partnered to go after the tanker project. But it was these assets that drew them here initially to look at the area. From that time, they have been very loyal to the Mobile area."
Airbus already has a strong and growing presence in Alabama and throughout the United States. In Alabama, the company operates an Engineering Center in Mobile — also located at Brookley Aeroplex and employing more than 200 engineers and support staff — as well as an Airbus Military customer services operation supporting U.S. Coast Guard aircraft. In addition, Airbus operates an Engineering Center in Wichita, Kan.; an aircraft Spares Center in Ashburn, Va.; a Training Center in Miami, Fla.; and a regulatory and government liaison office in Washington, D.C. Subsidiary Metron Aviation, a leading provider of advanced Air Traffic Management (ATM) products and services, is based in Dulles, Va. Airbus' headquarters for the Americas are located in Herndon, Virginia. All together, Airbus' U.S. facilities currently employ more than 1,000 people. The new Mobile assembly line, together with associated functions, should create as many as 1,000 new high-skilled jobs.
"Once the tanker battle was lost, we began working with Airbus immediately to help them build a business case to do the commercial side first," says Wayman. "That will get them firmly entrenched in the U.S. market, which will open the door for the military side."
A U.S. Plant Was Inevitable
"Our engineering facility has been in Mobile for several years, and it's a growing facility for us," says Mary Anne Greczyn, communications manager at Airbus. "Our first engineering facility opened in Wichita 10 years ago and branched into Mobile. We have a great relationship with folks in Alabama and in Mobile. Our employees already there love the area."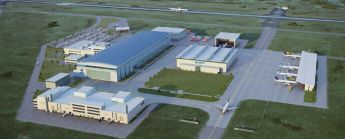 As for building A320s there, Airbus President and CEO Fabrice Brégier put it this way at the July announcement: "The U.S. is the largest single-aisle aircraft market in the world with a projected need for 4,600 aircraft over the next 20 years. This assembly line brings us closer to our customers. Mobile is now becoming part of Airbus' global production network, joining our successful and growing assembly lines in Hamburg, Toulouse and Tianjin."
Greczyn elaborates: "Those who do location investigations and business scenarios looked at a lot of places, and Mobile was extraordinarily attractive to us for a few reasons. It has an existing aviation infrastructure — the Brookley Aeroplex is a big, under-used former military base sitting basically in the side yard of our engineering facility. Add to that proximity to our engineering people already there, the transportation logistics that are part of the site and the exceptionally positive experience we have had in Mobile in the last few years. Our people love it, Mobile loves us being there, and the business community has been spectacular. The local and state governments have been very welcoming of everything we have been doing in Alabama. The site was a natural for us. Access to the port makes it a win-win. We need to ship plane parts to the facility, wherever that facility might be, so the closer we are to the water, the better it is."
Construction at Brookley will begin in mid-2013, and assembly will commence in 2015 with deliveries beginning in 2016. Airbus plans to produce between 40 and 50 aircraft per year by 2018, including the A319 and A321 — smaller and extended versions, respectively, of the A320.
Airbus to Double U.S. Expenditures
One question on the minds of Airbus and the regional economic development community is whether the assembly plant will attract new suppliers. Airbus says its assembly line in Mobile will add to existing production capabilities by other EADS companies in the United States. For example, American Eurocopter manufactures helicopters at facilities in Columbus, Miss., and Grand Prairie, Texas, while Cassidian Communications has an assembly plant in Temecula, Calif. Airbus is the largest export customer for the U.S. aerospace industry, according to a release. Since 1990, the company has spent $127 billion with U.S. suppliers — $12 billion last year alone. Airbus partners with hundreds of U.S. suppliers in more than 40 states, and the company's expenditures in the U.S. support more than 210,000 American jobs.
"We already have a very rich supplier base in the United States, and our procurement group here has as its goal to double the amount of money Airbus spends in the U.S. in the coming years," says Greczyn. "With a U.S. final assembly line, we expect those numbers to go up just by the nature of the beast. We are also hopeful that once this facility is up and running that suppliers we already use might consider putting facilities in Mobile and that new suppliers to us might consider putting facilities in Mobile, simply because of proximity to the final assembly line." All of which would be a major economic boon to the region.
"Those folks have been through a lot in the last few years," notes Greczyn, "between the oil spill and the hurricane — they are so ecstatic about our growing in the Mobile area. Leading up to when we made the announcement in July, we tried to keep it a secret as much as possible. Then, everywhere we went after the announcement, we were treated like rock stars. A billboard went up overnight that said, 'Thank you, Airbus, for growing in Mobile.' On the surface, 1,000 jobs is great, but consider the domino effect those jobs will create, plus the supplier jobs."
Critical Mass of Skills for Aerospace
Airbus is confident it will find the work force with the right skills to fill those jobs, says Greczyn. "Similar to when we opened the center in Wichita, you need to know where the aerospace brains are. Our goal is to hire as many local people as we can, and there are good, qualified people there who will be brought up to speed on the Airbus way. While some might not have experience assembling an aircraft, they will know exactly how it is done and how Airbus does it before the first day on the job." AIDT, Alabama's work force training arm, will assist Airbus in meeting its jobs requirements, as will the Southwest Alabama Workforce Development Council. Alabama is home to more than 400 aerospace companies, including Boeing, Airbus' chief rival on the commercial aircraft side, which has major space and defense operations in the northern part of the state, in and around Huntsville.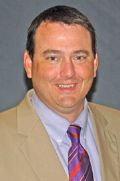 "There is a critical mass in Alabama of the skills Airbus is looking for, the engineers they need," says Wayman. "We are hoping to see the growth of the automotive industry in the state since 1993 mirrored in the aerospace industry. Having the two major global aerospace companies here will help that."
The Mobile site was a contender for the Boeing 787 assembly facility, which was awarded to N. Charleston, S.C. In early October, Boeing delivered its first 787 built at the facility to Air India. In September, Boeing announced plans to expand operations in North Charleston with 276,000 sq. ft. (25,640 sq. m.) of new space for aft fuselage fabrication and 37,000 sq. ft. (3,440 sq. m.) of additional space at the paint facility.
"We're hoping to see the same kind of growth at the Airbus project," says Wayman. "We are doing everything we can to manage expectations on a local level. We realize the supplier model is not identical to that of the automotive industry — there's a big difference between producing 48 to 50 aircraft initially per year and producing 200,000 cars per year. It takes more nuts and bolts to produce an airplane than to produce a car, but there is an economy of scale for the suppliers to locate in close proximity. There will be an initial group of integral service providers we're working with to locate at the site that due to component sizes will have to be close by or on campus. Other aerospace projects will look at us simply because we are becoming a center of excellence for aerospace."
Mobile is in the part of Alabama where it's just a short drive west on I-10 to Mississippi and east to Pensacola, Fla. Both states have advanced aerospace sectors, so will the Airbus project benefit mainly the Mobile area, or the broader north Gulf Coast region? And how will Alabama work to bring new suppliers there, and not in a nearby state?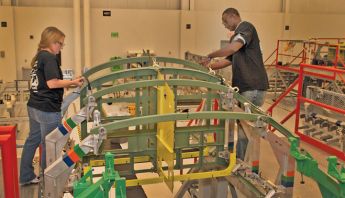 "During the tanker project, we had what we called the Tanker Team," says Wayman, "made up of people from the Department of Commerce, the city, the county, the Chamber — people with a vested interest in making sure suppliers related to that project located in Alabama. We have a similar group working on strategy for this project as well. The difference with this is there will likely be more supplier activity, and there is less of the political game that has to be played than there was with the tanker project." Players on the team include representatives from utilities, the Port Authority and Mobile Airport Authority and others. "We meet regularly to make sure everyone knows what's going on and to ensure that we use our resources as effectively as possible."
Still, Wayman knows his counterparts elsewhere on the Gulf Coast have attributes, such as population and therefore labor, that will be of interest to suppliers. "We have always worked closely, particularly with the Gulf Coast of Mississippi, on joint marketing efforts for the aerospace corridor along the Gulf Coast. We do everything we can to play fairly, and they have done the same with us. We recognize this will not only be a success for us, but for a number of locations along the Gulf Coast. We are as excited about that as they are."
Matchmaker Plans Joint Ventures
Even prior to Airbus' assembly line announcement, the Gulf Coast was the fourth-largest aerospace corridor in the world, notes Neal Wade, chairman of The Aerospace Alliance, a four-state public/private organization that promotes aerospace industry investment on the northern Gulf Coast, and CEO of Bay County (Fla.) EDA. "When one of the two major airplane builders announces they will put a footprint in your corridor, that provides a strong statement about how important this region is for aerospace. The multiplier effect will be significant."
Wade says the Alliance is currently looking at ways to forge ties with European markets that will facilitate suppliers' plans to establish operations on the Gulf Coast as the region's aerospace credentials gain heft.
"For the Airbus market, there may be Tier 2 and Tier 3 suppliers in Europe who may not be ready financially or otherwise to pick up and expand in the U.S.," he explains. "We will look at how we can identify potential joint venture partners for them in this region so that one day they might want to expand here. So we are trying to attract European suppliers to this region, but we are also matchmaking between existing aerospace suppliers in the four-state region and European companies. We will focus on that in 2013."