A SITE SELECTION INVESTMENT PROFILE
FIRST SOLAR MANUFACTURING SITE, FRANKFURT (ODER), GERMANY
From Site Selection magazine, November 2012
Exceeding Expectations
A site in eastern Germany had all the right ingredients for a leading solar panel
manufacturer; site promoters are betting the next tenant will find it just as appealing.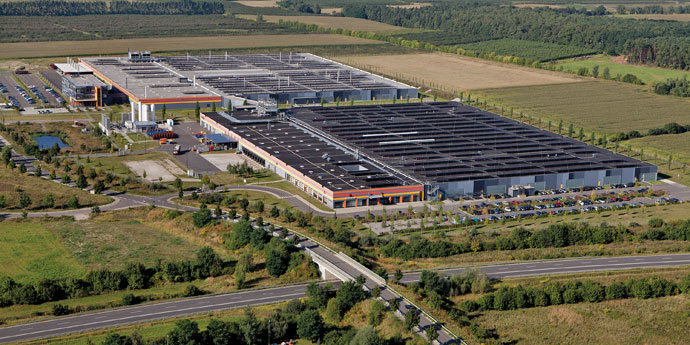 C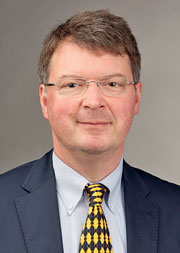 ompanies seeking a high-tech manufacturing location in Germany can drastically shorten their search now that First Solar's site is becoming available in Frankfurt (Oder), on the Polish border. The Arizona-based maker of photovoltaic systems is closing its operations there, consisting of one plant built in 2007 and an adjacent one in 2011. The facilities were built to supply the German and broader European markets at a time when German feed-in tariffs were internationally attractive and when the German government was more supportive of large solar energy projects geared to large-scale industrial applications.
The plants employed 1,200 at full operation, so investors will find a skilled work force in addition to modern facilities consisting of office, production, warehouse and amenity space. Module 1, the original plant, is 41,850 sq. m. and will be available in April 2013. The newer Module 2, built in 2011, consists of 51,000 sq. m. of production space and a 3,700-sq.-m. office building that will be ready for occupancy this winter.
"This module is brand new and has very flexible production space," says Burghard von Westerholt, managing director, First Solar Manufacturing GmbH. "It is feasible for most industrial operations, with bright, open areas and 12-meter beams making it easy to recess and change piping as needed." The production space includes room for offices or conference rooms, and logistics areas and utility space are built in to each module. One or both modules are on the market, says von Westerholt, so a potential investor is not bound to purchase both.
Cross-Border Talent Pool
Site advantages include proximity to the Autobahn, and the quick access it provides to Berlin and its new airport (now scheduled to open in late 2013) 45 minutes to the west and to nearby Poland to the east.
"It's a perfect combination of an area with strong business subsidies, a well-educated and available work force and proximity to the very attractive area of Berlin and its supply of highly skilled workers," says von Westerholt. "They can easily commute from Berlin to this location." No workers commuted from the Polish side of the Oder river to First Solar, he relates, but there is nothing to stop Polish workers from seeking employment at the site. In fact, says von Westerholt, "Being so close to the border is a huge potential for the future in terms of skilled workers." More than enough Poles living near the border speak German, and many on both sides of the border speak English.
Investors in the property will find not only a skilled work force, but one trained to network within the company and to contribute to the site's "very positive culture" that has delivered solid production performance for the duration of First Solar's time at the location. "New users of this plant will benefit from this culture," von Westerholt maintains. "That asset should not be underestimated. Plant performance depends on the people that work there and their commitment to the company."
A Region Committed to Success
First Solar operates facilities in the U.S. and in Kulim, Malaysia, but Frankfurt (Oder) was its first international location — and one that served the energy company exceptionally well, according to Mike Ahearn, chairman of the Board of Directors: "I can truly say our expectations were exceeded.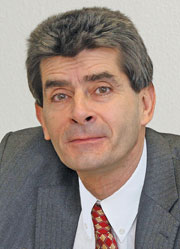 "In Frankfurt (Oder) we found a skilled, dedicated and motivated work force, strong infrastructure and a supportive political and economic climate which were essential to our establishment of an extremely efficient and effective manufacturing operation there," he explains. "That initial success ultimately led to our decision to invest in a second factory at the site. And while changing market dynamics in our industry no longer support the continued operation of our factory in Frankfurt (Oder), we appreciate the strong relationships we have built and the continuing political support for commercial companies within the region.
"We are confident that the same strengths that led us to invest in Frankfurt (Oder) will provide an attractive platform for other companies to build a successful future here, producing new and innovative products for the European markets and beyond, and that future companies will benefit from the strong team and infrastructure which are already in place."
Martin Wilke, Lord Mayor of Frankfurt (Oder), was no stranger to the region's high-tech community by the time First Solar came to the area. In 2005, he was the managing director of the Investor Center Ostbrandenburg [ICOB], the regional investment promotion agency. "In my previous life, I was an engineer in the semiconductor fab in Frankfurt (Oder). Both helped me to understand the needs of this new industry," he recalls. "Of course, it was sometimes a challenge to understand some habits and some ways of thinking during the process, but we offered the best we could provide, and this was fortunately more than was needed! First Solar came with great expectations to the state of Brandenburg and the city of Frankfurt (Oder), and after their first visit, Mike Ahearn told me that all of his expectations were exceeded."
Wilke says the region scored very well on fast approval procedures and the continuous support which ICOB offered during all phases of First Solar's investment. "It was our advantage that we were prepared for investments, also for investments of that size. We offered fully developed industrial sites, an excellent logistic connection and a skilled and motivated work force familiar with this industry because of the region's tradition." The region still offers the highest investment incentives within the EU.
First Solar's success at the site should motivate companies in many sectors to evaluate it, not just solar panel manufacturers, notes the Lord Mayor, who works with other members of a group called Task Force First Solar, comprised of the city of Frankfurt (Oder), ICOB, the State of Brandenburg and the business promotion bank of the federal state of Brandenburg (ILB). "The construction of the halls, the connections and the availability of the infrastructure on site is state-of-the-art, made-for-industrial-high-tech-production construction. Of course we are looking to other PV system manufacturers, but we also concentrate on industries that need the existing conditions for their production. Our thoughts on adjacent industries range from storage-system production to composite materials or lightweight construction systems. Every company is welcome to have a look in our region and I can assure: We will definitely find a solution for their needs."
---
This Investment Profile was prepared under the auspices of the Investor Center Ostbrandendurg GmbH. For more information on the First Solar site or other locations in Frankfurt (Oder), contact Christopher Nuesslein at 49 335 557 1324, or visit www.icob.de.