MEDICAL DEVICES
From Site Selection magazine, November 2012
Drawing a Crowd
Technology gatherings provide fertile ground to recruit foreign investment.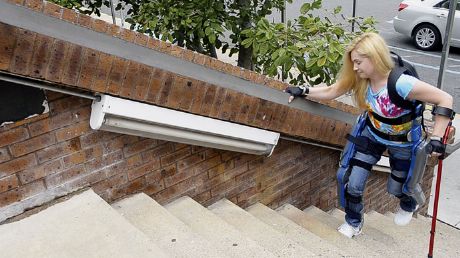 E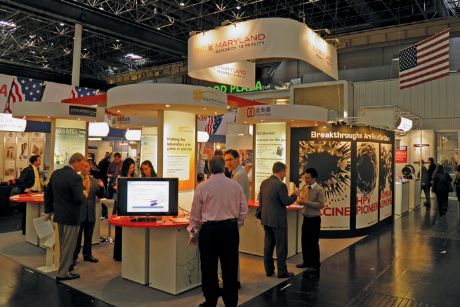 ach November in Dusseldorf, Germany, more than 135,000 visitors from more than 100 countries attend Medica, the world's largest gathering for the medical industry. That sea of participants includes an array of state agencies from the U.S. seeking new business for existing companies and recruiting investment from firms based around the globe.
One of the prominent regular exhibitors at Medica is the State of Maryland, which seeks to build on its significant cluster of more than 500 life sciences companies, more than a quarter of which are involved with medical devices and diagnostics.
"Our objective in being there has been consistent," says Judy Britz, executive director of the Maryland Biotechnology Center, a part of the state's Department of Business and Economic Development. "We have a presence in the exhibition area with Maryland companies looking for export opportunities. In addition, we want to attract companies from outside the U.S. to have an office in Maryland."
Britz says Maryland's selling tools for medical device companies in Europe and elsewhere include its proximity to federal organizations such as the NIH and FDA, and to research universities including perennially high-ranked R&D leader Johns Hopkins and the University of Maryland.
"Any company from outside the U.S. that is interested in setting up an office in the U.S. would find an advantage to being in Maryland with the FDA in its backyard," Britz says.
The state's exhibition this year features seven Maryland companies. Britz estimates there will be another seven to 10 Maryland-based companies exhibiting elsewhere at Medica.
"One of the reasons we participate in Medica is to support existing companies, so the fact that companies continue to sign up year after year is an indication of its value," Britz says. "Business-to-business relationships are developed while the companies are there, and the attraction effort has been a variable success. We have an office in Paris where most of our attraction efforts for Europe are focused. We begin by talking to companies that are attending Medica, but it does take several years for relationships to mature and result in a company locating in the state."
Maryland companies exhibiting this year include BioElectronics, a developer of products for treatment of back pain, Tetracore, a manufacturer of diagnostic tests, and EndoCure, which manufactures endoscopy products.
First Step Into U.S. for Argo
An Israel-based company that makes an exoskeleton suit called the ReWalk that allows paraplegics to stand and walk chose another medical technology gathering — the AdvaMed 2012 conference in Boston in October — to announce plans to locate its U.S. headquarters in Marlborough, Mass. Argo Medical Technologies founder Dr. Amit Goffer has quadriplegia, and was inspired to invent the exoskeleton device because of his personal story.
Argo was founded in Israel, but has grown internationally. Along with its Massachusetts headquarters, it now has centers in Germany and Israel. The company expects to employ 40 in Massachusetts.
"As Argo expands from a research and development firm to an international leader in commercial exoskeleton technology, we have selected Massachusetts, with its strong commitment to the life sciences industry, as our U.S. headquarters," said Argo CEO Larry Jasinski. "The ReWalk is a cutting-edge device that will revolutionize the mobility industry, and we are committed to making this technology commercially available to anyone who wants one here in the U.S. and around the world."
Home and Away
Bloomington, Ind.-based Cook Medical, a specialist in minimally invasive technologies, has a large global portfolio of about 50 buildings. George Ridgway, the company's chief architect, says Cook Medical has about 30 projects going currently, ranging from new manufacturing and distribution facilities to a new fitness center at its corporate headquarters.
The most recent U.S. manufacturing addition opened in August in Canton, Ill., located south of the Quad Cities and just southwest of Peoria. The new $19-million, 60,000-sq.-ft. (5,574-sq.-m.) Canton facility will manufacture polytetrafluoroethylene (PTFE) tubing used in a broad variety of the 16,000 different medical devices Cook manufactures. Cook Medical says the highly technical, equipment-driven manufacturing plant will capitalize on the existing mechanical and maintenance knowledge of workers in the Canton area.
The company's late founder, Bill Cook, who grew up in Canton, selected his hometown for the project. Cook died in April 2011 at the age of 80.
"We had already built a factory on this piece of real estate and he wanted to build another factory there," Ridgway says. "It's an old International Harvester site, a brownfield. The old buildings were torn down and we worked with the City of Canton to do environmental remediation. We put out an engineered membrane to make the site acceptable for buildings."
The first factory at the site, a $20-million investment that employs 100 and produces catheters, opened two years ago. The second facility took 14 months to build. Its distinguishing feature is its height — 95 feet (29 m.) — to accommodate the extrusion process. About 35 people are employed currently with expectations that payroll will grow to 65 by late 2013. Cook anticipates employment at the two plants will eventually reach 350.
Cook Medical's latest completed international project is a €15-million (US$19.4-million) distribution center in Baesweiler, Germany, which opened in September.
Located less than one hour from Cologne, the new center will be the company's delivery hub for all European countries, providing easy access to Europe's largest freight airport in Cologne/Bonn, as well as to major road and rail networks.
The new facility streamlines Cook's European distribution network and will stock up to 800,000 products previously stored at facilities in Ireland and Denmark.
"Baesweiler is an ideal location for our European distribution center as we continue to increase our commitment to supporting patients worldwide," said Bill Doherty, VP EMEA Cook Medical. "Due to its excellent infrastructure and proximity to the cities of Cologne, Dusseldorf and Aachen, it is one of the most efficient logistics locations in Europe — providing our business and patients with increased assurance. This is an important step in achieving our aim to enhance patient care, both with our medical solutions and our streamlined distribution network."