OHIO RIVER CORRIDOR
From Site Selection magazine, November 2012
OHIO RIVER CORRIDOR
The Pittsburgh, Cincinnati and Louisville metros lead the way
for a river corridor with industrial development momentum.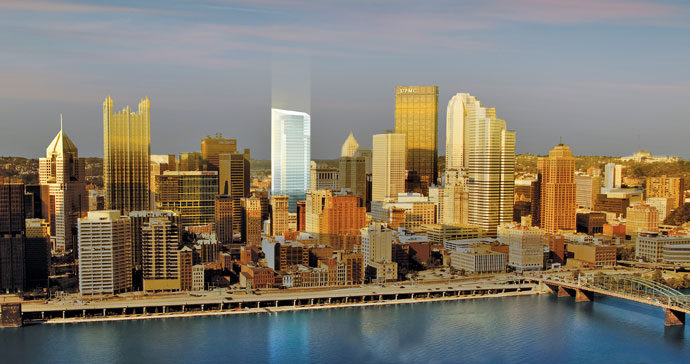 T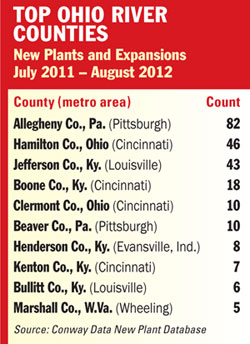 here's every reason to believe that companies are slaking America's rediscovered thirst for manufacturing and homegrown ingenuity in the counties and cities that line one of its major waterways.
Site Selection's annual examination of corporate facility projects locating over an 18-month period in counties abutting the Ohio River found 301 projects that cumulatively accounted for more than US$8.1 billion in corporate investment between July 2011 and August 2012. That represents a more than 50-percent rise in projects and a near-tripling of capital investment over July 2010-August 2011 period.
It helps when the top projects are in the energy sector, such as the $2-billion ethylene cracker complex Shell hopes to confirm at Horsehead's former zinc plant in Beaver County, Pa. A land option agreement expires at year's end. Pennsylvania has offered tax breaks totaling $1.7 billion for the project, which also considered sites in Ohio and West Virginia.
Those states are seeing their own energy surge, in the form of such projects as the $900-million natural gas liquids complex coming to Columbiana County, Ohio, from Access Midstream (formerly Chesapeake), M3 Midstream and EV Energy Partners; and the $500-million natural gas processing plant under construction on a portion of PPG's riverfront Natrium site in Marshall County, W. Va., by Dominion Transmission.
But even as the shale gas-driven economy explodes in that tri-state sliver of river territory, other sectors are doing their share along the entire river valley. Office projects, including headquarters, are pulling into downtowns. In the industrial category, Louisville, with 2.6 million sq. ft. (241,540 sq. m.), was second in the nation in third-quarter net space absorption, said Cassidy Turley, and Cincinnati made the top 10 with 1.1 million sq. ft. (102,190 sq. m.).
KPMG's 2012 "Competitive Alternatives: Focus on Tax" study, released in late September, could explain why. It compares the total tax burden that may be faced by companies in 113 cities throughout 14 countries, examining corporate income taxes, capital taxes, sales taxes, property taxes, miscellaneous local business taxes and statutory labor costs. Among the U.S. cities under the microscope, Cincinnati ranked No. 1 vs. the U.S. baseline tax index of 100 with a score of 80.8, nearly 26 points less than last-place San Francisco. Pittsburgh ranked No. 5, with an index score of 89.1.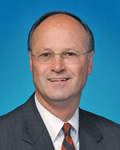 Hartley Powell, principal in the Global Location and Expansion Services practice at KPMG, LLP, the U.S. member firm of KPMG International, says one advantage of the Cincinnati area is the state it's in, where tax reform resulted in a tax scheme whose provisions include "no throwback for sales of personal property. That's an advantage to a multistate entity that makes sales to states where they would not otherwise be taxable."
The 2012 "Location Matters" business tax climate report published in early 2012 by the Tax Foundation and KPMG ranked Ohio fifth overall for mature operations and third overall for newly established operations, including a No. 1 ranking for new distribution centers and No. 10 for new call centers and new R&D operations.
In a larger sense, the legacy of industrial infrastructure and facilities that lines the river corridor is a great hedge.
"Anything that gets you to market and removes risk, any location that has the infrastructure or the labor — so you're not a greenfield from scratch — is a huge advantage," says Powell. "It allows the community, if they're going to participate, to funnel their participation to something more to the bottom line of a company, because they don't have to spend it on the infrastructure. They can be more targeted in their proposals to these companies." More generally, he says, the area benefits from a manufacturing-friendly labor culture.
Downtown Churn
A corporate-friendly culture can be kind to offices and headquarters too. Pittsburgh is seeing projects in that niche from hometown hero PNC, Cigna and Trinity Commercial Development, among others. In Cincinnati, a rebalancing may be under way. After years of migration of office complexes from downtown to across the river in Northern Kentucky, some are giving Cincy another look.
Omnicare, a pharmaceutical services company with a particular focus on geriatric care, announced in September 2011 it would relocate its headquarters from across the river in Covington, Ky., to 150,000 sq. ft. (13,935 sq. m.) in the Atrium One building in downtown Cincinnati, and also consolidate personnel there from its Fort Wright, Ky., office, also just across the river, moving 500 employees into downtown altogether. Tax credits from the city and from the State of Ohio helped sway the decision. So did the availability of the space from Convergys, which eight years previous had garnered some of the richest tax breaks in city history to purchase and renovate the building. Getting $53 million.
The deal with Omnicare irked its share of business people, as Convergys was able to offer part of its space at rates significantly below the going rate for downtown Class A space.
Omnicare's continuing presence in Kentucky includes approximately 700 employees affiliated with its Long-Term Care pharmacies and RxCrossroads, its biopharmaceutical services business based in Louisville, a city focused on aging services as an economic development cluster.
"Our country has a mandate to improve the quality of healthcare while reducing costs," said John Figueroa, CEO of Omnicare, last year. "For 30 years, we have prided ourselves on offering innovative technology, sophisticated clinical expertise and economies of scale that create efficiencies for our customers, allowing them to offer superior care while controlling expenses. With our move to Ohio, we are reducing our own overhead costs without disrupting the daily lives of our employees. We believe our move to Ohio meets all the criteria of a good business decision, as it reduces healthcare costs, improves company economics, and respects the interests of our employees. We are confident that this change will allow us to continue driving forward with our critical mission."
Nielsen Media also has made the move from Covington, shifting its own 500 employees to the former Chiquita headquarters that was vacated after the banana giant decamped for Charlotte, N.C. Other firms growing in the city center include Great American Insurance and Frost Brown Todd relocating to Great American Tower. And dunnhumby USA is building a new headquarters in the central business district that will feature a mixed-use plan with at least 250,000 sq. ft. (23,225 sq. m.) of office space, as well as retail space and up to 200 apartments.
More Signs of Good Health
A bit outside the city center, Paycor is developing a 150,000-sq.-ft. (13,935-sq.-m.) campus in Norwood. Louisville-based Humana in September 2011 leased 173,397 sq. ft. (16,109 sq. m.) in Executive Centre I in Springdale, where it will create 200 new jobs for its RightSource mail order and specialty pharmacy operations. And a new world headquarters was constructed in Blue Ash for itelligence by Duke Realty.
RightSource already is expanding. An announcement in early October said the company is hiring 200 more people over the next three months at both its Springdale location and its distribution center in West Chester.
It's the third major local employment  announcement from Humana in the last five years as the Fortune 80 Company has grown its national membership. By early 2013, Humana will have grown from less than 800 employees at one location to 2,200 employees at three locations in the Greater Cincinnati area.
"As we've grown our capacity to serve our members with mail order pharmacy services, Greater Cincinnati has proven to be an ideal place to expand our operations," said Alan Martin, general manager operations for RightSource in Ohio. "This area is blessed with a large number of nearby pharmacy schools and a well-educated work force that has allowed us to build a world-class customer service operation."
West Chester is also seeing a new office from Total Quality Logistics, which aims to grow from a dozen employees to up to 100 over the next two to three years. The truckload freight coordinator plans to create more than 1,000 jobs in the region over the next three years. It currently operates offices in Cincinnati, Erlanger, Ky., and Clermont County's Union Township, where its headquarters resides.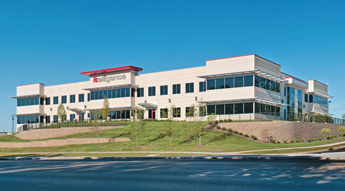 SAP solutions service provider itelligence opened its new 350-employee HQ in July at the Legacy Pointe development in Blue Ash. The complex features a 16,000-sq.-ft. (1,486-sq.-m.) data center and 70,000-sq.-ft (6,503-sq.-m.) office building on an 8-acre (3.2-hectare) site. The City of Blue Ash and the State of Ohio upgraded infrastructure in and around Legacy Pointe to improve accessibility to the site and enhance the area's appearance.
"With this new building, we are planning for the future and expecting further growth at itelligence in the U.S.," said Herbert Vogel, CEO of itelligence AG.
Blue Ash trails only downtown Cincinnati as the Greater Cincinnati region's largest office market.
Northern Kentucky continues to hold its own, however, driven by, among other trends, e-commerce locations from iHerb (600 jobs in Boone County), Elovations (700 jobs), NorAm, Amazon.com and DHL, which is hiring 285 and investing $47 million in a new package sorting facility at its 2,000-employee hub at Cincinnati/Northern Kentucky International Airport, one of three "superhubs" it operates around the world. In August, Amazon announced plans to hire 900 full-time employees and up to 5,000 seasonal workers at its fulfillment center in Hebron.
California-based iHerb, an online provider of natural products and food supplements, will locate at IDI's Park West industrial park in Hebron.
"We know the Northern Kentucky work force is strong and the geography favorable — two primary factors for choosing our location at Park West," said Cliff Cowing, iHerb's director of strategic planning and analytics. Park West is one of three parks IDI operates in the Cincinnati metro area, including a recently foreclosed and rebranded property just north of the city on I-75 where IDI aims to develop some 4.1 million sq. ft. (380,890 sq. m.) of space on 300 acres (121 hectares).
Learn and Grow
Two developments in early October cast the spotlight on higher education in Louisville.
First, Kentucky Gov. Steve Beshear signed into law a measure extending a tax credit for Metropolitan College, the innovative partnership launched in 1998 among the Commonwealth, Louisville Metro Government, Jefferson Community and Technical College, the University of Louisville and UPS. Metropolitan College provides Kentucky residents access to a tuition-free, postsecondary education and employment opportunities.
The program's mission is to improve employee recruitment and retention at UPS Worldport, in part by offering class schedules that fit with shift hours at the round-the-clock operation.
The legislation extends the credit, which had been set to expire next year, to April 15, 2017. The income tax credit allows UPS to recover 50 percent of tuition paid for its employees and related fees.
According to UPS, more than 3,000 Metro College participants have earned 4,531 academic credentials, including nearly 2,000 bachelor's degrees and 245 advanced degrees. UPS Worldport employs 9,000 people, and adds 550 each holiday season. It's also served as a catalyst for dozens of companies to locate or expand their operations in Kentucky.
Five days after that announcement, Gov. Beshear joined Louisville Mayor Greg Fischer, University of Louisville President James Ramsey and other officials at the opening of the iHub, a coworking and networking space in downtown Louisville for entrepreneurs and innovators.
Located on property owned by Nucleus, the life sciences innovation center and economic development arm of the University of Louisville Foundation, the iHub serves as a growth medium for companies that eventually can move into a larger Nucleus business incubator building, such as the $18-million, eight-story Nucleus Innovation Park-Broadway project now under construction just across the street from the iHub. Another facility, Nucleus Innovation Park-Jefferson Street, recently added six new companies and now is home to about 130 employees at 20 organizations.