A SITE SELECTION INVESTMENT PROFILE
FULTON COUNTY, GEORGIA
From Site Selection magazine, September 2012
All for One in Fulton
New energy and a new mission aim to complete the picture in Greater Metro Atlanta.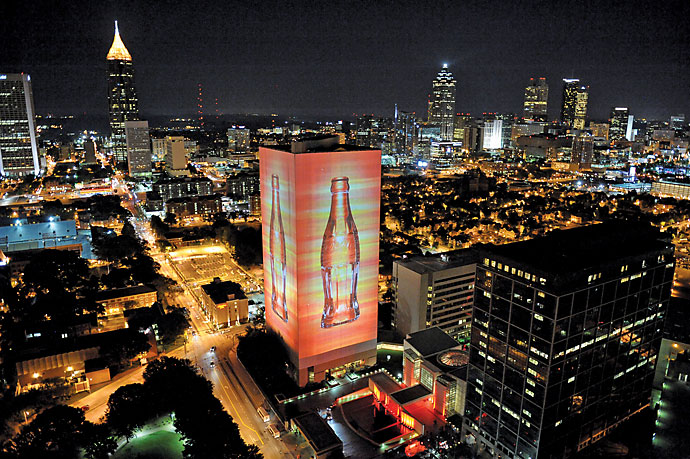 C
oca-Cola Co.'s home base in Atlanta and Fulton County continues to be a Southern corporate and cultural icon … even if John Pemberton was motivated to concoct the drink in 1886 in part because of Prohibition legislation passed by the city and county.
In remarks to the World Affairs Council of Atlanta last November, Coca-Cola Co. Chairman and CEO Muhtar Kent said, "Simply put, there would be no Coca-Cola without Atlanta … and Atlantans." In return, Coke is investing more than $250 million in a strategic expansion of its metro-area production and supply system facilities to meet the needs of its Freestyle fountain dispensing systems. The investment will create 100 new jobs by the end of 2012 at Coke and its primary supplier.
The Georgia Department of Economic Development and the Development Authority of Fulton County assisted Coca-Cola in a $100-million plant expansion to manufacture ingredients used in those machines. Today Fulton County — comprising Atlanta and 13 other municipalities within its boundaries — is putting together the ingredients for Greater Atlanta's future, via a not-so-secret formula for economic development success.
Ken Dobson, economic development administrator for Fulton County (www.fultonecondev.org), understands the primary responsibilities of all the municipal, jurisdictional and regional economic development organizations within county lines to their immediate constituencies. A case in point is Progress Partners of North Fulton Atlanta, a coalition launched last year. But he says the bottom line is "one for all and all for one" when it comes to sustaining and increasing the tax base of the county.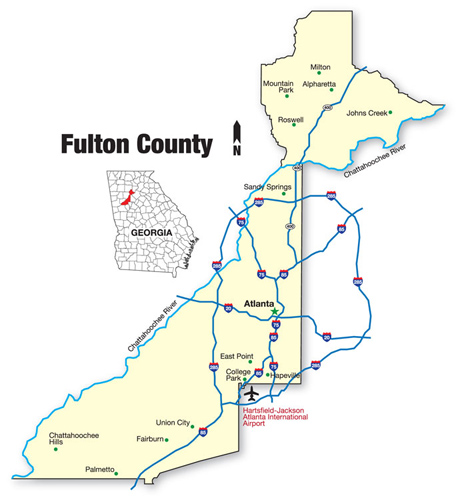 The jurisdiction of the Development Authority of Fulton County encompasses 534.5 square miles of unincorporated areas and municipalities, including the City of Atlanta. The Authority has issued more than $16 billion in bonds and helped well over 300 businesses and institutions build, upgrade, renovate, expand or relocate in Fulton County.
The county's vision is no less than to interweave the three traditional approaches to economic development — asset-based, knowledge-based and technology-based — into one integrated process. And the process starts with engaging institutional and corporate leaders as champions, and forming an economic development advisory group.
"We're giving them a clean canvas to paint the picture they feel needs to be painted to increase investment in Fulton County over the next several decades," says Dobson. Six topical committees will feed into that advisory group, focusing on such areas as real estate development, technology-based entrepreneurship, sustainable development, schools and work-force education, development finance and international trade and commerce.
The international outreach plank is helped by the presence of more than 60 foreign governments' consulates and trade offices in metro Atlanta, many located in Fulton County. It's also helped by the county itself, which in May formalized an agreement with the State of Bahia, Brazil, to promote cooperation and joint initiatives between the two governments.
But whether the source is foreign or domestic, says Dobson, "We believe technology-based business will be one of the most promising areas for growth — if we work with Georgia Tech, Georgia State, Morehouse University, Emory University, the CDC and others to get that intellectual property out of the lab and commercialized strategically to maximize regional fiscal and economic benefits. The value of that can be harvested by capturing a larger share of the innovation, entrepreneurship, wealth, jobs and tax base in Fulton County and Metro Atlanta."
Fulton County Chairman John Eaves and fellow county commissioners in December 2011 formed the Fulton County Economic Development Division, and charged it with a county-wide focus to capitalize on the county's regional geographic and economic diversity from North Fulton to South Fulton.
An Anchor on the Move
Fulton County encompasses a healthy array of infrastructure, institutional ballast and corporate heft. But the ultimate asset may be Hartsfield-Jackson Atlanta International Airport.
Begin with its status as the state's largest employer, at 58,000 employees. The new Maynard H. Jackson Jr. International Terminal is expected to create another 1,500 direct and indirect jobs. The airport's total economic impact was assessed at $32.6 billion in 2009. Its largest tenant, Delta Airlines, employs 30,000 people.
The world's busiest airport saw 92 million passengers pass through in 2011, and hosts 950,000 takeoffs and landings a year. It's also playing a strong role in landing new corporate facility projects in Fulton County, metro Atlanta and Georgia from companies looking to take off and grow.
The airport just opened its new $1.4-billion Maynard Jackson International Terminal, and is seeing increased cargo activity. Meanwhile, its immediate neighborhood is gradually evolving toward being an aerotropolis, as corporate headquarters and live-work-play environments join in with traditional logistics campuses.
Louis Miller, aviation general manager at the airport, cites the decision by Porsche Cars North America to locate its headquarters at the former Ford Motor Co. plant site at the end of one of the airport runways. Progress on the complex, designed by HOK, continues apace, and development partner Jacoby is also pursuing related development around the site.
"They wouldn't be here if it wasn't for the airport," says Miller.
"Atlanta has turned out to be almost the ideal place for us to be headquartered," said Tim Quinn, vice president, after sales, for Porsche Cars North America, at a recent Georgia Logistics Summit. He said the area is dynamic and has credibility in the marketplace. Moreover, he said, "It's easy to get to Germany."


Porsche Cars North America's unique vision for its headquarters is now under construction on a unique site in Hapeville, immediately adjacent to Hartsfield-Jackson Atlanta International Airport.
The decision to stay in Atlanta was the result of a thorough evaluation process that spanned metro Atlanta and several out-of-state sites. The new headquarters will not only be home to PCNA, but also to Porsche Financial Services, Inc., and Porsche Business Services, Inc., both currently located in Lisle, Ill. A total work force of 400 will also be deployed at a technical service and training center, as well as a customer experience center that will feature a handling road course.
Partners in attracting the company included the Georgia Dept. of Economic Development, Atlanta Development Authority, the Fulton County Development Authority, the City of Hapeville, Georgia Power, Jacoby Development and Cushman & Wakefield. Porsche plans to move in during the second half of 2013.
Balanced Approach
Stan Conway, senior vice president and director of development for Majestic Realty Co., oversees 11 million sq. ft. in Dallas and Atlanta, including Atlanta developments Majestic Airport Center, Golden Park and Cherokee Village. He says the scale of Fulton County's reach and its differentiation from the City of Atlanta is probably not evident to the average outsider. But as an insider since 1997, he says, "I've had nothing but cooperation."
Majestic has been a pioneer in South Fulton, especially along South Fulton Parkway. It's built some 9 million sq. ft. in the vicinity in the past decade, including a build-to-suit for Kraft and a facility in Union City for biotech manufacturer Dendreon. Conway says county officials "were instrumental in getting us going out there on the Parkway.
"They've done a really good job balancing the needs of residents with the needs of industry," he says. "They understand the logistics business and what drives it. If you have a project that needs attention and has to be fast-tracked, they're sensitive to it."
Conway says South Fulton in particular has good topography and easily developable land. It also has great access to the central business district, Midtown and Buckhead in Atlanta. " I can get to South Fulton from my office in Buckhead in 15 to 20 minutes. For years people like us just overlooked it." Conway points out that county taxes have remained "quite low relative to the rest of the country, especially among major logistics centers."
"One of the most remarkable and unrecognized assets in Fulton County is the Fulton Industrial Boulevard corridor in unincorporated South Fulton," says Dobson. "It offers many exciting economic development and redevelopment opportunities for new business investments." The Fulton Industrial Boulevard Redevelopment Area comprises more than 4,500 acres of industrial and commercial property. The State of Georgia granted the corridor Opportunity Zone status through 2020, which features tax incentives for creating as few as two jobs.
Game Changers
Moses Brown has lived in the Atlanta area since 1971, when he arrived to attend Morehouse College. Recently retired from Reed Elsevier Group, he was part of the Equifax team that decided in 1987 to move some operations to Alpharetta, building a data center there in 1989 and a second facility in 1991. That company spun off Choicepoint, which later became part of Reed Elsevier's LexisNexis Risk Solutions business, still humming in Alpharetta alongside a high-caliber roster of fellow corporate residents.
The area continues to draw big-time data centers — and for the same reasons that applied 25 years ago.
"Even then, our leadership group saw that North Fulton was greatly expanding, had great communications and had a great power grid that Georgia Power was expanding into that area," says Brown.
Today Brown serves as vice chairman of the North Fulton Community Improvement District, a self-taxing district that since its inception has invested more than $13.6 million in $75 million worth of new interchange, roadway and bridge work that has sped up commutes for many of the 77,000 employees who work in the district.
Brown sees a nice balance between the information and communications technology firms of North Fulton and the more logistics-oriented corporate profile of South Fulton. In the meantime, "Fulton County is where I live, play and work," he says, and he's energized about the plans he's helping put into place. "I see nothing but great things for the future, and the expansion of many business opportunities."
Majestic recently acquired developer CRB, which in the past has had successful projects in North Fulton (Johns Creek) and mid-Fulton (the Atlantic Station mixed-use development.) Could Parkway South, CRB's plan for some 2,500 acres along South Fulton Parkway, be the next big potential hit? Conway says that's spot on for the industrial sector.
"It stands to gain a lot in the next industrial wave," he says, citing some ideas that aren't yet ready to be unveiled. "There are some things being looked at in South Fulton that are really interesting. They could be game-changing events."