A SITE SELECTION INVESTMENT PROFILE
INDIANA
From Site Selection magazine, September 2012
How To Fix a State
Governor Mitch Daniels leaves office in early 2013, leaving behind a job description
that should be of keen interest to new governors taking office that want their states
on a firmer fiscal footing. His formula works.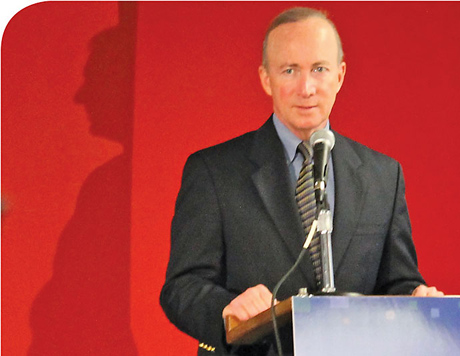 M
ost Hoosiers will miss Mitch Daniels. The term-limited, two-term governor will assume the presidency of Purdue University in 2013, so he'll still be a force in Indiana, particularly in the field of education. This is a topic of great interest to the governor and one of several he championed during his years as the state's chief executive, beginning in 2005. Historians will likely credit Daniels' education focus as one of several that culminated with bold moves each year designed to separate Indiana from the pack, to put the state in a league of its own as a business-friendly location in a region that gave capital investors just as many reasons to look elsewhere, especially the Southeast, when scouting for new plant locations.
Indiana ranked 11th in the Tax Foundation's State Business Tax Climate Index 2012 — the best showing by far in the Midwest. It ranked sixth in Site Selection's latest business climate ranking, published in November 2011, up from eighth-place the previous year. And that was before Gov. Daniels signed right-to-work legislation into law, in February 2012, that will likely elevate Indiana's business climate perception among those corporate site selectors who participate in the survey component, which counts for half the final ranking.
Right-to-work status certainly distinguishes Indiana from its fellow Midwestern states (see the Indiana Spotlight, March 2012). But there's much more to the state's new business climate story — tax caps, collective bargaining restraints, a balanced budget and resulting fiscal stability and predictability, infrastructure innovations and education reforms, to name a few. These are examples of how government can work for its constituents, be they businesses or citizens, rather than finding ways to micro-manage constituents into a corner. Enacting these measures takes leadership, but more than that, it requires a re-engineering of the very role of government.
A New Agency Mandate: Service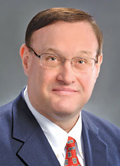 "From day one, Governor Daniels brought a different mindset to state government and has to a large extent changed the culture of state government," says Kevin Brinegar, president and CEO of the Indiana Chamber of Commerce. "He would say early on and very frequently to the agencies that interacted with and regulated businesses, 'Your job here is not to hang people by their thumbs, but to do whatever it takes to help them grow jobs and be successful.' That could mean getting permit applications turned around quickly or letting business people who may need license plates for their truck fleets turned around in minutes rather than spending hours at the BMV — those kinds of things," says Brinegar.
The average Hoosier's visit time at the BMV is 6 minutes and 25 seconds, down from 30 minutes in 2005, and it only takes 16.5 days for the Department of Revenue to process a tax refund, down from 30 days in 2005. Even more impressive, the state government has become more efficient with fewer state employees. The number of state employees in Indiana is at its lowest level since the 1970s.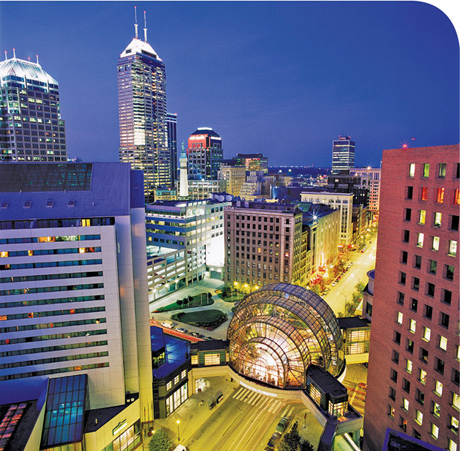 Medco Health Solutions, a mail-order pharmaceutical supplier, located a major facility in Whitestown, northwest of Indianapolis, near Purdue and Butler University's pharmacy schools. The location decision, says Brinegar, came down to Indiana and a neighboring state. Indiana's state pharmacy board — a relatively minor player in state bureaucracies, he relates — held an emergency meeting to resolve an issue the company had in order for it to locate in Indiana. The other state's comparable agency did not see fit to work Medco's issue into its agenda in as timely a manner and lost the project.
"Gov. Daniels has consistently tried to drive that culture of service that I believe is so sorely needed, certainly at the federal level," says Brinegar. "There's lots of talk about holding businesses accountable, but Gov. Daniels' point was that we need to be accountable to the people and the businesses providing jobs in our state. That's a very different focus than state government here had ever had before. Part of the way he did that was doing an incredible job during his two terms in office of convincing very talented people in jobs paying a whole lot more to come to state government to work in and lead these different agencies. So by seeding these non-bureaucrats into leadership positions in different state agencies, it was easier to drive that culture. These people had similar experiences and thought like the governor — and took their role in the regulatory agencies very seriously. But this made it easier to drive that culture change more rapidly. We're not 100-percent there, but it's vastly different that it was eight years ago. That's the difference this individual has made, and it's one of the most important marks he has left on our state."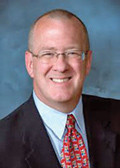 The Leadership Dimension
Michael J. Hicks, Ph.D., is director and associate professor of economics in the Center for Business and Economic Research at Ball State University, in Muncie. He puts it this way: "There is a huge leadership element here. You can't speak quantitatively about what's happening here without acknowledging a leadership dimension he was able to add to the mix." Hicks says he has worked in state and federal government for 30 years, giving him significant context with which to assess Gov. Daniels' performance.
"He does things that people at the outset say are impossible to do — that he shouldn't even try. There have been a few stumbles and recoveries, but at the end of the day, the leadership dimension has allowed the state to refit almost everything it does to be far more focused on good governance. Individual workers were amenable to doing the right thing before, but leadership has enabled bold work from a lot of people. That's probably what he'll put in place at Purdue.
"The policy prescriptions are more than the sum of their individual elements," Hicks relates. "As an economist, I spend a lot of time measuring the incremental effect of a tax cut or of the regulatory environment improving. At the end of the day, the effect on Indiana's economy is more the sum of those individual effects."
Legacies: Fiscal & Education Reform
Hicks says two measures — broad fiscal reforms, including property tax caps, and education reform — will have a profound impact on the state in the future. The first put Indiana on the road to having more responsible local government by making local officials weigh more carefully their funding options. "It puts us on the path to equalizing corporate and personal income tax rates; Indiana corporations are no longer penalized for incorporating here." LLC proprietors pay an individual income tax rate of 3.4 percent of gross income, whereas Indiana corporations pay corporate tax rates of 8.5 percent — a figure that will shrink to 6.5 percent in the next few years. Meanwhile, the state's bond ratings have improved to the point where it costs far less for municipalities to borrow for infrastructure and other investments.
Comprehensive education reform (charter school expansion, school choice grants and teacher pay re-engineering) is the main event, Hicks maintains. But it's one of several signature measures to which Gov. Daniels has affixed his signature, starting very early in his first administration. Very early.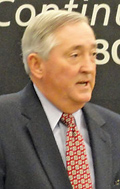 "On his first day in office, his first executive order was pretty important," says Patrick Kiely, president of the Indiana Manufacturers Association. "It was the repeal of an executive order held over from previous governors that gave state employees collective bargaining rights. That was the first thing he signed as governor. That turned out to be a brilliant move, because it gave him the flexibility to get Indiana's budget back in control, back to a surplus and a balanced budget and triple-A rating. It was a hallmark decision in his term, and it happened within his first 10 minutes in office."
Restoring financial soundness was an early goal of Daniels, who came into office in early 2005 facing a deficit of about $1 billion. Resolving Indiana's daylight savings time dissonance relative to surrounding states and other locations was another. "We are a major automotive manufacturing state, and we had a major disconnect with our suppliers in Canada and Michigan — we were always an hour off from them," says Kiely.
On the infrastructure side, Daniels signed a measure allowing the state to lease its toll road, bringing $4 billion into state coffers that Kiely says went to a completely funded 10-year transportation plan and an infrastructure fund that in part helped lure Honda to Indiana, among others.
Phase in of a single sales factor corporate tax was passed in 2006 that links to the Indiana portion of corporate taxes based on Indiana sales.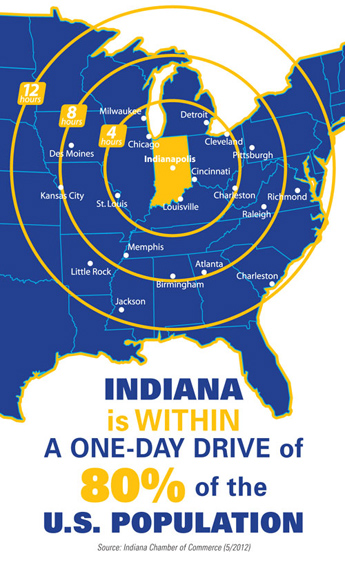 "We weren't always on board with his property tax relief program, which passed in 2010," says Kiely. "Essentially manufacturing real estate is now capped at 3 percent. That was a big advantage in about a third of Indiana counties." Kiely says IMA was in favor of caps, just not differential ones. Homeowners' rates are capped at 1 percent, it's 2 percent for multifamily and farm property and 3 percent for industry. "We thought everyone should be capped at 2 percent."
Telecommunications reform also passed in 2006, increasing competition among carriers and helping to attract investment from AT&T, among others. Tax credits are now in place or increased for headquarters relocation projects, R&D and for refurbishment of old industrial plants.
Time for a Level Playing Field
But few measures made as many waves in the industrial, unionized Midwest as Indiana becoming the 23rd right-to-work state in February 2012. Gov. Daniels told Site Selection a few days after signing the measure into law that doing so "was a box that must be checked," meaning on his list of business-climate improvement measures and on the criteria list of many in the site selection community. Leaving that box blank can mean leaving a state off a consultant's or corporate site selector's short list.
"Prior to right-to-work, we were still winning most of the deals against our Midwest counterparts," says Kiely. "The deals we were losing were going to the South. This has put us back on a level playing field with the 22 other right-to-work states."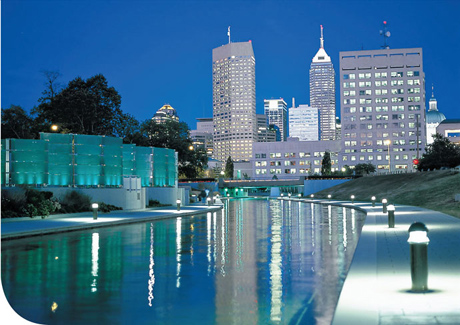 Since passage of the measure in early 2012, 65 companies have communicated to the Indiana Economic Development Corporation that enactment of right-to-work will factor into their decision-making process of where to locate current projects.
Fifty-one of these projects have progressed to the pipeline stage and account for the potential of more than 6,900 new jobs and more than $1 billion in investment; 17 have already moved forward with projects that will create more than 1,600 new jobs and generate $1 billion in economic impact.
Several of these companies link their decision to locate in Indiana directly to passage of right-to-work:
• Nick A. Busche, chief executive officer and president, Busche (machining plant in Albion): "The recent passage of the right-to-work law was just another example of the strong commitment by this state to promote growth and job creation."
• David Donnay, vice president of human resources, Android Industries (equipment manufacturing plant in Fort Wayne): "Recently, Indiana became a right-to-work state and offers us a competitive location and a skilled work force to complement our state-of-the-art technology. All of these factors went into choosing Indiana as an optimal location."
• Barry Schneider, vice president and general manager, Steel Dynamics (carbon steel producer in Pittsboro): "The recent enactment of the right-to-work legislation is further evidence of Indiana's commitment to providing the most competitive business environment possible for global companies like us to grow."
"We had strong enough majorities in the House and Senate, so the votes were there," recalls Kevin Brinegar of the Indiana Chamber. "But the economic circumstances and the data and the studies all indicated that right-to-work would result in the kind of results we have seen. Statewide voter polls on the issue indicated strong support — even a majority of union households say they supported right-to-work. All of this helped convince skeptical members of the legislature that this was an issue they could run on, not away from."
Congressman Mike Pence has a more-than-decent shot at succeeding Gov. Daniels as governor in January 2013. By most accounts, that will mean a continuation of the pro-business policies championed by Mitch Daniels, and in all likelihood some new ones.
"It's a very positive sign for all businesses and their employees that Mike Pence is serious about not only continuing Gov. Daniels' legacy of reducing unnecessary state regulation but also striving to take it to the next level," says Brinegar.
---
This Investment Profile was prepared under the auspices of the Indiana Economic Development Corporation. To learn more about investing in Indiana, visit www.iedc.IN.gov.