UPPER MIDWEST
From Site Selection magazine, September 2012
Moving Through the Midwest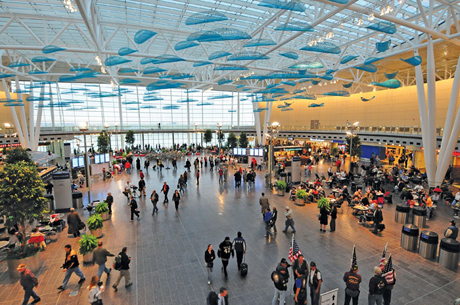 Logistics offers an economic
beacon for the region.
W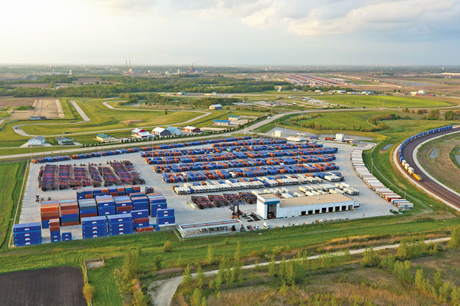 hile the economy is starting to show some signs of strength, with some "bright lights" here and there, it is difficult to point to tangible areas of growth. However, there are some. One is the growth of logistics in the area comprising Illinois, Indiana, Iowa, Michigan, Minnesota and Wisconsin.
"Third-party logistics companies are starting to pop up more often in these states, as companies continue to outsource more of their work, rather than open their own facilities and take on those costs themselves," points out Ed Schreyer, executive managing director - Brokerage Americas, for CB Richard Ellis.
He says logistics is growing as a whole around the country. However, the Midwest is seeing more than its share.
"During the downturn, a lot of companies consolidated their operations as a way to improve economies of scale and reduce their real estate costs," he explains. For example, a company might have four facilities, close three of them, and combine everything at the fourth location. The result: one winner and three losers. "In a lot of cases, the winners ended up in the Midwest, based, of course, on the geography that is so important for the hub-and-spoke strategy," says Schreyer.
More specifically, certain cities in the Midwest are seeing significantly more growth, according to Schreyer. One of these is Indianapolis. In fact, he points out, the city survived the downturn much better than most.
"Indianapolis actually had positive absorption through most of the downturn," he says. There are several reasons, he believes. First, it has strong north-south and east-west corridors. Second, it is the state capital, so companies have access to the government for incentives and influence. Third, the airport was upgraded a few years ago. Fourth, rents are reasonable.
"There is an abundance of land that surrounds the city that is easy to develop," Schreyer explains. "So, if rental rates increase, you can always build something nearby at reasonable prices."
Other cities?
"On the surface, Detroit looks like a tough market, especially because of its dependency on the auto industry and its suppliers," replies Schreyer. However, he adds, Detroit has rebounded fairly well in the last few months, as the auto industry has gotten back on its feet.
"And Chicago, of course, is Chicago," he continues. "If you look at it, it's pretty far north in terms of being a hub. However, it has such a huge population base that you are always going to have absorption and warehousing just to take care of that huge base of consumers."
As Schreyer sees it, there is a tightening of Class A space in most of these markets. In fact, there has been some rent rate growth, suggesting that it is close to the need for new construction. However, he believes, it is still a leap of faith to get involved in new construction. "Everyone is trying to work through this," he says.

Smoothing the Way
Tim Feemster, senior managing director for Newmark Grubb Knight Frank, agrees with Schreyer on the growth of logistics in the Upper Midwest.
"There has been a lot of resurgence in the Rust Belt areas," he says. "For example, Indiana has seen a lot of growth, especially since it expanded right-to-work, which is a huge positive." Wisconsin has gone through some interesting political times, he adds, but it doesn't seem to have upset its business friendliness too much. Quite the opposite. "It has been very business-oriented and worked hard to attract business," he states.
One state that has not enjoyed the same rebound as its neighbors, though, is Illinois (with the possible exception of Chicago).
"Recently, Illinois has become relatively tax- and business-unfriendly," explains Feemster. "There are unintended consequences for the state's decision to try to tax its way out of its problems. As a result, some companies have moved operations out of the state to Indiana and Wisconsin."
What types of logistics are seeing the most growth? According to Feemster, the Midwest has always been well-developed from a trucking perspective. "However, as world trade increases, and when you start to import products from Asia and Europe, you need low-cost, reliable service connectivity to the ports," he continues. "The most effective and efficient way to do this is intermodal rail."
Trucking is significantly more expensive, he points out, and there is a shortage of drivers. Another reason for the lack of expansion in trucking, according to Feemster, is that the industry is waiting to see what is going to happen with the economy.
"As a result, a lot of the logistics growth in the Upper Midwest is being driven by the railroads," he says. "Over time, intermodal rail and connectivity to international markets have driven the railroads to develop more sites in the Midwest." He cites some examples: a BNSF facility in Elwood, Ill., six years ago; a one-year-old Union Pacific facility in Joliet, just north of the BNSF site; and CN's announcement of a development in the Chicago area.
Both Schreyer and Feemster point to a number of reasons that Indiana is leading the Upper Midwest in the growth of business in general, and logistics in particular. One is the existence of organizations like Conexus Indiana in Indianapolis.
"We are a think tank and asset developer that looks at what we don't have in the logistics arena, and how we can put those things into place in the public and private sector to improve logistics in Indiana," says David W. Holt, vice president, operations & business development, and chair of the Conexus Indiana Logistics Council. "One reason we are attractive for logistics is location. We are in the middle of the country, with a lot of Interstates. Our state is also in good fiscal shape. Our governor has really focused on making sure we are financially stable, in addition to being a low-tax state."
The Logistics Council created a strategic plan in 2010 to look at big-picture ideas. One element of the plan, for example, focuses on making sure that the functioning of two important locks and dams, which are in jeopardy of catastrophic failure, is addressed. "We also realized that we need West Coast intermodal access," says Holt. "Currently, Indiana companies have to go through Chicago, which has a big bottleneck, and we want to get around that bottleneck." A third goal is to improve non-integrated air freight, which travels overseas. Currently, most of this goes through Chicago or St. Louis.
A Gateway to the Globe
Still, it is inevitable that Chicago and the surrounding region continue to remain a focal point for logistics growth.
On a large scale, in June 2011, APL Ltd., the world's seventh largest container shipping carrier, purchased 43 acres (17.4 hectares) in Joliet from CenterPoint Properties to build a new intermodal container terminal. The facility was completed in December 2011.
"We opened our new inland terminal in Joliet in January 2012 to upgrade our presence and commitment to the market," explains Gene Seroka, the company's president of the Americas for Container Shipping. The terminal is located in CenterPoint Intermodal Center, the largest inland port in the U.S., adjacent to the rail ramps of the main U.S. east-west railroads. It is located close to the Union Pacific and BNSF Intermodal Rail Terminals, as well as numerous customer warehouses and distribution centers.
The terminal is designed to function as APL's Chicago Global Gateway, serving customers in Chicago and the surrounding areas. It features automated gate technology and an equipment maintenance facility. It now also houses APL's regional operations team, and will eventually replace APL's container terminal currently located in Chicago, which has been operational since 1985.
"The Midwest is one of the key export markets in the U.S.," says Seroka. "We have long been a primary service provider to shippers in the region. By locating here, we can better serve U.S. shippers and also meet our own requirements for greater U.S. export volume to match our inbound volumes from Asia."
On a smaller scale, JBS Logistics, Inc., which has been involved in the transportation, warehousing and fulfillment business since 1986, signed a lease for a 310,000-sq.-ft. (28,800-sq.-m.) industrial building in Naperville in October 2011, with plans to move corporate headquarters there in 2012 from Glendale Heights.
The new building features 8,000 sq. ft. (743 sq. m.) of office space, 54 exterior loading docks, and a 32-ft. (9.7-m.) clear height. Plans include space for cool storage to serve the food distribution industry.
"At the time, we had two warehouses in the Glendale Heights area that totaled 250,000 square feet [23,225 sq. m.] and had 24-foot [7.3-m.] ceilings," says Alec Gizzi, the company's president. "We wanted to combine them under one roof, add more space, and move into a building with higher ceilings. This allows us 40 percent more storage efficiency, so our price per foot is decreasing. Overall, we were able to negotiate a lease that was less expensive in a building that was more efficient."
JBS also needed more conditioned (cool) space to satisfy customer demands. With the new facility, the company's conditioned space increases nearly five-fold to 70,000 sq. ft. (6,503 sq. m.).
While Glendale Heights and Naperville are only 10 miles (16 km.) apart, the move made sense for the company in other ways. "In deciding on the move, we realized that we needed to stay in the Chicagoland area, because our customer base is here," explains Gizzi. "We also didn't want to lose employees with the move."
The additional warehouse space allows the company to continue to grow, and JBS has seen an increase in business on the warehouse side. "On the transportation side, which is more indicative of fluctuations of the economy, we have seen a general increase in business compared with one and two years ago," he adds. "However, it has been a slow increase."
In sum, while the logistics industry is growing in certain areas of the Upper Midwest, it can do only so much until the economy itself picks up — nationwide and worldwide.