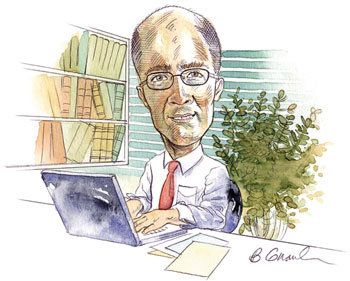 ell, the play so far is all right. No big surprises in the first act. We pretty much saw Obamacare coming — judicial sanction of that raised some eyebrows. But much of the performance was predictable. Wait — let's save the reviews of the Obama presidency for the whole thing, and four more years have yet to play out.
Meanwhile, you will find in the cover story in this issue — the prologue to our annual State of the States report — a very balanced take on the outcome of the November U.S. general election: It's either great news or it's not, depending on whether you're a U.S.-based multinational or an offshore observer. There are fascinating insights and perspectives to be found in that content. You'll see what I mean: Those weighing in either pre-pan or pre-praise Obama's second-term performance. There is very little middle ground.
I speak to too many U.S.-based corporate real estate executives and site consultants to find too much to disagree with on their input to the article — most of which is a synopsis of survey results asking their reaction to the election and forecast for expansion prospects in America. If I can blend my editorial-page prerogative with our treatment of this topic beginning on page 72, I have to conclude that businesses will have less reason to invest in the U.S. in the next four years, the U.S. will continue to drop in global competitiveness rankings and the ranks of voters buying the line that government will be the answer to an anemic economy — and their future — will continue to swell.
Space constraints did not permit my including in the cover story survey respondents' laments about an eventually less-employable U.S. work force (even unemployable in markets more serious about economic growth), a Washington culture that is grossly out of touch with what will get the economy moving again (I did include a wealth-transfer versus wealth-creation comment from one respondent) and other red flags very much on the minds of your fellow readers.
However, I still believe, as do the thousands of companies investing in U.S. locations, that America remains the best hope for enterprises seeking ingenuity, a supply of highly skilled and underemployed workers, R&D expertise second to none and many other site criteria at the top of multinationals' location checklists. Find the states and communities that will make your enterprise successful on U.S. soil. There are plenty to be found.
Meanwhile, my colleagues at Site Selection and Conway Data are working behind the scenes to make our content and your experience of our expanding offerings ever more beneficial. Look for a new European consulting division to come under our banner and even more comprehensive analytical tools for site seekers to become available to our marketplace in the coming months. Look for a new online monthly newsletter — on aerospace — to join our SiteNet Dispatch, Life Sciences Report, Energy Report and Site Selection International e-publications.
Mainly, look forward in the coming months to Site Selection and our association partners, Red Hot Locations and the Industrial Asset Management Council, hosting you and your colleagues at events that will deliver the intelligence and actionable content you look for in the pages of Site Selection.
We value your readership and support enormously. We will keep this publication the go-to magazine for corporate real estate and economic development intelligence in 2013 and well beyond.
Meantime, break a leg on your next location-selection performance, and very best wishes in the New Year.