CORPORATE HEADQUARTERS
From Site Selection magazine, March 2013
The Trust Belt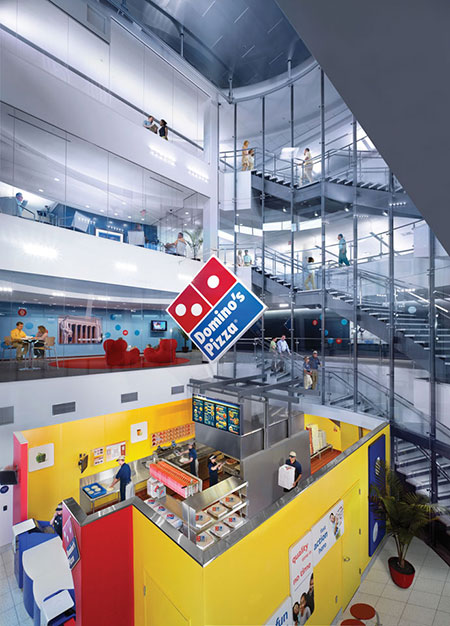 How the Midwest overcame a shifting economic landscape to win prized headquarters projects.
W
ith Upper Midwest cities like Cleveland and Ann Arbor recently winning significant headquarters projects, it may be time to rebrand the region with a new moniker: the "Trust Belt."
Increasingly, corporate executives seeking space for administrative operations are finding the locations they want in Ohio, Michigan and other Midwest territories.
Alexander Mann Solutions and Domino's Pizza did, and their executives say that forming bonds of trust with state and local leaders was crucial.
In the case of Alexander Mann, a U.K.-based global recruitment services company, the selection of Cleveland as the company's first-ever North American headquarters marked a watershed moment for the city, the state of Ohio and the Midwest region.
Cleveland, whose economy was rocked following the historic downturn of the Big Three auto-makers, beat out rapidly rising Raleigh, N.C., to claim the crown jewel from London.
Mark Jones, global head of client services for Alexander Mann, says Cleveland won the project following a search that took the company to multiple sites in Florida, Texas, North Carolina and Ohio.
"We felt the most wanted in Cleveland," says Jones, whose firm was founded in 1996 and now employs 1,800 people globally. "Everything they did in Cleveland made it so easy for us. I went from keys to a fully functioning office in four weeks."
Alexander Mann leased 6,000 sq. ft. (557 sq. m.) of temporary space in the Tower at Erieview in downtown Cleveland, where it has hired 25 people. The firm is still seeking 25,000 sq. ft. (2,323 sq. m.) of permanent space for a Cleveland operations center that could employ 300 workers and generate an annual payroll of nearly $13 million within three years.
"We looked at the schools and the universities in the area," Jones says. "We felt we could find the right people to support our business. We were given incentives as well, and that helped seal our decision."
The entire deal came together very quickly, notes Mary Cierebiej, director of business attraction for Team Northeast Ohio. "With less than two-weeks' notice, a team including Jobs-Ohio, Team NEO, the Greater Cleveland Partnership and the City of Cleveland orchestrated a no-holds-barred site visit and networking event to convince the company of our region's economic vibrancy," she says. "Team NEO brought together a group that included business owners, HR directors, universities, young professionals and economic development organizations to showcase our talented work force and demonstrate the collaborative business environment."
Alexander Mann CEO Rosaleen Blair commented in September that her company was "love-bombed" into selecting Cleveland over Raleigh, which appeared to have won the project until an 11th-hour effort persuaded the firm to consider Northeast Ohio.
"Frankly, we were impressed with everything we saw in Cleveland," Jones adds. "The available office space and the ability of the community to respond quickly to our needs really sealed the deal."
Domino's Falls in Place
The folks at Domino's Pizza LLC are saying the same things about Ann Arbor. The company announced in October that it would expand its 200,000-sq.-ft. (18,580-sq.-m.) headquarters by 10 percent and add at least 30 jobs to its work force at the Domino's Farms Office Park facility. The firm also renewed its lease for another 10 years.
With profits up nearly 18 percent in 2012 and the company growing to more than 10,000 stores in 70-plus countries, Domino's needs to hire more workers to keep up with the rapidly increasing sales.
"With growth comes the need for more space," says Tim McIntyre, vice president of communications for Domino's. "Today, whenever we get our 500-plus world resource team members together, which we do once a quarter, we have to rent off-site space at a local hotel or conference center. We'd like to have the space to accommodate us without having to go off-site."
Founded in Ann Arbor in 1960, Domino's moved to its current location in 1985. "Ann Arbor is a remarkable community and we love it here," says McIntyre. "We're a Michigan-born company and Michigan is where we're going to stay."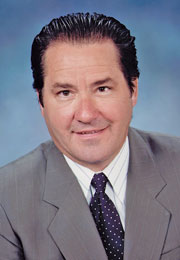 A detailed analysis of cities around the country shows that the Midwest stacks up very competitively in one key component of headquarters locations decisions: costs.
A recently completed site selection study by The Boyd Company Inc. in Princeton, N.J., shows that the Midwest offers some of the most affordable locations for corporate headquarters.
In a comparative study of 50 U.S. and Canadian head office markets, the most affordable U.S. market was Indianapolis, followed by Charlotte, Cincinnati, Richmond and Kansas City. Columbus, Ohio, ranked eighth.
Other affordable Midwest locations included St. Louis, Milwaukee, Cleveland and Detroit, with Cleveland ranking as the 18th most affordable market in the country and Detroit ranking 20th.
Canada is even more affordable, with Halifax, Edmonton, Winnipeg and Calgary ranking as the four least expensive headquarters markets in all of North America. The most expensive markets in North America, according to Boyd, are New York, San Jose, San Francisco, Nassau-Suffolk, N.Y., and Newark, N.J.
"The huge savings on health-care costs in Canada right now are a big factor," says John Boyd, principal of The Boyd Company. "And the costs gap with the U.S. on health care is about to get even wider with the passage of Obama Care. The corporate world wants some type of relief on these escalating health-care costs, and right now they are finding that cost relief in Canada."
Costs, Air Service are Key Factors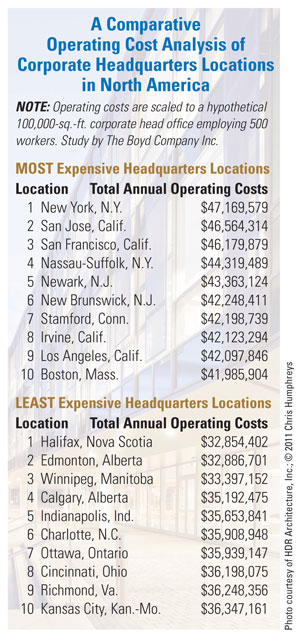 They're also finding it in Midwest markets like Indianapolis, Cincinnati, Columbus, Cleveland and Detroit. "Indy-Carmel, Indiana, is now one of the premier office markets in the country," says Boyd. "Indy has very good air service. In fact, most of the leading cost-competitive headquarters markets have good connections for air service. Davie, Florida, in Broward County is within 45 minutes of the Fort Lauderdale and Miami airports, and it is also a university town. It is emerging as a prime regional head office option within South Florida."
Boyd notes that in the Midwest, hot markets for headquarters space right now include Deerfield-Schaumburg, Ill.; Ann Arbor, Mich.; Dublin, Ohio; Overland Park, Kan.; Chesterfield, Mo.; Carmel, Ind.; and Bismarck-Mandan, N.D.
"Ann Arbor is short-listed often as a regional head office option in the Great Lakes Region," says Boyd. "The University of Michigan, which bought the former research facilities of Pfizer, is a leading economic force in Ann Arbor, especially in the life sciences and medical sectors. The corporate head office sector is led by Domino's Pizza and Flint Ink Corp. Like New Jersey, Michigan is improving its tax structure to become more business-friendly. It recently joined Indiana as a right-to-work state in the industrial Midwest."
Boyd says he is also high on Dublin and Carmel. "Dublin is a prime suburban office market within the Columbus metropolitan area," he says. "Its head office sector is led by Wendy's, Cardinal Health and IGS Energy. Nationwide Insurance, headquartered in Columbus, is another major office employer in Dublin."
Carmel, he notes, "is the fastest growing office market within the Indianapolis metropolitan area. Located in popular Hamilton County, Carmel is its largest community and its new city center displays a new urbanism."