TOP MICROPOLITANS OF 2012
From Site Selection magazine, March 2013
Speed Racer
Getting products to market quickly drives industrial plant investment to Statesville-Mooresville, N.C.

R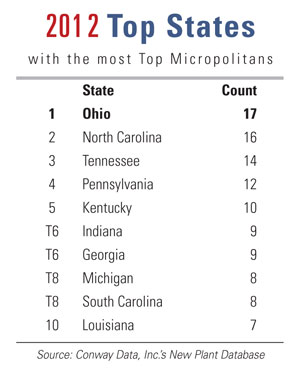 K Motors decided to put pedal to metal when the vintage muscle-car restoration business needed room to expand beyond its headquarters in Charlotte, N.C.
The folks at the Mooresville-South Iredell Economic Development Corp. made sure the site search crossed the finish line expeditiously, as RK Motors decided to open a new shop just up Interstate 77 in Mooresville.
Mooresville is one-half of the micropolitan area known as Statesville-Mooresville, N.C., which in 2012 once again led all micropolitan areas in the U.S. in corporate facility projects.
For the ninth time in the last 11 years, Statesville-Mooresville in Iredell County has earned the title of Top Micropolitan Area in the country.
The U.S. Census Bureau defines a micropolitan area as a rural county whose largest city does not exceed a population of 50,000. The U.S. has a total of 576 micropolitan areas.
With 20 facility deals last year, Statesville-Mooresville edged out second-place Findlay, Ohio, which had 19 projects, and third-place Lexington-Thomasville, N.C., which had 18. Wooster, Ohio, finished fourth with 13 projects, while Batavia, N.Y., and Shelby, N.C., tied for fifth with 10 projects each.
RK Motors, a division of RK Motorsports, was one of the projects contributing to Iredell's victory lap. Jamie Wiehe, marketing director for RK, says the firm found everything it was looking for in Mooresville, home of the new 60,000-sq.-ft. (5,574-sq.-m.) RKM Performance Center.
"We had a building in Charlotte, but we outgrew that space," says Wiehe. "We opened our new facility in Mooresville on the first of August next to the famous water tower in Mooresville at Exit 36 off I-77. We now employ 30 people there."
RK Motors restores and builds classic cars, from the Corvette Stingray and Boss Mustang to the Dodge HEMI and vintage Chevelle. "We have 200 vehicles at our showroom in Charlotte, but we restore them in Mooresville," Wiehe says. "It has been a great move for us and a very smooth transition into the Mooresville area."
RK Motors employs ASE certified technicians doing work in metal fabrication, state-of-the-art painting, interior finishing, and rebuilding of engines and transmissions. For complex restoration jobs, every part of the car is disassembled, completely restored, and then reassembled into a classic collector's model that can fetch upwards of hundreds of thousands of dollars at an auto auction.
"Many of the people that we employ are master techs in their vehicle makes," says Wiehe. "They are the best of the best. We have some folks who have traveled and moved here because they want to work here."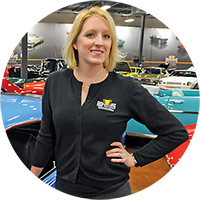 " It has been a great move for us and a very smooth transition into the Mooresville area. "

— Jamie Wiehe, director of marketing, RK Motors
The Mooresville location also enables RK Motors to establish even closer ties with some of its partners in the motorsports business in Iredell County.
"Our new shop in Mooresville is close to a lot of our partners, like Roush Performance and others, and the ease of going in and out of that area is great," Wiehe adds. "We are partners with Michael Waltrip Racing at Exit 28 in Cornelius, so our new location is perfect for us."
It has also been good for business, notes Wiehe. "We created a new brand out of this move, and we now have a year-long waiting list for restoration work," she says.
More 'Quilt' than 'Bullet'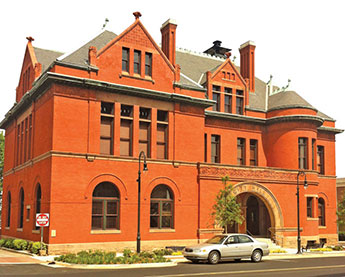 Robby Carney, executive director of the Mooresville-South Iredell Economic Development Corp., says "there is no silver bullet" for why his community has been so successful.
"It is more of a patchwork quilt of items," he says. "Our public and private sectors understand the value of being an employment center. We all highly value growing jobs and tax investments in the community. That is the foundation."
Another advantage is the fact that "Mooresville has only a few large businesses. Lowe's is our one big corporate headquarters, but for the most part we have smaller businesses that are flexible and diversified. They can adapt to market trends. They have the ability to transition quickly and shift to meet the market demand."
Among the companies that expanded in Mooresville last year was NGK Insulators, which announced a $93-million investment into its existing factory for the manufacturing of porcelain electrical supplies. The expansion creates 86 jobs.
"We worked on that project for over 18 months," says Carney. "This is their 12th or 13th expansion here. They contacted us and said they had run out of room because their facility was right up against the road. We literally had to move the road to accommodate them. We got assistance from the North Carolina DOT to get road appropriation funds to actually relocate the road a couple of hundred feet south. The NGK project was over 150,000 square feet [13,935 sq. m.] of new space — one of the largest manufacturing expansion projects announced in the state last year."
SunEnergy1 announced an $11-million investment in Mooresville for a new plant for solar panel manufacturing and distribution. "They are growing every year," says Carney. "They continue to pull down large contracts throughout the Southeast. They are supplying a lot of the panels for the large solar arrays in the region. The firm is run by a former race car driver from Australia, and they are considered one of the top alternative energy companies in the market."
Also in Mooresville, Hobby Lobby is investing $6 million into a distribution center, adding 50 jobs in 55,000 sq. ft. (5,110 sq. m.) of new space. Structure Medical is investing $7 million into a medical device manufacturing plant, creating 40 jobs. And Bosch Solar Energy is investing $2 million into a new headquarters facility, generating 15 jobs.
Other sizable facility investments in Mooresville are coming from Carolina Beer and Beverage (50 new jobs); Boyles Furniture Direct ($4 million and 15 jobs); Home Goods Distribution ($4 million and 16 jobs); and Medallion Transportation Logistics ($3 million and 15 jobs).
"Mooresville has a large density of qualified, well-skilled workers, and that really sets us apart," says Carney. "Charlotte is working to be known as the new energy capital of the South, and we have a lot of assets to support that cluster."
Investing in the Future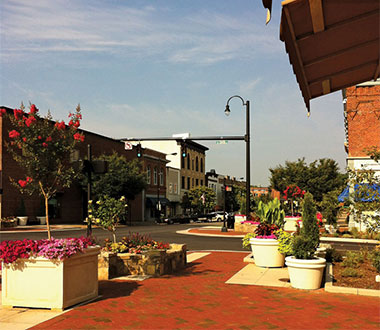 Photo courtesy of Statesville Regional Development
Mooresville is not standing pat, either. "We just closed on another 476 acres [192 hectares] of industrial property and plan to have sites ready for development by this time next year," Carney adds. "The community is re-investing to have more product."
The site, just off North Carolina Highway 801 across from the Mooresville Business Park, is intended to become the city's third major industrial park. Both the Mooresville Business Park and the South Iredell Industrial Park on Mazeppa Road are full.
The South Iredell Community Development Corp. bought the tract from Charlotte developer Forest City Southeast for $5 million. Carney says that long-range plans for the new park include adding rail access.
"We have businesses in this community that are consistently looking for opportunities to expand, and this new site will give them plenty of room to grow right here in Mooresville," says Carney.
Just a few miles up I-77 in Statesville in northern Iredell County, companies are expanding at a steady clip as well.
Mike Smith, executive director for Statesville Regional Development, says, "Our area has consistently shown that we are business-friendly. Our low taxes go along well with our great quality of life. And our local government leadership is dialed in and knows what it takes to win projects."
Smith says the key to Statesville staying competitive during the economic downturn was the fact that "we looked very carefully at product development — developing new sites. We have a strong relationship with Keith Corp., a Charlotte company that developed an industrial shell building that helped us win a project."
Statesville's largest deal of the year involved Asmo North America, an auto parts supplier to Toyota, Ford and General Motors. The subsidiary of Japanese giant DENSO makes the small motors that drive power windows, mirrors and seats.
In December, Asmo announced that it planned to pursue a $100-million investment into new machinery and equipment and add 100 jobs in Statesville. Asmo currently employs 320 workers at its 360,000-sq.-ft. (33,444-sq.-m.) facility off Crawford Road near the intersection of I-77 and I-40.
"They have qualified for the Statesville industrial grant program and the Iredell County industrial grant program, which pays back property taxes over a six-year period," says Smith. "The North Carolina Department of Commerce gave assistance through the State of North Carolina Community College System. Here, that is Mitchell Community College. They help fund our existing industry program."
Origin Food Group was another international investment in Statesville, notes Smith. The company invested $7 million into a new 20,000-sq.-ft. (1,858-sq.-m.) yogurt plant in a renovated facility just off I-40. The project adds 50 jobs.
"A long-term relationship was formed between a local company and a group out of Ecuador," says Smith. "Gov. [Bev] Perdue came and made the announcement about Origin last January at an old, out-of-date truck stop just off the Interstate. A family that is based here in Statesville made a connection with an Ecuadorian business. Origin is a joint venture of an Ecuadorian entity and Stamey Farms here in Statesville."
Targeting FDI in Statesville
Smith adds that "this is one of the most significant dairy operations in North Carolina, and it is located right here in Iredell County. A lot of folks don't know that we are the number one dairy county in North Carolina and the number two beef county in the state."
Rainier Industries, an outdoor equipment firm, also announced a sizable investment in Statesville, spending $2 million to acquire a 220,000-sq.-ft. (20,438-sq.-m.) facility to open an awning and screen manufacturing plant on a 32-acre (13-hectare) campus. The project creates 25 jobs.
"This facility will be state of the art — capable of producing all our existing and future product lines," said Scott Campbell, president of Seattle-based Rainier, a company that was founded in 1896 to provide tents and other supplies to prospectors in the Alaskan Gold Rush. "Statesville has a great pool of experienced manufacturing talent for us to draw from as we continue our growth."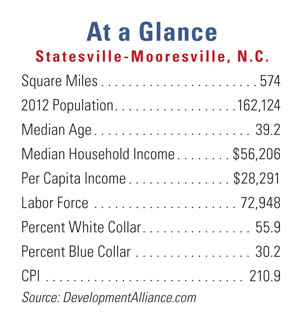 Smith notes that outdoor equipment makers are "a target industry for this area. We see Rainier as continuing to build on a segment that we would really like to build upon."
Statesville also reaped three $1-million capital investments in 2012 from Pratt Industries, Iron World and L. Gordon Iron and Metal. Together, the three projects created some 100 new jobs in the area.
Smith adds that foreign direct investment will remain a focus of Statesville. "We want to continue to build on our bridge with Latin America," he says. "I have traveled to Brazil twice to build upon the ties that we have with Providencia," a large non-woven material manufacturer in Statesville. "We now have a direct flight to Rio de Janeiro from Charlotte Douglas International Airport and will soon have a direct flight to Sao Paolo. Our industries relate well to what's going on in Brazil."
Smith is also optimistic that the $89-million project to improve the I-77/I-40 interchange will result in more businesses coming to Statesville.
"The upgrade will be a five-year project," he says. "That interchange was built in the 1960s. The North Carolina DOT has started work on converting it into a double-diverging-diamond interchange. It will make it a lot easier for trucks to get around."
Logistics space users already like Statesville, Smith says, because "we have three U.S. highways — 70, 64 and 21 — and two Interstates here. That gives our customers tremendous logistical advantages, and it's about to get even better."