A SITE SELECTION INVESTMENT PROFILE
MALAYSIA
From Site Selection magazine, May 2013
Asia-Pacific's
'Significant Location'
For Oil & Gas Services
Why local and foreign executives at oil and gas
services companies in Malaysia wouldn't base
operations anywhere else.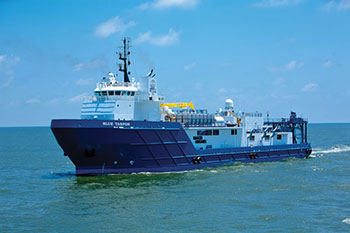 B
aker Hughes' Asia Pacific division stretches from India to New Zealand, so the Houston-based global oil and gas services giant (58,000 employees and revenues in excess of $20 billion) had lots of options with respect to a regional headquarters location. It chose Kuala Lumpur, Malaysia, in 2009 as the city in which to consolidate smaller regional operations — in Singapore, Australia and other locations. Why Malaysia? Because it delivers the right environment for the oil and gas industry, says Zvonimir Djerfi, president of the Asia Pacific division, who heads a workforce of more than 4,000 Baker Hughes employees.
"Malaysia has done a fantastic job in the last 10 years and has a great vision going forward, to 2020 and beyond, for becoming an oil and gas services hub," says Djerfi. Many oil and gas companies — Baker Hughes' customers — are already based in Malaysia, he points out, more so than in Singapore, for example, which has logistical and transactional benefits but little actual oil and gas industry.
Major foreign operating companies include ExxonMobil, Shell, Murphy Oil, Hess and Talisman Energy. Small to medium-sized operators in Malaysia include Lundin, JX Nippon and Newfield. Oil field service and equipment players, besides Baker Hughes, include Schlumberger and Technip. Malaysia's national oil and gas company, PETRONAS, has supported the development of such local companies as Scomi, SapuraCrest, Kencana, Petra Perdana and Wasco. (PETRONAS holds exclusive rights to all oil and gas E&P projects and is responsible for all licensing procedures. Foreign and private companies must operate through production sharing contracts with PETRONAS.)
Sector Focus:
Malaysia Builds an Oil & Gas Machinery & Equipment (M&E) Industry
409 discovered oil and gas fields; 68 oil and 36 gas producing fields


Current production: 550,000 barrels of oil and 6.1 Bscf of gas per day


Economic contribution: 20% of Malaysia GDP. This sector is targeted to raise total GNI contribution to RM241 billion (USD79 billion) by 2020 from RM 117.7 billion (USD39 billion) in 2011


Job prospects: 52,000 by 2020, half as engineers and geologists


Growth in the specialized M&E for the oil and gas industry is driven by the expansion in the upstream oil and gas sector. The recent shift of oil and gas exploration to deepwater areas in the Asia Pacific region has created opportunities for the manufacture of specialized sub-sea extraction and production equipment.


2012 approved projects: 9 specialized M&E projects worth RM 528 million (USD174 million)


Local fabricators in this sector are enhancing their capabilities through continuous R&D, mergers and acquisitions to move up the value chain from producing lower-end processing equipment to the design and fabrication of high-end process equipment, production modules and large vessels, for example.



Leading Malaysian companies in this niche include SapuraKencana Sdn. Bhd., KNM Process Systems Sdn. Bhd., Malaysia Marine and Heavy Engineering Sdn. Bhd., Sime Darby Engineering Sdn. Bhd., Oilfab Sdn. Bhd. and Scomi Group of Companies.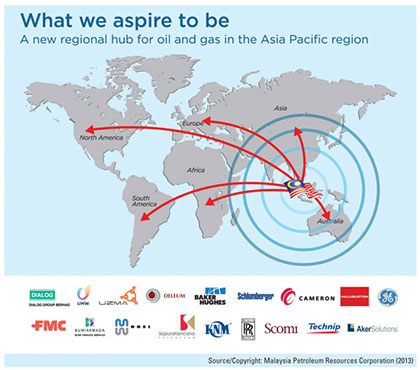 "Malaysia is a significant location for the oil and gas business, both peninsular Malaysia and in Sarawak and Sabah," notes Djerfi. "As president of the region, it is important to me to be close to our customers. If I am in Singapore, I cannot have the same contact with the businesses in the Asia Pacific region that I can have in Malaysia. That is the primary benefit."
Next is Malaysia's commitment to the oil and gas industry, says Djerfi.
"This can be seen in its vision and incentives to companies in the industry to establish themselves here, both manufacturing facilities and also assembly, maintenance and overhaul players that require a highly skilled workforce," he explains. "Other locations in the Asia Pacific region are not as central as Malaysia, and they either lack space, as is the case of Singapore, or they lack the workforce that is capable of addressing the requirements of the oil and gas services industry. Some locations lack a politically stable environment, such as Indonesia, relative to Malaysia that has solid, five-year term plans and is very business friendly and predictable. For us, in terms of both short- and long-term planning and making investments of tens of millions of dollars every year, it is easier to invest in Malaysia than anywhere else."
Another benefit to a Malaysia regional headquarters, says Djerfi, is transactional transparency. Malaysia puts a big focus on fighting corruption, he notes, and monitors closely its compliance with global transparency standards. This policy is in keeping with Baker Hughes' value system, he emphasizes. "It assures us that our investment will be protected for the long term."
Djerfi says he works closely with the Malaysian Investment Development Authority (MIDA) on a range of issues, including education and workforce requirements. "We rely on MIDA and other bodies to provide for that. We are a business, so we cannot educate the population. But MIDA can translate our needs into the education system to provide courses that may be missing on the university level or at technical schools. This is very beneficial."
Where the Decision Makers Are
Even with operations elsewhere in the region, says Djerfi, Malaysia is the hub, because most oil and gas companies are already present, and many, such as Shell and ExxonMobil, also base their regional operations in Kuala Lumpur. "Most of the executives I interact with at these companies are right here," he says. And as PETRONAS expands into new global markets, such as Canada and Africa, Djerfi's proximity to Malaysia's national oil and gas company is invaluable.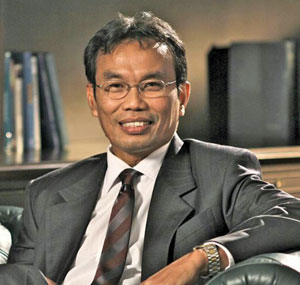 "MIDA's chairman and CEO have visited my office to see what we are doing and to determine how they can help. That is a real catalyst for my being able to grow my company."
— Baharom Hamzah, group managing director and CEO, ROMSTAR Group
Proximity to other national energy players, such as China's, is another strategic advantage. Companies like Baker Hughes can serve those players in the region from a location that is more cost-advantageous. Costs in China are growing at a higher rate due to its economic momentum, so competition for skilled workers and for real estate and land is more robust, Djerfi explains. In Malaysia, Baker Hughes can build quality facilities and staff them in a stable business climate with a predictable cost structure and still service such markets.
The company recently completed a US$33-million equipment manufacturing facility in the Port Klang Free Zone near Kuala Lumpur, and it operates a 100,000-sq.-ft. facility in Labuan, a federal territory off the coast of Sabah in East Malaysia. Workers at the Port Klang facility manufacture flow control, packer and liner systems for Baker Hughes customers in the region. "It was easy to access the land we required and to build the facility, which we did in record time, and we found the workforce we needed. We will most likely expand that facility after the first year once we assess the productivity of that location," says Djerfi, who estimates that his company has invested in excess of $100 million in recent years in Malaysian facilities and infrastructure. "We haven't invested that kind of money in other countries, especially at a time when markets were declining," he adds.
Djerfi's colleague, Ng Say Heng, vice president and managing director, cites another reason Baker Hughes is successful in Malaysia: "We are able to outsource a lot of our work to small and medium-sized oil and gas companies in Malaysia. Their standards are very high. It is very beneficial to have these companies in the local area."
Beneficial to Malaysia, too, because companies like Baker Hughes and others are by themselves cultivating oil and gas services clusters locally and nationally.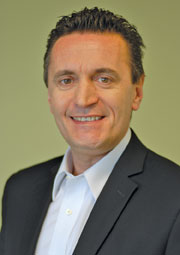 "For us, in terms of both short- and long-term planning and making investments of tens of millions of dollars every year, it is easier to invest in Malaysia than anywhere else."
— Zvonimir Djerfi, president, Asia Pacific, Baker Hughes Inc.
"You want to build those clusters in areas close to your customer base with companies that can provide the levels of quality and reliability we require, and we can do that here in Malaysia," says Djerfi. "We are investing in China, too, because the market is huge, but having Malaysia as the hub is our strategy." Outsourcing work to local suppliers benefits them and lets Baker Hughes focus on higher end work.
Essential Service Support
ROMSTAR Group is a local oil and gas services cluster participant that is expanding into new lines of business, the latest of which is onshore and offshore crude oil and natural gas pipeline inspection services. This essential service, offered by only 15 companies worldwide, detects structural issues before leaks in pipes can occur. ROMSTAR is the only Malaysian company operating in this niche, using a proprietary technology that CEO Baharom Hamzah says is proving to be "very lucrative" and is now finding applications at sites in the Middle East and elsewhere in the Asia Pacific region, including Indonesia. The company does work for ExxonMobil, Shell and PETRONAS, among other clients.
Incentives for the Oil & Gas Sector under the Petroleum Income Tax Act
An investment tax allowance of up to 60 to 100 percent of capital expenditure to be deducted against statutory income to encourage the development of capital intensive projects in the area of enhanced oil recovery, high carbon dioxide gas fields, high pressure high temperature, deep water and infrastructure projects for petroleum operations.


The tax rate of 38 percent currently for marginal oil field development would be reduced to 25 percent to improve commercial viability of development.


Accelerated capital allowance of up to five years from 10 years, where full utilization of capital cost deducted could improve project viability.


Qualifying exploration expenditure transfer between non-contiguous petroleum agreements with the same partnerships or sole proprietor to enhance contractors' risk-taking attitude, which could encourage higher levels of exploration activity.


Waiver of export duty on oil produced and exported from marginal field development to improve project viability.


Incentives for the Production of Specialized M&E and Modules
Pioneer Status with income tax exemption of up to 100% of the statutory income for a period of up to ten years. Unabsorbed capital allowances as well as accumulated losses incurred during the period can be carried forward and deducted from the post pioneer income of the company;



OR

Investment Tax Allowance of up to 100% on the qualifying capital expenditure incurred within five years from the date of the first qualifying capital expenditure is incurred. This allowance can be offset against up to 100% of the statutory income for each year of assessment. Any unutilized allowances can be carried forward to subsequent years until fully utilized.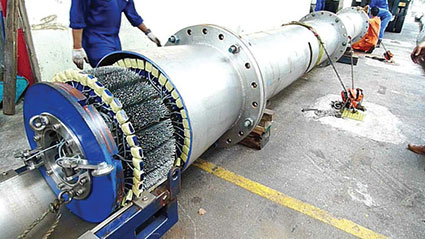 "As a local company, we get a lot of support from the government," says Baharom, who employs about 30 engineers and a total staff of 90. When starting up the new business line, it was necessary to recruit from the other major players in the pipeline inspection business — GE and Rosen, based in Germany, he relates. Now that Romstar is an established player in the business, says Baharom, the company has become a training ground for workers, some of whom move to other companies, as will happen in an industry cluster.
"In an industry niche this specialized, if you need 10 people, you recruit 15, because a third won't stay. We just lost two people to ExxonMobil. But I can always find new people to train, because Malaysia is a center of the oil and gas industry."
Malaysia understands the importance of supporting the industry, says Baharom, and MIDA works closely with ROMSTAR with matching business grants and other measures to ensure a supply of skilled engineers — mainly electronic and mechanical designers, even if they are ex-pats as is often the case in so specialized a field. "Without their assistance, recruitment would be very hard. MIDA's chairman and CEO have visited my office to see what we are doing and to determine how they can help. That is a real catalyst for my being able to grow my company."
The oil and gas sector is one of 11 sectors identified in Malaysia's Economic Transformation Programme that will act as a catalyst for making the economy one that is high income by 2020. Particular attention is being paid to three efforts: sustaining oil and gas production, enhancing growth in downstream industry opportunities and making Malaysia the number one Asian hub for oil field services, particularly in the deepwater context.
Has Malaysia achieved hub status in the region for the oil and gas business, or is it one of many, competing to be the nerve center?
"No one can match Malaysia where oil and gas services is concerned," says Baharom. "The Offshore Technology Conference will be held in Malaysia for the first time in 2014 — the first time it will be held outside Houston," he points out, which would not be the case if Malaysia were not taken seriously in the global oil and gas arena by the industry's major participants.
'Definitely a Hub'
"For oil and gas services companies like ours, Malaysia is definitely a hub," says Djerfi. "We have built our data center here, from which we provide technical support to our operations in Australia and China and elsewhere. This hub operates 24/7 and is connected to other technical hubs in Houston, Dubai and Europe." Baker Hughes' IT support center for the Eastern Hemisphere is also in Kuala Lumpur, says Djerfi.
"This center is located in Malaysia because the IT industry here was more advanced than in China five years ago," he relates. "In China there are issues of language and data protection, whereas here in Malaysia we are assured of data integrity with respect to our clients' data but also with respect to our own."
Some think of an oil and gas hub in terms of commodity trading, which is not Malaysia's strong suit. But that is one transactional context only, says Djerfi. "We are where the decision makers are, and we define that as a hub, not how much oil moves from terminal to another. That is a matter of logistics. We have been very happy with our decision to base our regional operations here in Malaysia, and we are here to stay."
This Investment Profile was prepared under the auspices of the Malaysian Investment Development Authority.
For more information, visit www.mida.gov.my.