INDIA
From Site Selection magazine, September 2013
Ready To Go?
Momentum builds behind an ambitious National Manufacturing Policy.
W
hen a US$1.8-trillion economy expands at a rate of over 5 percent, it should not cause much despondency, especially in these tough times when many developed economies struggle with 1- to 2-percent growth. But having got used to growth rates of 8 to 9 percent over the past decade, the deceleration of India's GDP to below 6 percent has resulted in heightened concerns in the corridors of power in Delhi and many state capitals, and a near-panic situation.
Many investors and industrialists would say this is a good thing, as government leaders have started closely monitoring the fate of multi-billion-dollar investment proposals, many of which have got entangled in red tape. The Department of Industrial Policy and Promotion (DIPP), a federal government agency under the Ministry of Commerce and Industry, for instance, has asked state governments to give a monthly report on the status of land acquisition for an ambitious National Manufacturing Policy (NMP) that the government has launched.
Commerce and Industry Minister Anand Sharma is heading a Manufacturing Industry Promotion Board, which will push various government agencies to clear investment proposals. India's NMP aims to raise the share of the manufacturing sector in the GDP to 25 percent over the next 10 years, from about 15 percent today.
Besides offering a slew of tax and non-tax incentives to promote national investment and manufacturing zones (NIMZs), the government is going full steam ahead with plans to develop industrial corridors and dedicated freight corridors along four or five key routes across the country.
"I've come to India today to begin a new chapter. I'm pleased to announce that Datsun is back."
| | |
| --- | --- |
| — | Nissan President and CEO Carlos Ghosn in Delhi in July. |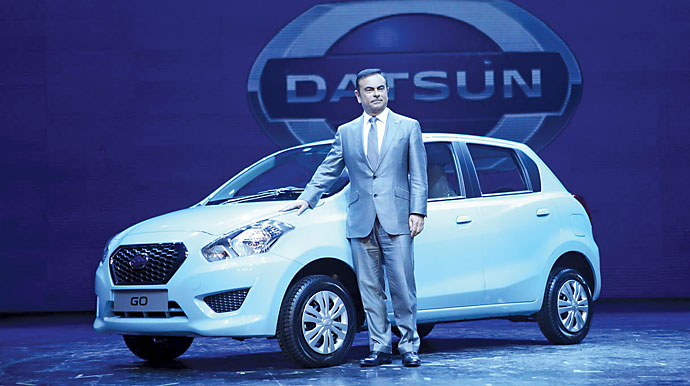 The 1,000-mile (1,609-km.) Delhi-Mumbai Industrial Corridor (DMIC), being set up at a cost of $100 billion, will trigger development along the route linking the two leading Indian metros; besides a high-speed dedicated railway freight corridor, it would feature seven mega investment regions, each of 125 sq. miles (324 sq. km.), spread across half a dozen northern and western states; a mega power plant; three seaports and six airports. Automobile majors including Japan's Suzuki and India's Tata Motors have already announced plans to set up manufacturing hubs in some of the regions.
Work on this corridor is progressing at a rapid pace. According to R.K. Gupta, managing director, Dedicated Freight Corridor Corporation of India Ltd, a state-owned enterprise, the first phase of two corridors will be completed by 2017 and the second phase a year later. Fortunately, acquisition of land — which has emerged as a politically sensitive issue in India — has been smooth, says Gupta.
The Indian government has also cleared a proposal for a new eastern industrial corridor, which will link Amritsar in the north to Delhi and onwards to Kolkata in the east. The 1,200-mile (1,930-km.) corridor will cover seven states including less developed states Uttar Pradesh, Bihar and Jharkhand. The corridor will traverse thickly populated regions, which account for 40 per-cent of India's population.
A third corridor that is being planned is the Mumbai-Bangalore corridor, linking India's financial and commercial capital to its information technology hub. While the Delhi-Mumbai corridor has funding from Japanese government agencies, the British government is keen on participating in the 650-mile (1,045-km.) Mumbai-Bangalore corridor. British Prime Minister David Cameron, during his visit to India earlier this year, offered his country's help in the development of this vital industrial corridor.
The fourth such infrastructure project is the Bangalore-Chennai industrial corridor in the south, again with involvement of the Japan International Cooperation Agency. The feasibility study has been completed and work is expected to begin soon.
The Indian government estimates that the country would need about $1 trillion in investments in the infrastructure (roads and highways, airports and ports, power and telecom) sector over the next three to four years. Private and international investors would account for about half the investments.
Up to the Sky
A visit to some of these cities — including Delhi, Mumbai, Pune, Bangalore and Chennai — reveals the frenzied pace of construction at dozens of new developments that have emerged in recent months. In Bangalore, dubbed India's Silicon Valley, construction cranes hum through the day as workers are busy laying concrete slabs for elevated corridors, a network of metro rail lines (both on the surface and underground) and new commercial and residential developments.
The city, once referred to as a retiree's paradise, is undergoing a dramatic transformation, as high-rise buildings soar about the skyline. Developers are promoting luxury apartment complexes, gated communities, private residences and commercial hubs.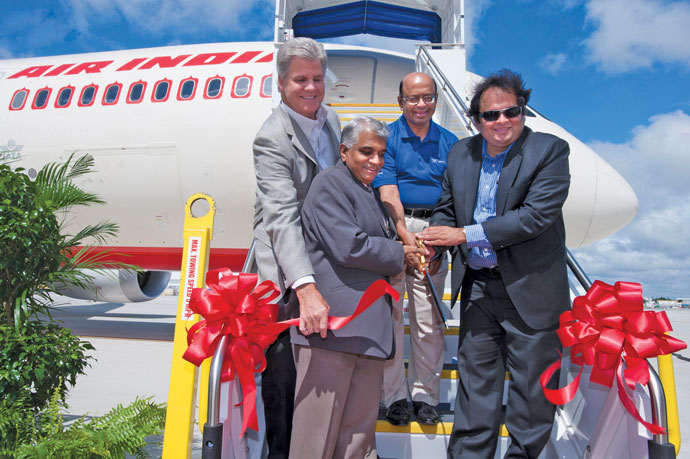 The Brigade group, one of Bangalore's leading developers, is establishing the World Trade Center in a sprawling, 40-acre (16-hectare) integrated lifestyle enclave in close proximity to the central business district. The project has attracted several leading international firms including Siemens, Samsung, Toyota and Amazon.com.
Another ambitious development a little distance away, overlooking the lush Palace Grounds, is CityView, which includes a Four Seasons Hotel and private residences, boutique shopping and premium office space.
About 250 miles (402 km.) east of Bangalore is Chennai, popularly known as India's Detroit because of the presence of a large number of international and domestic automobile manufacturers. The city, capital of the southern state of Tamil Nadu, accounts for 40 percent of the 1.9 million cars that are manufactured in India every year and 60 percent of exports.
For Korea's Hyundai, Chennai is a global hub for exporting vehicles to 120 countries around the world. Other leading players with a strong base in Chennai — and massive expansion plans — include Ford, BMW, Daimler and Renault-Nissan.
Renault-Nissan, which has already invested $2.5 billion in India, plans to invest another $2.5 billion in the country over the next five years, according to CEO Carlos Ghosn. Renault-Nissan plan to launch a low-cost model from the Chennai plant in about two years. Nissan plans to revive its Datsun brand, which will be made in Chennai, home to the largest dedicated Renault-Nissan Alliance plant.
Airports are expected to attract huge investments over the coming years in India. Capa, the Center for Aviation, an international aviation consultancy, estimates that about $40 billion will be invested in 50 new airports in India by 2025. At present India has 125 airports including a dozen international ones that handle about 150 million passengers a year. This is expected to triple to 450 million in less than a decade.
Rapid industrialization and the development of new infrastructure across India are expected to ensure the economy returns to the 8-plus-percent GDP growth path in about two to three years. The rush to attract investments has resulted in tough competition among the various state governments, who are laying the red carpet for international corporates.