SPECIAL ADVERTISING SECTION
MILITARY ECONOMY
From Site Selection magazine, October 2013
SHARE THIS ON SOCIAL MEDIA
Tweet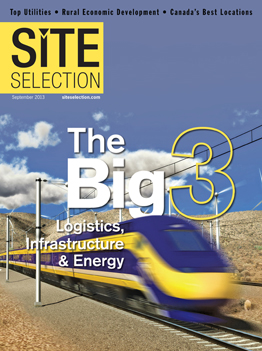 How a Military Base
Supports a Local Economy
The Offutt Air Force Base Story
I
t has been a stunning 119-year transformation — from an army outpost that struggled to support a few hundred soldiers to today's Offutt Air Force Base, a military and economic powerhouse near Bellevue, Neb., 10 miles south of downtown Omaha.
The modern Offutt AFB plays a crucial role in U.S. national defense, housing the 55th Wing, Air Combat Command's largest wing; headquarters for United States Strategic Command (USSTRATCOM); the Air Force Weather Agency; and the new Joint POW/MIA Accounting Command CONUS Annex (JCA). Greater Omaha's second largest employer, Offutt's operations support a combined military and civilian work force of approximately 10,000 people, and its profound impact on the Greater Omaha economy averages more than $2 billion annually over the past decade.
"We are extremely proud of the thriving relationship we enjoy with our neighboring communities. The commitment of our people to the success of Offutt AFB will continue to exert a significant, positive economic influence for many years to come," remarked Col. John Rauch, Commander, 55th Wing, in Offutt's 2012 Economic Impact Analysis.
The origins of the base date back to 1894 and the construction of Fort Crook, so named for Major General George Crook, a renowned Civil War hero. An airfield that could handle frequent takeoffs, landings, and refueling was added in 1921 and dedicated, three years later, in memory of Omaha's first air casualty in World War I, Lt. Jarvis J. Offutt. In 1946, the post, which included a massive bomber plant, was transferred from the Army to the Army Air Forces. Two years later, the entire installation was re-designated Offutt Air Force Base and officially transferred to the new Department of the Air Force.
"There is an unmistakable sense of pride in our community that comes from our connection to Offutt. Not only is it a critical component of our nation's defense, it is a symbol of those ideals we really value: service, bravery and freedom," said Ken Stinson, chairman emeritus of Peter Kiewit Sons', Inc. and Chairman of the Nebraska Military Support Coalition (NMSC).
Offutt AFB underwent dramatic changes in the Cold War years following World War II, expanding population and facilities to keep up with an increased operational workload. That evolution continues yet today.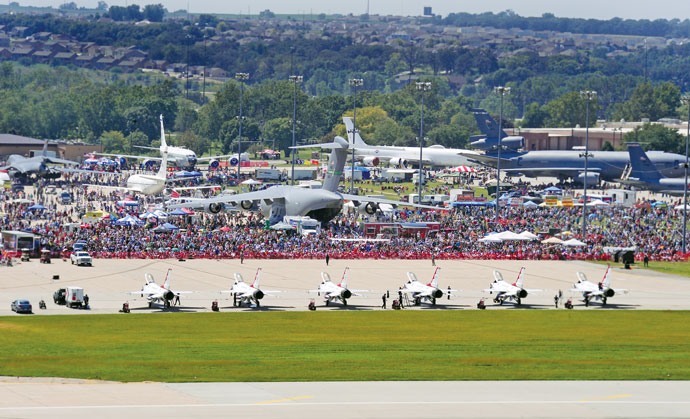 Fiscal year 2012 saw significant enhancements to Offutt, including a milestone event for USSTRATCOM. It broke ground on a state-of-the-art command and control center last fall. An estimated $1.1-billion project (including construction and fit-out), the facility will provide STRATCOM greater mission capability and flexibility over the next several decades.
"The capabilities this facility will provide us puts us on a path to the future," said Gen. C. Robert Kehler, STRATCOM commander, "a future that secures America and our allies from information age threats with information age systems and capabilities."
The current USSTRATCOM sprang from the 2002 merger of two previous unified commands: United States Space Command and the former USSTRATCOM. It is responsible for operational control of U.S. nuclear forces as well as: strategic deterrence; space operations; cyberspace operations; joint electronic warfare; integrated missile defense; intelligence, surveillance and reconnaissance; global strike; analysis and targeting; and combating weapons of mass destruction.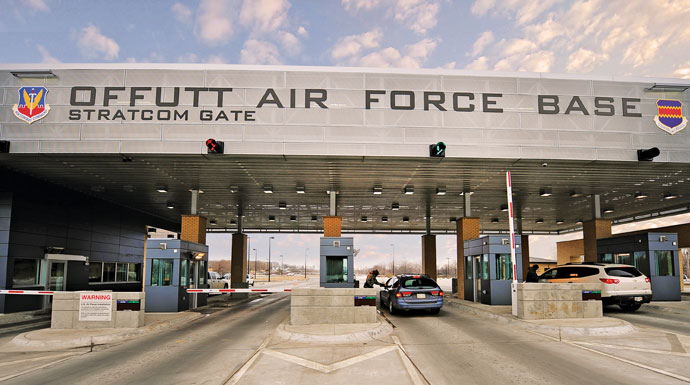 "This new headquarters will strengthen STRATCOM's ability to perform its national security and national defense missions," said Nebraska Gov. Dave Heineman, quoted in an Offutt AFB media release.
"The Greater Omaha Chamber worked diligently to ensure the headquarters happened — and happened at Offutt," said Rod Moseman, the Chamber's senior vice president of economic development.
The 915,876-sq.-ft. center, designed by Omaha-based HDR, Inc., is slated for completion on Sept. 11, 2016. It is being built by Kiewit Phelps, a joint venture of Omaha-based Fortune 500 Kiewit Building Group and Hensel Phelps Construction Co. of Greeley, Colo.
Also during FY 2012, a $24-million renovation continued at Offutt's Medical Clinic, and repairs totaling $3.8 million were started on the Taxiway Charlie Center. Military and civilian payrolls, combined with construction and service contracts, enhanced the local economic impact by generating an estimated 4,537 secondary jobs, according to Offutt's 2012 Economic Impact Analysis.
Just last June, the base marked the opening of a $5-million forensics laboratory, an annex of the Hawaii-based Joint POW/MIA Accounting Command (JPAC), commissioned to "conduct global search, recovery, and laboratory operations to identify unaccounted-for Americans from past conflicts." JCA officials made their decision after three visits to the metro, meeting with Chamber, Bellevue and Offutt personnel as well as with University of Nebraska Medical Center and Alegent Creighton Health Medical Center representatives.
"As a result, they selected Offutt for the only laboratory like this in the continental United States. They liked the location, the available infrastructure in the community and partnership opportunities with Creighton and the University of Nebraska," said Ned Holmes, the Chamber's senior military liaison.
About 50-70 professionals are expected to staff the facility by 2016. It's estimated the lab will have an annual economic impact of $7.5 million on the area.
"Offutt AFB continues to enjoy an atmosphere of mutual respect and common interest in economic enhancement with the surrounding Nebraska and Iowa communities," commented Col. Rauch.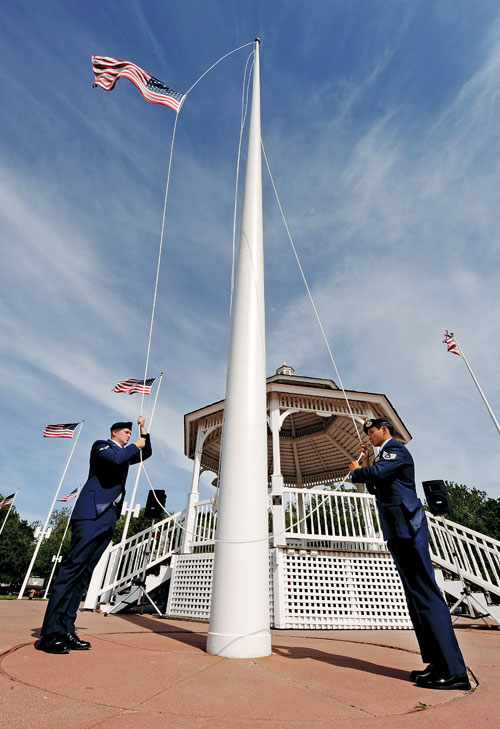 Mutual respect. As Offutt continues to enhance Greater Omaha, Greater Omaha continues to show its support for the men and women serving at Offutt — and the symbiotic relationship it enjoys with the base. Just last June, G.I. Jobs magazine ranked Omaha #4 on its 2013 list of Top 50 Military Friendly Cities®.
"Nebraskans care deeply about our military members, our veterans and their families," said Gov. Heineman, a U.S. Army Ranger veteran and graduate of the West Point United States Military Academy. "We enthusiastically work to ensure that those serving our country have great lives and opportunities here at home."
Only one in eight metropolitan areas in the country made the 2013 Military Friendly Cities list.
David G. Brown, president and CEO of the Greater Omaha Chamber, said, "A number of organizations, including The Strategic Command Consultation Committee, the Nebraska Military Support Coalition and the Offutt Advisory Council, are proactive in not only supporting the senior leadership at the base but in articulating the special, historic relationship between base and senior business leaders. We understand the indispensable role that Offutt Air Force Base plays in our national security."
Stinson commented, "Our business leaders here have historically been a national role model giving time and resources to support our base, and the men and women in uniform. It is an honor for the NMSC to serve them as they serve our nation."
The Chamber, a member of the NMSC, is also an active supporter of military-friendly programs aimed at helping veterans start businesses and find jobs. That includes partnering on local "Hiring Our Heroes Job Fairs." In addition, the Chamber's Military Target Advisory Group is dedicated to identifying opportunities and working to insure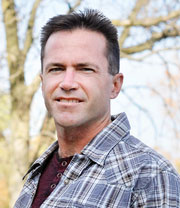 regional and community planning support for base missions. That includes collaborating with base, City of Bellevue and Metro Area Planning Agency officials to apply for a federal land use grant that would fund a comprehensive planning study.
---
Dan McCann is a marketing consultant with the Greater Omaha Chamber.
---