TOP METROS OF 2013
From Site Selection magazine, March 2014
The Connected City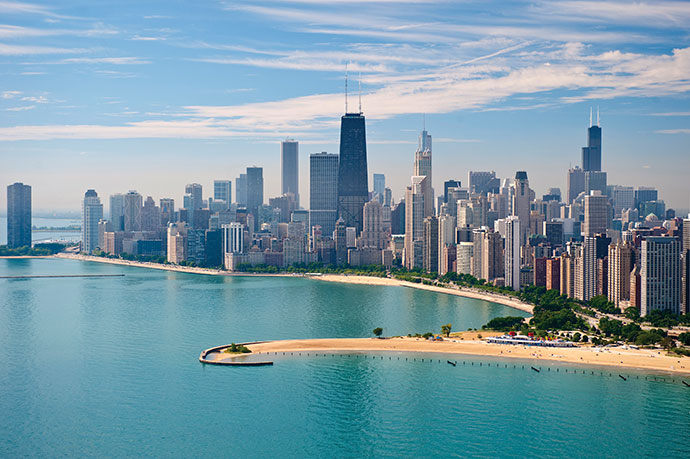 L
egendary Chicago Cubs shortstop Ernie Banks earned much admiration by saying, "It's a great day for a ball game. Let's play two!"
Banks' pure love of the game manifested itself in everything he did. He didn't consider baseball to be work. He considered it life.
The same could be said for Chicago. The metropolitan area of 9.56 million people may go by a lot of nicknames — Chicagoland, the Windy City, Second City, Chi-Town, City of the Big Shoulders — but one thing virtually everyone agrees upon is that Chicago is a city that's alive.
From diehard Cubs fans who have waited 106 years since the team last celebrated a World Series championship, to a thriving business community that produces a high-tech startup every 24 hours, Chicago breathes with an energy that is unique to the Midwest capital on the banks of Lake Michigan.
Whether it's Mike Ditka staring down opponents with his resolute scowl on the sidelines of Bears' games in the 1980s, or Gogo setting up its in-flight Internet service headquarters in new digs downtown, Chicago is always on the move and being talked about.
Add Site Selection to the growing list of media talking about Chicago. By securing more corporate facility investment projects than any other metro area in the U.S. last year, Chicago took home the trophy as the Top Metro in America.
With 373 facility deals, Illinois' largest city easily outdistanced its closest competition — second-place Houston with 255 projects and third-place Dallas-Fort Worth with 178. Atlanta (164) and Detroit (129) rounded out the top five.
Jeff Malehorn, president and CEO of World Business Chicago, says it is easy to see why the Second City perennially finishes first in Site Selection's facilities race. Chicago connects people, he says.
"Four primary factors explain Chicago's success, and they all deal with connectivity," Malehorn says. "We have a highly engaged business community, a very pro-business mayor, unmatched access to domestic and global markets, and an incredible talent pool."
Malehorn notes that "there is an expectation that when you are a leader in Chicago, you will select a community cause and back it. This is a purpose-driven business community. Secondly, we have a very pro-business mayor in Rahm Emanuel. He makes sure that Chicago is a welcoming city. He calls CEOs regularly and invites them to come here. He has been instrumental in helping us with our sales and opening the doors of CEOs. He is well connected globally. He recently signed a gateway agreement with eight Chinese cities."
Dual Hubs Give Global Access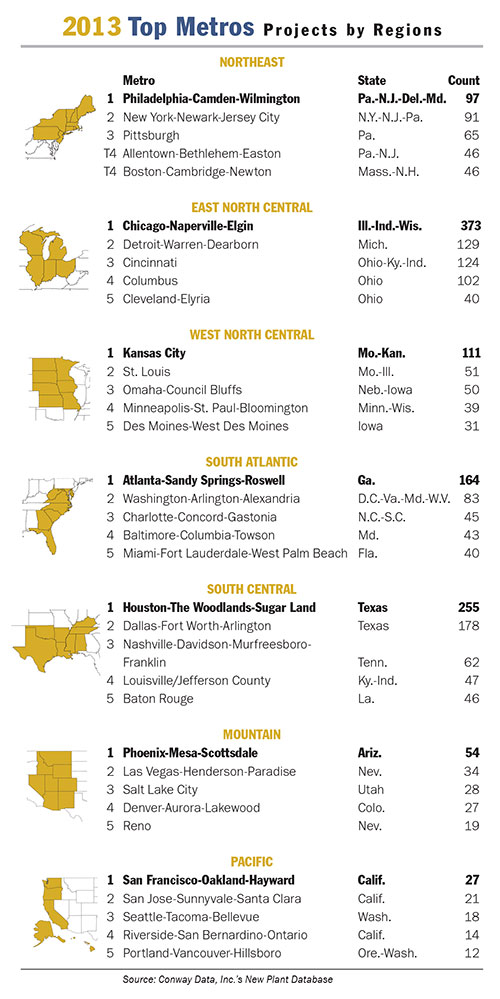 Thirdly, says Malehorn, "O'Hare is now the most connected airport in the country. Our continued investment in O'Hare — over $6 billion in improvements — makes Chicago one of the most connected cities on the planet. Our dual airport system really helps too, with both O'Hare and Midway airports. We benefit from being the dual hubs of United and American. Additional routes open up here constantly."
The fourth and perhaps greatest edge Chicago has, adds Malehorn, is its talent. "We continue to have 140,000-plus new college graduates each year. It is an incredible talent pool. We have the University of Chicago, Northwestern, University of Illinois-Chicago, DePaul, Loyola and our community college system. Corporations around Chicago are adopting our community college system, which is training workers in a wide variety of disciplines. And then there is our continued investment in K-12 education. We now have dedicated STEM [science, technology, engineering and math] high schools in Chicago."
Combined, these factors make a compelling case for Greater Chicago as a business location, Malehorn says. "We are also the most diverse U.S. city by industry. No one industry takes up more than 13 percent of our workforce. We benefit from that diversity."
A case in point is Chicago's emergence as a data center hub for the Midwest. Last year, the Chicago area won significant data center facility investments from Equinix, Latisys and others, as well as significant IT infrastructure investments from Google, Gogo, Groupon, Paylocity and Huron Consulting. And in February, Hyatt Hotels moved 60 IT jobs downtown from the suburbs.
"We have basically two major locations in Chicago — one downtown and another one in Elk Grove Village near O'Hare," says Howard Horowitz, senior vice president of global real estate for Equinix, the world's largest data center colocation facility provider. "We have done several phases of buildout of 275,000 sq. ft. [25,547 sq. m.] over time. To date, we have invested over $200 million in the Elk Grove Village project. We have incrementally increased our presence in downtown Chicago, and we are currently involved in a project for a new build in the McCormick Place area."
Equinix opened its first Chicago data center in 2000. "Chicago is certainly one of our major markets in the US, especially with the focus on the financial customers that we have," Horowitz says. "Corporate headquarters are there for many firms. Geographic reach is there. If you want a Midwest location, Chicago is the first place you look."
Physical telecommunications infrastructure gives Chicago a leg up on its competition, notes Horowitz. "Latency in the Chicago area is a factor. It is critical for some companies like those in the financial industry," he adds. "Oftentimes, it is the most important issue for them. Latency is incredibly important for trading companies. Speed of execution of trades is crucial for them."
Pete Stevenson, CEO of Latisys, says that "we have been investing in Chicago since late 2008. We just announced a 3.5-megawatt, 25,000-sq.-ft. [2,322-sq.-m.] data center expansion in Chicago."
The buildout of the existing 148,000-sq.-ft. (13,750-sq.-m.) facility adds 3.5 megawatts of retail colocation space, says Stevenson, noting that "our cloud platforms are in that site too."
Latisys is located in the Oak Brook market in suburban Chicago. "That, for us, is a really strong market," Stevenson says. "We see customers growing in that market. Some customers are moving out of the downtown as it just gets too expensive for them to be there. The entire Chicagoland market is very strong right now."
He notes that Latisys has "a very strong value proposition that mid-sized customers find really appealing. Customers want private managed clouds now. Customers are deploying into the Chicago market and they are coming to us."
Stevenson says Latisys is constructing the new space in Oak Brook now. "It will be ready by the beginning of the fourth quarter or the end of the third quarter this year," he adds. "We are bringing in more power from the power company. Because it is a deregulated utility market, we can buy it on a fixed rate. We buy it on an exchange or with a broker. That gives us some of the best electric utility rates in the country. It is currently in the nickel to nickel-plus range in Greater Chicago."
Consultants Bullish on Chicago
Site selection consultants say that this is a very bullish time for businesses in Chicago. "The overall vibe is that there is still a lot of confidence in the Chicago economy," says Tracey Hyatt Bosman of BLS & Co. "There is new deployment of all kinds of industry in the market. This is the third largest city in the U.S. and by far the largest city in the Midwest. This is one of the places you just have to be."
Bosman notes that while the fundamentals have remained strong for the metro Chicago area, "there has been an expansion over the last 10 years or so in the city's entrepreneurial startup and tech activity. The 1871 incubator is such a cool place. It is a very funky space; it is highly creative."
The 50,000-sq.-ft. (4,645-sq.-m.) incubator for digital startups, located in Chicago's famed Merchandise Mart, is churning out new digital firms at a startling rate. Malehorn says Chicago produces one new digital startup every single day.
"All kinds of people are mixed in there," says Bosman. "It is kind of loud, actually, for typical office space, but that is considered part of the ambiance of the facility. They bring in various resources to help businesses connect and grow. It is a different atmosphere from your typical class A office building. It is a leading indicator of a new way to work and a new way for businesses to grow."
Malehorn says that Chicago's best days are still ahead of it. "The Economist Intelligence Unit Forecast looked at which cities will be the most economically powerful in the world by 2025," he says. "Chicago moved up from number 12 to number nine on that list. Only two other North American cities were in the top 10 — New York and Toronto. We look to be the most globally competitive U.S. city. There is a renewed spirit of investment and vitality here. People prefer to be back in the city now. It is compelling."
Chicago, in short, has found its happy place, bringing to mind another classic quote of Ernie Banks: "You must try to generate happiness within yourself," he said. "If you aren't happy in one place, chances are you won't be happy anyplace." Banks never left Chicago during his 19-year career in Major League Baseball.
Judging from the comments of those doing business in Chicago these days, he's going to have plenty of company.
---
"Omaha! Omaha!"
Omaha may not be the biggest city in America, but during January no city in the country generated more news coverage than Nebraska's largest metropolitan area.
Media attention exploded when fans of the National Football League discovered that Denver Broncos All-Pro quarterback Peyton Manning was rather fond of shouting "Omaha!" multiple times at the line of scrimmage before certain plays.
During a playoff victory over the San Diego Chargers on Jan. 12, Manning yelled out "Omaha!" a whopping 44 times.
"It has given us an unbelievable ability to pitch our city," says David G. Brown, president and CEO of the Greater Omaha Chamber. "We will keep those fires burning. We are doing some additional fun social media stuff around that."
Fortunately for Brown and his colleagues at the chamber, Manning isn't the only public figure leading the charge to bring more attention to Omaha. During 2013, the metro area of 900,000 people led all comparably sized communities in America by landing 48 corporate facility investment projects.
Beating out Allentown, Pa., and Baton Rouge, La., which tied for second place with 46 facility projects each, Omaha secured its first-place ranking in the tier-two population category (all U.S. metros of between 200,000 and 1 million people).
The positive publicity just keeps coming for Omaha, notes Brown. "We even have our very own Warren Buffet providing the insurance for the March Madness bracket contest," he says. "If you pick every single game of the NCAA college basketball tournament correctly, you could win a billion dollars."
On top of that, Creighton is turning the college basketball world upside down with a breakthrough season, as even more fans of the new Big East Conference flock to Omaha to watch the ninth-ranked Bluejays take on Villanova, Georgetown, Providence, Xavier and other perennial basketball powers.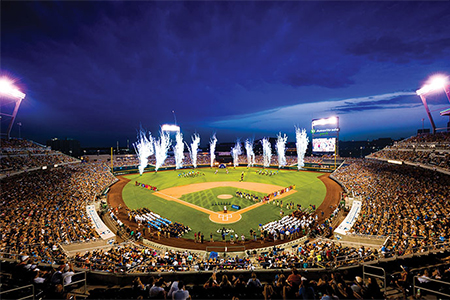 The biggest wins that Brown is celebrating, however, are those occurring off the court — corporate facility investments that are bringing jobs and capital to the Omaha area.
Singing the Yahoo Tune
Topping the list of those investments in 2013 was a $700-million office expansion by Travelers Insurance in Omaha. Other major Omaha projects included a $108-million manufacturing expansion by Airlight Plastics Co., creating 117 new jobs; a $58-million warehouse expansion by U.S. Cold Storage, adding 100 jobs; and a $54-million expansion by Lozier Corp., generating 105 jobs.
More big deals came from Yahoo Inc., Kellogg USA, MLB Advanced Media, Rotella's Italian Bakery and Northstar Wind Towers. The largest jobs announcement came from Nelnet Inc., which committed to hiring 300 workers at its consumer lending operation in Omaha.
Several factors contributed to Omaha's success in 2013, notes Brown. "We have a very strong, diverse economy, and we are located in the middle of the country," he says. "We have great air, rail and highway networks, and our fiber-optic networks are among the best found anywhere in the country."
Brown also cites the Omaha area workforce. "The labor force here is very well educated and very productive," he says. "We have all of the infrastructure that businesses need, but most of all we have great people."
One of the most active industries in the Omaha MSA is the data center sector. Google, Yahoo and Fidelity have all announced major expansions in the bi-state region.
"We have been blessed with just the right combination of infrastructure, power costs and utilities. Our team knows exactly what data centers need," Brown says. "Our low power costs attract people initially, but I have to give a lot of credit to our great team at the chamber. They have become experts at this."
Generous incentives offered by both states — Nebraska and Iowa — help lure large data center investments to the region, Brown adds. "Both states have worked hard to make sure our public policies are reflective of our desire to have more data centers here. As a result, the big brand names are here. If they have chosen you, chances are they have done their due diligence."
A plethora of workers experienced in providing technical support to mission-critical facilities bolsters the region's case. "Our economy here has a high requirement for IT support," says Brown. "Companies that support STRATCOM and the Fortune 500 firms that are located here — TD Ameritrade, LinkedIn, PayPal — they all need very high-level technical support. We provide a nice funnel of engineering talent here too."
Joy to the Omaha World
Omaha's abundance of amenities and high quality of life pay off too. "We host the College World Series every year at TD Ameritrade Park, the U.S. Olympic Swim Trials will be coming back in 2016, and we hosted the U.S. Senior Open golf tournament last year as well," notes Brown. "Plus, our city-owned Hilton Hotel is a five-diamond award-winner — an honor that is not given without a lot of scrutiny. And Mannheim Steamroller, which has sold more Christmas albums than any other musical group in history, calls Omaha home."
After this string of success, what will Omaha do for an encore? Brown says the one thing Omaha won't do is rest on its laurels.
"We have just completed our community strategy for the next five years," he says. "Prosper Omaha is a regional economic development strategy. We are raising $25 million to support that strategy. Our goal is to take Omaha to the next level. We have set some goals that are higher than the goals we have had for the last five years."
Brown says the plan is to funnel more support to launching and growing startups in the region and increasing the regional GDP.
"We are trying to get a head of steam here," he says. "Many corporate executives from outside this region might not know too much about Omaha, but they can see by our companies — ConAgra, Union Pacific, Gallup, Omaha Steaks, Berkshire Hathaway, Mutual of Omaha and others — that this is a place they ought to consider."
He adds that "if they will just give us a look, we will do our best to make sure that Omaha is a place where their company can grow and prosper."
---
Three's the Charm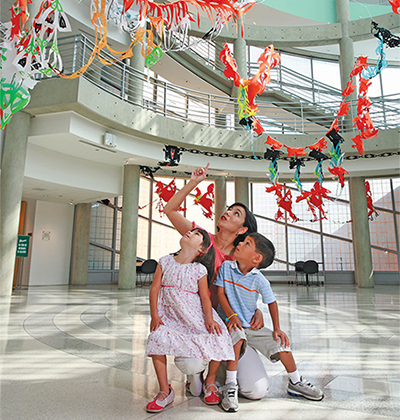 What do Altoona, Pa., Dubuque, Iowa, and Sioux City, Iowa-Neb.-S.D., all have in common?
In 2013, they formed the first-ever three-way tie for Top Metropolitan Area in the tier-three population category, which includes all US MSAs of less than 200,000 people.
Recording 14 corporate facility investment projects each, these three small metros beat out Odessa, Texas, which had 12 projects, and Gainesville, Ga., which registered 11. Also ranking in the top 10 were Decatur, Ala., Bowling Green, Ky., and Battle Creek, Mich., with nine each, followed by Sheboygan, Wis., and Auburn-Opelika, Ala., with eight.
Chris McGowan, president of The Siouxland Initiative, is no stranger to the top of the standings. This marks Sioux City's fourth win and sixth appearance in the top three.
"This is a resilient community," McGowan says. "Our stockyards closed a generation ago. Gateway Computer, which was built here, employed 6,000 people at one time in this community and now they employ nobody. Alternating floods and droughts have ravaged our croplands and riverbank cities, and then we faced the BPI public relations crisis. A leading employer and one of our very best community philanthropists, they were forced to close three plants as a result of one careless news story. By the same token, we have been very fortunate."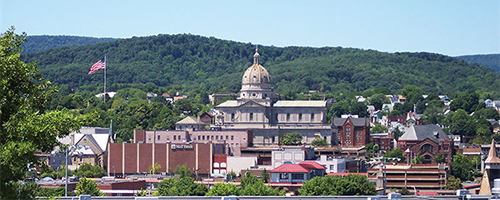 A surging agribusiness economy has given a huge boost to many employers in the tri-state region of Iowa, Nebraska and South Dakota along the Missouri River. Two firms — Wells Enterprises and Bomgaars — have done exceptionally well.
Wells Enterprises is expanding by $20 million and 65,000 sq. ft. (6,038 sq. m.) in Le Mars, Iowa, which thanks to Wells' Blue Bunny brand is now known as the "Ice Cream Capital of the World." Bomgaars, meanwhile, is investing $17 million into a new 150,000-sq.-ft. (13,935-sq.-m.) distribution warehouse that creates 64 new jobs.
Mike Wells, CEO of Wells Enterprises, says that the Siouxland workforce is the driver of the company's growth. "We refer a lot to our culture that exists here in the heartland of America," he says. "Hard-working people take pride in the work they do. Plus, being centrally located in the Midwest creates synergies across multiple production lines. Access to Interstates 29, 80 and 90 connect us to the East and West Coasts. It drives efficiencies and maintains a lot of quality in our products."
Coming off its 100-year anniversary, Wells operates the world's largest ice cream plant in Le Mars, at just over 1 million sq. ft. (92,900 sq. m.).
Bomgaars — a Sioux City-based retailer that operates 66 farm and garden supply stores and employs 1,500 people across the Midwest — is also growing. Its president, Roger Bomgaars, says that several factors make it easy for his company to keep expanding in Sioux City, its home base since 1952.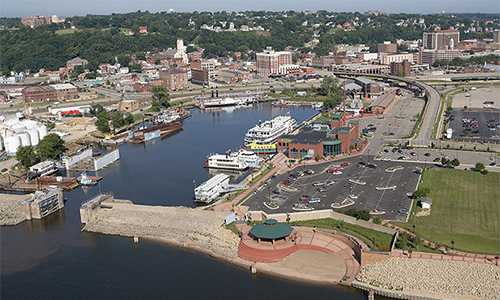 "We like the stability of the area and the fact that it is very closely linked with our customer base," he says. "The agribusiness industry floats a lot of boats here. The farm and ranch fleet industry grew up right along Interstate 29 from Grand Forks, North Dakota, down to Kansas City."
Across the state in Dubuque, companies as diverse as Hormel Foods and Rainbow Oil are leading an economic resurgence in eastern Iowa.
"We have a significant amount of food processing, metal fabrication, insurance companies and financial services here," says Mark Seckman, vice president of national marketing for the Greater Dubuque Development Corp. "Within a five-hour radius, we have 322,000 college students at Iowa, Iowa State, University of Wisconsin-Platteville, University of Dubuque, Clarke University, Northeast Iowa Community College and others. That was a big factor in IBM's selection of Dubuque. They now employ more than 1,300 workers here in our community."
Hormel represented Dubuque's biggest project win of 2013. "We were competing against other communities and other countries as well," Seckman says. "We were able to put together the best overall response to their request."
The result was a $36-million capital investment that adds 91 jobs in meat products processing in Dubuque, which earned accolades as a top 10 best-performing small city in America from the Milken Institute in 2013.
Not to be outdone, Altoona, Pa., climbed to the top of the corporate facility project charts in 2013 with its strongest showing in the history of the Conway New Plant Database.
"Our 14 projects were almost all local, home-grown companies that are going through expansions," says Marty Marasco, president and CEO of the Altoona Blair County Development Corp. "We emphasize retention and expansion of existing companies. Relocations today are very difficult."
Value Drug Co. is investing $30 million into 190,000 sq. ft. (17,651 sq. m.) that will be used for corporate offices and distribution space. The facility is slated to open this month.
"It is a diversified economy here. We are home to the corporate headquarters of Sheetz Inc., a gas station and convenience store chain that employs 4,000 people in Blair County and 13,000 people in the six-state area. We are also home to American Eagle Paper and Albemarle Corp., a chemicals company that just expanded by $30 million. It was started by two guys out of State College, Pa. They now employ more than 230 people here."