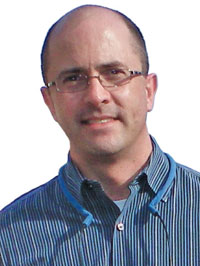 Light at the End of the Tunnel?
wonder if US manufacturers are more upbeat about the future of their enterprises because January 2017 is just over two and a half years away. That's when a new, hopefully more business friendly, administration will run the show in Washington, perhaps one invested in companies' success. Time flies.
Whatever the reason, they are, in fact, showing the highest level of business optimism since late 2012, according to the results of a recent National Association of Manufacturers (NAM)/Industry Week Survey released in March. Eighty-six percent of respondents are somewhat or very positive about their company's outlook — the highest such measure since the "fiscal cliff" debate of 2012.
NAM attributes this to "manufacturers' hard-fought legislative and legal gains, including the recent budget deal, which took the specter of a government shutdown off the table for two years and the NAM's legal victory against the National Labor Relations Board's poster rule."
I mentioned Washington early on, because it's also "the major source of the burdens facing manufacturers," the survey reveals. Which ones? NAM says the top business challenge, cited by 79 percent of respondents, was an unfavorable business climate due to taxes, regulations and government uncertainties, including Washington's inability to solve problems. Rising health care and insurance costs followed closely behind, with uncertainties attributed mostly to the implementation of the Affordable Care Act.
Meanwhile, lots of locations globally and in the US are clearly enjoying manufacturers' newfound optimism. You will discover which ones in the Best to Invest rankings, which includes coverage of the Top US Economic Development Groups. These areas landed the most economically significant capital investment projects of 2013.
As this issue went to press, Toyota announced a relocation of three key US businesses to a new campus in Plano, Texas, which may well earn a Top Deal recognition for 2014. Last year's mega-deals are also chronicled in this issue. The Lone Star State's business climate is well documented in these pages, but I would be remiss to not draw your attention to the winner of the Top Competitive States ranking — Georgia — which also won Top Business Climate of 2013. Read about that recognition in this issue, as well.
Elsewhere in the Conway Data universe, the largest IAMC Professional Forum yet took place in late April at Pinehurst in North Carolina. And the World Forum for Foreign Direct Investment, organized by our London-based Red Hot Locations division, will get under way June 16th in Philadelphia. The program promises to deliver content you will find at no other world gathering of foreign direct investors and location promotion agencies. Make every effort to attend this unique and rewarding event.
Meanwhile, stay optimistic about your US and global prospects for expansion. Economic developers in the areas recognized in this issue are working overtime to deliver the workforce you require today and will require in the future. Business climates in which you can succeed exist where the political will to make then that way prevails.

Mark Arend
Editor in Chief