SPECIAL ADVERTISING SECTION
EMPIRE STATE
From Site Selection magazine, June 2014
SHARE THIS ON SOCIAL MEDIA
Tweet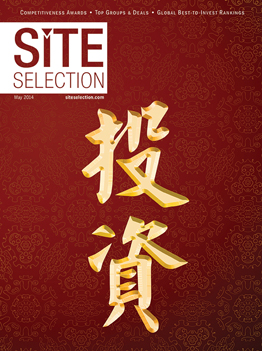 START-UP NY:
A Game Changer For The 'New' New York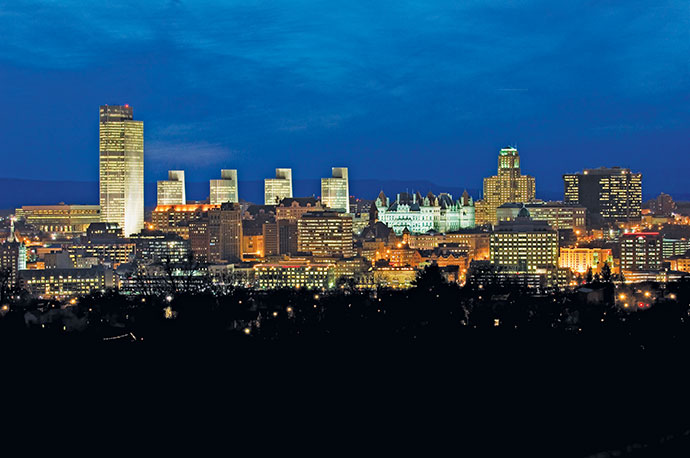 W
hen I received an internal email invitation to fill a seat at the National Grid table at the annual meeting of CenterState Corporation for Economic Opportunity, I thought about it for a moment and then clicked on "Accept." I did not know at that time that New York Gov. Andrew Cuomo would be speaking. In fact nobody did. He was a late addition to the agenda. The CenterState Corporation for Economic Opportunity (CEO) is a regional business group/economic development organization based in Central New York, hence the name CenterState CEO. Their annual meeting was attended by an estimated 1,000 people, mostly business leaders. This is a good sized crowd for a Syracuse, N.Y., business meeting. The meeting was brought to order and the Governor was introduced. He launched into a presentation, with slides to highlight the points he wanted to make. "New York State has been spending and taxing too much for fifty years," he said. The big screens on both sides of the governor brought up a slide, with a chart illustrating the growth of the state budget and taxes from 1963 to the present. "You have to get down taxes in this state if you're going to be competitive," Cuomo said. He talked about delivering four on-time budgets in a row and spending less than previous governors. He referred to a slide indicating that state spending under Nelson Rockefeller was around 11 percent, about 7 percent under "the man who is married to my mother" (Mario Cuomo), and 5.2 percent under George Pataki. "Our spending has been below a percent a year over the first three years, and this budget (FY 2014-15) also will hold at less than one point a year," the governor said. The state has been able to do this, primarily by reducing the size of government and renegotiating labor contracts, according to the governor.
After three years of fiscal belt-tightening, one might expect election year spending on popular programs and projects, but the 2014-15 NYS budget lowers the cost of doing business for manufacturers, making New York a more attractive place for firms to expand, locate and create jobs. The corporate income tax rate is reduced from 7.1% to 6.5%, its lowest level since 1968, which is great, but the budget also lowers the tax rate on income for all manufacturers from 5.9% to zero; Yes, I said ZERO! In addition, the budget also establishes a twenty percent (20%) real property tax credit for manufacturers who own or lease property. The budget also accelerates the phase-out of a temporary charge on all utility customers in the State, saving businesses and residents $600 million over the next three years. It was enacted in the 2008 budget, during the recession to shore up the state budget, a legacy of the way things used to be done in the state. The Tax Foundation, a non-partisan think tank, in a report on April 15th, hailed New York's corporate tax reforms, noting they would be good enough to lift the state from 25th best business tax climate to 4th, in its most recent ratings.
I have been an economic and community development professional in New York since 1978 and I have never heard anything like this before, but the best was yet to come. Gov. Cuomo began talking about START-UP NY (SUNY Tax-free Areas to Revitalize and Transform Upstate NY), a new program that that creates sixty-eight (68) tax-free zones on or near college campuses in the state, the vast majority in upstate New York, where job growth is most needed. "We are saying to the world that New York is open for business," boomed Gov. Cuomo from the podium. "You can't beat ZERO," he exclaimed.
The START-UP NY program was formally announced on October 22, 2013 by Cuomo. He was joined by John J. Mack, senior advisor and former CEO and chairman of the board at Morgan Stanley and 300 international and domestic business, academic and community leaders.
The press release announcing START-UP NY summarized the program and benefits.
Companies approved to receive START-UP NY benefits will pay no taxes for 10 years, no income tax, no business tax, no corporate state or local taxes, no sales tax, no property tax and no franchise fees. There is no other program like this anywhere, but it goes even further. Employees in participating companies will pay no income taxes for the first five years. For the second five years, employees will pay no taxes on income up to $200,000 of wages for individuals, $250,000 for a head of household, and $300,000 for taxpayers filing a joint return. The number of net new jobs eligible for personal income tax benefits will not exceed 10,000 new jobs per year.
Companies approved to receive START-UP NY benefits will pay no taxes for 10 years, no income tax, no business tax, no corporate state or local taxes, no sales tax, no property tax and no franchise fees.
To take advantage of START-UP NY benefits, businesses need to be aligned with or further the academic mission of the campus, college or university sponsoring the tax-free community. Participating businesses must create and maintain net, new jobs and be a new start-up company, or a company from out-of-state that is relocating to New York state, or an expanding New York state company (e.g. a company creating a new line of business or opening a new advanced manufacturing facility that can demonstrate that it is creating new jobs and not moving existing jobs). New York state start-ups that "hatch" from New York state incubators will be eligible to enter tax-free communities and be eligible for the benefits under the program.
In New York City, Long Island and Westchester County, businesses must be start-ups or high-tech companies. Statewide, certain types of businesses are excluded from the program, including retail and wholesale businesses; restaurants and hospitality; professional practices like law firms and medical practices; and energy production and distribution companies.
Companies will be eligible to enter into the program until December 31, 2020. By that time, the state's lead economic development agency, Empire State Development (ESD), will prepare an evaluation of the effectiveness of the program in order to determine whether eligibility should be extended. Each university community will develop a plan for the types of businesses it intends to attract and the locations that will be tax-free. Businesses will apply directly to the participating college. Once a business is accepted, ESD will have 60 days to review the application to ensure eligibility.
Under the START-UP NY program, businesses that might compete unfairly with other local businesses outside the tax-free area would be ineligible to participate.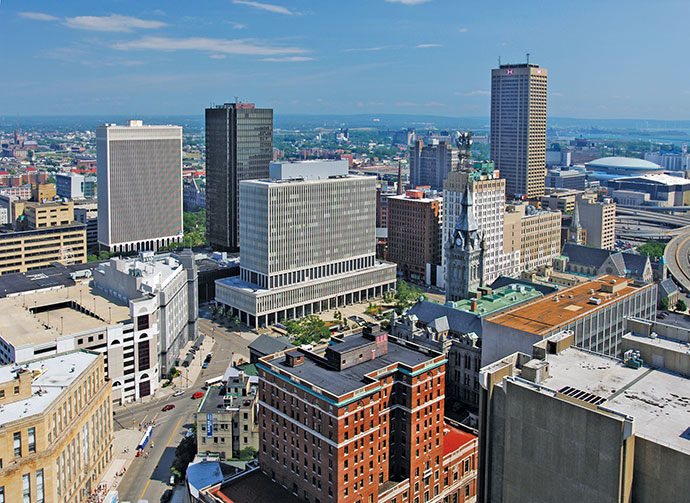 Every State University of New York (SUNY), community college and 4-year college/university can establish a tax-free community using vacant land on the SUNY campus (for every campus outside of New York City), vacant space in buildings on the SUNY campus (for every campus outside of NYC), any business incubator with a bona fide affiliation to the campus, university or college and up to 200,000 square feet within one mile of a campus (for every campus north or west of Westchester County), or further with approval from ESD.
City University of New York (CUNY) will be able to establish a tax-free community on a campus in each borough — Manhattan, the Bronx, Queens, Brooklyn and Staten Island — in an area of economic distress. CUNY Tax-Free NY communities may include; vacant land on the CUNY campus, vacant space in buildings on the CUNY campus and any business incubator with a bona-fide affiliation to the campus, university or college.
START-UP NY also provides 3 million square feet (with the potential of another 600,000 more) of tax-free areas primarily dedicated to private colleges and universities on land north of Westchester County, to be allocated by the START-UP NY program board (consisting of three members with significant experience in academic-based entrepreneurship appointed by the governor, the speaker of the Assembly and the temporary president of the Senate) in a manner that ensures regional balance and balance among eligible rural, urban and suburban areas in the state. For private colleges and universities north of Westchester County, the tax-free areas can include vacant land and vacant space on- or off-campus, as well as any business incubator with a bona fide affiliation to the campus, university or college.
Of these 3 million square feet, 75,000 square feet will be allocated for each of the following: Nassau County, Suffolk County, Westchester County, Brooklyn, the Bronx, Manhattan, Queens and Staten Island. Private colleges and universities in New York City and Westchester, Suffolk and Nassau Counties, as well as SUNY and CUNY campuses not specifically designated, may apply to sponsor these tax-free areas on college campuses. Once the 75,000 square foot cap is reached in these counties and boroughs, the board may designate up to an additional 75,000 square feet in each. Therefore, a potential of 150,000 square feet of space will be available in these counties and boroughs.
In addition, the 3-member board can also designate up to 20 strategic State assets as tax-free communities. These must be State-owned vacant land, State-owned vacant facilities or State-owned facilities that are in the process of closing and becoming vacant. Each will be affiliated with a SUNY, CUNY or independent college or university to attract new employers and new jobs and transform the site into a regional economic engine.
START-UP NY includes strong provisions to protect against fraud. Businesses must submit certification to ESD. Falsifying certifications will be a felony. The legislation also includes strict provisions to guard against abuses, such as shifting jobs among related entities or "shirt-changing," when a company simply reincorporates under a new name and claims its existing employees are new jobs. In addition, START-UP NY includes measures to prevent self-dealing and conflicts of interest. In cases of fraud, the state will "clawback" benefits granted to the business. Companies that do not meet the terms of the program, including meeting job creation targets, may have their benefits reduced, suspended or terminated. ESD will review company data to ensure that jobs have been created and maintained. They will end participation by Joe Russo is an economic development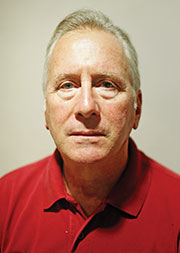 professional working for National Grid in Upstate New York. His career spans 36 years as a city, not-for-profit, county, chamber of commerce and utility economic developer.companies that have not created net new jobs. ESD will publish a comprehensive annual report to enable the public to evaluate the program's impact.¹
START-UP NY launched on January 1, 2014. Businesses can visit www.startup-ny.com to learn more about the program, find answers to frequently asked questions, and search for eligible space.
"We haven't really had a strong national economic uptick, but when that national wind blows, we are ready to set sail," said Gov. Cuomo in Syracuse. May the wind be at our backs.
---