POST THIS ARTICLE TO SOCIAL MEDIA
TOP DEALS
From Site Selection magazine, May 2014
POST THIS ARTICLE TO SOCIAL MEDIA
Low Frequency,
High Yield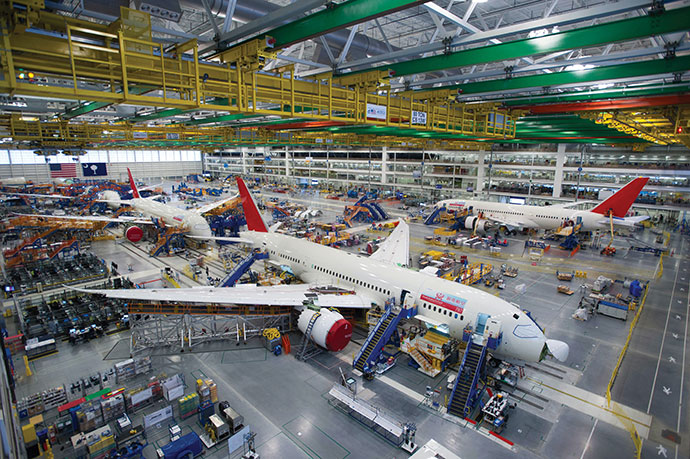 T
o choose the top economic development deals of 2013, we evaluated, as we do every year, such factors as capital investment, job creation and regional economic impact among all corporate facility projects we tracked. The analysis, based primarily on Site Selection's New Plant Database, always reveals compelling patterns.
For instance, when sorted by jobs created, about a third of the top 20 came from one company: Amazon. A few of those made it into the 40 projects we recognize here.
Other patterns among the projects honored here include a penchant for free trade and special economic zones, and an awareness among such companies as Apple, Motorola/Flextronics, Cerner, IBM and Elio Motors that reuse can be as good as brand new.
That does not apply, however, to the projects landing in such emerging markets as Poland, Hungary, Nigeria, Vietnam and Thailand, where companies are building new facilities and new markets simultaneously.
One attribute common to all is the attribute any corporate investment looks to possess: being in the right place at the right time. Whether re-shored, near-shored or right-shored, these deals appear poised to prosper.
NORTH AMERICA
---
Apple
Mesa, Ariz.
$1.5 billion 700 jobs
Apple purchased for just over $113 million the never-used 1.3-million-sq.-ft. (120,770-sq.-m.) facility First Solar built but never commissioned for solar module manufacturing in DMB Associates' 3,200-acre (1,295-hectare) Eastmark development, situated where GM used to operate its Mesa Proving Grounds complex. Apple's supplier GT Advanced Technologies will make sapphire glass and other Apple product components, producing enough glass for up to 100 million iPhones annually. "Project Cascade" is a rallying cry in the Silicon Desert — a nickname meant to denote prosperity but which conjured images of corporate tumbleweeds during the Great Recession. The project also makes up for a narrow Apple project loss to Austin, Texas, two years earlier.
Among the perks offered to Apple were the establishment of a new foreign trade zone at the vacant facility by the state, as well as fast-tracked building permits. Organizations helping to secure the project included DMB, the Arizona Commerce Authority (including a $10-million grant), the City of Mesa, Maricopa County, the Greater Phoenix Economic Council and power company Salt River Project, which is helping Apple reach its goal of 100-percent renewable power on site.
---
Boeing
North Charleston, S.C.
$1 billion 2,000 jobs
Less than one year after rolling out its first aircraft at its assembly plant in North Charleston, Boeing announced April 9 this investment over eight years at its manufacturing complex for the 787 Dreamliner. Speaking to the Industrial Asset Management Council in Charleston three weeks before the expansion announcement, Jack Jones, vice president and general manager of Boeing South Carolina, said the site's 6,100-strong labor force was "very close to Puget Sound in terms of labor costs per plane." Speaking of conditions for Boeing's original investment in the Palmetto State, he said, "We had to have a favorable business environment, logistics and infrastructure," in part because of international customers now flying into South Carolina to get their planes.
Those factors also contributed to this follow-up expansion, for which the state is providing $120 million in incentives for upfront costs such as utilities and site preparation. In December 2013, the company followed up with more good news, announcing a new paint facility for the 787s. Boeing also said it had acquired access to a total of 468 acres (189 hectares) in North Charleston to protect for potential future growth, through a long-term lease with Palmetto Railways, a division of the S.C. Department of Commerce. "Our commitment to South Carolina is visibly demonstrated every day as our growth and expansion continues," said Jones in December. "I don't expect that ending anytime soon."
---
Cerner Corp.
Kansas City, Mo.
$4.3 billion 15,000 jobs
The healthcare IT giant already employs nearly 9,000 in Greater KC, at its North Kansas City world headquarters, its growing campus in Kansas City, Kan., and its Innovation Campus situated in a TIF next door to this new project. With this new 14-phase investment over 10 years at the former Bannister Mall site, it has the place surrounded.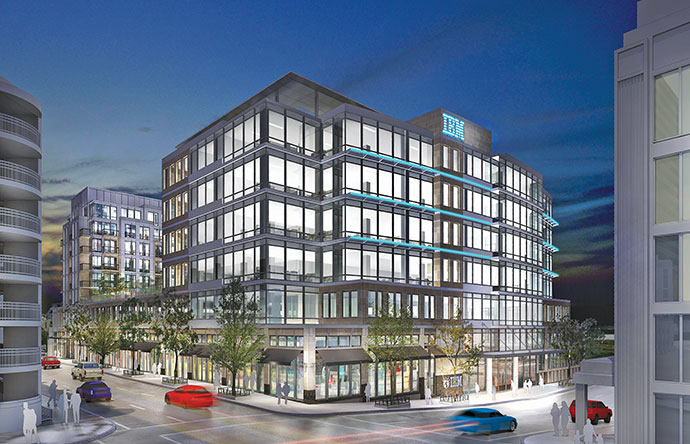 Plans call for 4.5 million sq. ft. (418,050 sq. m.) of professional campus space across 11 buildings, including daycare, fitness centers, on-site retail, data centers and plenty of surface parking. It will be the largest office development in Kansas City's history. The purchase agreement, signed in August 2013, was closed in January 2014. The location was close to receiving this type of investment from Cerner several years ago before Wyandotte County and KCK pulled the project to the other side of the state line.
---
Engineered Floors/JBBS
Dalton, Ga.
$450 million 2,000 jobs
After selling Shaw Industries to Warren Buffett's Berkshire Hathaway in 2001 and then retiring from Shaw in 2006, Robert E. Shaw didn't wait long before re-entering the industry in 2009 by founding Engineered Floors in the very same city of Dalton. Four years after that, he joined Georgia Gov. Nathan Deal to announce this investment, which features new facilities in Whitfield and Murray counties that will add to the 1,400 people the company already employs in Northwest Georgia at its headquarters, two large manufacturing facilities, a tufting operation and a distribution center.
"The exemption of sales tax on energy in the manufacturing process that the legislature put in place under Gov. Deal's leadership during the 2012 legislative session makes a significant difference to manufacturers looking to grow and succeed," said Shaw of a policy change he pushed hard for, promising state officials his company would grow in Georgia if it passed.
The Georgia Department of Economic Development partnered with Dalton-Whitfield County Joint Development Authority and Dalton-Whitfield Chamber of Commerce to manage the expansion, which will be helped by Georgia Quick Start, the state's workforce training program.
---
Hankook Tire
Clarksville, Tenn.
$800 million 1,800 jobs
Seung Hwa Suh, vice Chairman and CEO of Hankook Tire, appeared last fall with Tennessee Gov. Bill Haslam and Economic and Community Development Commissioner Bill Hagerty to announce the company's first U.S. manufacturing facility and eighth production facility globally, a 1.5-million-sq.-ft. (139,350-sq.-m.) plant on 469 acres (190 hectares) at the Clarksville Corporate Business Park in Montgomery County. The company is expected to break ground on the new plant by the end of 2014 and begin tire production by 2016. In addition to the state, other organizations helping recruit the project included the Clarksville-Montgomery County Industrial Development Board, the Cumberland Electric Membership Corporation and TVA.
According to KPMG spokesperson Bridget Carroll, in the company's final location analysis stage, "a number of Southeastern states were considered, including Georgia, Alabama, Tennessee and South Carolina. KPMG assisted in analyzing over 20 sites during this phase." The analysis was driven, she says, by various factors including logistics considerations, distance to customers and suppliers, labor availability and cost, right-to-work/union considerations, state training programs, and clusters of manufacturing/engineering workforce.
---
IBM
Baton Rouge, La.
$55 million 800 jobs
IBM in September held a groundbreaking ceremony for its new 800-job service center on downtown property once home to newspaper The Advocate. The Baton Rouge Area Foundation committed to build and manage the total project through its affiliates, the Wilbur Marvin Foundation (which largely controls property acquirer Lafayette Street Holdings) and Commercial Properties Realty Trust.
The project is part of a strategy by IBM to drive economies of scale, said Cameron Art, general manager, Application Management Services North America, for IBM Global Business Services. He said the positive impression his team got from Louisiana Economic Development, their LED FastStart training arm, Louisiana State University and Baton Rouge included EA Sports, successfully lured to the area a few years ago.
"I was testing the scale question," said Art. "FastStart was adept at saying 'Here's your [labor] pool size,' and could get into specifics, and it didn't seem like a foreign language to them." He added that talent is the biggest incentive of all. "They're redirecting their economic development towards people, and not plants and assets," said Art of the state, local and university programs.
---
MetLife
Charlotte and Cary, N.C.
$125 million 2,622 jobs
Gov. Pat McCrory in March announced that MetLife, Inc. intended to create a lot of jobs in a hurry, with the two locations expected to house more than 2,600 employees by the end of 2015. It was the largest jobs announcement in recent state history. MetLife is establishing hubs for its US retail business in Charlotte and for its global technology & operations organization in Cary, part of the Raleigh metro area.
"The strong sense of community in Cary and Charlotte, as well as the region's robust infrastructure and sustainable talent pool, were all compelling reasons for coming here," said Eric Steigerwalt, an executive vice president at MetLife. Partners who assisted with the project included the N.C. Department of Commerce, N.C. Community Colleges, Mecklenburg County, City of Charlotte, Charlotte Chamber, Charlotte Regional Partnership, UNC Charlotte, Wake County, Town of Cary, Cary Chamber, Greater Raleigh Chamber of Commerce, N.C. State University, Research Triangle Regional Partnership and Duke Energy.
The project was made possible in part by an award that could total up to $87.2 million over 12 years from the state Job Development Investment Grant (JDIG) program, and a One North Carolina Fund Award of up to $2 million.
---
Motorola Mobility/Flextronics
Fort Worth, Texas
$3 million 2,000 jobs
There's speed, and then there's speed. At The Wall Street Journal's AllThingsD conference in late May 2013, Dennis Woodside, CEO of Google's Motorola Mobility, announced that every single new Moto X smartphone sold in the US would be assembled at a former Nokia facility in Fort Worth, Texas, that would employ up to 2,000 people by the end of the summer. It is the first smartphone to be built in the United States.
NORTH AMERICA
HONORABLE MENTION
---
Amazon
Kenosha, Wis.,
$238 million 1,100 jobs
---
Bayer CropScience
Mobile, Ala.
$400 million 180 jobs
---
Big River Steel
Osceola, Ark.,
$1.2 billion 525 jobs
---
Chevron
Houston, Texas,
$600 million 1,752 jobs
---
Elio Motors
Shreveport, La.
$100 million 1,500 jobs
---
GE Aviation
Asheville and other locations in N.C.
$195 million 242 new jobs
---
GEICO
Katy, Texas
$8 million 1,000 jobs
---
Hertz
Estero, Fla.
$60 million 700 jobs
---
ProNova Solutions
Alcoa, Tenn.
$52 million 525 jobs
---
State Farm Insurance
Tempe, Ariz.
$600 million 2,100 jobs
"We'll be able to iterate on design much faster, create a leaner supply chain, respond much more quickly to purchasing trends and demands, and deliver devices to people here much more quickly." said the company. The Fort Worth site will also benefit from proximity to a non-US location that went unmentioned: the company's service and repair operation in Monterrey, Mexico.
The new 481,000-sq.-ft. (44,685-sq.-m.) site, closed by Nokia in 2007, is located in a foreign trade zone at Alliance Texas, and is operated by Motorola's Singapore-based manufacturing partner Flextronics, which also assembles smartphones for Motorola in Brazil and China.
---
State Farm Insurance
Richardson, Texas
8,000 jobs
The largest lease deal in North Texas history is not a claim to be sneezed at, given the area's corporate legacy. And the three-building, $1.5-billion CityLine development from KDC is already expanding: In early 2014 a fourth tower was added to the plan, bringing total area to 2 million sq. ft. (185,800 sq. m.).
State Farm is pursuing similar campus plans in Phoenix and in Atlanta, in part because of their respective time zones. Crucial to this one is the CityLine's array of retail, hotel, residential and entertainment amenities, and its proximity to DART light rail, as well as to the intersection of President George Bush Turnpike and North Central Expressway (US 75). The new State Farm facilities will serve as a hub that will provide claims, service and sales support to State Farm customers.
---
Tenaris
Bay City, Texas
$1.5 billion 600 jobs
Texas Gov. Rick Perry announced in February 2013 that Argentina's Tenaris would build a new steel pipe manufacturing facility in Matagorda County, creating 600 jobs and $1.3 billion in capital investment. The state is providing $6 million through the Texas Enterprise Fund (TEF) to close the deal on this new facility and job creation. The governor recruited company leadership during his economic development trip to Italy in 2012, and also at the new Formula 1 race in Austin.
"We chose Texas and Matagorda County because of the strong business climate and its proximity to transportation hubs, a skilled workforce and Houston, which is the epicenter of the energy industry and home of Tenaris' North American headquarters," said Germán Curá, president of Tenaris North America.
Through March 2014, the TEF since its inception in 2003 had invested more than $518 million and closed the deal on projects generating more than 70,800 new jobs and more than $23.6 billion in capital investment in the state.
INTERNATIONAL
---
Allied Global
Guatemala City, Guatemala
$5 million 2,000 jobs
Already the employer of 6,000 mostly younger workers, the Kansas-based BPO firm announced this project in November 2013, and said it planned to bring more than 4,500 jobs to Guatemala by the end of the year. The new delivery center is located at Plaza Zona 4 Mall.
"Guatemala has a great potential and can continue to grow," said Manuel Gordo, CEO of Allied Global. "Our plans are to continue growing and remain a major source of work for Guatemalans."
---
Amazon
Hyderabad, India
5,000 jobs
Hyderabad, a thriving center of commerce and FDI in the pharmaceutical, IT and BPO sectors, saw its potential further realized in November 2013, when Amazon announced plans to construct a 1.6-million-sq.-ft. (148,645-sq.-m.) facility at the Nanakramguda Special Economic Zone. The facility will house software development and back-office support operations. According to the state government and multiple press accounts, Amazon plans to add 5,000 jobs, bringing its Hyderabad total to 9,000.
The project follows a long delay since Amazon first acquired the parcel in 2005, but faced legal challenges to the land ownership. Google, which employs 7,000 in the area and faced similar legal challenges regarding land allotted to the company, will also be expanding at its campus.
---
Amazon
Wroclaw and Poznan, Poland
6,000 jobs
In order to meet growing customer demand across all of Europe, Amazon in October announced plans to open two new fulfillment centers in Poland by August 2014, and another one in mid-2015. Amazon plans to create up to 2,000 long-term jobs at each, plus an additional 3,000 seasonal jobs at each. The Polish Information and Foreign Investment Agency helped bring the projects across the finish line. Tim Collins, director of European Operations at Amazon, told Financial Times that EU-supported highway infrastructure improvements in central and Eastern Europe were key to the company's location decisions in Poland and in the Czech Republic, where the company is building another two centers.
---
Dangote Group
Nigeria
$9 billion, 9,500 jobs
In September, in Nigeria's capital of Abuja, Dangote Industries Limited (DIL) signed a $3.3-billion loan agreement with a consortium of 12 local and international banks for the construction of the biggest oil refinery, petrochemical and fertilizer plants in Nigeria. "The plants," said a company statement, "which will cost a total of $9 billion, will generate up to 9,500 direct and 25,000 indirect jobs, in addition to reducing current volumes of refined fuel imports by around 50 percent, and will effectively stop the importation of fertilizer." The complex is to be located at the Olokola Liquefied Natural Gas (OKLNG) Free Trade Zone in Ondo State, one of 15 active export processing zones among 25 overseen by the Nigerian Export Processing Zone Authority (NEPZA). Among the Olokola zone's strongest attributes is a major deepwater port.
"This project is an historic example of self-empowerment and leadership for the continent as a whole," said Bola Adesola, CEO of Standard Chartered Bank in Nigeria.
---
Kromberg & Schubert
Bitola, Macedonia
$27 million, 2,500 jobs
This German firm started exporting from its plant in the Zabeni Industrial Zone in Bitola in early 2013, five years after the zone's establishment. The plant's grand opening took place in September, one year after construction and training began. The plant's four units include cables, networks, plastic technology and mechatronics.
INTERNATIONAL
HONORABLE MENTION
---
Cosmos Chemical
Sarawak, Malaysia
$1.2 billion 600 jobs
---
Danang Rubber Co.
Danang, Vietnam
$141 million 1,000 jobs
---
EADS-CASA (Airbus)
Getafe, Spain
$150 million 500 jobs
---
Hankook Tire
Racalmas, Hungary
$400 million 950 jobs
---
Hisense
Atlantis, South Africa
$34 million 1,200 jobs
---
Hitachi Rail Europe
Newton Aycliffe, UK
$128 million 730 jobs
---
Intel
Kildare, Ireland
$4 billion 800 jobs
---
Microsoft/Shanghai Media Group
Shanghai, China
$237 million
---
Perodua
Rawang, Malaysia
$258 million 1,200 jobs
---
Jaguar Land Rover/Tata
Itatiaia, Brazil
$437 million 500 jobs
"The entire Pelagonija region has already felt the benefits from this factory," said Macedonia's Prime Minister Nikola Gruevski. "There have been numerous job ads, with more than 800 people already employed in the plant. Another 200 jobs are to open by the year-end, another 1,000 in 2014, and gradually up to 2,500 by the end of 2015. The cooperation with Kromberg & Schubert represents a foundation for further strengthening of economic and political relations with Germany, which is one of Macedonia's most significant partners. The company is well respected [in] the world market, which is excellent for our country in being perceived as a favorable and attractive business destination."
---
Maersk
San Antonio, Chile
$170 million 2,200 jobs
Maersk Container Industry San Santonio (MCIS) is building a new refrigerator unit factory in the Valparaíso region of Chile, the first factory of its kind in South America. Once operating at full capacity, MCIS will produce 40,000 reefer containers annually. Located on the west coast of South America, one of the regions with the highest demand for refrigerated food transportation, the factory will supply reefers where they are needed. Repositioning costs will be reduced for shipping lines and availability improved.
The plant's first 85 workers were personally welcomed to the factory in March 2014 by MCIS General Manager Francis McCawley. By the end of 2014, the number of workers is expected to reach 1,400 people.
---
Samsung
Thai Nguyen, Vietnam
$3.2 billion 2,000 jobs
Samsung Electronics in March 2013 launched work on this high-tech complex following the success of its cell phone factory in Bac Ninh, which started up in 2009 and which in 2012 exported more than 95 percent of its 100 million products to the EU, Middle East, Asia and Russia, accounting single-handedly for 11 percent of Vietnam's total export turnover.
The 100-hectare (247-acre) Samsung Thai Nguyen Hi-Tech Complex sits in Yen Binh Industrial Park. The new plant sits on 65 acres (26 hectares) of that footprint. In addition to producing another 100 million cell phones, smartphones and tablets, the new plant, which received its provincial license from Thai Nguyen officials in November 2013, will also produce 1.5 million cameras annually. According to various reports, the overall Samsung complex has attracted 80 component manufacturers and suppliers and created jobs for over 16,000 workers, in addition to its own workforce of more than 30,000.
---
SOCAR
Aliaga, Turkey
$4.8 billion
Turkey's largest petrochemical complex, Petkim, is owned by a Turkish-Azeri consortium headed by Azerbaijan's state-run oil company SOCAR. Its investment in the Star Refinery is just just part of larger investments in energy production and logistics SOCAR projects to be made at the site that could total $17 billion by 2018. The refinery is the first project to be issued a "Strategic Investment Incentive Certificate" since the introduction of Turkey's new investment incentives system in 2012. Among the benefits accruing to the project because of this are value-added tax and customs tax exemptions, a 90-percent tax cut, and a 50-percent investment contribution.
---
Volkswagen
Foshan and Changsha, China
$4.1 billion
Both of these facilities have a capacity of 300,000 vehicles annually. VW broke ground in May 2013 for its new factory in Changsha, in Hunan, being built in cooperation with the Chinese JV Shanghai-Volkswagen. "We are expanding our capacity in China to 4 million vehicles per year by 2018 in order to meet demand from our Chinese customers," said Prof. Dr. Jochem Heizmann, member of the Board of Management of Volkswagen AG with responsibility for China, and President and CEO of Volkswagen Group China. The Changsha plant is part of the €9.8 billion investment program being realized by the two Chinese joint ventures Shanghai-Volkswagen and FAW-Volkswagen in the period to 2015, and is one of seven new plants to be built in China in the coming years.
VW now employs 2,700 Chinese engineers. By 2018, the number of employees will have increased from the present 75,000 to 100,000.
---
Yamaha
Karachi, Pakistan
$153 million 2,000 jobs
A new government, through its Economic Coordination Committee, is helping propel a project Yamaha has been trying to construct for the past four years, following high-level discussions about security and other issues between Japanese diplomats and the chairman of the Pakistan Board of Investment, among others.
The plant will be located on 50 acres (20 hectares) at the Bin Qasim Industrial Park, a 930-acre (376-hectare) development designed by M/S Jurong Singapore and under the aegis of NIP, a subsidiary of Pakistan Industrial Development Corporation charged with setting up parks across the nation. The Yamaha jobs will help aim the park, which has a 50-MW captive power plant and all utilities, toward its eventual goal of fostering 45,000 new jobs.