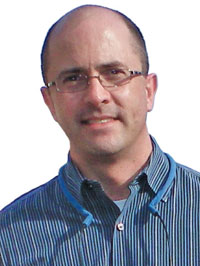 une in for even a few minutes to TV or car radio newscasts, and it's easy to believe the sky actually is falling. Global terrorism on the march, racial discord in the heartland and a hungry Russian bear on the loose. And that's all before the first commercial break. When will they get to the good news, I wonder. Does any of that get reported anymore?
Actually, it does. You're reading it.
One of the many benefits of editing one of the world's preeminent economic development publications is the many opportunities we have every day to analyze and report on expanding businesses and job creation around the globe. From start-ups at incubators to projects landing at super sites and everything in between, my colleagues and I report on economic development success stories in small towns and major metros wherever they happen. And they're happening a lot.
We get to report on good news — for communities that are creating jobs, for companies that are expanding and for all who benefit from economic development — and extrapolate from that data the sectors and regions poised for substantial future growth. And that's a welcome counterbalance to the world of bad news flooding the mainstream media.
Encouraging news in this issue includes our look at Canadian success stories, the Top Utilities and how they are attracting capital investment; my interview with North Carolina Governor Pat McCrory, who speaks fluently the language of business to his current and potential investors;  how the new Indian prime minister, Narendra Modi, is reawakening his country's investment prospects; and how innovation is reinvigorating the plastics and chemicals industry, giving US locations a better shot at keeping investment in that key sector stateside.
More good news: Site Selection publisher Conway Data, Inc., is among those companies expanding, though perhaps not yet on the level of Cisco in Toronto. Different industry, though every bit as pertinent to you — we do publishing, events management, consulting, marketing and association management. And we are bursting at the seams in our suburban Atlanta headquarters. Daniel Beaird, our new Deputy Editor, Custom Content (a booming new business in producing state economic development guides) is a really good sport, using whatever space is available until our offices expand in the coming weeks. Our research team is growing with the welcome additions of Max Bouchet and Ty Melancon. Other divisions have new personnel, as well, making whichever part of the CDI suite of businesses you interact with even better than before.
Finally, I am happy to report that the angel fish in the 40-gallon tank in my office have finally allowed a batch of offspring to live to see their one-week birthday. Lots of previous batches were not so lucky, as they apparently looked too much like snacks when the parents got the munchies. So, there's some more good news, as of this writing. The growing staff at Site Selection is happy for the sideshow of baby angel fish as we work to remain your main source of economic development intelligence globally.
Stay positive.