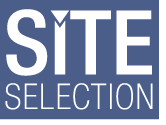 Welcome to Site Selection magazine's
Online Subscription Update
To Update Your Subscription:
Enter your Subscriber ID* in the box below, then click the "Submit" button.
* YOUR SUBSCRIBER ID IS THE FIRST 6 DIGITS, IN THE 7 DIGIT NUMBER, FOUND IN THE
UPPER LEFT CORNER OF THE SITE SELECTION MAILING LABEL. THE 7TH DIGIT IS SEPARATED WITH A SPACE FROM THE REST OF THE NUMBER.
Below is an example of a mailing label with Subscription ID.

Don't know your ID number?
Enter the information requested below to Update
You must include Last Name, Company and City
IF YOU ARE NOT A SUBSCRIBER CLICK HERE.
TO REACH OUR CIRCULATION DEPARTMENT EMAIL CIRCULATION@SITESELECTION.COM
IF YOU NEED FURTHER ASSISTANCE PLEASE CONTACT US!
6625 The Corners Parkway, Suite 200
Peachtree Corners, GA 30092 USA
Tel. 770-446-6996 . Fax 770-263-8825
---
©2013 Conway Data, Inc.
All rights reserved. SiteNet data is from many sources and is not warranted to be accurate or current.