BLOCKBUSTER DEAL
A Site Selection Web Exclusive, November 2010
Intel Pops the Cork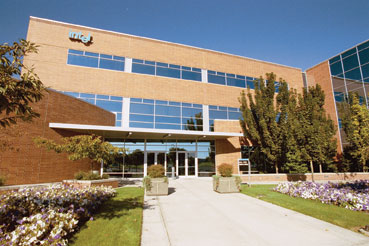 Oregon and Arizona welcome huge new R&D and manufacturing investments.
"B
reak out the champagne," gushed Bob Whelan. "This is really huge for Oregon and for Portland."
"Most Super Bowls contribute about $420 million once to the cities where they are played," bubbled Christine Mackey. "This is a Super Bowl every 60 days, $2.8 billion every year."
Whelan, director of ECONorthwest, a Portland consultancy, and Mackey, director of economic development for Chandler, Ariz., were celebrating the news that Intel Corp. will spend US$6 billion to $8 billion to build a new R&D center/manufacturing plant in Hillsboro, near Portland, and upgrade four other fabs, two in Portland and two in Chandler.
Between 6,000 and 8,000 construction jobs and 800 to 1,000 permanent high-tech jobs will result.
Whelan says the new R&D facility — dubbed D1X by Intel — will cost $4 billion to build and outfit, with the rest of the money spread over the four other plants. It will open in 2013. "The downstream effect of this is really huge. The jobs multiplier effect is that for every job Intel creates, another 4.8 jobs are created in the region. These are very high paying jobs, on average over $100,000 in salary and benefits, he says.
Every new Intel job in Chandler adds 3 to 4 other jobs to the local economy, Mackey says. Intel adds $2.6 billion in increased property taxes, sales taxes, new home purchases, expansion of existing homes, jobs created through their supply chain, and other categories, to the economy, she adds.
Barry Broome, president of the Greater Phoenix Economic Council, estimated a $3.5-billion boon for the economy. Intel has 1,700 suppliers of all kinds in Arizona, he noted.
Intel has not said how it will spend the money, except to say that it is upgrading the four older plants to produce 22-nm. chips for applications in new, sleeker, less power hungry mobile phones, computer tablets and other products. Those 22-nm. products are scheduled to come out in 2011 for sale in 2012.
Intel Geography

Products

Wafer Size

Process Technology

Locations

Microprocessors

300mm

32nm

Oregon

Microprocessors

300mm

45nm

Israel,New Mexico and Arizona

Chipsets and Microprocessors

300mm

65nm

Arizona, Ireland

Chipsets and other products

300mm

90nm

Ireland

Chipsets and other products

200mm

130 nm and above

Massachusetts, Oregon, Ireland
Source: Intel Annual Report 2009
Bigger Wafer, Bigger Savings
Speculation is rife that D1X, when it comes on-line, will process 450-mm. (18-inch) — wafers, compared to the 300-mm. — 12-inch — wafer moving through Intel's other plants. Larger wafers lower costs since more semiconductors can be carved out of them, giving a cost savings of about 30 percent. Brian Krzanich, senior vice president and general manager for manufacturing and supply chain, says that D1X is designed to handle 300-mm. wafers, but can be upgraded to handle 450 mm.
There are no machines to process 450-mm. wafers today, and none are apparently being manufactured. Whelan said it is possible that Intel may obtain the wafers from Wacker Silitronix, a German firm with a plant in Portland that was at one point expected to close, but now is being expanded. Bill Mackenzie, with Intel corporate affairs, says as a matter of policy Intel does not identify its suppliers.
Whatever the plans for D1X, the investment tracks Intel's history of investing heavily in new plants and technologies every two years to keep in step with Moore's law that semiconductor technology doubles in capacity every two years.
Players have to run fast to stay in this game. As Craig Barrett, the retired chairman and CEO of Intel Corporation, states in the recently released update of the 2005 "Rising Above the Gathering Storm" report on U.S. competitiveness, 90 percent of the revenues that a firm derives on the last day of the year are attributable to products that did not even exist on the first day of that same year.
Earlier this year Intel projected it would lay out about $4.8 billion this year on capital expenditures. It has upped that to almost $5.2 billion. Its R&D budget for 2010 was supposed to be $4.4 billion, but through the first nine months of 2010 it spent $4.9 billion, and expects to spend $6.2 billion for the whole year, a 10-percent rise over 2009.
Record sales are driving some of that. In the September quarter Intel recorded $11.1 billion in revenue, up18 percent from the year before. "That is a pretty healthy state of affairs. I don't see any change in 2011," Paul Otellini, Intel's president and CEO, said during an earnings conference call.
Why Portland and Chandler? The ties are deep. Intel has invested about $18 billion in its Portland operations since 1974. With 15,000 staffers, it is Oregon's largest private employer. And Portland is "where Intel does its bleeding-edge research, and then rolls out the manufacturing technology to other sites," notes Joanne Itow, an analyst at Semico Research, a Phoenix-based industry consultancy.
When Intel closed Fab 20 — a 14-year-old plant in Portland — earlier this year, 900 people lost their jobs, Whelan says. "They are rehiring 700 of them" as part of the new investment, he adds. "People don't leave here when they lose their jobs. Part of that is because Portland is in the middle of nowhere. It is also a great place to live."
Intel's Bill Mackenzie clarifies, "Of 900 or so people employed at Fab 20 at the time we ended production there in June 2010, almost 100 percent have already found other positions either at Intel or other companies."
Asked where Intel gets the high-level people it needs, Mackenzie says, "Intel hires globally. We hire some qualified Ph.D engineers from Oregon universities, but those universities do not graduate anywhere near enough to meet our needs. Accordingly, we recruit from numerous other high-quality universities in the U.S. and other countries."
Intel's wiring to Arizona may be even tighter than its links to Oregon. The company hires more graduates from Arizona State University than any other university in the United States, says Broome of GPEC. "That is true across all graduates — finance, MBAs — not just engineers," agrees Jason Bagley, Intel's government affairs manager for the southwest region of the U.S.
The company has been in Arizona since 1979, and since 1996 has added $12 billion to the state's wealth through capital spending. R&D expenditures are $450 million annually. One of the two plants due for an upgrade is Fab 12. Built in 1996, it produces 65-nm. Chips. James McGregor, chief technology officer at In-Stat, a Scottsdale semiconductor researcher, says that upgrading Fab 12 to 22-nm. capability will account for most of the expenditures in Arizona.
The second Chandler facility — Fab 32 — was upgraded to 300-mm. capability in 2009. That included combining a new building with an older Fab 22 by knocking down walls and moving in new equipment, says Bagley. There were no layoffs because of that, he said.
Bagley and Krzanich both note that Intel continues to build plants in the United States because it values the highly trained technicians in its plants as much as it values the hardware and the infrastructure.