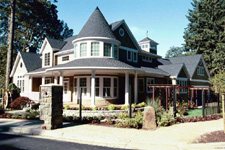 Despite Downturn, Intel Will
Build $2 Billion Oregon Fab

By JACK LYNE • Site Selection Executive Editor of Interactive Publishing




HILLSBORO, Ore. -- Despite a deep semiconductor slump, Intel (www.intel.com) is expansively forging ahead: The Santa Clara, Calif.-based chip king has divulged that it will build a US$2 billion, 778,000-sq.-ft. (72,276-sq.-m.) fab in Hillsboro, Ore. (www.ci.hillsboro.or.us), some 25 minutes west of Portland. The new operation, which will make chips on 300-mm. wafers, will add 2,500 to 3,000 new jobs in Hillsboro, already Intel's largest base of operations.


Evidence of the new fab surfaced when Intel filed a development review application with the city of Hillsboro. That application detailed plans for a three-story, 175,000-sq.-ft. (16,258-sq.-m.) facility that includes clean-room areas. The development review process should be completed by the end of July.
Ostensibly, Intel's expansion announcement comes at a strikingly inopportune moment. The chip sector is mired in the worst downturn in its four-decade history. Global semiconductor sales have gone into a tailspin after last year's whopping 37 percent increase. Most analysts now see 2001 global sales only growing by a paltry 1 percent.
Intel has acutely felt that pinch. After first-quarter 2001 revenues limped in 25 percent below fourth-quarter 2001's tally, Intel announced that it would eliminate 5,000 of its 86,100 worldwide jobs, primarily through attrition. The cutback marked a stark reversal from 2000, when the company increased its work force by 22.6 percent. In addition, Intel announced in the spring that non-managerial salaried employees would receive only half of their scheduled raises; the remainder was deferred until October.


Smaller Circuits, Bigger Wafers

That's the kind of painful scenario that spurs most expansion teams to swiftly circle their wagons.
Chip manufacturers, however, march to a different drummer's persistent beat: "Moore's Law," a draconian dictate formulated by Intel co-founder and Chairman Emeritus Gordon Moore in 1965. Moore predicted that the total circuits on a chip would double every 12 to 18 months. (In reality, chip circuits are doubling in two-year intervals.)

Intel's Billion-Dollar Expansion Announcements
Since 1/1/2000


Location Capital Investment

Chandler, Ariz............US$2.0 billion
Colorado Springs, Colo...... 1.5 billion
Dublin, Ireland............. 2.0 billion
Hillsboro, Ore.............. 2.0 billion 
Frankfurt, Germany.......... 1.5 billion
Leixlip, Ireland............ 1.8 billion
Rio Rancho, N.M............. 2.0 billion

Source: Conway Data New Plants Database



What Moore's Law means is never-ending expansion. Chipmakers must constantly build new fabs or upgrade existing facilities, hoarding next-generation capacity for the next upturn. And Intel is one of the few companies with the financial muscle to keep making billion-dollar outlays - even as it's slashed processor prices at least five times this year in a price war with AMD. The Hillsboro fab, in fact, is Intel's seventh announced expansion of at least $1 billion since the beginning of 2000 (see accompanying chart).
The new Hillsboro fab hews to Moore's Law. The new facility will make chips with circuits that measure .13 microns - roughly 1/1000th the width of a human hair - on 300-mm. silicon wafers. Those 300-mm. wafers provide 225 percent more surface area than the current standard. Intel estimates that combining smaller circuits with larger wafers will cut its manufacturing costs by 30 percent to 35 percent.
Moreover, Intel's new Oregon investment is aimed at a far more bullish future that will demand capacity. The Hillsboro fab won't open until 2003, when analysts are predicting an end to the semiconductor slump, explained Intel spokesman Bill MacKenzie.
"Most of the spending will occur in 2002 or 2003, and all of the plans are subject to business conditions," MacKenzie said.


Fast Front-End Moves Make Bottom-Line Sense

Those business conditions add a substantial

if

to the Oregon announcement. As MacKenzie noted, "If the market continues to show weakness through the balance of this year, you won't see the project move that fast."
Nonetheless, moving fast on the project's front end makes bottom-line sense. Intel, in fact, plans to have the three-story Hillsboro facility's concrete slab and shell in place by the end of this year.
As Intel spokesman Chuck Mulloy explained in

Site Selection

's May cover story, "At Intel, we have the ability to deal with the market slowdown in the midst of construction. In some cases, we may not bring as much of a new fab up as quickly as we had anticipated. Remember, only 30 percent of the cost of the fab is for bricks and mortar. Some 70 percent of the cost is for equipment and infrastructure."
Despite its $7.5 billion capital expenditure budget for 2001, Intel has certainly shown the ability to brake projects that the market didn't seem to favor.
In March, for example, it announced that it would significantly pare back the scale of expansions announced for fabs in Hudson, Mass., and Leixlip, Ireland. (The Irish cutback was partially related to Intel's decision that Internet infrastructure customers would be better served by fusing the semiconductor and network systems groups into a single operation.)
Several months earlier, Intel announced the closing of its 1,300-employee Puerto Rican operation and a halt in the $20 million of construction already been done on a 400,000-sq.-ft. (37,160-sq.-m.) R&D building in Folsom, Calif. The Puerto Rican operation was shut down because "it is no longer cost-competitive," said company officials, while the California construction shutdown's savings were shifted into bulking up fab capacity.


Oregon Could Be Key in 'Copy Exact' Strategy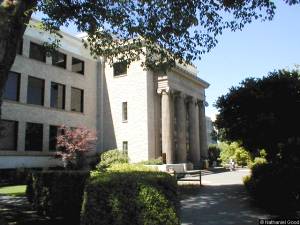 Oregon's Washington County, where Intel has 16,000 employees on six campuses, has already felt the cooling economy's impact on the state's biggest employer. Another project braked in January was a $400 million R&D campus that had been announced for Hillsboro. Intel has now indefinitely postponed construction on the so-called the West Union facility, which it initially estimated could employ as many as 7,000 workers over 15 years.
On the other hand, if the market smiles, Hillsboro's newest announced project will likely move at a jackrabbit clip. Intel goes into very high gear when a fab project gets an emphatic "go" from upstairs. Using contractors who specialize in wafer-fab construction, Intel's corporate construction group sets up round-the-clock project sites that swarm with small armies of workers.

Behind that strategy is Intel's "copy exact" methodology. That system focuses on a single plant in developing the methods and processes for making a certain type of chip. Once the process is perfected, with high output and minimal lost effort, the "copy exact" dominoes begin to fall; Intel in effect clones its manufacturing facilities. The perfected manufacturing process is replicated in plants around the world, allowing Intel to maintain quality while still churning out huge chip volumes.
With existing research, development, and production facilities in close proximity, Hillsboro could emerge as a key location in the copy exact strategy. If the evolution of Intel's processes follows past history, the company may well use the new Hillsboro fab to develop manufacturing processes with .10-micron and .07-micron circuit widths.




LOOKING FOR MORE? BROWSE THE "BLOCKBUSTER DEAL OF THE WEEK" ARCHIVE



---
PLEASE VISIT OUR SPONSOR • CLICK ABOVE

| Online Insider | Site Selection Online | SiteNet | Search |
©2001 Conway Data, Inc. All rights reserved. SiteNet data is from many sources and is not warranted to be accurate or current.