ONLINE INSIDER
From Site Selection magazine, May 2011
McKinley Conway, 1920-2011:
Last Flight Home in a Landmark Life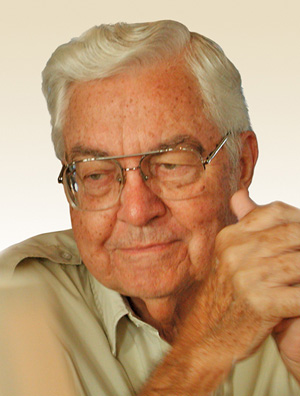 T
his Mac Conway fellow, you might be wondering, now just who was he again? Yeah, he's the guy who started Site Selection 'n all, but did he ever do anything else? I'm kinda in a hurry here, pal. So just tell me who this dude was like.
Oh, hell, Mac Conway wasn't like anybody. He never followed anyone's footsteps; he couldn't really. He was too restless a spirit, too hell-bent on slashing through the tangle and lighting out headlong for the territory ahead. Moreover, he was that rare human who discovered some bona-fide virgin turf; he even did it repeatedly. And every time he unearthed new ground, he'd start building. Building things nobody'd ever built before.
Only a handful of people ever push themselves that far up the mountain. Few even think about trying. It's too risky, too scary, just too damn hard. Mac Conway was a whip-smart fellow; he clearly saw the abundant perils lurking ahead; they just didn't matter, that's all. What really counted was constantly plowing forward, running full throttle, right up 'til the end.
And now the end has come. The bell tower's tolled; the distant drummer's gone silent. Hobart McKinley Conway died in Shiloh, Fla., on May 29, 2011, at 90. His passing leaves a huge gap. Yet something bigger looms in his wake — a rich, enduring legacy carved out in nine decades of ceaseless searching.
A Life Lived in Full
And what is Mac Conway's legacy? Well, you can't sum it up in a sentence. It's not that simple.
Yes, he was a self-made publishing tycoon, but that barely begins to tell the tale. He crammed so much energy and motion into his life that it damn near sounds like fiction. Only it wasn't.
Conway, for instance, actually shaped a large stretch of the site-selection and economic development landscape. Not to mention his exploits as a maverick state senator, a crack pilot . . . and an amazingly prolific author, a globetrotting adventurer . . . and an intrepid futurist and a skilled musician. And through it all, he always pushed the limits. It's what pioneers do.
One reporter called him "part Tom Sawyer and part Howard Hughes," and that nails it pretty damn clean. A compulsive idea machine, Conway always thought big — King Kong big. He was forever hatching grand schemes, spitting them out in big clusters.
He was, in short, a load — one oversized and superbly untidy package, delivered as-is. He could be dauntless, formidable and truly inspiring. Heaven knows, though, he could also be unreasonable, rough as tree bark and obstinate as a one-ton pig in knee-deep slop. Just as he was lit by greatness, he was shadowed by prickly complexities.
But then most great men harbor such barbed tangles of contradictions. Only Mac Conway's jumble of parts barged into the world all at once, permanently fused together, roses tangled with thorns. And Lord, did he ever raise one glorious ruckus.
A Quiet Birth in the Boonies
Conway arrived quietly enough, born on Nov. 1, 1920, in tiny Hackleburg in northwest Alabama.
"Everyone there either worked on a farm or in some service for farm families," he recollected. "There were no paved roads, no electric power, no telephones."
This boy, though, was running on his own alternative power, hardwired into his genes. He rocketed through the public schools, finally landing on the campus of Georgia Tech as a tall, skinny freshman. He was all of 15 years old. The country boy with a shock of curly brown hair eagerly soaked up Tech's storied knowledge, graduating in 1941 with both bachelor's and master's degrees in aeronautical engineering. (In 1995, Georgia Tech added an even more substantial credential, inducting Conway into its Engineering Hall of Fame.)
Conway during his college days also played a mean tenor sax while leading his own big band, "The Technicians." The band fared well — so well, in fact, that briefly he considered a life in music.
But another siren song called Conway off in the distance. Already a licensed pilot, he accepted an offer to work for the U.S. agency that later became NASA. After first working under the bureau's director in the nation's capital, he relocated to Moffett Field in California. He conducted high-level aeronautical research there in the base's wind tunnel, serving as project engineer for testing the Navy's first jet fighter, the Ryan FR-1. Along the way, Conway met aviation giants Orville Wright and Jimmy Doolittle.
During that time in his life, Conway made another fateful decision that was totally unrelated to his work: He married his college sweetheart, Rebecca Kellam, on Sept. 17, 1942, in Atlanta.
Leaving NASA, Conway returned to Atlanta, where he wrote "Principles of High Speed Flight," the first of his 48 books. He self-published it in 1947, mimeographing copies in the basement of his mother-in-law's house. That tome, he maintained, "was the world's first textbook on high-speed aerodynamics and jet propulsion." Perhaps it actually was.
Whatever the case, his career soon kicked into turbo. In 1949, he founded The Journal of Southeastern Research, the first regional science journal. Soon after, a fledgling coalition of business and government leaders tapped the 29-year-old Conway to direct the Southern Association of Science and Industry (SASI), a 15-state regional development alliance. The young gun took the job and ran with it: He spearheaded SASI's important role in transforming the then-backwater South into a business hotspot. Similarly, that job reshaped Conway's life: It suddenly thrust the wunderkind into close and frequent contact with governors, CEOs and major media outlets.
"I was no longer an obscure researcher," he wrote. "I was now part of the prime focus of our generation — building new industries."
Politics, Publishing,
Pushing the Global Envelope
He began building his own industry, Conway Data Inc., in 1947. From that platform, he lit the fuse for 1954's fateful launch of Industrial Development— the precursor of today's Site Selection. In one fell swoop, he created the first magazine to ever focus on the then-obscure domains of corporate real estate and economic development. Fortune magazine promptly took note, singling Conway out in 1955 as "A Man to Watch." To this day, Site Selection continues to set the industry standard.
By the 1960s, he'd expanded into politics, serving in the Georgia Senate alongside another son of the rural South, Jimmy Carter. Sen. Conway led the effort to establish Atlanta's mass transit system, MARTA, which became a model for the country. He also chaired the Governor's Commission for Scientific Research and Development and introduced Georgia's first "sunshine law."
Conway during that decade was also heavily involved in global affairs. The U.S. State Dept. selected his company in 1960 to lead the Agency for International Development/Private Enterprise Promotion (AID/PEP). Part of President John F. Kennedy's Alliance for Progress, AID/PEP was designed to demonstrate capitalism's superiority over communism in Central and South America.
Kick-starting his natural-born knack for forging connections, Conway assembled teams of Latin leaders; he accompanied them to the U.S., where he'd set up meetings with American business executives. Likewise, he frequently trekked to Latin America. In Panama, Peru and Venezuela, he organized and led Inter-American Development Conferences, convening heads of state, cabinet ministers and business leaders on common ground.
Some of Conway's Latin visits, though, wobbled on the lip of disaster. He particularly remembered meeting with one South American government leader. Conway couldn't help glancing behind the other man's head, where a cluster of ragged holes riddled the wall. Reading the American's eyes, the Latin leader smiled: Oh, those, he matter-of-factly explained. Some rebels drove by the other night, and they shot up my office. And with that, the two men went on discussing politics and economics.
A Coup d'état for Dinner
Vice President Lyndon Johnson further expanded Conway's geographic focus in 1962. Johnson picked him as part of a five-member team charged with strengthening economic ties with Southeast Asia, where communists were clawing for a foothold. LBJ considered the mission vital to U.S. foreign relations — so vital that the Texan gathered the team round his desk on Capitol Hill and hammered his point home.
Even LBJ, though, probably didn't envision what happened during one official trip to Burma (now Myanmar). At the invitation of the Burmese government, the U.S. delegation was in the midst of a long-term mission. After six weeks, discussions with Burmese officials seemed to be going well.
And then one night everything disintegrated. The Burmese were hosting the U.S. team that evening at an extravagant formal dinner. The gesture flattered the visitors; still, though, they wondered: Why had the Burmese ferried them so far from their hotel in Rangoon to such a remote location? When the answer surfaced, the Americans were left stunned.
"As the dinner was winding down," Conway later recalled, "the commander general of the Burmese army suddenly took the microphone. 'We have just taken control of the government,' he told us. Then he said that his troops had already arrested the officials we'd been negotiating with and thrown them in jail. And then the general invited us to leave the country."
That offer the Americans couldn't refuse. After the U.S. team agreed, army troops whisked them back to their hotel. Troops were still waiting at the hotel the next morning, eager to hasten the visitors' exit. Once the army escorted them to the airport, the Americans hurriedly got the hell out of Dodge. To this day, the military still controls Myanmar.
For many men, such dicey encounters would've permanently doused any passion for global travel. Not Conway, though. His brushes with danger only deepened a raging travelin' jones. He'd caught an itch for wandering that he couldn't stop scratching. All told, Conway visited 106 countries, always filing colorful reports in Site Selection. Those dispatches served up front-line insights into global thinking — decades before many companies started welding that worldview into their DNA.
Piloting a Profession Into the Light
Conway was back home in Atlanta, though, when his restive, inventive mind conjured up a whole different kind of connection — this one firmly anchored in the private sector. His new idea would link together the most important players in corporate real estate.
Fifty years ago, that was a far more radical notion than you might imagine. Corporate real estate then was still an unfocused and fragmented field; site selection was a shadowy, hush-hush business, with deals often sealed in smoky back rooms. Conway, though, thought that savvy, proactive real estate operations should be a key strategic weapon in every major company's arsenal.
So in 1961 he used Site Selection to invite corporate real estate and economic development executives to collaborate jointly in a very public nonprofit: The International Development Research Council (IDRC), Conway called it, and the concept struck a nerve. The idea of an alliance sharply focused on research, systematic learning and professional networking pricked up ears. Ultimately, IDRC blossomed into the crème de la crème of real estate associations. But after four decades of robust growth, the group dissolved, assimilated into CoreNet Global in a 2002 merger.
Conway, however, swiftly sowed the seeds for another organizational thoroughbred. After he quietly laid the groundwork, a brand-new association, the Industrial Asset Management Council (IAMC), launched in 2002. Fueled by its firm emphasis on corporate member needs, IAMC has registered strong, steady growth; meanwhile, membership in other industry associations has plunged.
Conway in 1991 founded yet another groundbreaking group, the World Development Federation (WDF). That organization connected the principal players in the world's billion-dollar "super projects." WDF mounted a series of conferences at sites scattered round the globe: Honolulu; Singapore; Barcelona; Osaka, Japan; San Francisco; Paris; Madrid; Atlanta; and Jubail, Saudi Arabia.
Back to the Land
Technology was an enduring constant in the continual flux of Conway's life. He persistently pushed toward electronica's leading edge. So much, in fact, that Conway created the development industry's first telecommunications network, SiteNet. Remarkably, SiteNet debuted in 1983 — fully a decade before the online revolution began to remake totally the way we work and play. Conway's company today stretches out over a whole suite of content-rich Web sites, collectively attracting more than a million visitors a year.
At 80, Conway was still taking on major changes. In 2001, he relocated to live with his wife and daughters on a beautiful, spacious spread in north-central Florida. Surrounded by giant live oaks draped with thick Spanish moss, Conway's five-building compound lies amid lush horse farms that stretch out to the horizon.
With Conway's move, though, many wondered: Had the éminence grise finally settled into a well-earned life of peace and quiet?
Please. You cannot be serious!
Like a lion in winter, Conway began to write more feverishly than ever. During the last five years of his life, he churned out 10 more books. He also continued his long association with The Futurist magazine, contributing articles about everything from desalination and ocean energy to the "super cities of the future." On top of that, he became perhaps the world's bloggin'-est octogenarian, frequently posting new ideas and proposals in cyberspace.
Country life similarly couldn't quell his yen to build things he could see and touch. (This was, after all, a man who'd single-handedly built two of his homes.) Conway oversaw the construction of a family museum (modesty wasn't among his virtues), plus wooden platforms arcing out over water. He also tended his garden and orchard; and he gamely battled a balky "wildflower demo plot" that resisted all efforts at orderly control.
I Believe I Can Fly
Ah, and then there was the airplane. Incurably smitten by flight as a tyke, the Ramblin' Wreck from Georgia Tech piloted small private planes all over God's creation. In almost 60 years of flying, he logged more than 7,000 hours in the air.
The aircraft opened up numerous business avenues, particularly after Conway created the "airport city" concept. He planned many North American fly-in communities, most notably developing Spruce Creek near Daytona, Fla. — still the world's foremost residential airpark.
Planes, however, also provided the perfect outlet for Conway's abiding passion for adventuring. Inevitably, his flights sometimes tore big chomps out of the far edges of reason. The hairiest of those sorties predated GPS navigation systems. Pilots in that era sometimes had to rely instead on "dead reckoning" — essentially betting their bacon on informed guesses. If you flew a small prop plane back then, you'd better be good. Mediocre could get you killed.
Consider Conway's challenging 1965 flight across South America. With his whole family onboard, he flew a twin-engine prop all the way from the Pacific to the Atlantic. Conway first crested the peaks of the Andes, then plunged steeply through a blinding cloudbank into the lush, untamed Amazon Basin. From there, he flew along the river to navigate across the rest of South America's breadth.
That course thrust the Conway family into terrain eons removed from modernization: They landed on primitive, rocky strips; they showered in rainstorms; they bought a blowgun with poison darts from Peruvian tribesmen. Somehow, everyone came home alive.
Then there was the Atlanta-to-Europe jaunt that he and daughter Laura flew in 1980. Their single-engine plane couldn't hold nearly enough fuel to cross the Atlantic. That left only one way they could make it to Europe: flying a dangerous leg directly over the foreboding Arctic Circle. But Conway and his daughter flew that risky leg clean and true, facilitating vital refueling stops that included Greenland and Iceland. In the end, their plane touched down in Glasgow, Scotland.
Conway's hell-for-leather sorties, however, weren't without humor. Only sometimes, the comedy was unintended. Conway's memoirs, for instance, proudly recollect the times his tiny plane barely scraped over towering mountaintops. During those potentially fatal moments, Conway wrote, his wife Becky and daughters Linda and Laura would be "sleeping peacefully around me."
Quite possibly, of course, lack of oxygen had rendered his family unconscious. But not, thank God, the pilot.
Last Flight Home
Now the pilot has sailed out past the horizon on a final mission, and he won't be coming back. He's soaring off instead into yet another adventure, destination unknown. Wherever Mac Conway sets down, though, there'll be no sense in trying to stop him. Before the dust of his landing has even lifted, he'll be off building things.
Things squarely aimed at remaking his surroundings.
Things made of solid stuff.
Things built to last.