Financing of 1.6 billion kronor (US$188.2 million) has been arranged for investment in a three-building project near Medicinareberget and Sahlgrenska University Hospital n Gothenburg, Sweden, that will connect research, education, and business. The life sciences cluster in Gothenburg employs 8,735 people, aided in large part by the University of Gothenburg.
---
One of the first major tenants at Alexandria Center for Life Science—West Tower in New York City has signed on for a 30,000-sq.-ft. expansion. Eli Lilly & Co. now has grown to occupy 120,000 sq. ft. since it opened a location there in 2010. CBRE Executive Vice President John Isaacs represented the Eli Lilly in the 10-year deal for the entire 12th floor. "Alexandria Center for Life Sciences (ACLS) has been an enormously successful location for Eli Lilly since the acquisition of ImClone," said Isaacs. "The current expansion enables Lilly to further grow their oncology research, adding 50 new jobs in core therapeutic areas, while continuing to promote the essential, broader collaboration with leading local academic scientists."
---
Officials from Intermedix Corp., a provider of analytics and technology-enabled solutions for global health and safety, announced Oct. 22 they will invest in an innovation lab and executive offices and create 116 new jobs in Davidson County in establishing a new location at Fifth Third Center in Nashville. Headquartered in Fort Lauderdale, Fla., the company supports approximately 15,000 healthcare providers with comprehensive business and revenue cycle management services. It connects more than 95 percent of the US population and customers in 16 countries around the world — including recent locations in Lithuania and New Zealand — with crisis management and emergency preparedness and response technologies. The firm joins Amedisys, a home healthcare company that recently announced it will invest $2.5 million and create approximately 120 new jobs in Davidson County over the next five years.
---
The percentage of Americans who reported using marijuana in the past year more than doubled between 2001-2002 and 2012-2013, and the increase in marijuana use disorder during that time was nearly as large. Past year marijuana use rose from 4.1 percent to 9.5 percent of the U.S. adult population, while the prevalence of marijuana use disorder rose from 1.5 percent to 2.9 percent, according to national surveys conducted by the National Institute on Alcohol Abuse and Alcoholism (NIAAA), part of the National Institutes of Health.
"Based on the current study, approximately 30 percent of people who used marijuana in the past year met criteria for marijuana use disorder during 2012-2013, as defined by the Diagnostic and Statistical Manual of Mental Disorders," said an NIH release. Twenty-three states now have medical marijuana laws, and four states, as well as the District of Columbia, have legalized marijuana for recreational use.
---
In more encouraging NIH news, the organization announced in September it is awarding up to $36.5 million over five years in the next phase of the Medical Education Partnership Initiative (MEPI), designed to increase the number of skilled health care workers and strengthen the scientific base in countries supported by the U.S. President's Emergency Plan for AIDS Relief (PEPFAR), which provided significant funding in MEPI's initial phase.
"Many junior faculty in African institutions struggle to incorporate research into their careers. These new awards will support advanced training and provide dedicated time so they can conduct investigations that will lay the groundwork for fundable proposals," said Dr. Roger I. Glass, director of the Fogarty International Center, part of NIH. "Through these training opportunities, African physicians and investigators can prepare themselves to become the next generation of African research leaders."
Sub-Saharan Africa has 12.5 percent of the world's population but produces less than 1 percent of the global research output, according to the World Bank.
---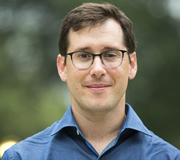 Among the winners of a MacArthur fellowship this was University of Chicago computational biologist John Novembre (pictured), whose work "sheds new light on human evolutionary history, population structure and migration, and the etiology of genetic diseases. He develops novel data visualization and analysis techniques to investigate the correlations among genomic diversity, geography, and demographic structure.
---
Molecular diagnostics firm Thermal Gradient recently announced its relocation from Rochester, N.Y., to the Virginia Biotechnology Research Park in the City of Richmond, where the company plans to grow to 45 employees over the next two years. "We are in development of our first commercial product, a portable instrument capable of detecting HIV in under 10 minutes," said Robert Juncosa, CEO of Thermal Gradient, who noted the assistance of the Greater Richmond Partnership. "The Greater Richmond area better suited our expansion needs because it offers a more favorable tax structure, a larger scientific and engineering labor pool, as well as available facilities that don't require significant build-out expenses."
The Richmond Region competed against Boston, Mass.; San Francisco, Calif.; and Raleigh, N.C., for Thermal Gradient's relocation. The firm originally contacted the Partnership after finding information on its website, www.grpva.com.
---
Baxter International announced Oct. 15 it would expand and add 225 employees at its Mountain Home, Ark., manufacturing facility, originally established in 1964 (pictured). Baxter's Mountain Home facility is one of the company's largest plastics and medical device manufacturing plants, and employs approximately 1,000 people focused on the manufacture of disposable medical products that serve essential healthcare needs of patients globally. The project was aided by support from the Arkansas Economic Development Commission, the Mountain Home Chamber of Commerce and the chamber's FOCUS Mountain Home initiative.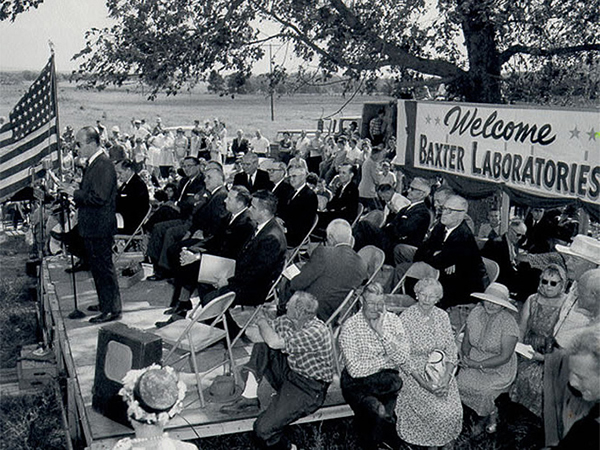 ---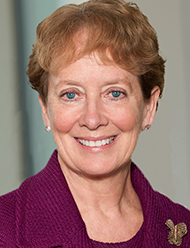 Dr. Julie Ann Freischlag (pictured), UC Davis vice chancellor for human health sciences and dean of the UC Davis School of Medicine, has been elected to the National Academy of Medicine (NAM). "This prestigious honor for Dr. Freischlag is further evidence of the first-rate talent we have in Sacramento in the medical field, and this type of recognition will continue to drive our efforts to establish a world-class health center of excellence in Sacramento," stated Barry Broome, President & CEO of the Greater Sacramento Area Economic Council.
The healthcare sector has experienced an annual growth rate of 7.3 percent over the past five years in Greater Sacramento — triple the national growth rate of 2.4 percent. As the region's academic health center, the UC Davis Health System generates more than $3.4 billion in annual economic output and more than 12,500 jobs.
---
The New Jersey Economic Development Authority's ongoing series about life sciences companies has posted an insightful piece about GENEWIZ, whose c-founders Steve Sun, PhD, and Amy Liao, PhD, have grown the company from a two-person biotechnology startup business at the New Jersey Economic Development Authority's (EDA) Commercialization Center for Innovative Technologies (CCIT) in North Brunswick to an internationally-recognized operation, now headquartered in South Plainfield, that employs more than 700 people across 12 facilities at major biotech hubs around the world.